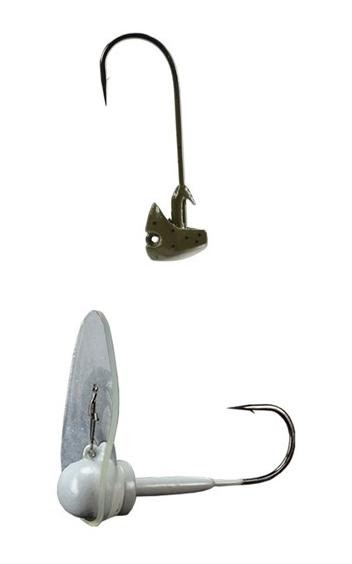 Indiana, Penn., - When you combine an angler with a reputation for being meticulously detail-oriented and a manufacturer that has long been known for producing innovative, high quality products, the result is often revolutionary.
Such is the case when Picasso Lures collaborated with Elite Series Pro and three-time Bassmaster Angler of the Year Aaron Martens. The result of this pairing are two new lead jig heads, the Rhino Head and the Suijin.
Martens said that it was the unique abilities of Picasso Lures' team which allowed him to push the envelope with these new creations. "I have some pretty radical ideas when it comes to my jig heads," said Martens."I want the worms to fit perfectly and the heads to perform exactly as I want, and the guys at Picasso Lures have been able to accomplish exactly what I wanted."
The Rhino Head is a unique standup "shaky style" head that is at the top of its class in both design and function. The unique weight-forward design allows the bait to momentarily stand up and then slowly fall to any given direction. This presentation creates an enticing action that fish find irresistible.
The Rhino Head features a concave "horn" on the front of the head above the line tie that allows for seamless rigging of a worm, but is also designed to slide easily through a fish's mouth for quick hook penetration. The eye is constricted so the knot cannot slip and maintains the perfect line tie position which creates a cam-action that forces the hook into a fishes' mouth efficiently and effectively. Martens said, "This unique Rhino Head design let's me go 4 times longer without retying than with traditional shaky heads."
The management at Picasso Lures wasn't initially excited about the idea of entering a tight marketplace until Martens fully described what he wanted in a "shaky style" head. "I have to admit not being completely thrilled when Aaron brought up the concept of another "shaky" head design," said Terry Monteleone, founder of Picasso Lures, LLC. "We had started working on the Suijin project when Aaron pulled out these homemade heads and rigged a Roboworm on them; it grabbed my attention. After seeing what that Roboworm did in the water, I took some of Aaron's homemade heads back home with me and continued to develop and incorporate Aaron's concept of the Rhino horn into the design."
The Suijin head is the culmination of years of Martens' love for fishing "scrounger style" heads, finally fully realized. Martens said that Picasso's manufacturing capabilities allowed him to create new design features that he was unable to achieve with previous attempts. "We put over two years' time into the development of our bill material that is far better than any I've used before, and we added features to the head that help maintain the correct cupping of the bill," said Martens. "It also fits tighter to the head, as does the line tie, which also contributes to giving the Suijin a much better action."
Martens said that the retail package also reflects his style. "Everyone knows that I like to tinker around with tackle in order to get a certain action, so each package of Suijins includes two extra bills of different thicknesses. Depending on what the fish are looking for, you can quickly change out the bills to get a tighter or wider swimming action," he said. "In general, a thinner bill gives you a tighter action and a thicker bill gives a wider action. It's a game changer and it really is the best 'scrounger style' head I've ever fished with, and only Picasso Lures has been able to get it to this point."
Monteleone was able to listen to Martens and figure out what he needed. "Aaron felt like the 'scrounger' type heads needed to be modernized from his original design. We made several improvements including our exclusive formulation of the bill material, which is crucial for this type lure to perform properly," he said. "Now for the very first time, anglers have the ability to adjust for different plastic trailers and water temperatures with a quick change out to a thicker or thinner bill to really dial in the desired action."
Finally, being able to work with an angler of Martens' caliber and fastidious nature is something that Picasso Lures relished. "Teaming up with Aaron gives Picasso the unique opportunity to not only work closely with one of the world's greatest anglers but also an innovative tackle designer in his own right," said Dan Vesuvio, Picasso Lures president of sales and marketing. "Aaron is the guy that over a decade ago made 'scroungers' a popular bass fishing lure and his name is synonymous with finesse fishing. A lot of tournament checks have been cashed using these two styles of fishing, and he's a big reason for that. We are excited to release these two new heads and to have Aaron be the man behind them; it's a great fit for Picasso Lures."
The Picasso Lures Rhino Head is available in three sizes: 1/8-, 3/16- and 1/4-ounce, and in three colors: Plain, Black and Green Pumpkin. The Suijin Head is available in Plain or Pearl White and in sizes ranging from 1/8- to 1.25-ounces with a variety of bill configurations to allow anglers to customize their presentation to the lure type and conditions.