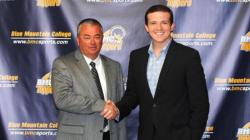 BLUE MOUNTAIN, Miss. – Blue Mountain College announced today the addition of a Bass Fishing Club, along with its new head coach, Shane Cox of Guntown, Miss.

The announcement comes on the heels of the recent addition of Junior Varsity Cross Country, both of which will begin in 2018.

Cox, owner of Hammer Fishing Rods, is a graduate of East Union High School and is a sponsor of several associations, including Alabama Student Angler Bass Fishing, Alabama BASS Nation, Kids First Fishing and North MS Student Anglers.

His company also sponsors numerous college and high school programs, including Smithville High (Miss.), West Point High (Miss.), Mooreville High (Miss.), Itawamba Community College and Mississippi State University.

As well, pro-anglers Buddy Gross of Georgia, Brandon Perkins of Tennessee and Joseph Webster of Fulton, Miss. are sponsored by Cox.

Cox, promoter of Pickwick Lake Catch-A-Dream Bass Classic, stated, "I'm thankful to have the opportunity to build a team at Blue Mountain College from the ground level and help lay the foundation for the program's long-term success. As an avid angler myself, I fully understand the importance of its future, therefore, I'm committed to the same goals, values and expectations as Blue Mountain College expects from all of its programs."

BMC Assistant AD Clint Gannon commented, "Shane brings an enormous amount of experience from the fishing industry, along with a wealth of connections and sponsors. He will be a strong Christian leader for our program."

Cox's son, Ty, has signed on as a member of the newly formed team.

The coed addition gives BMC another club to go along with men's and women's archery and bowling.

The North Mississippi Christian college boasts 11 major NAIA-sanctioned sports that compete inside of the Southern States Athletic Conference. Junior Varsity sports are offered under the umbrella of baseball, basketball, softball and cross country.