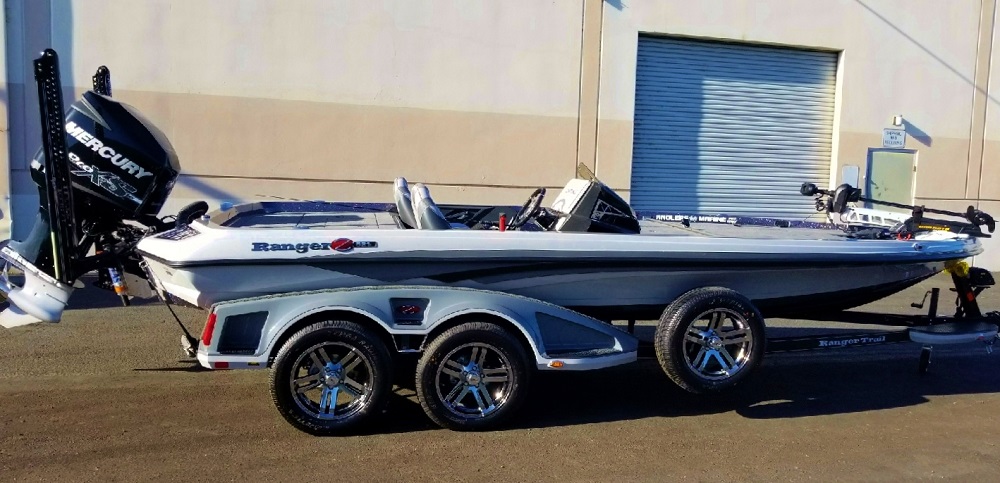 When you think of bass boat brands Ranger is usually one of the first that comes to mind. They have a long history of building great boats and 2018 marks their 50th anniversary.
New for this year is a new version of the popular Z520 and Z521 that is called the L series, with the "L" used to celebrate their 50th year with the appropriate Roman Numeral.
The new boats feature many options and specifications designed to fit larger electronics, add style and comfort and to improve on an already great line of boats.
In Stock at Angler's Marine
Angler's Marine has been a Ranger dealer since 2002 and has the new L Series Ranger Z520L and Z521L in stock.
The boat dealership is well known for being a leader in boat sales in the west. They have two Southern California locations, one in Anaheim and one in Lakeside. In addition to being a top national dealer for Ranger, they are also a top dealer of Mercury, Tracker Marine, Stratos, Triton, and Bayliner.
Rick Grover and his son Kyle know their boats and Kyle shared some insight on the new series from Ranger after fishing out of it this fall.
New Ranger L Series Features and On the Water Use for 2018
It is great to read about all of the features of boats, but it is even better to put them to use on the water. Kyle Grover works at Angler's Marine and has been around Ranger's for years, but he is also a highly successful tournament angler. Kyle was one of the first anglers anywhere to fish from new Z520L and has been really impressed.
Flush Mounted Electronics
With electronics getting bigger and bigger, boat manufacturer's had to do something about it to accommodate the need for larger electronics. The L series allows for a flush mount of giant 12 and even 16-inch units.
"I have a Lowrance HDS-16 Carbon mounted in the dash of the console and have a 12 mounted up front," says Grover.
Up front, the mounting is slightly offset to allow for a large graph to be mounted. It is mounted to the side to stay out of the way of the trolling motor but is easy to view while fishing from the front.
Control Panel
The control panel has been moved closer to the throttle. This allows for easier access to boat controls while on the move.
"You can easily adjust your controls while driving," he says.
The Ride
Rangers have always been known for their smooth and stable ride, but Kyle Grover says they have made it even better.
"It's just as stable as all Rangers are and has a great ride. I also think the ride is a little dryer," he adds.
No More Wet Rod Lockers and Tackle Compartments
Ranger already featured a patented system called the Power Ventilation Rod Storage system that keeps rod lockers and storage compartments dry, but they went even further with this line of boats. All of the L boats have gel coat inside of the compartments and custom rubber mats have been added for quicker drying.
"There is no carpet inside of the compartments or inside of the rod locker. This makes it so you don't get anything growing inside of there," adds Grover. Anyone who has ever fished in the rain and experienced mold or mildew on the next trip out can relate to this.
New Ranger L Series Trailer
The entire look of the trailer has changed from the inside out. They feature a Road Armor finish, aluminum wheels, hub lubrication and L.E.D. lights all as standard features.
"It has a completely new look for the fenders and with the L.E.D. lights it looks really good," adds Grover.
Ranger Boats Seat Redesign
The seats have also been changed and enlarged. They are bigger to provide more comfort and to fit anglers of all sizes. They are wider and have a suspension system to provide comfort even in rough water.
Other L Series Features
Sometimes the smallest features can make a difference in how enjoyable your fishing trip is. Here are several more features added to the new Z520L and Z521L.
Running rod rack with retractable straps
Adjustable driver and passenger seats
Integrated fish ruler
Recessed trolling motor pedal
Gas spring lid assists
Integrated bow navigation lights
Engine data incorporated into the dash
Extra USB ports
Automated light functionality to keep anglers Coast Guard compliant at night
Bass boats have come a long ways and they continue to get better each year. The Ranger L series of boats is the latest line from a legendary boat maker. If you are near Anaheim or Lakeside, stop into Angler's Marine to see the new boats up close.