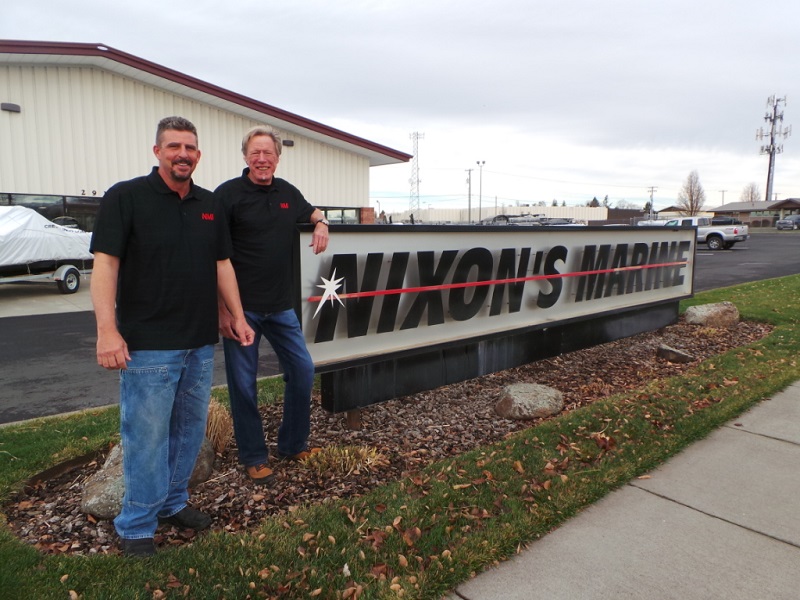 Jeff Priester (right) and Shawn O'Connell (left).
Walla Walla, Wash., - Longtime owner, Jeff Priester has announced the sale of Nixon's Marine and the Northwest Bass (NWB) tournament circuit to fellow fisherman and tournament angler Shawn O'Connell.
While O'Connell will take over the title of company owner and President, Nixon's Marine will continue to operate with the Priesters involved in the business.
"Although our titles may change, my wife, Kathy and I being a part of Nixon's will help make a seamless transition and provide the customers continuity and service that they have come to know," said Priester.
Plans are to relocate the Nixon's headquarters from the Walla Walla location to a larger facility that will break ground in 2018 in the Tri-Cities area. The Lakewood facility will remain at the current address.
"The Tri-Cities move will enable us to expand to meet the wants and needs of our growing customer-base," said O'Connell. "The new location will be more centrally-located and offer easier access to new and existing customers."
After nearly a half-century with Nixon's, Priester is pleased to pass the reins to O'Connell who shares his enthusiasm for the industry.
"The change of hands will further the potential of the business," said Priester. "The Tri-Cities move will put Nixon's right in the middle of the confluence of the main Pacific Northwest fisheries – the Snake, Yakima and Columbia Rivers. Being in the mecca of bass fishing for this part of the region, will allow us to better serve Nixon's customers."
"I am very passionate about the sport of bass fishing," added O'Connell. "It will be exciting to be in Tri-Cities, where many major bass fishing tournaments are held. The NWB trail dates will remain as announced for 2018 and competitors can expect the same camaraderie and fun that the circuit has built. Once completed, the Tri-Cities facility will offer new product lines, including custom fishing tackle."
While customers have new additions to look forward to, they can rest assured that Nixon's will remain the leader in the bass boat business on the West Coast," said Priester.
###
Founded in 1959 by Paul Nixon, Nixon's Marine originally serviced and sold both fishing and recreational boats, snowmobiles and motorcycles. By the mid '70s, Nixon's Marine added Glastron bass boats and expanded as a Skeeter Boat dealer in 1980. Jeff Priester, who had started working at Nixon's in 1974, took over daily operations and purchased the company in the early '80s. Now with two locations in Washington State, Nixon's Marine services and sells used fishing boats as well as new Skeeter, Ranger, Triton and Crestliner boats and Mercury, Yamaha and Evinrude outboards.