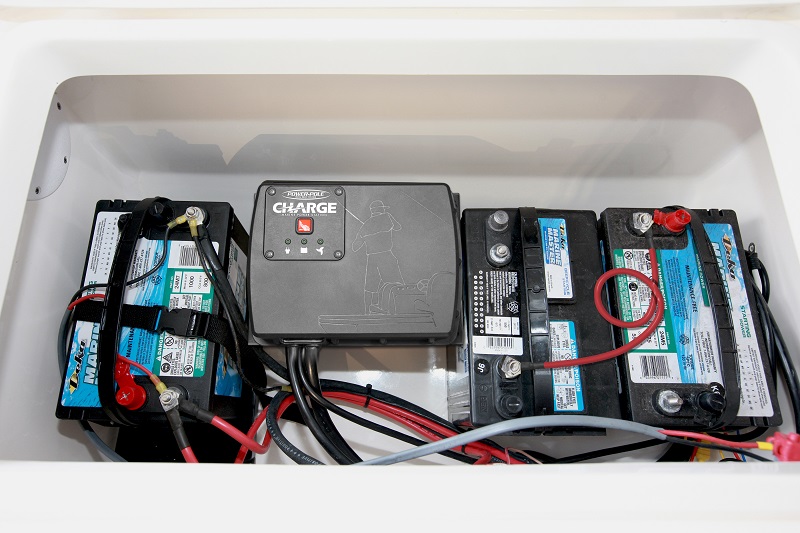 At the 2017 ICAST show, Power-Pole unveiled two new products that generated a high level of interest from boaters: the CHARGE and VISION. The company has long been known as the leader in shallow water anchoring and they have now added two innovative products; one that keeps anglers on the water longer and another that creates a seamless marine electronics experience. Now that the products are nearly ready to purchase, here is what you need to know about the CHARGE and VISION.
Power-Pole CHARGE
Simply put, this system manages all of the batteries on the boat to keep them all charged. "With so many products on the boat requiring power, it makes sense to have a reliable source or power to keep them running. The CHARGE is bi-directional, which means that it shares power between the cranking and trolling motor batteries," says Curt Hill of Power-Pole.
One of the biggest fears of boaters is being stranded without power to start the engine. That is why many anglers carry jumper cables and jump from their trolling motor batteries. It can be much simpler and that is what the CHARGE does, says Hill. "Being broken down on the water can be devastating and this makes sure you always have enough power to start your outboard," he says.
How Power-Pole CHARGE Works
As mentioned, the CHARGE is bi-directional meaning power is shared among batteries and it works with all types of marine batteries. "Basically all of the batteries on the boat share one bank of power and it is shared between the batteries where needed. When plugged in to charge, the trolling motor batteries are charged first because it can always feed power to the cranking battery if needed," says Hill.
"There is also an emergency start option because the unit always saves a little power in case it is needed, even if the system says the batteries are out of power. It pools all of the power from each battery to make sure you can start the engine," he adds. This can save the day and get you back to the ramp safely. It can, however, damage old batteries that have very little life left, but at least you will make it back home that night.
While charging with land power or while running the boat and utilizing the alternator to charge all of the batteries, the unit will share the time left to charge to the VISION system. "You can see an estimated time to full charge for all of the batteries," he says.
What is Power-Pole VISION
The Power-Pole VISION is a tablet for your boat that can control and monitor just about every piece of equipment on your boat. This tablet is built on the Android platform so it can also run thousands of Android apps. Everything from the weather to navigation or sports apps and more can be used while on the water.
It can do much more and also controls things like trim tabs, live well pumps, jack plates, lights, and of course your Power-Poles. Since it is NMEA 2000 capable, boaters can create gauges using engine data and it virtually eliminates the need for standard gauges on the dash.
VISION features a 7" touch-screen built for life of the water. The high-bright screen allows it to be visible even in the brightest sunlight. It also has a Water Shade option to prevent buttons from being changed in rainy conditions or wave splashes. It can be mounted flush-mount on your dash or RAM mount system. Also included with this device is a built-in camera that allows you to take your own fish-selfies and post them to social media directly from the unit.
One of the features that make it all work seamlessly is the C-Monster protocol. "There are products that run on Bluetooth and it is a strong signal but only allows to be connected to one device. Wi-Fi is another option and it allows multiple devices to connect, but the signal is not robust," begins Hill. That is why they developed the C-Monster protocol. "The signal is strong even in a wet environment or with aluminum boats and it allows you to pair multiple accessories," he shares.
VISION and CHARGE Together
The two new products work seamlessly together and with both products on board, you can easily monitor all of your battery levels and power distribution in real-time. From there, boaters can focus on fishing instead of worrying about their batteries.
Pricing and Availability
Both of these products are nearing availability and will be available in the first quarter of 2018. The VISION retails for $1,599 and the CHARGE will sell for $1,299.
The team at Power-Pole continues to innovate after changing the boating landscape with their shallow water anchors. Now, they have adopted a new name; Power-Pole Total Boat Control.