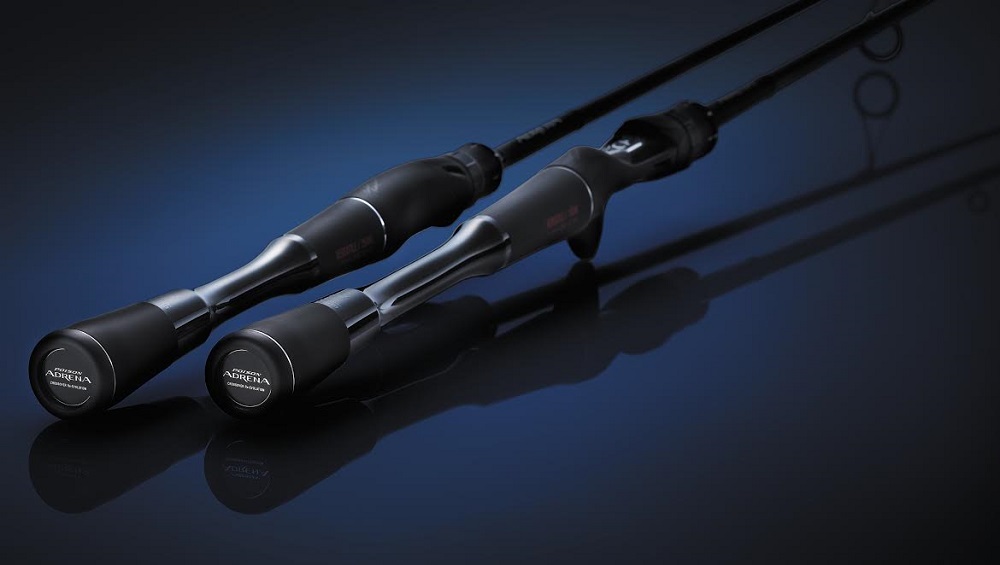 ALL-NEW POISON ADRENA BASS RODS FROM SHIMANO
FEATURE SPIRAL X CORE BLANKS, FULL CARBON MONOCOQUE HANDLE
LADSON, S.C. – Classic Expo 2019 Introduction – Available late March – Lightweight, responsiveness, and sensitivity will be what anglers experience in Shimano's new Poison Adrena bass rods, being introduced this week at the Bassmaster Classic Outdoor Expo in Knoxville, Tenn., and soon to be available from select tackle dealers throughout the U.S. and Canada. Featuring Shimano's proprietary Spiral X Core blank construction, the series includes four rods – three casting and one spinning – offered in the lengths, actions and powers for the primary techniques used most by avid, tournament-level bass anglers.
Through Shimano's Spiral X Core construction process, internal and external layers of carbon tape are combined at opposing angles on a layer of NanoAlloy carbon material. "What this all means for bass anglers is a rod that won't roll over during the cast for better distance and the exceptional accuracy," explains Trey Epich with Shimano's product development staff, "along with providing unsurpassed strength, rigidity and responsiveness."
Further contributing to overall light rod weight, the Poison Adrena's hollow structure 'Full Carbon Monocoque' grip end design uses super lightweight carbon construction "to greatly increase sensitivity – you'll be able to feel the vibration of your lure going through the water from the tip of the rod to your hand," Epich notes. "You'll feel the smallest bites from that sensitivity, and then it's up to you to set the hook – the power is there to drive it in."
Also keeping rod weight down while maintaining maximum strength is the use of Shimano's CI4+ material in the reel seat.
The Poison Adrena line-up includes 6'11' M+, 7'2" H and 7'3" MH casting – all with versatile actions to cover a myriad of techniques, and a 6'7" ML spinning rod, which can pull duty for dropshot, Ned rig or Neko rig situations.
"These rods are beyond anything Shimano has offered in the past," said Epich. "They really are special fishing tools for bass anglers who want to take their skills – and maybe even their tournament success – to a higher level. When looking for the right reel to match them up with, be sure to check out the just introduced Antares 70HG reels, the Metanium DC reel if you want to advantage of digital control casting, or the Metanium MGL 150 size reels."
For more information on the new Shimano Poison Adrena rods with Spiral X Core construction, visit the Shimano web site - fish.shimano.com - call Shimano's product support team at 877/577-0600 (6 am to 5 pm Pacific Standard Time) – or visit your local tackle dealer.
###
Suggested Retail: from $349.99 to $359.99 depending on length