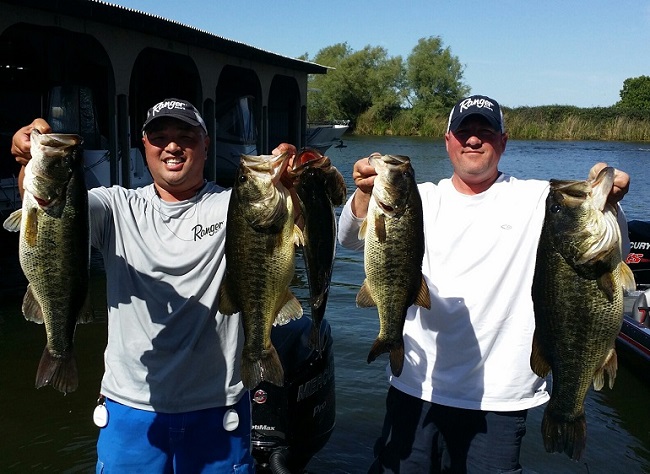 Each year as the colder temperatures give way to the spring, I begin to anticipate the "36-lb bag".
Some scoff at my expectations, some say I am spoiled by the Delta fishery that I call my backyard; but at this point - to me - it has just become a tradition.
A few years ago, I began to write about the 36-lb day.
On April 7, 2012 Mark Daniels Jr. and Jamond Andrews weighed 36.56 in an U.S. Angler's Choice tournament.
On March 9, 2013, the same team brought 37.44 to the scale in a WON Bass Delta Teams event.
On March 8, 2014 Jamond Andrews and Harvey Pulliam returned to the dock for an Angler's Choice weigh-in with 35.99.
For 2015, the 36-lb feat was accomplished on April 12 by Ken Mah and Jason Austin, competing in this year's U.S. Angler's Choice circuit. Mah and Austin boated their best five for 36.19 with a kicker that came in at 10.94.
With four teams weighing over 3- lbs and half breaking the 20-lb mark, one may think the bite is wide-open on the tidal water fishery; however Mah disagreed. "We only caught about 12 or 15 keepers for the whole day," he said. "In mid-April, I would say wide-open is 20 to 25 a day."
Although the clock is ticking and there are less than six days separating this team from their next event, they did share some details of the day.
EARLY
Their first three were in the box by 7:40 a.m. "I cranked an 8 and a 7early in the morning," said Mah. "A short time later, Jason got the big one. It was our third fish of the day. At that point, I figured we just needed a couple four pounders to win."
Neither of the anglers revealed any commonalities to the areas they targeted; however Mah did advise of a spring that was later than normal. "We both think that less than 40 percent of the Delta has spawned," he stated. "We're still catching fish in places that I normally get 'em in late February or March. It seems the nice weather has people thinking the fish are further along than they actually are."
VARIETY
The team noted their keepers came throughout the day on several different baits.
"Staying open-minded is the key," stated Austin. "We never go to an area expecting to fish one way. We've always got a lot of rods on the deck and then we go to areas where we think there will be big fish and fish whatever way we need to for the situation or structure."
SPECIFICS
The three morning fish were caught on a bank within 50 yards of each other, on the incoming tide. Mah was using a red crankbait and Austin enticed the 11 with a Spook.
Moving to the central Delta, they filled out their limit with two more that went less than 3 lbs each.
Later in the day, Mah punched a 6 lb'r with a Rhythm and Blues Sweet Beav. By 1:30 p.m., Jason culled the last fish with a 4-plus, flippin' a Bloody Mary Beaver.
The majority of their fish were caught out of 4 to 7 ft - deeper than Mah's preferred targeted depth.
The pair pocketed $2,580 in winnings.
More on Mah and Austin:
52 LBS FOR VICTORY IN ABA LUCAS OIL DELTA TEAM (Another Mah/Austin Championship)
MAH AND AUSTIN WIN THE 2ND ANNUAL RIVER2SEA OPEN
A 32 LB DAY ON THE DELTA: MAH AND AUSTIN WIN AGAIN