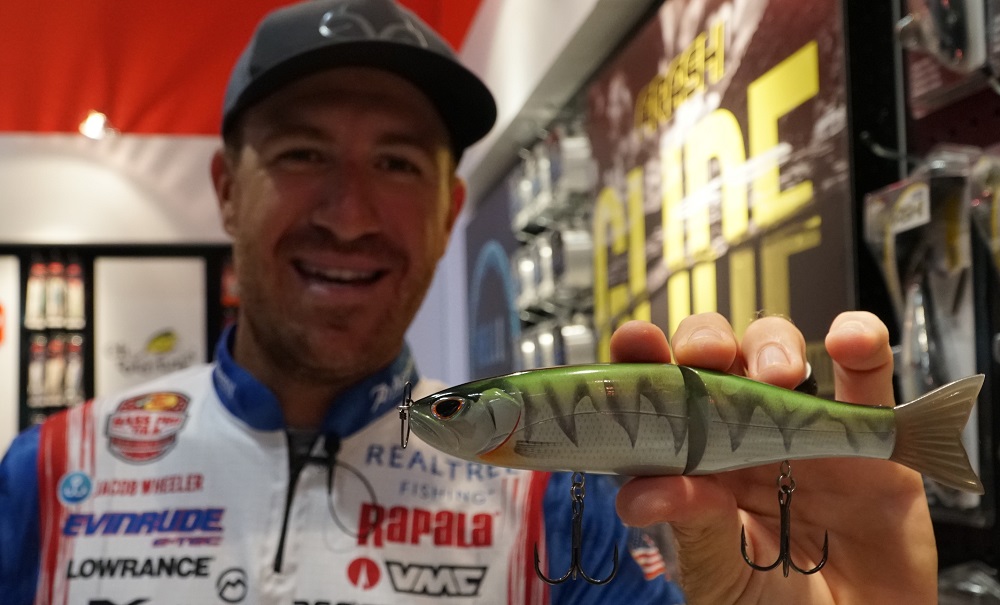 The Rapala name is legendary in fishing, and along with that line of lures, they produce some great hooks, line, and lures under other popular brands. This year, they added new lures for Rapala, but it was mainly the addition of new sizes and colors.
The biggest news was an ICAST award for VMC Hooks, a new Storm Glide Bait, and a technologically advanced fluorocarbon from Sufix.
Here is a recap of what they unveiled at this year's ICAST.
Professional bass angler Brandon Palaniuk loves throwing big swimbaits and glide baits. Now, he has his own signature series glide bait that was the result of three years of research and development.
The bait is 7 ½" long and features a single joint to get the excellent gliding action bass love. The main section is hard, and the tail is a soft tail that can be replaced if needed. It comes in nine great colors and has a sink rate of 0.4 feet per second.
The Storm Arashi Glide has the same great action and colors as baits that cost much more. It will retail for around $35.
This new hook idea won an award at ICAST, and it is unlike anything else out there. It is a standard VMC treble hook with the addition of a willow leaf blade to add some flash to any of your lures that use a treble hook.
The blade is attached to a split ring and can rotate 360-degrees to ensure that they will always spin and create flash. They come in four sizes: 2, 4, 6, and 8.
VMC Heavy Duty Weighted Willow Swimbait Hook
This is a VMC's version of an underspin, and it is a beefed up one at that. It features a self-centering spring to hold your swimbait securely and to make sure they are rigged straight.
They come two per pack and in seven sizes ranging from seven sizes: 3/16 oz with a 3/0 hook to a ½ oz version that has an 11/0 hook.
New Size Options
Several of the Rapala family of brands added some new sizes to proven baits. The Rapala Slab Rap, Rapala Ripstop jerkbait, Storm 360 GT Searchbait, VMC Tokyo Rig, and Rapala BX Brat all have new sizes. Here is a quick rundown.
The BX Brat is a unique bait that includes a balsa body surrounded by a plastic body. This is the best of both world's as it has the floatation of balsa with the durability of plastic.
New for this year is the BX Big Brat that is 2 ¾" long and weighs a ¾ ounce, and it will dive to depths of six feet deep.
The VMC Tokyo Rig is one of the hottest rigs in bass fishing, and now they beefed it up with two versions that include stouter hooks. One is built with a VMC Heavy Duty Flippin' Hook and the other with a VMC Heavy Duty Worm Hook.
The Rapala Ripstop Deep is the same size as the original but will dive three to four-feet deeper. Their Slab Rap is a specialty lipless, and they made it a ½" longer and 1/8 ounce heavier.
The Storm 360GT is a swimbait they call a "Searchbait" because it allows you to search water quickly while looking for feeding bass. This year, the introduced a smaller size that comes in at 3 ½" long and it comes pre-rigged on a 1/8 ounce jighead. They also unveiled a bigger version that is a 5 ½" that comes paired with a ¾ ounce jighead.
New Color Additions
Terminator is another brand in the family, and they make excellent jigs and spinnerbaits. One of their designs is the Terminator Pro Series jig. With pro Ott DeFoe, they added five new colors to bring the total to 17 different colors available. The new colors are Bama Craw, Chobee Craw, Glimmer Blue Shad, Texas Craw and Over Dose.
The Rapala Rippin' Rap is yet another proven lure, and they added four bold new colors. The four additions are Fruit Bowl, Leprechaun, Bad Lipstick, and Road Trip. The BX Brat also added four: Change Up, Chartreuse Shad, Hot Dang, and Sleeper.
This new Sufix line was built using a proprietary gel phase technology process that makes it strong, supple, and sensitive. It comes in sizes ranging from 4 to 30-pound test and in both 200 and 1,200-yard spools.
Tools and Apparel
Besides lures, Rapala also makes quality scales and tools to make your fishing more enjoyable. This year they added three new items: a nonpenetrating Lip Grip Cull Tag system, Folding Fillet Board with a stout clamp, and lanyard with a 360-degree rotating carabiner clip.
If you love to show your passion for Rapala, the new apparel may interest you. They introduced a comfortable t-shirt called the Rapala Next Level T-Shirt, a performance shirt called the Solid Color Performance Shirt, a warm hoodie, and a low-profile snapback hat. All of them prominently display the classic Rapala logo.
There were many new items from Rapala this year for all species, but the items listed above are things that will excite bass anglers everywhere.