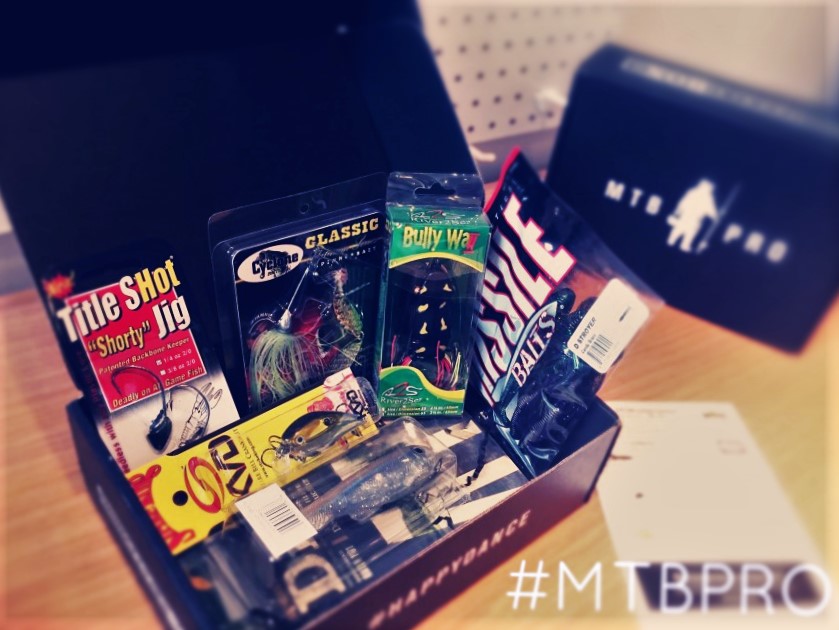 Maybe you have heard of them or maybe you already subscribe to Mystery Tackle Box. The concept of a box of quality tackle showing up every month is growing in popularity and the experience for Mystery Tackle Box is about to get even better as it becomes more personalized.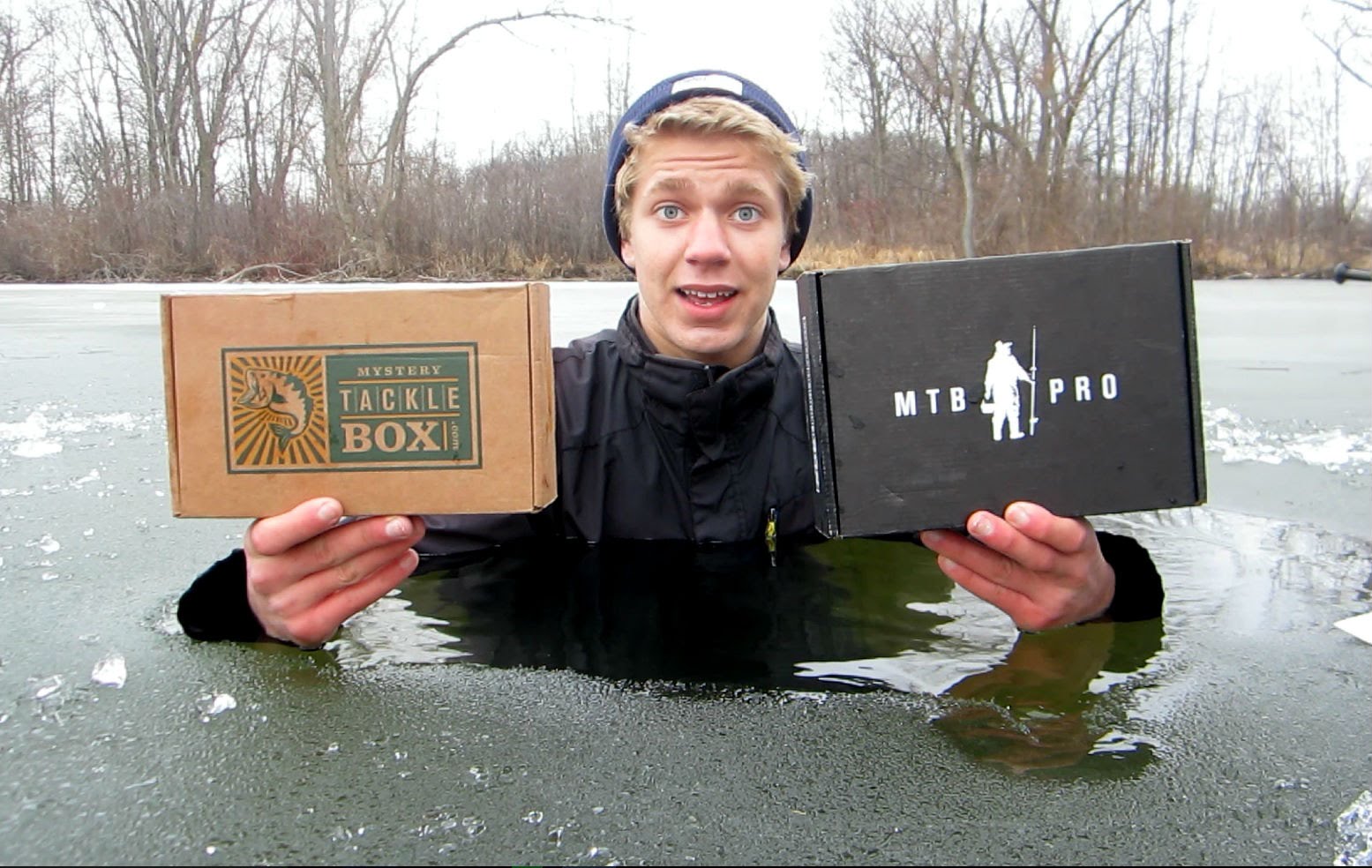 History
The idea of Mystery Tackle Box was born by Ross Gordon who now serves as CEO.
Gordon recalls being confused and overwhelmed trying to decide what tackle to buy. "I remember standing in a tackle store with no idea what to get," he said. "I finally just picked something and that feeling of not knowing what to get stuck with me."
From this the idea of MTB was born. Gordon's goal was to create a way for anglers to get relevant products shipped directly to them each month.
The products ARE NOT discount brands or discontinued items. Each delivery features popular lures from major brands in the industry. With a subscription, anglers are able to try new items and save money in the process.
There have been several others who have tried to make this idea work; but they have largely come and gone while MTB continues to grow.
"We are an innovator in this space and focus on education and also offering a premium product. Improving the subscriber experience is our goal each month," added Gordon.
Not Just For Beginners
While the idea of Mystery Tackle box is a no-brainer for someone just getting into fishing and beginning to collect tackle, anglers of all experience levels will appreciate it.
"There are many of our subscribers who are very experienced anglers," said Gordon. "They look at it as a way to try a new type bait they may not have thought of buying or something that is not easily available to them. We work with some top regional brands that may be new to someone in another part of the country."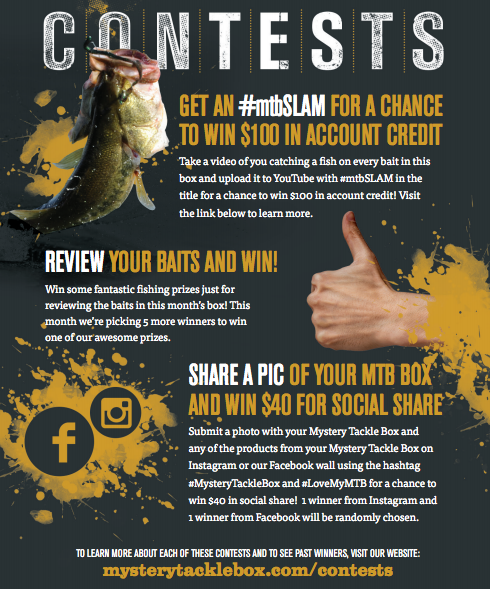 What is the #mtbSLAM
The idea of the Mystery Tackle Box Slam came about from anglers who wanted to challenge themselves. With new lures arriving, subscribers began to set out to catch a fish on each of the new lures they received. The result turned into its very own social media hashtag and fun contest opportunity.
If a card with details on the #mtbSLAM is included in your monthly box all you have to do is submit a video of yourself catching a fish on all of the lures. Upload it to YouTube and include the hashtag #mtbSlam and you are entered.
The winners have a chance to win $100 or $50 in account credit, even submitting one fish catch allows anglers to be entered to win $50 in account credit.
How-To
Besides the funny and entertaining social media posts, Mystery Tackle Box has a wealth of good content to help you learn more about fishing. They also have a large collection of how-to videos and articles on their website as well as including a magazine into each box.
Well-known YouTube fisherman Gene Jensen (Flukemaster) and Justin Rackley (Lakeforkguy) are part of the MTB team. They also participate in the Mystery Tackle Box slam and produce many videos designed to educate about the products that are included in the boxes.
Personalization
Getting a surprise box of tackle is always fun; but once in a while, you may get something that doesn't apply to your home waters. That is going to change as Mystery Tackle Box continues to personalize the experience. By creating a profile based on your fishing style, species you target and where you live your selection will get more fine-tuned.
When creating a profile, the first step is to select the types of waters that you fish -
from shallow lakes to rivers and even inshore or deep sea saltwater.
From there the profile asks about water clarity, whether or not you fish from a boat and then the predominate species you target. It also gathers information about preferred lure styles and gear used, color preferences and favorite style of fishing.
All of this data works together to create the ultimate package of lures to be sent your way.
Specialty Boxes
As yet another way to improve the user experience, Mystery Tackle Box has a series of "Speciality Boxes". Included options are growing and currently include specialty boxes like;
Pond Hopper
Finesse Essentials
Baitfish Bonanza for the bass angler
There are also boxes for ice fishing, inshore saltwater and panfish.
Another featured box is called Ish's Favorites and includes handpicked items from Ish Monroe. The box features four items from River2Sea: the Biggie squarebill, Bling spinnerbait, Bully Wa II frog and the New Jack flippin' hook.
Costs
If you are wondering what all of this costs, there are different costs associated with the featured boxes; but the subscriptions are either $15 or $25 per month.
The $15.00 option is the Regular Box and includes approximately $25 worth of tackle each month. The Pro Box is $25 and includes approximately $40 of tackle. Both of them include free shipping within the monthly fee. Costs are decreased for those who pay for more than one month at a time.
Mystery Tackle Box is a great way to try out new baits each month and save some money in the process. There is something for everyone whether you are new to fishing or a highly seasoned angler.