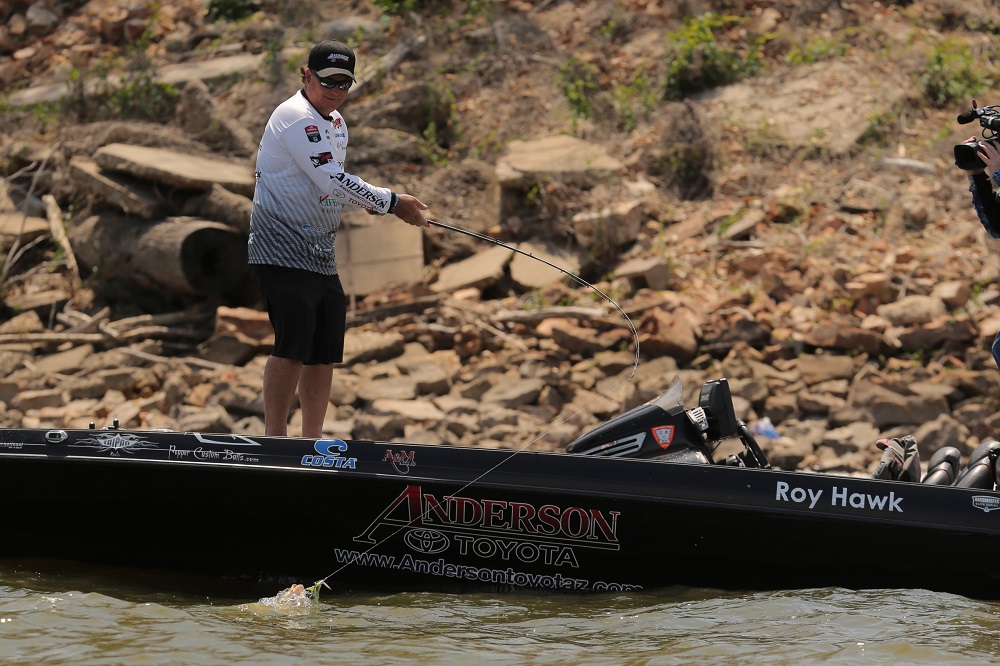 Photo: B.A.S.S. | Seigo Saito
Arizona's Roy Hawk has long been a force in the west and this season he showed the rest of the country that he is an excellent angler worth of fishing at the top level of bass fishing. He finished 2nd during his first Bassmaster Elite Series event on Lake Martin, Alabama and had several other nice finishes en route to a Bassmaster Classic qualification.
Before heading east, he made sure to bring his Yamamoto baits, and there were five that stood out and made a difference in his excellent rookie year. Some are old standbys, and some are new or unique baits that many anglers may not be fishing.
Double Tail Grub and Hula Grub
This was Hawk's first pick when asked what baits helped him on the Elite Series.
"This is an obvious choice because of everything you can do with it. I use the Double Tail as a jig trailer and fish the Hula Grub on a jighead," he says. "The other thing about the Hula Grub that a lot of people don't realize is that it is an excellent bait for flipping, pitching and even punching."
Hawk likes to pitch the Hula Grub on a Texas-Rig everywhere he goes no matter which coast he finds himself on. "In my mind, it is more subtle, and a smaller package and that is why it does so well pitching to cover," says the Arizona pro.
Senko
The Senko is an obvious choice as just about every angler owns them.
"I never go into a tournament set on throwing a Senko, but I always have one rigged up. For me, it is a way to save the day when you need one more fish when things are tough," begins Hawk.
There are countless ways to rig it, but for these panic situations, Hawk likes the four-inch version rigged wacky on a weighted jighead.
"I'll use it for the times when I know there are fish there, and they are not biting and when I just need to get a bite."
This Yamamoto bait is a sleeper according to Hawk.
"I think many people do not even know it exists. It has been around for years and is starting to make a comeback," he says about the six-inch bait that resembles a four-inch Senko with a tail section.
At the Sabine River, Texas it was one of Hawk's main baits for pitching and flipping as he finished in 15th place.
"I like to think of it as a finesse flipping bait. It is bulkier than a finesse worm, but not as bulky as a typical flipping bait," he says. "The other great thing about it is that it has a longer body section and you can use a bigger hook. I like to rig it with a 5/O hook."
There are only a handful of colors offered in the Stretch 40, but two of Hawk's favorites are Green Pumpkin with Black Flake (#297) and Watermelon with Red Flake (#208).
"I had them make me some black and blue and that was the deal on the Sabine," he says. "This is also a great bait for a standard Texas-Rig or Carolina-Rig, and I have a bunch of friends who use it on a drop-shot."
Hawk is a fan of both sizes of this bait, and he will fish it solo or on the back of a jig. "Overall, it is a bigger profile. It also goes through cover really well," says Hawk.
Another thing he likes about it is that Yamamoto makes it in some unique colors. "One of my favorites is Mowed Grass (#387). It has purple flake and looks excellent underwater," he adds.
Cowboy
This bait is relatively new to Yamamoto, but Hawk has already found success with it during his first season on the Bassmaster Elite Series.
"It really helped at Grand Lake (where he finished 3rd) to locate bigger fish during practice. Grand has so many fish in it, and you would be in areas with little ones, and this helped me dial into where the bigger fish live because it is a bait with a big profile," he says. "I was fishing around docks and walkways and used it as a trailer on a ½-ounce. jig and it allowed to the jig to fall very slowly which was key for that situation."
Hawk had an outstanding year on the Elites and was happy to test his skills against the best in the world. "
The whole year was a blast from start to finish. It was unbelievable," he shared.
Part of his success was due to his undeniable skill and these five Yamamoto baits also contributed to his excellent rookie year.