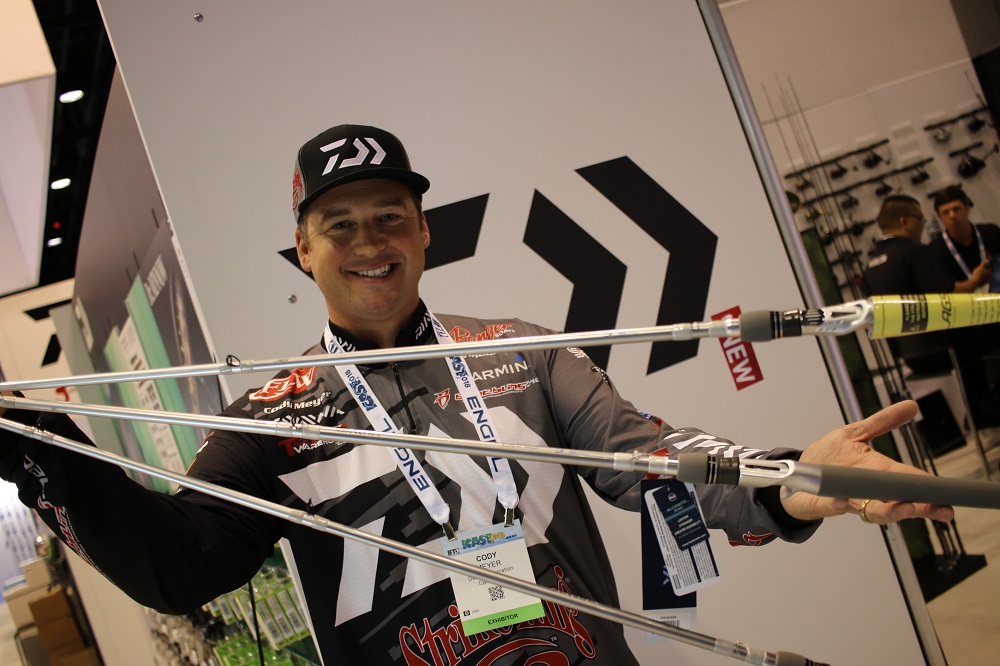 At this year's ICAST show, Daiwa unveiled many new products.
Some were new lines and some were additions to their already popular lineup with more sizes and models of the Tatula Elite Rods and Tatula reels.
See the full Daiwa Press Conference for New Product and New Pro Staff Below.
Here is a rundown of these and more that is new from Daiwa.
Tatula Elite Rods
This lineup of technique-specific rods was built from the top to the bottom by Daiwa's top pro anglers. They are built to the exact specifications and actions the pros desire for some of the techniques they are best known for. There are seven new models to the lineup.
Ish Monroe's "Long Cast Frog" – A 7'9" heavy rod designed to make long casts to far away vegetation.

Brent Ehrler's "Small/Med Crankin'" – A 7'2" medium crankbait rod.

Randy Howell's "Universal" – A 7'2" medium heavy that can do it all.

Cody Meyer's "Search Bait" – A 7'6" medium heavy that excels for swimbaits, spinnerbaits and other moving baits.

Seth Feider's "Shooting" – A shorter 6'10" spinning rod designed for vertical fishing with your electronics.

Ish Monroe's "Swimbait" – A 8' heavy swimbait rod rated for baits up to nine ounces.

Takahiro Omori's "All Around" – A 7' M-MH spinning rod that can do several finesse techniques well.

Tatula Baitcast Reels
New for this year are two new sizes of the popular Tatula reels: a 100 and 200 size.
The 200 was built for heavier tackle fishing. It has the same great casting distance as the other Tatula reels but with a bigger line capacity for heavier line and bigger baits. It is available in 6.3:1 and 7.3:1 gear ratios.
On the other end up the spectrum is a new smaller Tatula. The 100 size is the smallest and lightest Tatula in the lineup and weighs just 6.9 ounces. It has all of the great features you know from the Tatula line but in a smaller package. It comes in 6.3:1, 7.3:1, and 8.1:1 gear ratios.
Angler's Storage and Tools
Daiwa also makes smart tackle storage solutions and tools in their D-Vec series. This year they introduced several items that will make your fishing experience more enjoyable and organized.

Other New Daiwa Fishing Reels
Exist - Daiwa is known for their quality spinning reels and the Exist is the top of the line. This reel is their flagship reel and comes at a high-end price point ($799.99), but it is the best spinning reel they make. Some of the features are the Magsealed body and line roller, magnesium body, aluminum Digigear, ABS spool and every other technology Daiwa could fit into this reel.

Ryoga - This classic style round reel is a premium reel from Daiwa. It has a machine cut metal housing, free floating spool, speed shaft, and a hyper mesh gear system. Like all of Daiwa's high-end reels, it is Magsealed. It retails for $599.99 and comes in both 6.3:1 and 5.4:1 gear ratios.

Revros LT - This reel is part of Daiwa's LT (light and tough) concept. This reel was already in existence and they have made it a full 2-ounces lighter for the 2000 model and a full five ounces less on the 4000 size. Even with the weight reduction, it is still very powerful and built to last. Retail cost is between $49.99 and $59.99.
As you can see, Daiwa has been busy. They released even more products and the full lineup can be found on their website.