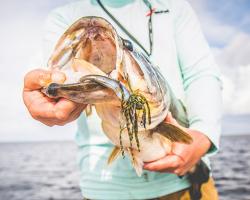 When fishing around docks, laydowns, and other structure, down imaging and side scanning can be an anglers best friend. That said, when you're only in a few feet of water and the eel grass has grown up to just a few inches below the surface, you might as well kill your electronics because you're flying blind. Add some 20 mph winds and intermittent showers and you're in for a true test! These are the times when you need to rely on your basic bass instincts; looking for fish busting bait, boils on the surface and holes in the grass are going to be your keys to success. These were the conditions we dealt with on a recent trip down to Stick Marsh in Florida with Z-Man® & B.A.S.S. Elite Pro Luke Clausen.

We fished anywhere from 20 feet to 200 yards from the bank where we found bass ambushing bait in the eel grass while using the hydrilla for cover. Knowing that he'd have to utilize long fanning casts to cover a lot of water, Luke immediately went for the new Project Z™ ChatterBait® Weedless.


This bait truly excels in grassy conditions for a couple of reasons. First, and most importantly is the heavy fiber weedguard that perfectly shields the hook point from snagging on the vast fields of underwater grass. This new weedguard has just enough kick to allow the bait to effortlessly slip through the submerged vegetation resisting any snags while not interfering with what he was really there for…the bite! The second reason Luke, without hesitation, reached for the new Project Z™ ChatterBait® Weedless was for the stainless blade fixed to the eye of the jig. This blade serves a number of purposes including flash for the bass to see and vibration for the bass to hear. The other key feature of this blade is its cutting ability…it literally works as a blade to cut through any grass that tries to hang up on your line.

When it comes to Project Z™ ChatterBait® trailers, one of Luke's go-to baits is the RaZor ShadZ™ with the segmented/vertical tail.

This bait has a bulkier profile to mimic full-bodied forage like bream, shad and herring. This initial setup paired perfectly but after picking off a couple dozen 2-3 pounders Luke knew he needed to make more of a splash to really entice a bigun. Time for a beefy paddle-tail trailer. In comes the DieZel MinnowZ™.


This bait - as it also excels solo as a swimbait - is the ultimate ChatterBait® trailer. It's 4 inch body with unparalleled softness and incredible paddle-tail action just can't be refused by a hungry largemouth.

It wasn't more than a few casts with the Project Z™ ChatterBait® Weedless paired with a DieZel MinnowZ™trailer in the color "The Deal" when Luke hooked into a true lunker. Coming in at 9 pounds 12 ounces, this aqua-dino could fit both of your fists in its mouth.


Next time you're looking for a big bite, need to cover large areas of water, and don't want to be picking grass off your lure, give the new Project Z™ ChatterBait® Weedless a shot. It's got everything you need in one bait; the flash of a spinnerbait, the vibration of a crankbait and the versatility & weedless features of a swim jig!


Shane Clevenger

Z-Man Fishing Products.