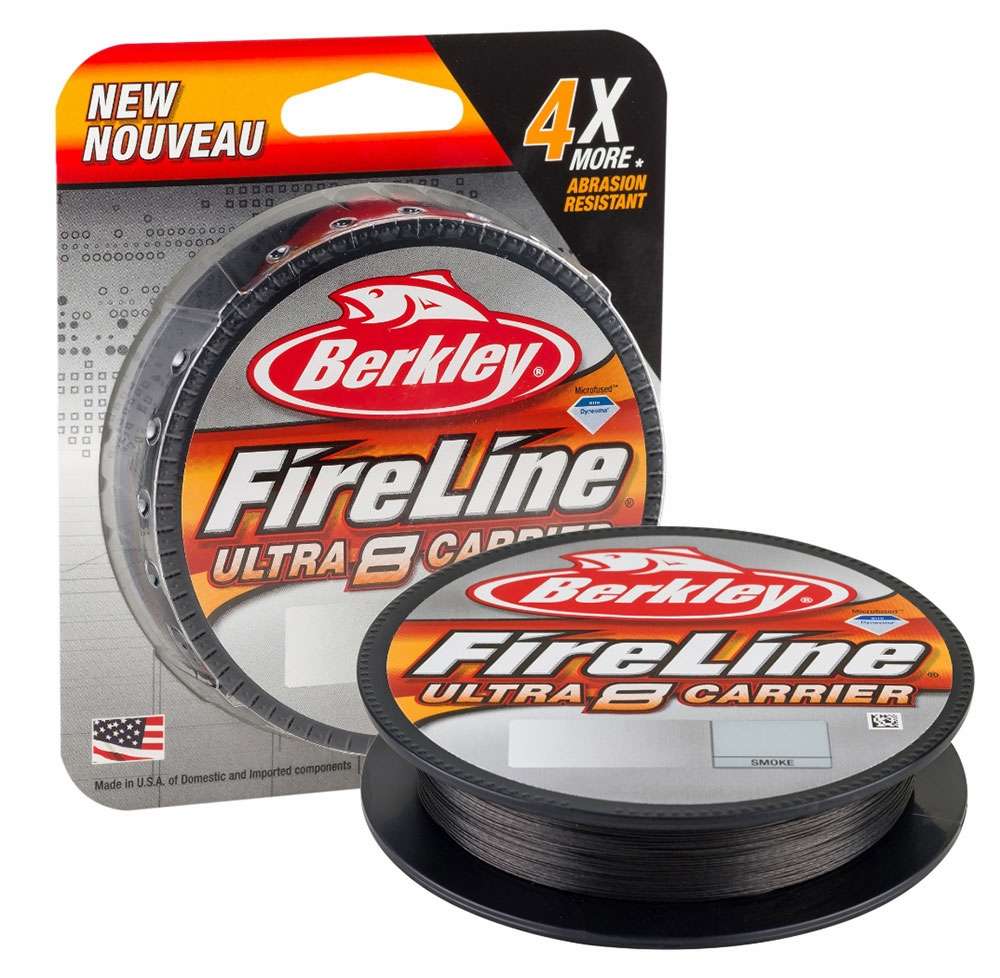 COLUMBIA, SC - The new thermally fused BERKLEY® FireLine® Ultra 8™ won top prizes at the 2018 Big Rock East AND West Shows, taking place in Raleigh, North Carolina and Las Vegas, Nevada, respectively, receiving Best New Product in the Fishing Line Category. FireLine Ultra 8 is the toughest FireLine on the market and will help anglers of all levels build the confidence to cast into structure and brush where the bigger fish like to hide.
The awards, which are determined by voters comprised of retailers, are votes of confidence. Retailers vote based on what they believe will sell and they clearly believe in FireLine Ultra 8. It is the only product that won at both the East and West shows, an unusual feat.
"For more than 20 years, FireLine has consistently proven its reliability and strength for anglers with every level of expertise," said Chris Pitsilos, brand development at Berkley. "FireLine Ultra 8 is smoother and four times more abrasion resistant than original FireLine and we're excited for anglers to get it on their reels as they start their spring fishing."
Available in two colors (smoke and crystal), the Ultra 8's thermally infused 8-carrier braiding delivers a super smooth FireLine. Berkley FireLine Ultra 8 MSRP starts at $19.99 for 125 yards.
About Pure Fishing, Inc.
Pure Fishing, Inc. is a leading global provider of fishing tackle, lures, rods and reels with a portfolio of brands that includes Abu Garcia®, All Star®, Berkley®, Chub™, Fenwick®, Gulp!®, Hardy & Greys™, Hodgman®, Johnson™, Mitchell®, PENN®, Pflueger®, Sébile®, Shakespeare®, SpiderWire®, Stren®, Trilene® and Ugly Stik®. Pure Fishing, Inc. operates in 22 countries with a dedicated workforce conversant in 28 languages. Pure Fishing, Inc., a part of Newell Brands' strong portfolio of well-known brands, is a leader in developing outdoor and active lifestyle products. Additional information can be found at www.purefishing.com.
About Newell Brands
Newell Brands (NYSE: NWL) is a leading global consumer goods company with a strong portfolio of well-known brands, including Paper Mate®, Sharpie®, Dymo®, EXPO®, Parker®, Elmer's®, Coleman®, Jostens®, Marmot®, Rawlings®, Irwin®, Lenox®, Oster®, Sunbeam®, FoodSaver®, Mr. Coffee®, Rubbermaid Commercial Products®, Graco®, Baby Jogger®, NUK®, Calphalon®, Rubbermaid®, Contigo®, First Alert®, Waddington and Yankee Candle®. Driven by a sharp focus on the consumer, leading investment in innovation and brands, and a performance-driven culture, Newell Brands helps consumers achieve more where they live, learn, work and play. Additional information about Newell Brands is available on the company's website, www.newellbrands.com.