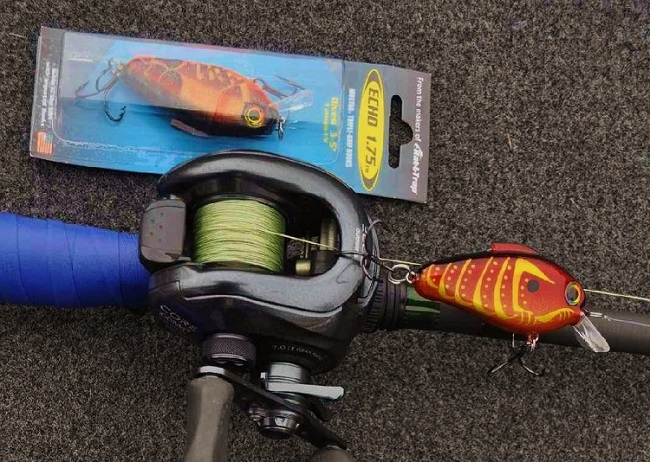 The Rat-L-Trap Open isn't just for lipless crankbaits, anglers are welcome to use squarebill cranks too.
Back with his next 'Trap tip, Mark Daniels Jr. talks about the newly released Echo 1.75 - the Rat-L-Trap squarebill. Here is what he had to say...
'TRAP TIP #2 - FOUR-WHEEL DRIVE
Brand new from Rat L Trap (just introduced last month at the Bassmaster Classic) is the Echo 1.75. It is a squarebill crankbait that dives 3 to 5 ft. This will be a perfect addition to the Rat-L-Trap Open line up on the California Delta, especially considering the event will be in the later part of April.
I would use the Echo to concentrate on some of the flooded islands - to list a few Big Break, Frank's Tract, Little Frank's Tract, Mildred and Mandeville. Fish will be in varying stages of the spawn in these areas.
I would target rip rap banks that have a "nice trough" in them, meaning the distance between the rocks and the initial weedline need to be about 5 to 6 ft in width. I would crank that trough, banging those rocks with the squarebill. If there is grass, I would be trying to get hung up in it and deliberately pop it free from the grass to trigger the strike.
When fishing squarebills, if you're casting this bait and reelin; it in and you're not hitting anything, the fish are never going to bite. The theory of a squarebill is that you need to put them in four-wheel drive, in sketchy situations and that is how you get bit.
On other bodies of water, I may play with the speed of the retrieve; but on the Delta I would suggest a more constant high-speed retrieve and that is going to increase the chance of deflection. I wouldn't worry about varying speeds, pauses and all that. I would keep it simple, make a nice long cast get down into that trough and bang it on anything and everything in that area.
Read more tips:
'Trap Tip #1 - Stages of the Spawn
EVENT INFO
The Rat-L-Trap Open, a Best Bass Tournaments (BBT) event, presented by Cousins Tackle, blasts off on April 19, 2015 at Russo's Marina.
All anglers are welcome!
Entry is $100 per boat, with an optional big bass pot for $20.
$10 off for pre registering by Sunday, April 12
100% payback is offered.
All current Bill Lewis products are now eligible, including lipless and lipped lures such as the Echo 1.75 and the Slap-Stick.
More information: http://www.bestbasstournaments.com/ratltrap