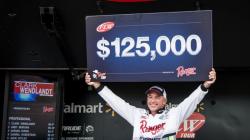 Strike King Counts Wendlandt as a Win!
Collierville, Tenn.– Strike King Lure Company is known for its elite pro staff. It's a facet of our business that we take great pride in, attribute much of our success to, and hold to a very high standard. We view and treat our anglers as friends, partners and family. With that being said, Strike King is excited to announce a new addition to our family. Please join us in welcoming Clark Wendlandt to the Strike King team!
"Clark is a great guy with a resume to match. He has been incredibly successful at every level of bass fishing and is currently doing a wonderful job on the TV side. He brings a lot of knowledge to the table with his experience that we intend to draw from. Clark is a great addition to our team" says Vice President of Sales and Marketing, Doug Minor.
"Strike King's product line has evolved to a point that they make a great bait for almost everything you could need," remarks Clark, a 3 time FLW Angler of the Year and host of "Fishing and Hunting Texas". "Strike King products have been really pronounced in the Texas tournament scene as of late, and I feel certain that they will give me an edge while filming as well as on the FLW Tour," Wendlandt adds.
For more information on Strike King products, please visit
www.strikeking.com
or your preferred fishing tackle retailer. For more information on Clark, or Fishing and Hunting Texas, go to
www.clarkwendlandt.com
.