Like youngsters anxiously waiting for Christmas each winter, Delta anglers anxiously wait for the showing of the big-bellied, pre spawn bass that make legendary limits this time of year.
Because I am fortunate enough to live on the California Delta, I also anxiously wait – I wait for what has become my annual tradition – the story of a 36-lb tournament limit.
Again, because I am fortunate – I have the luxury of receiving, taking, seeing fish pix on a daily basis – PB's, five-best's, even a fair share of bass that bust the double-didge mark and climb into the teener class.
While there is no denying the pix that prove five that run north of 40, a trio of spots surpassing a two-dozen pound maker or a pair of 10's in a single trip (on any given day) is awe-inspiring, there is always something extra-special about sackin' 'em up (under pressure), with a time limit, on a game day.
Which is why, this time of year, I am always waiting for a 36-lb tourney bag and am super-stoked to hear when it hits the scales.
This year was no different; however 36-lbs on game day in 2016 went one better – NOT ONE, BUT TWO five-fish limits over 36-lbs were weighed on March 5th in the American Bass Association North Delta Teams event.
The event went out of B&W. The boat count was lower than norm as a couple of other org's events blasted off on different areas of the Delta over the course of the weekend and a large Pro/Am on a separate NorCal lake took the attention of some of the tidal water's usual competitors.
By end of day, the leaderboard was topped with the two 36-lb bags, 31-plus for each of the top- five teams and more than 20-lbs for 35 percent of the field.
It was the kind of trip that only a few fisheries have the potential for and that every bass angler dreams of – but for the Dirty D, it's just another day on the water.
36's From Years Past Below.
CHAMPS
The event ended with the formidable father-and-son team of Lorenzo and John Rossetti edging out a narrow victory with 36.26 over the 36.15 brought in by the team of Zack Thompson and John Billheimer. Each team, hauled up a BF over 10 to anchor their bags.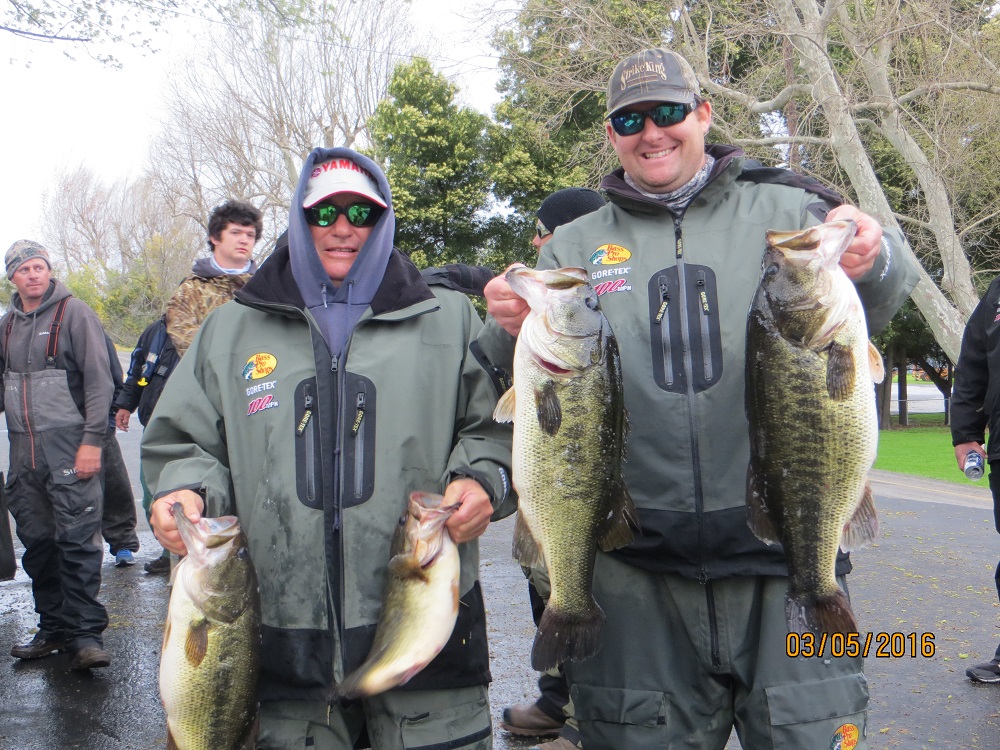 Lorenzo reported that the Rossetti's easily landed upwards of 50 bass for the day, their biggest coming in at 10.04.
"We had 25 fish by 9 o'clock and on three different occasions, I caught three fish in a row in back-to-back-to-back casts," he said. "A lot of 'em were between 1 ½- and 3 ½-lbs. I've had days with that many fish before, but when it happens, you're usually not weighing 20- or 30-lbs."
He said they ran six different areas.
"We didn't move around a lot; because when they were biting, I knew the tide was only going to be good for a short amount of time," he said. "Some days it doesn't work like that. Some days you need to fish as many spots as you can to get those active fish, but on this particular day with the conditions being 30-plus mph winds with gusts to 40 or 50, it was pretty nasty and we were only fishing a select few areas to make accurate casts."
Lorenzo explained their 10-pounder came from a spot stacked with striper, crappie and black bass in range of sizes.
"The area was full of baitfish," he recalled. "It just seemed like it was feeding time and the bait fish were getting bombarded. We were fishing good pre spawn drops (standard for the river) every bank has one, but this particular bank had a primary drop to about 6-ft and a secondary drop to 8 and then a deeper drop into the channel. That was the most special thing about the area."
He credited three lures for their weigh fish – a green pumpkin Revenge Viberator with a trailer from the Rage lineup, a ¾-oz Strike king Red Eye Shad in chili craw and a green pumpkin Yamamoto Senko.
"I was throwin the Red Eye Shad as far up the bank as I could get it and reeling it back pretty fast with a steady retrieve," he said. "I think the fish were up shallow and saw the bait coming through. I don't know if they were feeding or just reacting, but they were biting."
Lorenzo credited tide and timing to their success.
"High tide was by far the best; but the tide is always everything on the Delta," he said. "Experience with that is the most critical element. You have to have a little bit of experience to cast your bait, but you don't have to have KVD casting skills to catch that kind of limit. Being there when they're biting is the most important thing and obviously that coincides with the timing of the tide."
Their productive water was stained with visibility to 2-feet. It never rose above 59-degrees.
"The fish in the dirtier water were less pressured and less skittish," he explained. "The temp had dropped slightly from the day before. The wind, the rain and the tide all came together to make the big fish feed. The warm storm just so happened to fall on tournament day."
Lorenzo thanked R2S, Strike King, Phenix, NorCal Battery and Revenge.
AN OUNCE AWAY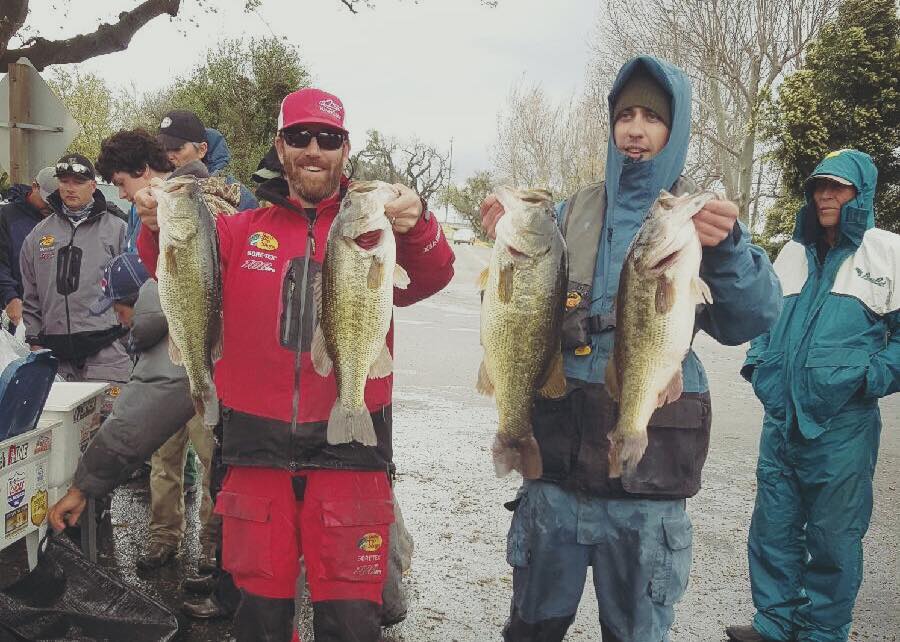 Zack Thompson and John Billheimer came in a close second and held big fish honors with an 11.04.
Thompson wasn't surprised by the big stringer.
"Usually February and March are some of our strongest times," he said. "We had a 33-lb bag about a month ago. We know where the big ones are when the weather gets right. We need to have that overcast, windy, rainy, early-early spring, late-winter day. When we get that, we have a couple milk runs that we do, depending on the tide. We throw a lot of reaction or we slow down completely with a Senko."
For this 36-lb bag, they used both techniques, luring in the 11 on wacky-rigged Senko in watermelon red. Two of their weigh fish ate a River2Sea Biggie crankbait in an undisclosed "orange/green" pattern and a ChatterBait helped fill out their limit.
"This year is abnormally warm, but it doesn't have to be this warm to get 'em this good," said Thompson. "As soon as the water temp starts to rise and the storms are coming in (especially with a south wind) you've just got to go fishing in the places where you've caught big fish. If you've haven't caught big fish before, this is the time to cover water and look; because once you get on them, they seem to be there year after year."
He reported the high tide as their most productive time of the day, but noted they had an early limit, including a nine by 8:30 a.m.
"We got lucky with that good morning fish," Thompson said. "The wind kept the tide back a little bit in the areas we were at, so it didn't come in as fast as we hoped it would. It would've been nice if the tide was a little bit higher, earlier in the day. By the time it got up, we had to leave them biting."
They targeted staging spots with tule and rock, just outside of the current. Thompson noted that water clarity and temp was less of a factor than being at the right location at the top of the tide.
"When days like this happen, it just proves over and over again, the Delta is one of the best places to catch fish in the country," added. Thompson. "You can go to Clear Lake or Florida or all these different places; but week in and week out (especially when you get weather in February and March) the Delta is just a big bass parade. We're lucky to fish here."
CLICK FOR MORE 36's
04.07.12 – 36.56 Mark Daniels Jr. / Jamond Andrews U.S. Angler's Choice
03.09.13 – 37.44 Mark Daniels Jr. / Jamond Andrews WON Bass Delta Teams
03.08.14 – 35.99 Jamond Andrews / Harvey Pulliam Angler's Choice
04.12.15 – 36.19 Ken Mah / Jason Austin U.S. Angler's Choice
03.06.16 – 36.26 Lorenzo Rossetti / John Rossetti AND 36.16 Zack Thompson / John Billheimer American Bass