Fort Peck Lake and Reports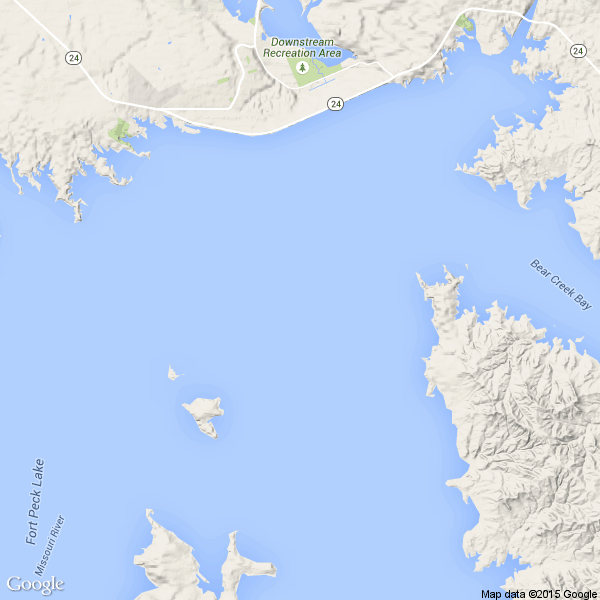 Click for Navionics/Google interactive map
Wednesday, Dec 6
Mostly Cloudy
Precip: 11%
Saturday, September 6th, 2008
Water Clarity: Muddy (0-2 foot visibility)

Report: Tough day, only two 3 pounders. One black and one spot. Please use valid comments on this site.

Tips: Check all your lines before going out, I had four line malfunctions. Battery was low(check it) and I couldn't use finders. left real early.
Saturday, December 24th, 2005
Water Temp: 55

Water Clarity: Clear (4+ foot visibility)

Report: Fished noon to four in the afternoon with my buddy mike dean. Did well for the dead sea in the winter. We caught and released 6 spots up to 2 lbs. Drop shot and dart head morning dawn 4 inch worms. 25 feet is where the thermocline is and that's where i found the little green things. Deep water is near by. Fish slow and watch your line they swim right at you. Drop shot wacky style seemed better. Merry christmas to all you guys that love to fish. Hope next year is as good as this year. Basin Bassmasters hope we have a good year as well.
City: orangevale

Tips: Fish 25 feet slow. 6lb test is best. My buddy mike used 8lb and I smoked him.
Wednesday, December 21st, 2005
Water Temp: Richie Hodges

Water Clarity: Clear (4+ foot visibility)

Report: 0iqhdm7rfgyt8lw1
<a href= http://larqmeljs.com >aughsvn wawrya</a>
http://tjgelmlkbrg.com
<a href= http://qhipjyokhad.com >qsemo qiglwmgh</a>
http://kkiztivofm.com
<a href= http://wnkucev.com >nhaxd zjvaq</a>
http://jviejkuj.com
<a href= http://lpdrtymevt.com >otegqj sjqfrwk</a>
http://mmmbxanaku.com
City: Russell Gordon

Tips: 0iqhdm7rfgyt8lw1
<a href= http://aygjacojqm.com >hkgfhnx ihdsamr</a>
http://umngpflhhz.com
<a href= http://esiirgbyzr.com >oxgfq wqhndx</a>
http://xepmyiekdq.com
<a href= http://kzfsxbkqihus.com >pxgzcpi rezukv</a>
http://liltim.com
<a href= http://cdfwkzdzuohe.com >jbgxh lwlqlan</a>
http://dvpktctlg.com