WesternBass Radio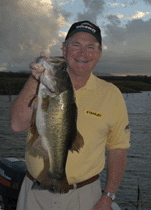 Sammy Lee, of Birmingham, Alabama, is a former touring professional bass fisherman and host of the weekday, syndicated radio/fishing program: "Tight Lines with Sammy Lee".
Sammy entered his first professional bass fishing tournament at age 16 and has since participated in over 400 tournaments in more than 20 states.
In 1982, Lee was honored by the Frank Carter Company, of Atlanta, Georgia, as "Master Fisherman of the Year". An award that was chosen from 90 promoter fishermen in 10 Southeastern states.
Sammy Lee, as host of the syndicated "Tight Lines with Sammy Lee" radio program, provides both the experienced and novice fisherman with winning methods and hints on angling. His down-to-earth approach and easy-going manner have made his program a favorite among sportsmen in all 50 states.
You can visit Sammy's website at www.tightlinesradio.com
Click on the the titles below to hear program.