Chatfield Lake and Reports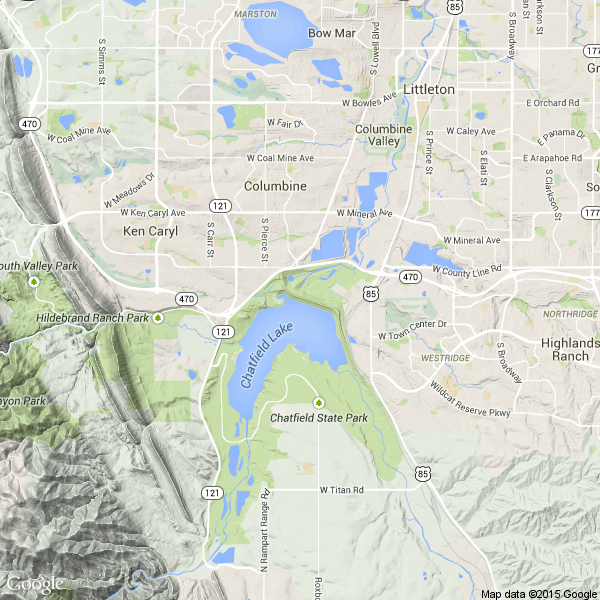 Click for Navionics/Google interactive map
Saturday, May 20th, 2006
Water Temp: 65 TO 68

Water Clarity: Clear (4+ foot visibility)

Report: FISHING WAS GOOD!! Majority of hte fish I caught were of of the dam. Most of the fish were sitting in 6' to 8' of water. Most of the smallies caught were short but the keepers were any where from 2lbs to 3.5lbs. I was again fishing an Aaron's magic 4 1/2" curl tail on a mojo rig. Also do not count out the large mouth down in the south marina. There are some 2lb to 5lb sows making beds on top of the tires. Fliping any kind of Senko to them will get them to bite.You just have to wait them out. Good luck!!
City: PARKER
Saturday, May 28th, 2005
Water Temp: 67-72

Water Clarity: Clear (4+ foot visibility)

Report: Fishing was spotty at best. Picked up shorts off the dam drop shotting. Picked up one keeper off the northern spill way east of the swim beach in 4'to 6' of water on the drop shot. Picked up a few nice fish west of the northern swim beach on beds in 3' to 4' of water flipping a gitzit tube.
City: PARKER

Tips: drop shot Aaron's Magic curl tail 4" Robo worms on the dam about 75' off the edge of the water. There is a big ledge there were the smallies will stack up as well as the walleyes. Texas rig small Gizit tubes in motor oil or watermelon to pick up feeding smallies off of the chunk rock on the dam and northern spill way. Also don't count out small Senkos in baby bass colors in later part of the afternoon rigged weight-less.
Thursday, May 12th, 2005
Water Clarity: Muddy (0-2 foot visibility)

Report: Does anyone use this site? Last posting in 2002. Not very useful.
City: Golden