Sammamish Lake and Reports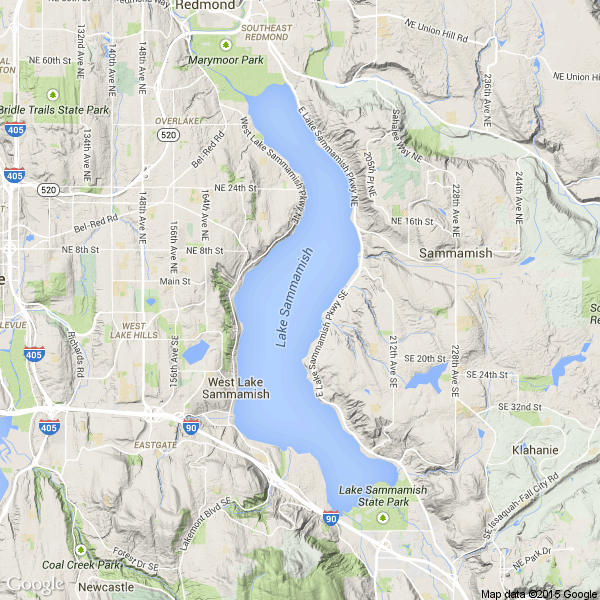 Click for Navionics/Google interactive map
Wednesday, Oct 4


Partly Cloudy
Precip: 10%
Sunday, February 1st, 2015
Water Clarity: Muddy (0-2 foot visibility)

Report: Got my tournament partner Mike Wolsky out of his duck boat and into my XT 18 aluminum, along with another good friend Zach Chandler. Before this day started I knew this was gonna be a great day on the water having a couple great friends jump in the boat you know there was some wager put on the line.....This day was " whoever catches the Least number of trout buys fish tacos!"

We started our day dodging through fog banks making our way up the eastside of the lake. Zach has brought a giant duffel bag full of God knows what, and 3 rods , Wolsky has brought 2 spinning rods 1 baitcaster, and a small speed bag. Wolsky cracks me up, I look at his rods and he has the same hooks leaders and baits on them since the last time we fished way back at the NW Bass championship on Banks lake, to me I wasn't surprised It just makes me laugh, this is why he is so good he is 110% fishing and when he is not its 110% effort towards hunting, as the seasons turn on and off so does his switch, pretty unbelievable really. Zach on the other hand, is well organized ready to go everything in its place and a place for everything, I have never seen a tackle bag so organized, pretty sweet!

So we get to our first place we want to try Zach and I quickly get to fishing as Wolsky dumps out his speed bag full of loose football heads and random bags of plastics on the front deck of my boat and the circus has now begun this day is gonna be full of laughs and nonsense.
Image
I get ahead of the game first on my first drop I get a trout, I plan on someone else buying my fish tacos!
Image
As the morning goes on we hit a school of fish and catch them really well, we had two doubles, and many bites but most of them are all cookie cutter fish but still fun!
Image
The fog finally breaks and we get to run around the lake trying to find some larger fish, I finally get one that I would guess at 4 pounds + that ate my anchor bait of my tandem rig, A dyed up gulp goby.
Image
We then hit a few other spots with more cookie cutters here and there and a couple a bit above average, the larger ones seem to be eating the anchor bait.
Image
I then catch my 2 nd trout a beautiful 24" cutthroat trout.
Image
At this time the taco bet has me in the lead with 2 trout Wolsky in 2nd with 1 and Chandler last with 0 but at this time Chandler fishing off the back deck is kicking our butt on the number of bass he has caught.

As the day runs down the boat has 18 bass that has came to the boat and we want to get over 20 so we run back down the lake toward the ramp. We had about 20 minutes left to fish we had to be off the water at 3.

We quickly caught up 3 more fish topped off With Chandler landing a really nice fish probably super close a 4 pounder if not 4, it ate his suspended bait on his tandem rig, which happened to be a gulp leech.
Image
What a great winter day on the water! The boat caught a total 23 smallmouth bass and 5 Trout, Wolsky and I all tied up on the amount of Bass and trout we caught which was 6 and 2 a piece. Chandler only caught 1 trout! So he owes tacos! You can do the math he caught 11 bass off the back deck...... but this day they did not pay!
Monday, August 15th, 2011
Water Temp: hot

Water Clarity: Clear (4+ foot visibility)

Report: Its a public lake and anyone can use it at anytime they want to, if you don't want to wait to launch your boat then don't GO!!!!!!!
City: seattle

Tips: Get to the launch early!!!!
Wednesday, July 9th, 2008
Water Temp: 65*F

Water Clarity: Clear (4+ foot visibility)

Report: clear warm waters, after bass, caught 3 near dropoff off of statepark. largest was about 3, all smallies. saw about 4 lb largemouth taken in the boat next to us.
City: issaquah

Tips: fishing natural color crankbaits with rattle, or live worms.
Tuesday, July 12th, 2005
Water Temp: not really sure

Water Clarity: Clear (4+ foot visibility)

Report: just fishing off my dock experimenting with a small spinner, caught what seemed to be a trout and also a 3 pound smallie.
City: redmond

Tips: cast far out and stop and pull almost as if jigging
Sunday, January 30th, 2005
Water Temp: 44

Water Clarity: Clear (4+ foot visibility)

Report: Caught one smallie about 1.2 lbs on a 4" power worm fishing at 35-45 ft. I fished for four hours and had no other bites.
City: Lynnwood
Friday, April 30th, 2004
Water Temp: 58

Water Clarity: Clear (4+ foot visibility)

Report: Hit it now! The fish are still up under the docks around the beds. Throw grubs and tubes around the docks are you are sure to pick up a few 3+ pound fish. Get on it now before they head out deep for summer and before all the summer boat traffic.
City: Bellevue

Tips: swim a grub or flip a tube, maybe try draggin a lizard or sleech around the sunking forest on the south end of the lake.
Sunday, January 18th, 2004
Water Temp: 44.3-44.9

Water Clarity: Clear (4+ foot visibility)

Report: Five o us in three boats, the day was great but ishing was slow. Fished between 30 and 78 eet the two ish that were caught were in 44 and 71 eet o water both nice ish. Leadhead with a Yamamoto hula grub 176. They were sitting on or very near rock piles Did get a lot o hits but i think that was mostly perch we all caught a ew o them. I will keep up the reports as i go.
City: Carnation

Tips: ish deep and slow, rocks or some kind o vcariation in the bottom