Coeur D'alene Lake and Reports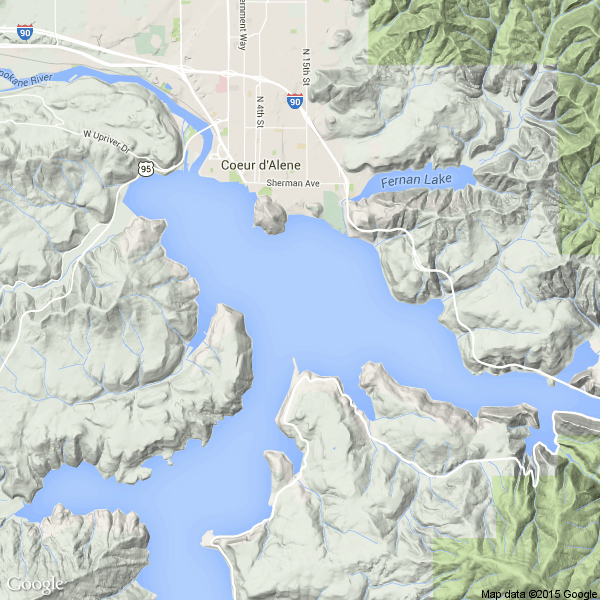 Click for Navionics/Google interactive map
Saturday, Sep 23
Mostly Cloudy
Precip: 13%
Saturday, June 4th, 2016
Water Temp: Low 70's

Water Clarity: Stained (2-4 foot visibility)

Report: Perfect Timing...
Back Story- I hit this area a month prior to this outing during an open tournament (May 7th). My partner and I arrived there with one fish in the box and 2 hours left to fish. We left there with 22.21 pounds and finished 2nd (1st place weighed 23.03). There were a lot of fish cruising the bank preparing to spawn. Some were locked on their spots. We caught some on frogs, cruisers with with drop shots & Senkos and bedded fish with those and jigs. It was a slug fest! - Then the cold fronts started rolling in and pushed them all back off.
Fast forward one month...A couple of hot days prompted a return trip to the area. To my surprise, there were even more fish in the area and they had gotten even bigger! 1st bite on a frog was one of 3 over 6 pounds caught that day. Multiple 3 1/2 to 4 1/2 pounders. Several 5 +... Many fish were on beds. Those that weren't ate a frog with reckless abandon!!! At the end of the day, I totaled my best 5. They went 28.43 pounds!! Truly the best day I have ever had on the water!
I returned the next day to take advantage of this short window of opportunity. I weighed and released another 5 fish limit that went 25.40!
Here is a GoPro video of my 1st bite of the day: (Live Target frog- 50lb P-Line braid, ALX Rods ZOLO series "TOADFACE)
Copy & Paiste- https://www.youtube.com/watch?v=ERFW6hsdE0c

Tips: When fish are in this spawn stage, be sure to fish everything in front of you thoroughly with a frog. This will give you the chance to catch aggressive fish BEFORE bumping/spooking them. Move slowly and keep an eye out for others that are locked on beds. Power-Poles are a must in these situations!! When a fish is spotted, you must be able to stop quickly without touching your trolling motor. This will allow you to sit quietly and letting the fish you are targeting to calm down and re position.
Tuesday, April 3rd, 2012
Water Temp: 42-45

Water Clarity: Muddy (0-2 foot visibility)

Report: Launched at harrison around 10 and stayed til about 7 PM. No fish an no bites. Tried deep, shallow, slow and fast, soft plastics/jigs the whole kitchen sink. The water was still a little TOO cold. Went through the river over to Rose and Blue, water in river was almost too high to get into any of those. Still nothin. I am thinking a few more weeks of warm weather and things will start heating up.
City: Moscow

Tips: Wait til it warms up a little more.
Tuesday, May 13th, 2008
Water Temp: 47-56

Water Clarity: Stained (2-4 foot visibility)

Report: Just finished the BASS Federation Nation Western Divisional Tournament at this beautiful lake. What a great time and awesome area. Fished Monday-Friday. Monday started out with snow/sleet in the morning. Water temp was 47 in the main lake. Some of the lakes were 50-51. The weather gradually got nicer with air temps topping out in the 80's by Friday. Water warmed up also. I caught limits each day of the tourney. 1st day 19lbs on brown 3/8 ounce jigs and dropshoted roboworm. 2nd day 9lbs on the jig. 3rd day 12lbs on dropshot. All fish came from the different lakes. I did not catch any thing on the main lake/river during the tourney. 3 of my 15 fish were smallies. biggest smallmouth was around 3lbs.
City: Penngrove

Tips: brown/purple jigs with watermelon trailer. hit every piece of wood you see.
Wednesday, May 7th, 2008
Water Temp: n/a

Water Clarity: Muddy (0-2 foot visibility)

Report: just to let you guys know he was useing a 4 1/2 margaritor mutilator cutly tail
City: carmichael
Monday, July 30th, 2007
Water Temp: 80

Water Clarity: Clear (4+ foot visibility)

Report: I read a previous report on cl lake on 7-30-07 from a disappointed angler.Me, my brother-in-law and his cousin seemed to find fish late into the night,also scoring a few slab crappies.The fishing was kinda good so we decided to stay on the lake for the rest of the night.Come morning time as me and his cousin were throwing frogs, I had 2 blow-ups and his cousin had about 6 and landed 5 out of 6 with fish averaging about 3-4.5lbs.My brother-in-law was throwing a jig just nailing fish almost every cast.I had a pretty slow start until we hit the main part of the clake,then things just started to errupt fishing the weed lines.We had more than a 40+ fish overnighter.I think were going back friday!!!!! P.S... talk to another guy that found alot of fish using tube jigs!!
City: Northhighlands
Sunday, August 14th, 2005
Water Temp: 72

Water Clarity: Clear (4+ foot visibility)

Report: Hit the North end of the Lake, from Moscow Bay to Wolf Lodge Bay, Wolf Lodge Bay to the CDA Golf Course. Smallies are HOT right now. Fished from 5am-12pm, caught fish nearly every other cast. The trick? Texas Rigged Worms, weightless. Drop off of steep embankments. Smaller smallies are hitting from 8-10 feet of water column, 16"-22" smallies are around 25' on the deeper drop offs. Pumpkinseed and watermelon colors were doing great. Same trip caught 3 perch over 10" a 1.25 pound black crappie and a 3 pound pike who took a big ole bite out of a bab smallie I had on. Great trip. Watch the boat traffic though, jetskiers, and pleasure boats abound after 10am. Tourism season is nearly over... (Finally)
City: Coeur d'Alene

Tips: Keep an eye out for large rocky points with drop-offs. Larger bass tend to key in on these points. Also keep an eye for vegetation to rocky drop offs. Key feeding zones for bass AND pike.