Havasu Lake and Reports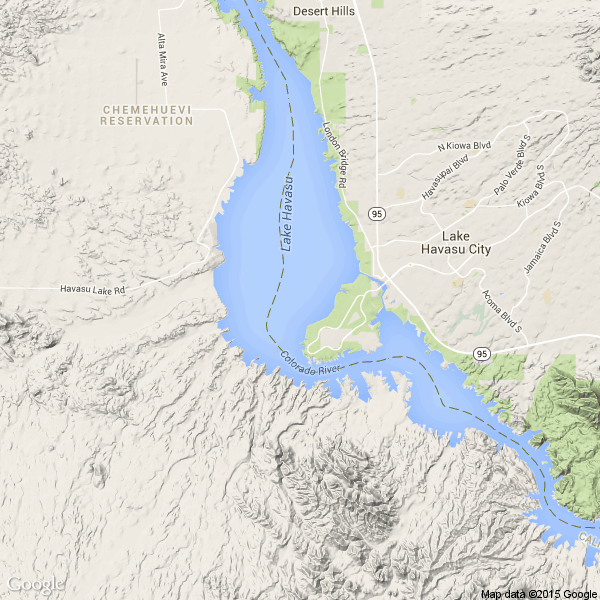 Click for Navionics/Google interactive map
Saturday, Sep 23


Sunday, February 9th, 2020
Water Temp: 48-55

Water Clarity: Clear (4+ foot visibility)

Report: You tube video is here:

https://youtu.be/L_KJoiEwfi0
Wednesday, October 28th, 2015
Report: From AZGFD
LAKE HAVASU – Oct. 28 report from John Galbraith of BassTackleMaster.com in Lake Havasu City:
Lake Level 449.07

Striper fishing is good if you can locate the schools of shad around the island, chalk cliffs and Winsor State Park. Green-tailed bass assassins rigged on 3/8- to ½-oz leadheads have been producing quality fish around sunup and sundown when cast offshoreor trolled near shad schools.

Live shad are also producing plenty of quality sized stripers of 3-6 pounds.

Smallmouth bass are hitting good on small white or shad-colored jerkbaits such as the pointer 78, 100 or 78DD.

Deep diving crawdad colored crankbaits (8-15 feet) are working good around rocks or gravel/rock shorelines where smallies are hunting crawdads.

Late season catfish bite is still good using live shad or bluegill for flathead cats. Channel cats are biting good on sardines, mackerel or shrimp.
Sunday, February 28th, 2010
Water Temp: 58-60

Water Clarity: Clear (4+ foot visibility)

Report: First time on Havasu caught lots of fish on jigs and tubes. Lots of fish on beds. Can't wait to go back again someday.
City: Winston, Or

Tips: Watchout for the sandbar
Tuesday, May 5th, 2009
Water Temp: 70

Water Clarity: Clear (4+ foot visibility)

Report: Went out with swimbaits and caught 5 5 pounders and one toping the scale at 11 4. great day out
City: FDASFS
Wednesday, April 20th, 2005
Water Temp: 64

Water Clarity: Clear (4+ foot visibility)

Report: Caught a limit on Monday, Wednsday and Thursday @0430 hrs till sun up on top water and then on luckey craft trolling and casting over points and also near the "flats" Largest Striper was 6lb 14 oz, atleast 10 were in the 5 lb range. Also some caught at or near Pilot Rock.
City: Lake Havasu City

Tips: Pencil Popper with dressed back hook. Luckey craft pointer with dressed back hook and front h hook "RED" Good Luck...
Thursday, February 24th, 2005
Water Temp: 57

Water Clarity: Stained (2-4 foot visibility)

Report: Water level is 1/2 foot down on the lake, watch out above Devils elbow the river is way down(not pumping hardly any water out of Davis Dam. Small mouth bass are already moving up on beds around the main lake and some back waters on the river. Fishing pressure is heavy due to Everstart early this month, last week WON team's 50+ boats, and now WON Draw estimating around 150 boats.
City: Lake Havasu City

Tips: Went out last saturday during the rain and able to get a jerk bait bite going. Five largest were over 16lb., 5lb largemouth was the kicker, the rest were smallies. Drop shotting was working but for smaller fish. Spinner baits were also working in the river(shad color).
Friday, February 20th, 2004
Water Temp: 52

Water Clarity: Clear (4+ foot visibility)

Report: Striper ishing has slowed down quite a bit over the past ew weeks. Water level is currently at 446.6(max-450)at this point o time you can get to most backwaters on the lake, but do proceed with caution. Bass ishing has been extremely good, winning weights have been above 15lb.'s. That's in the three tournaments ABA, Anglers choice, and Won Teams. Best bites have been on the main river throwing lipless cranks and jigs, on the lake ishing key points(trees,habitats) and drop os. Smallmouth bass haven't yet started bedding,should be any day.
City: havasu

Tips: dead sticking senko's, jigs, shad imitation baits, and crankbaits
Friday, August 29th, 2003
Water Temp: 80'

Water Clarity: Clear (4+ foot visibility)

Report: Large and smallmouth bass have been a steady bite throughout the summer. Topwater actionin mornings and evenings. Average bass 1 to 1 1/2lb. larger bass are harder to locate. Bill Williams have been producing some occasional 3-5lb. bass. Striper's have been boiling o and on throughout summer, and now we're coming into the prime time (Sept.-Oct.). The boils will be going all day with the birds working them so keep an out or the birds diving.
City: Lake Havasu

Tips: Grass is high in backs o coves, working spinnerbaits, rogs, and pupish across the tops o the grass has been producing. Striper's: topwater(pupish, pencil poppers), trolling(sassy shad, rattle traps or topwater)
Wednesday, August 27th, 2003
Water Temp: 80

Water Clarity: Clear (4+ foot visibility)

Report: Fishing around incoming storms seems to be best bet or abundant action or bass and or bluegill or sunish. Best action on small plastics and small cranks in natural colors.
City: Lake Havasu

Tips: Best action in early morning or late aternoon.
Friday, June 6th, 2003
Water Temp: 80

Water Clarity: Clear (4+ foot visibility)

Report: The "won"striper derby just took place last weekend, with the winners had a total o 53lb. or 2 day event. Most o the stripers came on anchovie's, one o the contestants had the irst day lead o 32lb. all on topwater in thompson bay. The bass action has still been great in the evenings and early morning hours. The weather is hot, and our summer visitors have been taking over the weekends. Best bet ish early beore all the traic, or get out about 5pm until sunset and take advantage o some topwater on large & small mouth bass.
City: Lake Havasu

Tips: Stripers:pencil poppers and 128 lucky crats Bass:morning and evening bite;pop r, sammy's,and zara spook's. Average bass 1 to 3lb. on topwater.
Thursday, May 1st, 2003
Water Temp: 64

Water Clarity: Clear (4+ foot visibility)

Report: Largemouth and smallmouth bass, are biting great! Most o the bass are hitting in 2-5t. o water on lake and river. Average size 1 to 2lb. Big bass up to 7lb. weighed at recent tournament. Water is at our max. level so you can go almost anywhere.
City: Lake Havasu City

Tips: Topwater early morning and late evening. The hot baits are senko's and ring ry's, pig and jig, small topwater popper's and plug's
Saturday, November 23rd, 2002
Water Temp: 60

Water Clarity: Clear (4+ foot visibility)

Report: Bass ishing has been tough on the lake or most o the tournament anglers we get out here, we've been back-to-back tournaments or the past 2 months. The bite that has been working down by "bill williams" useing small crank baits such as lv-100 in chartreuse shad or or 1/4 oz. shad colored Rat-L-Trap's. The jig bite has been working on brown/purple jigs with a purple rog. On the river has been mostly cranking and jigs. Average bass has been 12inches, big bass has averaged 3 1/2 to 4 lb. at the weigh-ins. Useing yamamoto grubs have been airly well the past week.
City: Lake Havasu City

Tips: Fall: use small crank baits over the weedbeds, river ishing cranking o the "reeds" and jig ishing or grubs back at "castle rock".
Saturday, August 17th, 2002
Water Clarity: Clear (4+ foot visibility)

Report: Fished with my boys or three mornings and had good ishing in the windsor area, chalk clis and around the island. We were throwing jr. spooks, buzzbaits and 3/8 oz. spinnerbaits. Caught smallmouth and largemouth up to 4.5 lbs...cover lots o water and slow down ater a blow-up and work slower with a spook. Main and secondary points near deeper water produced best. A ive ish tournament limit should be about 18 to 20 lbs. I was pleased to ind the numbers o smallmouth...the lake is healthy and the habitat program is working...thanks
City: Upland
Sunday, April 14th, 2002
Water Temp: 60

Water Clarity: Clear (4+ foot visibility)

Report: JUST TO LET EVERYBODY KNOW MY PARTNER AND I ARE GOING TO WIN THE STRIPER TOURNAMENT THIS YEAR. SO EVERYBODY ELSE DONT GET YOUR HOPES UP.
City: BASSVILLE

Tips: BULL TESTICLES FISHED ON A SLOW TROLL ARE A HOT BAIT THIS TIME OF YEAR.
Friday, June 18th, 1999
Water Temp: 65

Water Clarity: Clear (4+ foot visibility)

Report: This is a test o the automatic report cgi
City: San Jose

Tips: lets hope it worksFishing Reports or Lake Havasu
Date Unknown
Water Temp: 79

Water Clarity: Clear (4+ foot visibility)

Report: ished big island outside and caliornia bayand back to to big island both sides. ish outside or just a hair inside points and islands. mostly amallmouth to 19.5 inchesrom 4oz to 4.5 lbs. best ive went 13.2 lbs.sat. sunday not as good mabe 8.5lbs total.
City: n. hollywood

Tips: dark plastics or purple blue red lake.green slugos deadstick!

Water Temp: 71

Water Clarity: Clear (4+ foot visibility)

Report: The ishing has really improved since I was here last (3 years ago). I ound both Largemouth and Smallmouth bass spawning but rerained rom disturbing them on the nests as I want this body o water to keep improving. I did ind plenty o others though and when it wasn't windy it was great. The water is so clear and the water was up. I inally got tuned into Senkos. I have bought plenty o them, but seeing their action and the bass take them in the clear water really helped. I also caught bass on my old standby Pro Worm 34S. I also caught a 21" catish in the lazy pm.
City: Fresno

Tips: Senkos, Brown and red worms, all with red or red lake.