San Antonio Lake and Reports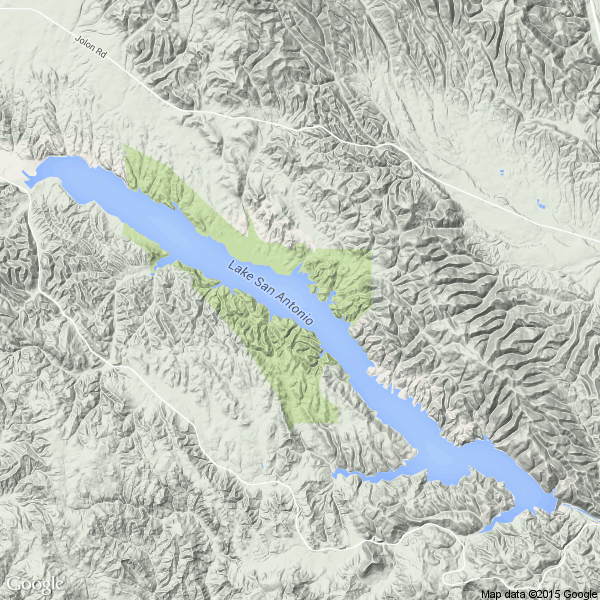 Click for Navionics/Google interactive map
Tuesday, Dec 5
Monday, October 8th, 2012
Water Temp: N/A

Water Clarity: Clear (4+ foot visibility)

Report: Got a late start but picked up a nice 3lb smallmouth on the first point mid lake on topwater. One more blowup then slow for awhile. Moved towards the south shore and picked up two more about 2lb's. Slowed a bit then swithched to drop shot and picked one up on the first cast then nothing for about two hours. Then swithced back to topwater and stuck with it the rest of the day and finished with 9 fish all smallmouth. Had two pushing four pounds for a best five about 13-14 pounds. Not one striper boil and the shad have moved off the banks. Lake getting low but saw only 2 maybe 3 other fisherman so you have the lake all to yourself.
City: SALINAS

Tips: Get there at daylight and throw topwater all day.
Saturday, September 17th, 2011
Water Temp: N/A

Water Clarity: Clear (4+ foot visibility)

Report: Still cant believe how clear this water is here. Started out with topwater and picked 4 Smallmouth 2 over 3lb the other's a solid 2lb. Had several blow up's wish we would have cought them also. Well as alway's the sun came out and the topwater died but you could still see one now and then come up for a look. Switched to plati's in the same area and not one bite. So then I went looking around and found an area where they were on a decent crankbait bite. Funny thing is I never fished that area in all the year's I've fished this lake. Ended up with 15 fish all but three Smallmouth. Best five about 15lb's great day.

PS: the inspection is a joke.
City: SALINAS
Tuesday, April 12th, 2011
Water Clarity: Stained (2-4 foot visibility)

Report: went out this last saturday and the fishing was pretty good. caught 7 bass from 1-3 lbs ....caught one on a popper, 2 on spinnerbait and the rest on robo worms...even caught a few croppie with the robos...
Friday, August 27th, 2010
Water Temp: N/A

Water Clarity: Clear (4+ foot visibility)

Report: Boy it's been some time since I have fished here. The plan was to chase Striper boils but that did not happen. Well after two hours I decided to fish for Bass.It was pretty good I ended up with 7 fish 4 Smallmouth and 3 Largemouth.Two of the Smallmouth were 3lbs the other two about 2lbs.The largemouth about 1.5lb's.All cought on plastics and I think if you were to target the Bass it may be pretty darn good.I was a little disappointed in the Lake level thought it would be higher.
City: Salinas

Tips: None I am going to hit it Saturday and see whats up.
Friday, August 20th, 2010
Water Clarity: Clear (4+ foot visibility)

Report: I know this isnt a blog, but a quick note. my fishing partner and I caught and submitted a 3.97 lb. smallmouth yesterday to the marina at san antonio. the old official record was 3.14 lbs. ken's fish was 19 1/2 inches long, with a girth of almost 14 inches. We are confident this will become the new official record.
City: hollister
Friday, July 30th, 2010
Water Clarity: Muddy (0-2 foot visibility)

Report: The official lake record for smallmouth is right around 3 lbs. I believe. I have personally caught a half dozen bigger, probably up to about 4 lbs, and have seen several that I'm sure were over 5. for whatever reason, nobody ever submits them.
City: Hollister
Monday, July 19th, 2010
Water Temp: doesnf matter

Water Clarity: Muddy (0-2 foot visibility)

Report: a 4.2 smallie would be the new lake record.

Tips: Weigh your fish with a digital scale
Saturday, June 19th, 2010
Water Temp: 70

Water Clarity: Clear (4+ foot visibility)

Report: Fished for largemouth, but seemed as though they had lock jaw. Smallies were biting good. Caught 6 on Saturday with the largest being 4.2 lbs.
City: Salinas, CA

Tips: Fish slow.
Saturday, June 5th, 2010
Water Clarity: Muddy (0-2 foot visibility)

Report: Second source report from last Saturdays Tri Valley meet....

27 Boats- Winner in with 11 and change on 6, 2nd ??, third 4 and change on three. Est 10 boats zero'd Boats with fish were 2 and three winner was only limited boat. Sounded like a sad day! Hot and no bite!
Saturday, February 20th, 2010
Water Temp: 52

Water Clarity: Muddy (0-2 foot visibility)

Report: I SELDOM SUBMIT A REPORT---HOWEVER, IT SEEMS VERY FEW REPORTS ON THIS LAKE EVER ARE SUBMITTED. SO HERE IS MINE. TOURNAMENT 2/20 ONLY ONE LIMIT CAUGHT, WE HAD 3 FOR THIRD PLACE. FISH CAUGHT ON A VARIETY OF BAITS, CRANK, SPINNERBAIT, DROP SHOP, MY NORMAL TEXAS RIG NOT EVEN 1 TAP. WINNING WEIGHTS 8LBS+ 2ND PLACE 7LBS+ 4 FISH. MOST FISH WERE SMALLMOUTH. ONLY A FEW LARGEMOUTH.
City: bakersfield
Saturday, May 16th, 2009
Water Temp: 70

Water Clarity: Stained (2-4 foot visibility)

Report: algae bloom, tough fishing, early bite,
City: n/p

Tips: throw a spinner blade in 6 inches and work it paralelle to the bank down to about 10 feet use blades with white or chartruse blades do not use silver or brass, colored sees to work better.
other option small smoke or gray tube, good luck you will need it.
Saturday, April 25th, 2009
Water Clarity: Stained (2-4 foot visibility)

Report: Cold cold cold - and - Slow Slow Slow ---
Go to Naci. Might have better luck.
This Lake was really shut off today. Only one in the boat. Hit every good spot we knew off, and obviously, we wen't the only ones having difficulty figuring out this water shed today.

Still alot of algea in the water near the dam area by BeeRock cove. Were some beds there a week ago but didn't see anything around them. Figured they went deep. Tried 65 feet to 8 feet with nothing hooking up. Blades, cranks, jigs, finess and drop shot provesd fruitless.

Seem things went South all day for us. Coke can blewup in my face, busted off the transducer when a wind gust shoved the boat off to one side loading it, then after all that, I popped a tire on the trailer. Should have stayed home! Might think twice about coming to Antone again.

Tips: Tips??? Man I got nuttin to offer this trip.
Thursday, April 2nd, 2009
Water Temp: 58-64

Water Clarity: Clear (4+ foot visibility)

Report: Only 2 all day. North end closed. Caught the 2 near the closed end bouys, west side, in some small coves. One on a suspending RatlnRogue in silver and black 1.5#, the other on a TexRigged black worm 2#. That was it.

Fished Harris cove hard without a bump.

Algae globs starting to form.

Got real windy by 3pm.
City: Monterey

Tips: Go to Naci.
Saturday, October 25th, 2008
Water Temp: 65

Water Clarity: Stained (2-4 foot visibility)

Report: Had a tourny today with 22 boats, 9 blanks-13 with somthing and out of that I think there was 3 limits. In short it sucked, everything was as it should be for a fall bite, minus the bite. My son and I had 1 fish so I can't tell you much.
City: Bakersfield
Friday, October 17th, 2008
Water Temp: 67

Water Clarity: Stained (2-4 foot visibility)

Report: Fished Harris Creek using crawlers trying to get a few bass. I usually get a few bass with crawlers and just the hook for weight. But I never saw a bass. I did get 3 channel cat . 3lbs. 4lbs. and 5.2lbs. Caught these between 10:00 A.M. and 2:00 P.M. No small fish just thjese 3 and missed 2.
City: Maricopa
Sunday, July 6th, 2008
Water Clarity: Stained (2-4 foot visibility)

Report: Family water-skiing trip to Lake San Antonio in Central California. This year the fish wanted a little bit of alcohol in their diet :)

We arrived Sunday, July 6 around 4:00 pm. It was HOT!!! After un-packing I walked down to the shore to make a few casts with my son Pierce. Our bait of choice for the past few years has been the 3 inch Blue Shad colored Big Hammer swimbait. Since it has produced so well for us in the past we pretty much planned to use that. But, with the recent popularity of the color "Sexy Shad" (that looks identical to the Big Hammer color #63 "Bay Smelt" - which came out about 5 years before "Sexy Shad") I decided to give Bay Smelt a shot. The lake level is very low - probably the lowest I've ever seen it. I started fishing from the shore to the left of the Lynch launch ramp. Within 10 minutes I had my first smallie (about 14 inches). Great fun! About 15 minutes later I hook up again (on Bay Smelt) with a nicer fish that turned out to be in the 17-18 inch range. Fished for a few more minutes before Pierce wanted to go back to the cabin.

That evening we took the boat out (ski boat - no trolling motor - not quite the perfect fishing vessel) to set up our day camp in Bee Rock Cove. After setting it up we quickly went over to the South side of the cove and got a couple more smallies. My sister got one on Blue Shad and I got one on Bay Smelt.

July 7th: The next morning we took the boat out early and only got one small bass on the 3 inch swimbait!!!! I couldn't believe it. After the success yesterday I figured it would be wide. We launched out of the Harris Creek launch ramp and fished the entire Harris Creek cove. Mark and Zack stuck to the Blue Shad and Bay Smelt swimbaits while I played with a bunch of different baits. Fished the Lucky Craft pointer the most for nothing except for one follower that wouldn't commit. I did notice that there were lots (I mean lots) of shad this year - very small ones. Later at our day camp I was only able to manage one more small bass.

July 8th: New game plan. This morning we launched out of Lynch and went North. I started off throwing a blue/chrome Rat-L-Trap which has worked well for me in the past. My nephew Zack was using a 3 inch Margarita colored swimbait. I figured a completely different color (bright green) might set the swimbait apart from all the shad just enough. Within 15 minutes Zack hooks up with a nice fish that is taking line (striper?). Sure enough he lands a decent striper. Fished the area for a few more minutes for nothing, then ventured into a nearby cove where I get a nice largemouth on the Silverside colored Buzz Hammer. Later mid-day fishing at our day camp in between water-skiing runs the fishing was much better - more like previous years. I ended up with 6 nice smallies and missed several more - all on the 3 inch Margarita colored swimbait.

July 9th: New game plan again. Launched out of Harris Creek with the plan to fish the Margarita swimbait. Fished a few spots in Harris Creek for nothing. Ran over to Bee Rock Cove where Zack hooks up with a nice smallie on the 3 inch Margarita followed by another decent one a few minutes later. Then came my highlight of the trip. We were fishing a steep rocky bank on the South side of Bee Rock Cove. I was alternating between the 3 inch Margarita colored swimbait and Margarita colored Buzz Hammer. I cast the Buzz Hammer near a fallen log and it moves about 6 inches when a nice bass jumps completely over the bait and misses it entirely. I continue to reel and when the bait is about 4 feet from the boat it gets SLAMMED!! One of the most vicious top-water strikes I think I've ever gotten. It was awesome! My guess is the fish was upset that she missed the bait on the first try and then chased it down.

Not the best trip we've ever had but still good. Some nice highlights and the challenge of figuring out what they wanted was fun.
City: Goleta, California
Saturday, June 14th, 2008
Water Temp: 75-77o

Water Clarity: Clear (4+ foot visibility)

Report: Two meets going on today -- ABA and Gold Coast. Early launch at 5:30 to a somewhat 'foggy' start. A bit cool but the days conditions were expected in the high 90's by noon. My first visit to Antone since way back in 200 or 1999 so finding spots were alot different and we wnt into todays meet 'blind' as it were.

Partner and I headed for Harris Creek and fished the walls with blades and cranks with no takers. Moved off into some other flats tossing about everything looking for a bite. Bad day for us both as we came in witn a goose-egg.

Gold Coast winner in with a shade over 9 pounds along with big fish at about 2.25. ABA winner in with about 10 and change. Most saying it was a tough day and you had to get your bag before 11AM. 1/4oz Black/White buzz bait was the choice for the Gold Coast winners fish as he was culling a very short time after launch.
City: SM

Tips: Blades and buzz's were taking most fish. Senkos and jigs all medium green color,were hitting fish very close to the shore in as little as 2 feet.

Start early against the bank from North shore last launch. 14" fish were common. Big crappie were hitting rip baits.
Friday, March 28th, 2008
Water Temp: cool

Water Clarity: Muddy (0-2 foot visibility)

Report: there was a terrible algae bloom.fishing was really bad. the locals said to not even bother with the lake untill the algae is gone.only caught one smallmouth, good size though.
Saturday, November 17th, 2007
Water Temp: n/a

Water Clarity: Clear (4+ foot visibility)

Report: Well thought I would go here to miss the Tule fog over in the big valley but it was REAL bad down here.The ramp and dock was packed with bank fisherman...fisherwomen.So I just fished from the ramp down toward's South Shore with my Electric motor.Threw topwater and crankbait's not one bite.So I ran directly across the Lake and threw a Jig and nothing.Saw a few fish break water and could tell they were Stripr's.Threw Rat-L-Trap,Lucky Craft Jerkbait Shad pattern,Zara Spook nothing.Put on Husky Jerk in Ghost Color and ended up with 9 Striper's all 5lb cookie cutter fish.Fight like heck fun day.
City: Salinas

Tips: As soon as the fog lift's the bite is over but it was scary thick.The amount of Shad around the Marina is unreal.
Saturday, September 29th, 2007
Water Temp: 72

Water Clarity: Clear (4+ foot visibility)

Report: Fished Harris Creek 4:00pm-Dark, no fish, one strike. Lots of shad.
City: Lockwood

Tips: ???