Poway Lake and Reports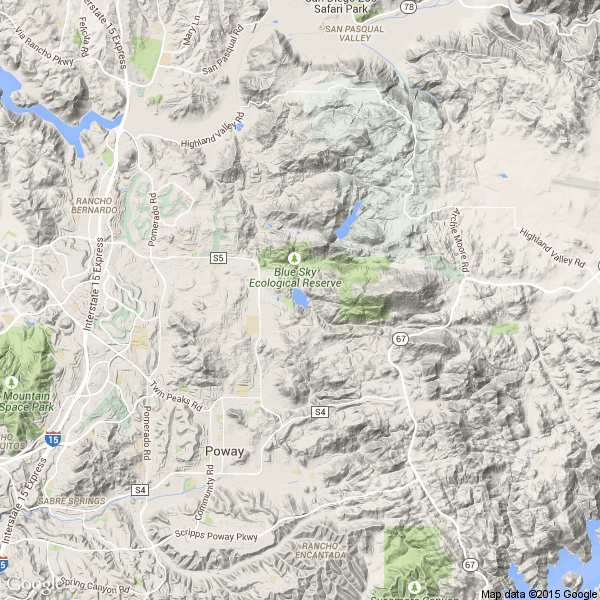 Click for Navionics/Google interactive map
Monday, Sep 25


Friday, February 24th, 2006
Water Temp: Who knows?

Water Clarity: Stained (2-4 foot visibility)

Report: Got shutout again! Nothing to report here. What I am hoping to find is a local pro who would be willing to teach me how to catch these damn Lake Poway (LP) trout. Learning to catch the bass would be nice, too. I figure I first need a good grounding in the fundamentals (what is a good reel/pole/line, setting up my rig (dep on conditions), casting and reeling in, etc). Emails/tips welcome, too!
City: La Jolla

Tips: Renting a boat here is a waste. I've seen just as many fish (both trout and bass) caught by shore fisherman as I have by boats.
Saturday, November 13th, 2004
Water Clarity: Clear (4+ foot visibility)

Report: Went to Poway the other day and planned on trout fishing so all brought were some artificial trout lures because I dont like fishing bait. My friends convinced me to bring only one rod which was my trout micro. I really wanted to bring one of my bass setups but they convinced me not to, any way we went first thing in the morning and i caught three trout on mini jigs and roostertails. After the sun came out i went out on the fishin dock and i looked down in the water and see a teen sized bass just sitting on the bottom along with a couple other cruising two pounders. Boy was i mad i didnt bring my bass stuff. There were also a lot of bass chasing trout every where. There was one in hidden bay that cleared the water with a trout hanging in its mouth boy did i wish i had my swimbait stick with me.
City: Vista

Tips: Never go trout fishing without a back up bass setup!!!!

LOL
Wednesday, October 13th, 2004
Water Temp: ?

Water Clarity: Muddy (0-2 foot visibility)

Report: Hey Guys I Was Wndering If There's Any Shore Fishing A@ Night @ This Lake... I Would Like to fish this lake @ night cause sounds like the fishing is verr good at night?...so please if any one can help me ?... i would like to know the deal about night fishing @ this lake....
City: La Ca

Tips: Thank You...E-MAIL'S Welcome NickJewLa@Aol.Com
Monday, July 5th, 2004
Water Temp: 69-73

Water Clarity: Clear (4+ foot visibility)

Report: fishing is great for bass. i went night fishing and decided to fish the pocket in the back of the lake. the bass are in water 1-6 foot deep water feeding on blue gill and what itr loooked like shad.
City: san diego

Tips: i was using a plastic minnow called the banjo minnow i bot off an infometial and i cought the limit with all 3+ lbs the spot is called hidden bay. so later i decided fo try my luck for cats and got stunked. hope u find this usful
Saturday, September 29th, 2001
Water Temp: 84

Water Clarity: Clear (4+ foot visibility)

Report: GREAT SECOND TIME FISHING HERE. ME, MY BRO AND SOME BUD BUDDIES TORE UP SOME 50 SOMETHIN CATS IN 4 HOURS BIGGEST ONE WEIGHING IN AT 5LBS. FEW BASS MOST SMALL 1.5 LBS. BIGGEST 2.8LBS.
City: DOWNEY

Tips: CATS ON FRESH MAKEREL BASS ON LIVE BAIT,BUZZBAITS,JIGS
Friday, February 9th, 2001
Water Temp: 50-60

Water Clarity: Stained (2-4 foot visibility)

Report: we started on south shore and threw or trout we got there about 5:30 buy 6 we had our limit each total o 10 trout. it was exciting or us because we hadn't ished poway in a long time. when we got there it was like heaven we were throwen tubes yellow/white south shore is the key to this lake because it is so close to the boat dock well you should just go and ind out i its worth it or not well i know its worth so have un
City: poway
Monday, May 1st, 2000
Water Temp: ?

Water Clarity: Clear (4+ foot visibility)

Report: My partner Brett Woodward and I caught eleven ish. One early crank ish o the spillway, one worm ish o the spillway, and the rest were sight ish. The water's real high and clear. The wind was nill, so sight ishing was the ticket. Saw lots o ish...there were some giants...absolute slobs...hanging around the boat dock and the pod o planted trout. The two ish we say had to have been in the high 'teens. They looked like tunas they were so round. Anyway, the ish we caught were healthy and judging by the ish we spooked and saw, Lake Poway is solid. The high water will make it a new lake when the grass grows up to the surace...Flippin, pitchin, roggin, rippin...In San Diego County!
City: Irvine

Tips: Sight ish...gitzitscranks...at-ree shadsworms...eight inch otay and choc.blue neon!The log boom is moved so you have to search or the "irst tank" rockpile. We didn't get bit o the darned thing. It's pretty killer to ish whole new areas o the lake! Good Luck