Pyramid Lake and Reports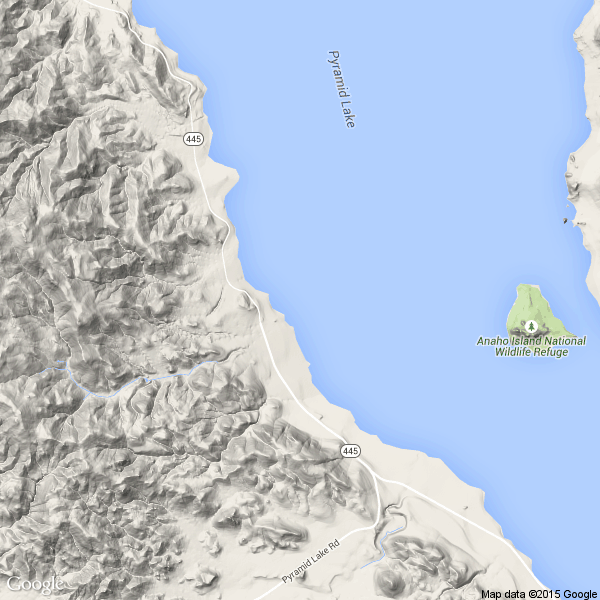 Click for Navionics/Google interactive map
Saturday, Apr 10


Monday, June 28th, 2004
Water Temp: 70's

Water Clarity: Stained (2-4 foot visibility)

Report: The U.S. Forest Service has announced the lake will open to
shore fishing and boat launching Friday, July 2. There will be no marina,
bait shop, boat rentals, or campground, but the lake will open for the
holiday weekend. For information, call the USFS at (661) 296-9710.
City: Bakersfield

Tips: Go get em'
Friday, June 4th, 2004
Water Temp: N/A

Water Clarity: Muddy (0-2 foot visibility)

Report: Closed sign still posted at the lake. C'mon USFS let's get this lake open!!
City: Glendale
Tuesday, June 1st, 2004
Water Clarity: Muddy (0-2 foot visibility)

Report: Is this lake open yet?
Tuesday, February 3rd, 2004
Water Clarity: Clear (4+ foot visibility)

Report: just ound out that the lake is closed and may be closed or our months. check the turner's outdoor news or the story
City: bakersield
Tuesday, September 2nd, 2003
Water Clarity: Clear (4+ foot visibility)

Report: Good little aternoon bite hear. I've been ishing Castaic alot lately but did manage to get up hear last thurs. We thru spinnerbaits to outside weedlines and o colored water breaks w/ good sucees. a ew 3lbs and a bunch o 2lbs. Strippers were on almost every point even though we did not target them we did get a ew on rip baits. Castaic has been on ire during the day also been getting a couple ish over 6lbs almost every trip.
City: Palmdale

Tips: I am a licensed guide so eel ree to contact me w/ any questions. cory_dispensiero@yahoo.com I currently guide Castaic,Pyrmid,and San Vicente as will as a private lake
Sunday, June 1st, 2003
Water Clarity: Clear (4+ foot visibility)

Report: Fsihed this lake a ew times in the last week with decent success. One day we had a decent topwater bite irst thing. The next day we couldn't get anything to go until some breeze or wind came up. The blade or a rip bait seems to be the unnest way to catch ish but only i there is wind and some o color break. Otherwise shakin or drop shotinould put ish in the boat. I am a licensed guide eel ree to give me a call or email me cell 415.336.1254home 661.272.0691
City: Palmdale

Tips: Aternoon bite has been best once that wind comes up. Fish the windiest banks. Stripers still a the damn (drit a nightcrawler light line and split shot,make sure crawler is stream line and not turned upn on hook) the good old slugo on a lead head around some points is also catcing a ew.
Monday, May 12th, 2003
Water Temp: 58

Water Clarity: Clear (4+ foot visibility)

Report: Fished this lake Fri w/ good success these ronts have push the largemouth behind it seems. A buddy and I had 10+ largemouth 15+ plus smallmouth on blades and shaking babybrush hogs rom 0-25' o water. The striper bites was as open as you wanted it to be. We ished maybe 2 hours, then got board while catching a ton o ish. I recently moved back rom the Delta were I lived or about six months. I am a licinsed guide and am starting to book a ew trips at both Pyrmid and Castaic. I you are interested in booking a trip please email or call me (415).452.9890 cell (661)272-0951
City: Palmdale

Tips: Right now is the easiest time o year to pick o 50+ stripers a day. Anything rom a shim jig to a piece o cut bait will get you bites i your in the right areas. Largemouth still in staging areas looking to move up ull swing..
Sunday, April 27th, 2003
Water Temp: ?

Water Clarity: Stained (2-4 foot visibility)

Report: Sunny, but the winds were high all day. Few people caught anything. When they did catch it was usually a little (less than 10") striper.I've done great at this lake beore, so I'll be back.
Sunday, March 9th, 2003
Water Clarity: Stained (2-4 foot visibility)

Report: Fished Pyramid Sunday and the weather was beautiul. Buddy and I caught 10 stripers 20" in length. Caught majority directly on dam when the wind was blowing. Used shallow diving jerk baits.
City: Canyon Country

Tips: Ton o stripers directly on dam. Used shallow diving jerk baits. Wind really picked up the ishing.
Thursday, January 30th, 2003
Water Clarity: Clear (4+ foot visibility)

Report: i ished pyramid today,,,,two o us caught 25 ish (stripers),,all very small ish....slow at the dam area, ok at yellow bar but all o the ish i saw being caught were dinks.
City: bakersield

Tips: action slow or stripers
Monday, December 30th, 2002
Water Temp: 52

Water Clarity: Clear (4+ foot visibility)

Report: I went to Pyramid today (12/30) by mysel.Weather: clearWater temp: 52 Air temp: 62Wind: 0 - 2 MPHWater Level: Very HighI was tired rom hunting yesterday so I go up at 8 AM, putted around the house and inally let the house at 10 AM. Got to Pyramid at 10:45 and was starting to ish by 11:00. Putted around looking or ish on the sonar and ended up at Yellowbar where I saw some ish on the meter and where other people were ishing. Baited up two lines, and waited. Ater about 10 minutes I started to see more ish on my meter and started to get bites. I kept throwing out chum, errr, the anchovy heads that were cut o rom my bait that I chopped up... about every 10 or 15 minutes and ater a while I was getting so many bites that I couldn't always keep two lines in the water. Ater about an hour and a hal I stopped counting the ish I caught ater I reached 20. Most were small (12 - 14 inches) and I only kept ive (all over 18 inches - 18", 20", 20", 21", 22"). I decided to leave at 3 PM but wanted to take a look at the dam. I went over there and did a slow sweep. There were 7 boats tied up to the buoy and 4 boats either anchored to the island or driting. I saw 3 ish caught while I was going by (all small ish).I also saw some people beached at Spanish Point catch a ish (looked about 18 - 20 inches).So, the bite is still on at Pyramid rom what I can tell. It also looked like the dam area is starting to pick up again. All o the ish were thin but no where near as bad as last time. Some o the smaller ish were actually starting to get bellies on them. Hope you have a Happy New Years,--Ed
City: Valenica

Tips: Chop up those anchovy heads and toss them in the water. Also wash your knie and hands in the water ater each baiting and spash a lot, it does attract the stripers (and the oils rom the bait attracts the ish too!). Also, big bait
Saturday, December 14th, 2002
Water Clarity: Clear (4+ foot visibility)

Report: ished the are o the dam thursday, along with about 8 or 9 other boats. 99% o the ish being caught were little dinks that were released. two weeks earlier we caught some much larger ish in the same area. can anyone suggest where to ind better striper action.
City: bakersield
Sunday, November 24th, 2002
Water Clarity: Clear (4+ foot visibility)

Report: Sheri came out to get ater boats tied to the bouy near the dam...bad actor,,,checked or preservers,ire extinguighers,striper stamps,etc
City: bakersield
Monday, November 11th, 2002
Water Temp: 61

Water Clarity: Clear (4+ foot visibility)

Report: Took my son to Lake Castaic and it was closed so we decide to try and see i Pyramid was open. It was and the ishing was good. Caught some largemouth and Smallmouth. There are alot o stripers up shallow. We used TD minnows and Tail spins. I lost a 6LB plus striper on a Tail spin at the dam. We had 25 stripers by 12:30. There are also alot o stripers down in 30 to 50 eet o water. Caught those ish on tail spins. These Tail spins are made by Bill Potting and can be purchased at Angler's marine or Bassworld West. These tail spins have caught me alot o ish at some o the Won Bass Pro Ams at lake havasu, lake Pleasant, lake Mead Etc. They work real good at Lake Castaic.
City: La Mirada

Tips: TD minnows and Tail spins. The tail spins that I use are just like a little George.
Monday, September 30th, 2002
Water Clarity: Clear (4+ foot visibility)

Report: went to the lake thursday and the lake was closed due to the ire danger. orestry service advised that will be closed until end o ire season
City: bakersield
Friday, July 26th, 2002
Water Temp: 74

Water Clarity: Stained (2-4 foot visibility)

Report: Three days straight with a limit o 10. South west corner o island by dam, mostly small with an occassional 3-4lber, cut bait. sad but true some rental boats ignoring limits. appears they keep them or their market
City: Rosamond
Monday, May 13th, 2002
Water Temp: 62-63

Water Clarity: Clear (4+ foot visibility)

Report: This report is somewhat like the last one made last week here with just a ew changes. First, i you want to ish the "cleaner" water here you will need to move away rom the launch ramp area due to water is now being released rom up above and has dirtied up the whole upper area o the lake. Mysel and 2 other riends ished rom a rental boat rom 7:30am to 1:00pm. We put our eorts into ishing or bass on the steep rocky areas, both walls and points with split shotted small plastics. We pulled out 1 nice sized smallmouth at 2lbs, 7 largemouth up to 3lbs (w/one ish breaking o on the hook-set which MAY have been bigger)1 healthy 14 inch trout and one tiny striper! By 1:00pm the wind came up and the bite really dropped o. These ish were deinitely in that 10 to 20 t. depth range. We could'nt get bit up shallower today!
City: Los Angeles

Tips: As the season warms up, the bite SHOULD improve here as long as you can ind the clearer water. We also heard that the stripers were in the 50t range here but that's a bite we didn't try or today. (I did see about a 12lbs striper loat by our boat, dead) No surace action was seen by any o us today, but maybe another day. Crappie may still be about but that's another bite as well not tried or given our time rame or the day. So many ish.....so little time....Good luck!
Saturday, May 4th, 2002
Water Clarity: Stained (2-4 foot visibility)

Report: Great ishing or both Large and Smallmouth. Fish are uptight early and then 10 - 20 ett ater the sun gets up. Jigs and downshotting 4 & 6 inch robo worms. Peoples Choice or Arron Magic. Fish o the steep rock walls. Water Temp 63-67 degrees.
City: La Mirada

Tips: Good crank bite when the wind comes up against the windy banks with broken rock.
Saturday, April 20th, 2002
Water Temp: 64

Water Clarity: Muddy (0-2 foot visibility)

Report: We arrived at 6.30am and went to the spot in yellow bar ishing was slow or crappie, Pat and I moved to a new spot and grat plenty o ish.I was using a 6'6 ast action lomis with two pound test.I was ish tiny 1 32nd jig smoked and yellow and white.We caught 18 carappie and over 20 bass smallies to 3lbs and largemouth to 4lbs.I also notice that all the crappie were males and not one emale in the bunch.I think the ishing or crappie will be good all week and will change ater the ull moon.I also went on sunday and nailed 12 crappie and about 25 bass a mixture o smallies and large mouth I also got 3 nice trout and a big bluegill.The bite is wide open i you ish light line.Good luck.
City: sylmar

Tips: light line and small jig or baits.
Monday, April 15th, 2002
Water Temp: 64

Water Clarity: Stained (2-4 foot visibility)

Report: Been ishing this lake hard to learn it, got some helpul local advise. I trolled a swim bait 4 inch black and white. My son never caught a striper beore and we never had luck until this trip. We were on the lake at noon, o at our and we had 5 stripers all around 4-5 lbs each. What a trip. Going this Monday again! I guess a season gate pass is in order
City: Rosamond

Tips: learn the lake catch ish