Tenmile Lake and Reports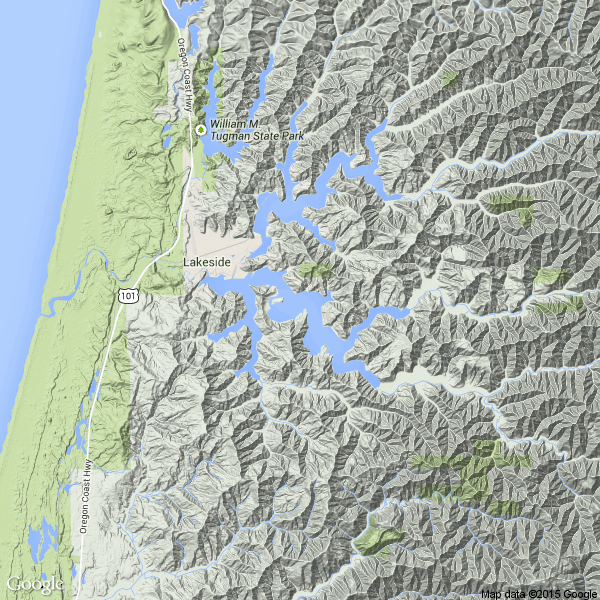 Click for Navionics/Google interactive map
Monday, May 10


Tuesday, July 21st, 2009
Water Temp: 74-75

Water Clarity: Clear (4+ foot visibility)

Report: Fished Cottage Grove several times since the last report. Not a lot to show for it. I took the boat out with my 3 yr. old boy and my friend Carl. Actually was able to get the boy out of bed at 6:40AM, in the car by 7AM and launched and fishing by 8AM. Carl got the only fish but it was a nice one- a 3 1/2 lb.- 19 incher! Got it at the "School of rocks" spot on a jig. He said it pulled very hard and my 3 year old netted it for him. I helped him pull it over the side of the boat. My boy actually spent a lot of time "fishing" today. I set his pole up with a 3" brown/green/mustard yellow paddletail worm on a dropshot rig and as far as I can tell we never got bit. He likes to reel it right back in and I'm trying to get him to slow down a bit. I spent a little time tossing my trout swimbait around. The little guy really liked reeling it in and especially like making the bait swim in circles and then jump up out of the water and crash back down! It was a fun day- and very warm. Saw several boats out doing the same thing we were.
I did get a 16"- 2 lb., 3 oz. bass near the tule patch on the jig on the 18th @ about 6:20AM. Very feisty and would hardly let me get the jig out.
City: yoncalla,or

Tips: Get there early. Take the boat (Or kayak or pontoon boat or tube or canoe). Fish the edges of weedbeds on the deep side or any shallow edges or small ledges you can find. We didn't get any fish working the creek channel edges but it was a bright sunny day and it was tough to try and find shady ambush spots. Kinda wish this lake had a few more docks to fish. If you throw the swimbaits you'll eventually get rewarded with some beautiful bass- the trick is to stick with it. Most people won't commit to one lure long enough to get the first fish but after you do LOOK OUT! Quality over quantity- except when the kids are with me. Gotta keep 'em interested and involved. See ya out there. Got a whole bunch of company coming in early August and I'm on vacation so I should get the boat out a few times that week- really looking forward to it!!
One last thing- Good job taking your young ones out with you Bassin' Gene and I hope you got a few good ones!
Sunday, July 12th, 2009
Water Clarity: Clear (4+ foot visibility)

Report: I'm actually 2 weeks ahead of last year- I woulda never guessed. It was July 26th before I got to the 59 pound mark. If I fish enough I think I can yank 150 pounds of bass out of C.G. this season. And still hit the Umpqua a time or 2 for smallies! My daughter's gonna love those trips!!
City: yoncalla, or

Water Temp: nice and warm

Water Clarity: Clear (4+ foot visibility)

Report: I fished Cottage Grove on the 8th,9th and 10th. I only got 1 on the 8th but it was a nice hard pulling 3.7. On the 9th I had a fun morning. I seem to do best when it's overcast- they really like that jig. First cast was a 2.15- 17 1/2", 2nd cast was a 3.7- 18 1/2". The second one tore off my trailer and nicked up my leader so I grabbed my back up rod and cast right back to the same spot. Good hard bite, set the hook and snap off the leader. Guess I should tie my uni to uni knots a little slower @ 4:30AM. Coulda had 3 nice bass in 3 consecutive casts! Dang. Ten minutes later I got a 3.0- 18" and then 10 minutes later one more bite that I set early on and miss. I love this spot, these bass and this lake!
I'm almost exactly where I was last year at this time- 19 fish for 59 pounds and 12 ounces- about a 3.2 average. I hope the summer ends up as good as last year- I'm really looking forward to it and all the fun my friends and kids are gonna have helping me catch a bunch of nice bass. Ferdie needs to see if he can top his 4.12 from last trip or better yet catch a 5.11 and beat my personal best from this lake.
City: yoncalla,or

Tips: I've got to start throwing my swimbaits real soon. The jig produces great all year basically but if I want to catch even bigger bass- and believe me- I DO!- Ive got to toss 'em a real meal! I'd love to see my friend Carl's face when he gets his 1st swimbait bite or even good follow. You'd be amazed at the size of some of the followers. To get from the 2 1/2 to 4's on up to the 5 to 6 pounders you've gotta give 'em what they love- a nice soft easy meal. And I'll be tossing some big worms before summer is over too. See you there!
Almost forgot. Be sure you have your fishing license on you. I told a co worker 2 days ago that I'd never had anyone ask for my license in 4 years of fishing in Oregon and sure enough Saturday morning @ 6:30AM here comes the warden. He laughed when I told him about his timing. Nice guy named Martin. I asked him what the biggest problem was and he said people taking bass over 15" out and transplanting them elsewhere. Those signs around the lake that say don't take any bass over 15" may look old but it's still the rules. He also said he checked a boat over at Dorena last week that had caught a 8 pound 14 ounce bass. Oregon does have good sized bass- you just have to put in the time. I'm taking one of the kids out in the boat Monday or Tuesday- hope we'll catch some!
Monday, July 6th, 2009
Water Temp: 70-74

Water Clarity: Clear (4+ foot visibility)

Report: Time for a how's my season going at Cottage Grove report! I'm kinda embarrased to say that with all the fishing time I've put in I've only got 15 keepers to show for it. I don't know if it's the size of the baits I like to use or what but I havn't caught any sub 12" fish from Cottage Grove yet this season. I'm sure later this fall over by the dam with the kids and a shallow crank and worms and bobbers we'll catch some little ones but none so far. The 15 fish weighed 46 lbs., 15 oz. which is a 3 lb., 2 oz average. Pretty much right in line with last year. All but 1 came on a jig. The 2 biggest were 4.1- one of those was the only non jig fish. The smallest 2 were 2.4 each. The best 5 would be 4.1, 4.1, 3.15, 3.14, and 3.10 for a limit of 19 lbs., 9 oz.. These were all morning fish- I hardly ever get to fish the evening bite. Half were caught between 6 and 6:30 AM. The lengths were between 15 1/2" to 20 1/2". Nine of the 15 were between 18 and 19" and they all fought great- even the 2.4's. All but the first 4 fish were caught between June 29th and July 5th. This same week last year was dynomite too. Get a stiff rod and some braided line, a jig and a bulky trailer, some sunscreen and a hat, and a good attitude (And a fishing license!) and get the hell out to the lake. Summer only lasts 92 days give or take. See ya out there!
City: yoncalla

Tips: See previous 50 reports- starting to notice a bit of a pattern?????????? Unscramble this word- GJIS!!
Monday, June 29th, 2009
Water Temp: 69-70

Water Clarity: Clear (4+ foot visibility)

Report: Took my friend Carl to Cottage Grove today. We got there pretty darn early- 5:20AM- and made our first casts at about 5:30. We got 4 fish for 12 lbs., 3 ozs. They were kinda scattered- we never got 2 in the same spot. We got a 3.3, a 2.4, a 3.6 and then another 3.6. They were 18", 16", 20" and 19" all caught on jigs. A couple came from the west shore and a couple came from up the creek. We had a great time but I can't wait for the weather to cool up a bit and get that overcast/foggy morning thing going again. Seems like late July/early August early mornings are my best time of the year for jigs anyway. Carl and I will go again soon- end of July sounds great. He has a great attitude and is a fun guy to B.S. with- what more could you ask for!
City: yoncalla, or

Tips: Finally sprung for a new trolling motor battery and I'm glad I did. Not only did the wind kick up at about 7:30AM but we got to pull it out and help jump a boat at the dock when we were ready to pull out. Another thing- 2 of our bites were good hard bites and 2 of them were just weight when you lifted the jig. Are the bass in this lake getting caught often enough to be wary of certain lures? That's why we mixed it up a little and threw a couple different lures at 'em. Carl tossed a Zara Spook on a baitcaster no less and was "Walkin' the dog" in about 3 minutes flat. He only had one small snarl in about 15 casts- not bad for a baitcaster rookie. I love that Quantum Accurist reel just for teaching people to use a baitcaster for the first time. We tossed a deep diving crankbait along some riprap and a Lucky Craft Staysee over some weedy areas but no takers. I will try the shaky head next trip out in the boat and one of the funnest lures to use- the Snag Proof frog. See you out there- I'm almost sure my 6 yr. old girl will love fishing the frog. She'll probably spank the bass that tries to eat it.
Friday, June 26th, 2009
Water Temp: warm

Water Clarity: Clear (4+ foot visibility)

Report: Just got back from 10 days of vacation in California. Had a great time. Fished one of my old reliable ponds and got a couple 10" whoppers. Good news is I went back about an hour before dark and my 6 year old girl and the 4 year old son of the friends we stayed with. His Mom had the video camera on and ready to go as we made our first cast. It was a 6' tall pole near one end of the earth dam- I'd got one of my 10" bass off it early that morning. I helped him cast the 4" shaky head worm out and about 5 seconds later the line jumped and took off to our left. He was jacked up to say the least and so were the rest of us. His first bass ever was a 14 oz., 13 incher! Now I know why guys like Larry Hemphill love to guide- that look on the kids face is great. And just to keep it fair my girl got an 11" bass on a crankbait about 20 minutes later. Gotta love those ponds. I'm pretty sure I'll need to pack at least 3 kid size poles next trip- one for my girl, one for my (By then) 4 year old boy and one for the new convert to our great sport of bass fishing.
City: yoncalla

Tips: Shaky heads are a pretty safe rig for kids. They are somewhat weedless and they flat out catch fish. I'll be doing a little experimenting with it myself this summer- let's see- a 1/2 oz. ball head jig, a 10" Power worm and I'm ready! TAKE A KID FISHING- please!! You'll be glad you did.
Saturday, May 30th, 2009
Water Temp: warm enough!

Water Clarity: Clear (4+ foot visibility)

Report: Fished Cottage Grove at least 5 or 6 mornings over the last 2 weeks with no fish to show for it. The water is above 60 degrees, the lake is as full as ever and other than the fact that they've seen my jigs a lot I don't know why they aren't biting. I've been tossing crankbaits, senkos, a little topwater, a jerkbait and even a frog at times but no takers. I'm sure in 2 to 3 weeks I'll be so busy catchin' them I'll hardly have time to post but this lull always kinda wears on the old fishing spirit. I've spent some days up the creek and noticed a few bassboats up there too. I've really hit the west shore a lot with high hopes but no results. As usual I'll keep trying and I'll type up a report or two when I can. See ya out there.
City: yoncalla, or

Tips: Thanks for the kind words Rod- I'd have to agree with you about more people posting. I'd really love to know how some of these tournaments turned out- total weight and big fish. Don't care where or how they caught them- would just like to know how the fish I'm catching stack up against theirs. If fishing pressure from the amount of tourneys being held is killing my bite- and I don't believe it is- maybe I should be like everyone else and not say a word! Yeah...like that will happen!!! Do you have a 5?? GO FISH!!
Saturday, May 23rd, 2009
Water Temp: ?

Water Clarity: Muddy (0-2 foot visibility)

Report: Well. if it wasn't for Bassinbob there wouldn't be any reports at all on these pages..... It's a shame that with as many bass fishermen that there out there that some of them can't seem to take the time to pass on some information to others on these pages.... My hats off to you Bassinbob, thanks for using these pages and I really wish some others would do the same.......... Tight line Bob!!!
City: Williams
Wednesday, May 20th, 2009
Water Temp: 61 to 63

Water Clarity: Clear (4+ foot visibility)

Report: What a strange day this was at Cottage Grove Lake. My 3 year old son and I took the boat (16.5' Aluminum w/50HP 4 stroke) out for a few hours of chasing bass. It was pretty darn windy when we got there so we started fishing the creek area. Saw a bass boat and a small aluminum boat w/2 guys fishing from it. This was about 10:15 AM right when we launched. A little after 11:00 we saw a couple guys show up and launch a canoe. We made a couple of passes by them trolling a crankbait along the creek channel edge with nothing but weeds to show for it. One dude was in the canoe and the other fished from the dock. A little after noon we were 250 yards south of the dock and I was showing my boy how to drift a creature bait on his sisters UL pole. I looked back toward the dock and saw the canoe pop a wheelie and then the wind caught it and over it went. I tossed the pole down, told the little guy to sit in his chair and cranked up the big motor. We got within shouting distance and I asked if he needed help- DUH!!! I'd never done this before and it took a couple laps around him before I could swing close enough to let him grab the front left corner of the boat. I chopped the motor and grabbed his wrists and he was able to swing his right foot over the edge. We rested for a bit and then I pulled and he rolled up and into the boat. Now we had to rescue his canoe, pole and nice 3 LB. bass!! We even found his tube of sunscreen!! He said "Glad to meet you- I'm Jim!" He said that it was his son over on the dock. So we took the boat over and left it there and then we went and putted around until we found his bobber and the pole was still attached. I told him I was from Yoncalla and he said so was he. When we got close enough to the dock I could see that his son was one of the taller kids from the high school team and I've actually played hoops with him before- small world. Anyway he did have on a life jacket- all of us did! And I suppose that's kind of the point of this post- you should always wear your life jacket- not JUST when it's windy or rough out. Oddly enough I'm never off on Wednesdays- but I had an inventory Monday so we were there today. As Jim said when I told him this "Maybe it's God's will!!"
City: yoncalla, or

Tips: All in all boating a 200 pounder wasn't such a bad day. I should work on my rescue stategy though- I took too long to get the boat to Jim. I did NOT want to run over him so coming in from the downwind side was probably best. He's going to read my posts on here and hopefully someday we can go fishing together. Right after Carl, Bid, 2 buddies from work, my brother in law, etc.. See ya out there!
Friday, May 15th, 2009
Water Temp: 62?

Water Clarity: Clear (4+ foot visibility)

Report: Went to Cottage Grove and caught a 19"- 3lb., 14oz. largemouth on a jig. Got it on the 2nd spot I tried along the west shore. Didn't take a photo but looked at my watch after I released it and it was 6:33 AM. The photos of the last 2 fish- both 4.1's- are time stamped 6:34 AM. Kinda wierd isn't it- had I bothered getting the camera out it would have shown 6:33 OR 6:34 as the time. All I know is I'll be in my best spot at no later than 6:30 every morning if I can- we'll see if this pattern continues.
City: yoncalla,or

Tips: Normally I'll feel the bite very well thanks to the braided line I like using but with this fish I never really felt a thing. It must have mouthed it and sat there chewing on it. The line never moved left or right although it could have gone slightly slack without my noticing. I'm already a big time line watcher- now I'll really be focused on it. Lot to be said for soft bulky trailers- they'll chew that jig for a while! Gotta go fish right NOW!!
Thursday, May 14th, 2009
Water Temp: 60 plus in spot

Water Clarity: Stained (2-4 foot visibility)

Report: Hit the creek area from the shore this morning at Cottage Grove Lake. Fished from 6:10 to 6:45AM. At 6:25 I tossed a small crawdad crankbait way out to my left and worked it parallel to the shoreline in about 5-7' of water. About 1/2 way in a 4lb., 1 oz., 20" long bass nailed it. Glad I was using a medium action spinning rod because it only had 1 hook (Of the available 6) in it's mouth! Repeated the cast and hoped for another dose of that but it didn't happen. Worked the area for 20 more minutes and left for work- in a real good mood.
City: yoncalla, or

Tips: Worked the crank medium speed and kept the tip low to the water so it would sometimes touch the grass on the bottom but not get buried in it. The bass was pretty mellow- not a lot of jumping and carrying on- just pullin' and digging. Had a fatter looking belly than the last 4.1. Gotta go- time to fish!
Tuesday, May 12th, 2009
Water Temp: 59.8 to 61.7

Water Clarity: Stained (2-4 foot visibility)

Report: My 6 yr. old daughter and I took the boat to Cottage Grove Lake today. It was pretty darn windy and we almost had the lake to ourselves- we saw one other boat over near the dam as we drove by and launched up the creek. We spent a couple hours working our way towards the back of the creek and then out again. We tossed spinnerbaits and a jig for a while too. Way back in the creek I got a decent bite and started reeling. Felt like a little shaker bass. Turned out to be a planter rainbow about 13" long. It absolutely drilled the bait. I let my girl hold the pole and see how a trout fights. Took a few pictures just for the heck of it. Had another trout follow the bait back to within 5' of the boat and that was it for the day. We ran out to the big tree out from the mouth of the creek and made several casts while the wind drifted us by- no bites. Ran over by the tule patch and tossed the jig with no bites. Tried the "School of rocks" spot- no bites. Thought it might be a handful getting the boat back on the trailer due to the wind but it drove right on and away we went. Daughter was pooped out and slept all the way back to Yoncalla!
City: yoncalla, or

Tips: My deep cycle trolling motor battery is almost 4 years old now and it ran down after 3 hours of running it on 4 or 5 due to the wind. I guess I'll have to go get a new one and keep the old one for a backup. The boat ran fine and weather permitting I'm taking my 3 year old son out next week! Hopefully we'll get a bit of sun this week and warm those shallows up so we can annoy some spawners. The temp gauge said about 60 degrees but it felt cooler than that. Found a cool spot near the creek mouth that I may be able to fish from shore on the way to work- a channel edge that was loaded with fish all within a long cast of shore. If I get lucky I'll post it tomorrow!!
Monday, May 11th, 2009
Water Temp: gotta be 60+!

Water Clarity: Clear (4+ foot visibility)

Report: Hit Cottage Grove 4 or 5 times over the past couple weeks- all early mornings- with not much action. I've tossed a 4-5 lure rotation and just like last year they want a jig and they want it fairly slow. On Saturday the 10th I walked up to my spot on the west shore and there was a boat about 100 yards off to my left. I started casting my jig at about 6:15AM. About 5 casts later a nice looking Ranger boat appeared out of the fairly thick fog and came off plane 75 yards out from where I was casting. It idled off to my right and started fishing one of my favorite spots on the whole lake. At 6:30AM I got a nice bite- gave it time to get the jig in its mouth and set hard. The fish pulled hard and never did jump. It was my 2nd bass of the year and it was 20 1/2" and went 4 lbs.,1 oz. on my digital scale. It was a big time flopper and it took a while to weigh, measure and photo it- but she swam off just fine. I made 1 more cast and then looked at my watch and realized I was supposed to be to work at 7AM in Springfield. Despite a bit of stretching the speed limit I was 6 minutes late! Dangit!
City: yoncalla, or

Tips: I gave my boat a test run Sunday (Bunny ears hooked to a garden hose) and it started right up and ran fine. Being Mother's Day I refrained from using the old "Well since it's hooked up to the trailer..." line and prayed it's not pouring Monday so my 6 year old girl and I can try to go and wet a line. I'm dying to see the look on her face when she get's her 1st OREGON bass- I'm sure it will happen this year and I'm sure she'll never forget it. Did I ever mention how much I love to fish and take someone else too?? Oh yeah tips- toss jig, work slow, get bite, wait 3 seconds and set hard. Weigh, measure, photo, release and log it. Repeat as often as possible! Anyone who fished that tourney on Saturday at Cottage Grove please at least post the top 3 finishers weights- please and thanks. Heck even big fish would be nice to know.
Sunday, April 26th, 2009
Water Temp: no idea

Water Clarity: Stained (2-4 foot visibility)

Report: Fished several mornings over the last 2 weeks with no success. I've kept mostly to the west shore and my usual spots. Saturday the 25th I tried Shortridge and had a 3-4 lb bass chase a small group of bluegills right past my feet and then flash on but not hit my firetiger crankbait. Right place, right lure, right time- guess he must have seen me just in time. At least I know the bass are there and fairly active despite the 32 degree air temp! I've tossed a jig, a couple cranks, a jerkbait, a chatterbait, a spinnerbaait, and a swimbait.
City: yoncalla

Tips: I'm getting the boat out this Tuesday or next if I run out of time. I'll do a fair amount of idling around checking some offshore (But close to spawning) areas. I hope I can connect with a few at least. There is plenty of water at the dock to launch- at Lakeside or up the creek! See you out there and say Hi- whether you caught any or not.
Wednesday, April 8th, 2009
Water Temp: mid 50's?

Water Clarity: Stained (2-4 foot visibility)

Report: Fished Cottage Grove this morning for about 35 minutes and caught my first bass of the year! It was an even 3 pounds and 17 1/2" long. Got it on a jig and beaver along the west shore. I tossed a swimbait out close to some riprap and slow rolled it back for the first 10-12 minutes. I got 3 or 4 nips in quick succession and said what the heck. Set the hook and nothing! Same thing happened last fall over at Shortridge Cove but that fish hit it about 7 or 8 times. I'm glad I have enough light to start hittin' it before work again. It puts me in a great mood.
City: yoncalla, or

Tips: Although I got the fish on the jig and beaver I'm still gonna try a jerkbait and the swimbait also on the next trip. Might as well try a shallow crank along that riprap while I'm at it. Can't be afraid to lose them if you want to catch some nice prespawners! See ya out there.

Water Temp: mid 50's?

Water Clarity: Stained (2-4 foot visibility)

Report: Test to see if it works!
City: yoncalla
Tuesday, March 17th, 2009
Water Temp: cool and staine

Water Clarity: Stained (2-4 foot visibility)

Report: Didn't actually fish it but I drove all the way around Cottage Grove today and it's looking good!The waters edge is right up against the dock at Lakeside and it even looks like you could launch up the creek. Couldn't drive down to the creek ramp because they still had the gate locked. I'd imagine they'll unlock it about April 1st or so. I (Like all of you!) can't wait to get the boat out and hook some prespawn mamas! And I may even have my almost 6 year old daughter talked in to actually getting up before noon so we can sample the morning bite.
City: yoncalla.or

Tips: JIGSJIGSJIGSJIGSJIGSJIGSJIGSJIGS AND MORE JIGSJIGSJIGSJIGSJIGS!!! And since they're stocking trout fairly regularly why not a swimbait too! See you all out there soon.
Sunday, March 1st, 2009
Water Temp: N/A

Water Clarity: Stained (2-4 foot visibility)

Report: I have a tourney coming up this weekend, March 7-8. How is the water level, water clarity? Have the bass started moving up yet? Just wondering. Any hot baits amd tips for this time of the year at Tenmile Lake would be greatly appreciated.
City: Central Point

Tips: Any Info would help, Thnks!!
Tuesday, February 3rd, 2009
Water Temp: slowly warming!

Water Clarity: Stained (2-4 foot visibility)

Report: If I can't get out to fish at least I can get my gear in order! I just tried out 3 Curados I sent in to have serviced and lubed. They cast better than new now. I'm cleaning and lubing all the other reels so they'll be ready to go. Got all the baits and plastics all organized- tossed some of the more beat up plastics that somehow made their way back into the bags. I can't really remember the last time I tossed one on the shore. Sometimes I'll get to work, go to pull a pen or boxknife out of my pocket and come up with a torn up beaver or senko. I think my co-workers are used to it by now. Anyway my point is- do your prep work now so when it's time to go fish, you can just.....GO FISH!
City: yoncalla,or

Tips: Dan Isaac from ReelEx is great! He'll be doing the rest of my Curados real soon. Give him a try. Look in the forum for his website and phone #- you'll be glad you did!
Sunday, February 1st, 2009
Water Clarity: Muddy (0-2 foot visibility)

Report: Spring forward (Duh!), fall back. Might be April before I can start hitting Cottage Grove in the early weekday mornings. If this dry weather keeps up it might be May before there's enough water to fish my favorite spots! There are the weekends though and the bass do need to eat. Big Ed- are you hitting your ponds up there yet?
City: yoncalla. or