Bullards Bar Lake and Reports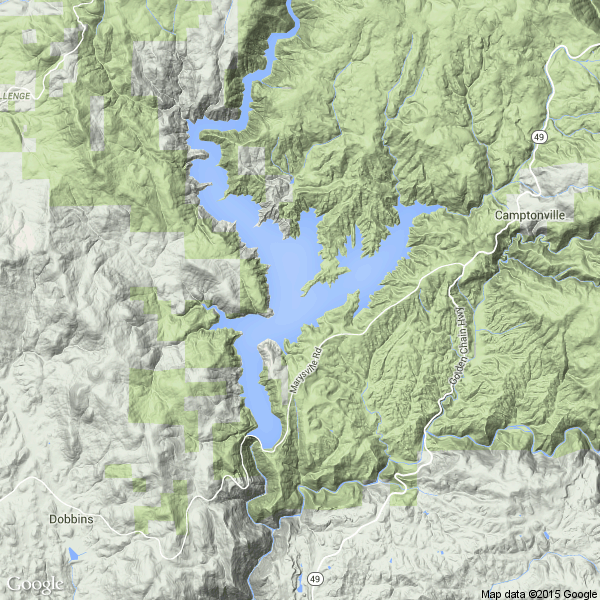 Click for Navionics/Google interactive map
Saturday, Sep 24
Storage

(ac. ft.)

Ouflow (ft.3/sec)
Inflow (ft.3/sec)
Precip.

(in.)

Evaporation (ft.3/sec)
652,221
???
???
???
???
Sunday, Sep 25

Sunday, April 24th, 2016
Water Temp: 62-65

Water Clarity: Clear (4+ foot visibility)

Report: I had a guide trip Friday and today - Sunday - a rare Sunday trip for me. There really wasn't much fishing pressure either day. Mornings were calm with bad winds both days starting late morning. I guess I should start with todays (Sun) trip as the father of my father/son trip showed son how it's done!! Did he ever - to the tune of a 7 lb 14 oz post spawn spotted bass. That's the way to start a trip!!! I had him fishing a morning dawn 6" Robo worm. When I saw that fish rise to the surface, I just about freaked!! Quite a tussle at the boat but I somehow got her in the net on the first swipe. After those Bullards spots spawn, they are still tall - top to bottom! After that, they just caught small ones up to 13 inches - smaller than the Friday trip. That trip started off well as I put a 4 1/4 lb spot in the boat and lost another big one which broke my line. In spite of the horrible wind that came up, we caught several keepers up to 2 lbs. The total bass caught on both trips was about the same, 25 to 30+.

Tips: One has to assume that the bigger spots are only up shallow early and maybe late in the day. They just are hard to find now during the post-spawn. I was surprised that the Senko bite hasn't been very good - at least in my boat. It is hard to get away from the Robo worms - in 2 or 3 favorite colors, when trying to get clients into post-spawn action. Almost every cove now has flooded trees - some totally submerged. Wow - talk about cover. The lake is still rising - now about 91% - and should fill before long. Bullards Bar is a simply gorgeous lake when full - enjoy!!
Monday, December 28th, 2015
Water Clarity: Stained (2-4 foot visibility)

Report: I've been out the past three weekends with very little success. The water is on the rise with a slight stain to stained in some areas. I've tried from 1ft to 80ft using just about everything from rip baits and a rigs to a dart head, jigs and everything in between. I know someone out there has figured out how to get the big girls but i'm definitely not one of them. All i can catch is rats. I'm pretty sure the lake is on a turnover or the inconsistent weather has given the big girls lockjaw. Yesterday the ramp was iced over so be careful launching the boat. 4x4 was necessary after a few boats launched and the ramp froze. Fish have been scattered in all depths but the 15 to 30ft zone seems to be where the majority of bait is holding. Tried main lake points, secondary points, bluffs, cuts, you name it. Lots of suspended fish as well.

Tips: 4x4 if its below freezing and watch out for debris floating in the lake. yesterday was the first day in 3 weeks the lake had a lot of wood floating around. Be safe and have fun.
Sunday, November 29th, 2015
Report: Fishing report for Bullards bar. Thank you everybody for all of your information Bullards was great really windy a little cold but the fishing was excellent. I launched out of dark day and it was a challenge because I was by myself so two people is definitely recommend it. As soon as I was leaving dark day the wind was so bad making the water very rough I headed for the first cove I could see. I noticed the steep rocks and targeted that area. I was using a margarita mutilator and caught fish back to back but they were all small. I used a weedless Huddleston and was able to catch a fish over 3 pounds. I decided to go to Emerald Cove to get some coffee and fish that area. I was using a black and red jig with a black and red Yamamoto double tail grub as a trailer and stuck a largemouth bass around 6 pounds. I was very surprised to see a largemouth this big here. I fished the area for the next hour and caught quite a few more fish ranging 1 to 2 1/2 pounds. despite the wind and the cold the fishing was awesome and would definitely recommend taking a trip there before it gets colder. Definitely focus on areas that have steep rocks and areas where the sun and the shade line come together. The lake is very low in fact Emerald Cove guy said it's the lowest it's been since 1979. These fish were shallow surprisingly so try not to target Deepwater too much Right now.
Friday, November 6th, 2015
Water Temp: 63

Water Clarity: Clear (4+ foot visibility)

Report: Fished bullards for the third time in my life. Fish were stacked up in the ends of rivers, where fresh rain had water pouring in. Fished the mud line, and foam canopy and saw some true giants nosing the baits. No takers. Fished from 5-15' with jerk baits, swim baits, and jigs. The jerk bait was hot, every cast, or every other cast. Even had a 6 lb squawfish eat the jerk bait.
Didn't find any bait balls to spoon, but one was on the deck all day....

Tips: Move around till you find them. They're definatley schooled up.
Thursday, May 14th, 2015
Water Temp: 64-67

Water Clarity: Clear (4+ foot visibility)

Report: My buddy Mike and I did a quick afternoon trip to Bullards Bar yesterday - fishing for about 4 hours. It was a beautiful afternoon but breezy and cool. Our first stop was the only good bite we got. I was fishing a small plastic bait on a darthead. Suddenly I couldn't feel the bottom and started reeling in slack line. Finally caught up with the bait and it was heading for deep water. The power of those spots is really amazing!! About 4 minutes later Mike nets my biggest spotted bass so far - 7 lbs 13 oz. Not a whale but at least a shark! I have caught some 7 lb spots and had a client with one. Now I am close to 8 lbs!! So we thot a good trip was ahead. Not at all!!! The dinks weren't even biting much and no more good hits. I caught my biggest dink also - about 11 1/2 inches! We left at dusk - air temp down to 47 degrees.

Tips: No help here - tough bite! Water looks good and debris is gone. We didn't cover much water because of the brief trip.
Saturday, March 14th, 2015
Water Temp: 59-62

Water Clarity: Clear (4+ foot visibility)

Report: Cloudy and no wind. Lake like glass all day. 7.25 pounder on first cast(wow), but slow rest of day with some dinks and a 2.25 thrown in.
City: Reno
Friday, February 20th, 2015
Water Temp: 50

Water Clarity: Stained (2-4 foot visibility)

Report: Dinks at 30-50 ft on plastics
Sunday, August 31st, 2014
Water Temp: 76

Water Clarity: Clear (4+ foot visibility)

Report: The day started out slow but progressively picked up ... Fish were from 60 feet to 1 foot deep ...mainly spinner baits , drop shot and darter head ..caught fish all day with best 5 going for about 18 pounds
City: sacramento

Tips: Work the mud lines
Saturday, May 24th, 2014
Water Temp: 68-70

Water Clarity: Clear (4+ foot visibility)

Report: Great day fishing wth wife. Warm day with just enough breeze to keep it pleasant. Hardly any boat traffic until about noon. Started fishing about 7:30 and put in a 12 hour day. 85 fish for me with my biggest Spot ever weighing in at 7 pounds. What a beautiful example of a healthy, Bullards Spot. Took me over ten minutes to land her and my legs were shaking when we got her in. Special thanks to my wife with the Boga Grips. She did well herself catching 23 with her biggest spot ever weighing in at a little over 3 pounds.
City: Reno

Tips: As always, watching the line was key to picking up the fish as most of he time the bite is so lite with Spots. I was fishing wacky 4" senko style baits. #9 O-ring #2 Owner mosquito hook, with a #7 split shot. 7 pounder was caught around noon in about 12 feet of water. In the evening fish were so shallow they were almost on shore.
Saturday, May 17th, 2014
Water Clarity: Clear (4+ foot visibility)

Report: Sorry - I meant to say that some of the rockpiles WERN'T very deep!

Water Temp: 66-71

Water Clarity: Clear (4+ foot visibility)

Report: I took a father/son team to the lake Friday - and found the fishing to be good if size didn't matter! The son started the trip off (about 7:30 am) with a nice 3 1/2 lb spotted bass - but it was downhill from there. After the morning breeze stopped, the lake went absolutely flat, with bright sun. They still caught a few keepers, but just tons of dinks - which means the spawn is probably over. Had a tough time getting the boat out at the dam with the Friday crowd coming in the afternoon.

Tips: We covered most of the lake as they wanted to learn how and where to fish in the summer. Small Berkely Havoc baits worked well along with the small brush hogs and 5" Senkos. I made a few casts with a swimbait and did get a good bass to hit it 3 times - but no hookup. Probably about 50 feet! Most bass were hitting in about 20 to 40 feet of water. Beware! There are numerous rockpiles that are now very deep - maybe 6 to 8 feet. I'm not sure they are all marked.
Saturday, April 12th, 2014
Water Temp: 60-65

Water Clarity: Clear (4+ foot visibility)

Report: On the water around 9:30. Merc wasn't running right so never went more than a few miles from ramp. Off the water by 5:00. Wind picked up around noon, but morning and mid afternoon was absolutely calm. Wife and I caught around 30 fish. Bubble Gum Stick-O's seemed to catch the majority of fish with a few coming off small lizards. No big fish this trip but had an enjoyable day catching fish in the 12-15 inch range. All fat spots with 1 skinny, ice cold largemouth.
City: Reno
Saturday, November 30th, 2013
Water Temp: 55-56.8

Water Clarity: Clear (4+ foot visibility)

Report: Beautiful day to go fishing which is exactly what I did. Rolled into Dobbins around 815am and on the water by 8:30am. Currently the low water ramp is being used and when you launch be careful there are rocks on both sides of the ramp. You have to position boat perfectly so you don't mess up your trailer or boat. Anyway, I ran up the river arm because on previous trips we never ran very far. I was not dissapointed, caught two 4 ponders on weighted senko's and a bunch of small fish on both the senko and tube. Nothing on the shaky-head, swim baits,jigs. Altough I didn't fish the jig very much. I even caught a few on a spoon. Caught a lot of fish today just nothing very big but had a great time on the water. Lake is really low so hoping for a lot of rain soon. By the way you are also being instructed by a sign to drive in between the house boats because the cables are visible now with low water. I also had the pleasure of watching the eagles and hawks flying around. Awesome time with Mother Nature. Really quiet out today.

Tips: Just get out and fish that is all that I can recommend. When you feel lazy and want to sleep in or do other things around the house is probably the best time to just get out of the nice warm bed and go fishing. I am really beginning to like Bullard's. This was only my 4th trip to this beautiful lake.
Friday, May 24th, 2013
Water Temp: 67-70

Water Clarity: Clear (4+ foot visibility)

Report: A client and I tackeled the Bar yesterday in mostly windy conditions - the 4 day in a row of north and south winds. Fishing was very tough except for the zillions of small bass. We started about 9 am and fished 'til 5. Around noon we found a school of good fish that would take a swimbait. I was able to bring a near 6 lb spot to the net. She took a large 6" trout colored swimbait. He broke off one, missed one, and I missed 3 or 4. That action only lasted about 45 minutes as the wind became difficult. We used many colors of Robo worms, Netbaits, and Power worms. Oxblood-red flake was the best color. Only 1 on a Senko. Even the small bass were 25 to 40 feet deep

Tips: Hard to give tips on a day like yesterday. Weather is weird with rain forcast for Monday afternoon. Lots of clouds with the wind yesterday also. Just didn't feel like good "bass weather!!" We did cover a lot of the lake - some trees still in the water - but lake is slowly dropping.
Thursday, May 9th, 2013
Water Temp: 67-70

Water Clarity: Clear (4+ foot visibility)

Report: 60 fish Thursday, 27 half day Friday. Fishing with my son and he caught about the same. Most fish in the 11-13 inch range with 17" the biggest.
Action was best in evening with bigger fish up in shallow water. Whacky Dingers/ Sticko's took almost all fish.
City: Reno
Saturday, March 9th, 2013
Water Temp: 46-49

Water Clarity: Clear (4+ foot visibility)

Report: Fished a local club tournament March 9th and 10th at Bullards Bar. First time ever on this lake and it was not disappointing! Caught several fish in the 1-2lb range on tubes and darter head roboworms. 1st place day 1 weighed 31.72lbs!! From the dock talk, I understand they caught them all on swimbaits, most likely the Huddleston blue trout, but I'm not sure. Big fish for the weekend was a 7.75lb monster. Fishing was slow for most everyone, lot of big fish caught, just not a lot of limits weighed in.
City: Susanville

Tips: Best bet is to chuck a big swimbait and hope for a big bite. If you don't do that, darter head an Aaron's majic around deep rock shelfs and redbanks with stumps. you'll find fish, just gotta cover a lot of water. Good Luck
Monday, February 18th, 2013
Water Temp: 49-52

Water Clarity: Clear (4+ foot visibility)

Report: Launched at 8am and fished till 1pm. Caught 20+ spotted bass on pumpkin jigs in 50 feet water. Biggest fish was landed by my friend, a fat 7+ lber. No reaction bites, drag slow and dead stick, pressure bites only so set on any weight.
City: Sacramento

Tips: Jigs in 50 feet. fish slow and set on pressure of they drop it
Sunday, February 17th, 2013
Water Temp: 48-50 deg

Water Clarity: Clear (4+ foot visibility)

Report: what happened to this lake??? last time i fished it i got 40+ bites and landed several healthy round bellied spotted bass, then today it was a horrible bite and a dinkfest! all fish caught were small and skinny!!! also, dark day launch has dock pulled out of water.
City: napa

Tips: don't fish here until late march or early april
Saturday, February 16th, 2013
Water Temp: 47-49

Water Clarity: Clear (4+ foot visibility)

Report: Fished Saturday evening and Sunday morning.
Pretty slow overall with a few brief moments of excitement.
Fish are still in the winter funk mode, waters cold!
Caught 12 on Saturday, 11 little guys and one 8.2# toad!
Sunday was more of the same except no giants.
No real pattern to report, caught fish throughout the water column but mostly in the 30-40' range.
Typical dart heads, senkos, jigs.. Tossed the swim bait for two followers and no takers.
City: Reno

Tips: Wait a couple weeks unless you have a ton of patience!
If not there's two ways to approach these fish: either super slow or super fast.
Super slow: drag your favorite bait in 40-60' of water, hula grubs, senkos, dart head etc.

Fast: run and gun with your favorite bait and fish in 15-30',
Make lots of casts and don't hang out in one spot for too long. If you find the fish up they will be more than willing to accept your offer, however you will have to cover a ton of water to find them. I would still stick with the soft plastics fishing like this, just make two casts to each point and pocket and move on.
Wednesday, October 31st, 2012
Water Temp: 65-66

Water Clarity: Clear (4+ foot visibility)

Report: I checked out beautiful Bullards Bar this morning - and found it to be quite lonely!! I only saw one other boat today - and they wern't even fishing! Started with one or two on topwater but that was pretty slow. I started drop-shotting a grape Robo worm and the spots were all over it!! I mean at least 40 in the boat in my half day there. Most were small but a few hit the 2 lb mark. I threw swimbaits a lot with no takers. Around noon I started fishing a #301 Senko with some side weights and caught slightly better quality fish. I worked water from 10 to 70 feet with different baits and decided that the big fish haven't tuned in the fall feed yet. It is raining hard in Yuba City tonight (.82 inches so far). That should get the bite going - I hope!
City: Yuba City

Tips: I drop-shotted a Basstrix Flashtrix minnow also and only caught a few even thought bass were spitting up baitfish. They really wanted the worm. Morning Dawn w/chartreuse tail 6 inch Robo worm also worked too! I decided not to loose any crankbaits today on those great stumps!!!