Collins Lake and Reports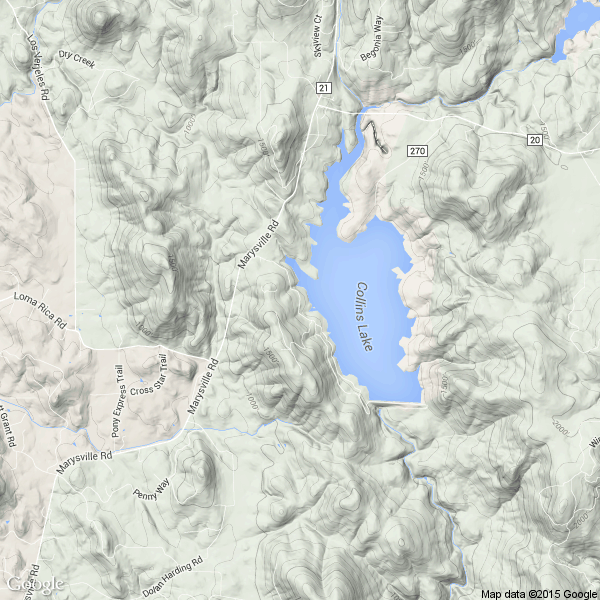 Click for Navionics/Google interactive map
Thursday, Sep 3


Friday, December 26th, 2014
Water Temp: 47

Water Clarity: Muddy (0-2 foot visibility)

Report: Cold day at Collins, 26 degrees when I got there, knocking ice out of my rod guides all morning. Ended up with 5 Spots for around 12 lbs. All in shallow water no more than 10 feet. Took all on plastic worms and dart heads. Graphed lots of fish around 40 feet on the bottom, but no takers (maybe catfish). Bass were all scattered, one here, one there.
Monday, September 22nd, 2014
Water Temp: 76-78

Water Clarity: Clear (4+ foot visibility)

Report: I visited the lake last Friday for a few hours before dark. Saw lots of bait in the center part of the lake but not much down by the dam. Had 3 or 4 bites and landed one 2 1/4 lb spotted bass - near the dam. It hit a jig of all things! Water is still warm and bait is deep.

Tips: I was not surprised that there was no surface activity - didn't get a hit on topwater. Things should perk up in mid-October.
Sunday, March 23rd, 2014
Water Temp: 59-62

Water Clarity: Muddy (0-2 foot visibility)

Report: I fished solo Friday afternoon and late Sunday afternoon. Fri I had some good takes on swimbaits and dumped a big spot at the boat. They are hard to net when alone. I caught 2 smaller spots this afternoon, but no takes on swimbaits - probably because of a north wind. Water temp dropped about 3 degrees because of the wind. I caught the 2 smaller bass on jigs.

Tips: As usual, the water temp is a little better on the east side, but not much. West side has some good structure under the water now - should be good before long.
Tuesday, November 26th, 2013
Water Temp: 55-56

Water Clarity: Clear (4+ foot visibility)

Report: I did a solo 2 1/2 hour late afternoon trip today, looking for the new hangout places since the lake is pretty low now. Launching is still fine. I threw jigs most of the time - casting and dragging. I missed a good bass mid-lake dragging in about 30 feet of water. I ending the trip fishing structure on the lower part of the lake and landed 5 spots up to 2 1/4 lbs. Missed about 3 or 4. Most hits were from 20 to 45 feet. Nothing shallow. Had to have some rock to find the fish.

Tips: I really didn't try many other techniques since my time was short. I was using brown/orange jigs with Yamamoto grub trailers.
Thursday, March 14th, 2013
Water Temp: 56-62

Water Clarity: Clear (4+ foot visibility)

Report: Spots and Largemouth in the shallow water East side and spawning, Largemouth on a Pre spawn with males cruising Throw worms to the base of the submerged trees and wait. Flukes, Senkos ,Sluggos any type of weedless plastic jerkbait.
City: Truckee
Sunday, February 17th, 2013
Water Temp: 49-51

Water Clarity: Stained (2-4 foot visibility)

Report: Fished Collins Sunday evening and Monday morning.
After figuring out the submerged tree pattern the fishing was pretty good. Had to find trees in 15-25 feet of water that were submerged completely. Caught fish on a variety of baits, senkos, drop shot, swimbait, dart head and jigs.
Fish were 1.5-2# average with a couple 3+ spots tossed in the mix.
Find those trees and fish slow!
City: Reno
Saturday, January 26th, 2013
Water Temp: 52 f

Water Clarity: Stained (2-4 foot visibility)

Report: Fished the Dam area. Caught five and missed 7 or so more. All on Berkley Powerbait Garlic. One had a stomach full of little silver minnows, inch and a half long.
Bite was best at sunrise and there was a midge hatch happening most of the morning.
City: Woodland
Friday, December 21st, 2012
Water Temp: 52

Water Clarity: Stained (2-4 foot visibility)

Report: I fished Collins yesterday afternoon for about 4 hours, but couldn't do much because of the howling wind. Hard to get away from it in this lake - being so open. I did most of my fishing at the lower end, near the dam. I missed about 6 or 7 fish - including a pretty good one - but landed 4 up to 2 lbs - all spots. Wind at 25-30 mph made feeling a bite impossible. All hits were on a D&M Piranha swim jig - craw color. I was using a Yamamoto Swim Senko as a trailer. Fishwere all over the water column - from 5 to 25 feet.
City: Yuba City

Tips: The lake is 10 feet from full and will fill within a week. Water will probably be dingy again for a few days. Bass will probably move quite shallow as the lake fills.
Tuesday, December 11th, 2012
Water Temp: 54

Water Clarity: Stained (2-4 foot visibility)

Report: I made a quick 3 hr trip today, mainly to try my new G. Loomis NRX rods. I only used 2 models, hooking 2 bass - a 2 1/4 and 1 3/4 lb. The rods felt great! I did hook a bigger one, but lost it. As I was leaving. I made one more cast with a D%M Piranha swim jig (craw color) and got a good hit in about 15 feet of water - and I even landed her! She was a spot just shy of 3 1/2 lbs. Nice short trip!
City: Yuba City

Tips: The lake has come up some 20 feet. It looks great but still fairly dingy. I would use some type of bladed bait or bulky bait. All my bites were about 15-20 feet deep. Got the first 2 drop-shotting Robo worms in the main body.
Tuesday, October 30th, 2012
Water Temp: 68-70

Water Clarity: Clear (4+ foot visibility)

Report: I made another afternoon trip to test the bite and found it still to be a bit slow. We need some cold nights! I found drop-shotting a grape color Robo worm to be the bait of choice and got a lot of action before dark - about 20 to 30 feet deep. Even though I had a lot of bites, I only landed 5 - but they were nice spots from 1 1/2 to 2 1/4 lbs. I caught one on the east side and the rest on the west side. Had one quality blowup on topwater, but missed her.
City: Yuba City

Tips: The coming rain and longer nights should cool the water some in spite of no cold fronts yet. The usual good October bite will be in November this year. I did quite a bit of spooning with no results.
Thursday, September 13th, 2012
Water Temp: 76-79

Water Clarity: Clear (4+ foot visibility)

Report: I made my first short early fall trip to Collins yesterday afternoon since the summer crowds are now gone. And - I was almost a hero! I was throwing my favorite Chug Bug topwater bait in the evening and hooked a big bass - well over the 5 lb range, but quickly lost her. There was shallow rock present and was lucky to get my lure back as she frayed about 2 feet of line on the rock. I lost another good one in the 3 to 4 lb range. Overall, the bite was slow. I caught 3 dragging a morning dawn Robo worm, and one on topwater - and a bluegill on topwater! Bass were all in the 2 lb range. Big fish might be about ready to show - probably another 2 or 3 weeks. Water need to cool a bit.
City: Yuba City

Tips: Look for areas that have a deep drop-off. When the lake drops, there are a lot of flats that just don't hold fall fish. The jig bite well pick up soon. I saw some shad on the surface, but only a few bass chasing them.
Wednesday, June 6th, 2012
Water Clarity: Stained (2-4 foot visibility)

Report: Fished Collins while camping with the folks. Collins Lake Camp ground has definetly improved over the last few years. Very clean good job. White spinner baits and shad colored swim baits were the ticket in isolated trees in about 4-8 feet of water. Wait for the wind to blow and go get'em. Best fish 3 lbs caught over 20 in two days top water worked at sundown. Best Collins day in a long time.
City: Yuba city
Tuesday, April 24th, 2012
Water Temp: 60

Water Clarity: Muddy (0-2 foot visibility)

Report: Muddy Muddy Muddy All reports say the lake is clear. Thats BS. I really think there just trying to get the trout fisherman up there to pay for there new store. Fished from 6 till 9 1 off spinnerbait 2 on alabama rig and 2 on plastics. Nothing big all around 2 lbs. Talk to a few trout fisherman and they said the bite was slow. DBTH thats dont believe the hype. Ive been fishing here for 20 years and they allways make the fishing report better than it really is.

Tips: If your looking for some good bass go some were else. OVERRATED!!!
Tuesday, April 3rd, 2012
Water Temp: 53-57

Water Clarity: Muddy (0-2 foot visibility)

Report: My brother and I fished this lake for the first time. The lake is full and up into the trees. The wind blew us around so we started with rip baits and LV500's in the morning. We kept getting trout on the LV500 in 15 feet. We moved off but did not get anything. When the wind became more manageable we tossed worms and 6 inch Senkos into the trees from 4 ft to about 20 feet. There we started picking up fish and ended up with several in the 13 - 15 inch length. About three the wind got worse so we took a couple trout we had caught home for dinner.
City: Georgetown
Wednesday, February 8th, 2012
Water Temp: 50-53

Water Clarity: Stained (2-4 foot visibility)

Report: I took myself up to the lake this afternoon to check out the bite - and found it pretty good. I fished from 2:30 to 5:30 pm, landing 7 spots and 2 largemouth. My first spotted bass was big fish - a little over 3 1/2 lbs. Caught her on the "Hemphill" special - brown/orange jig with #180 5" Yamamoto grub trailer, about 30 feet deep. Cloud cover moved in and might have turned on the bite. I caught all the rest of the bass from 10 to 20 feet deep - west and east shore, mostly on jigs. I threw 6 and 8 inch swimbaits, but no hits.
City: Yuba City

Tips: One could almost walk across all the trout they planted - wow! Some of the monster bass in Collins should put on a few pounds with those "meals!" I threw a few crankbaits with no success.
Tuesday, January 10th, 2012
Water Temp: 48

Water Clarity: Clear (4+ foot visibility)

Report: Haven't been out to collins in over a year, but had a blast! Between the two if us we caught 18 bass with the best five 16.4lbs only got one large mouth that was a tad over three, but the big spots were hungry. It was a nice calm day, but the lake was pretty low. I thought the fish would be deep, but they all came from 5-15' of water.
City: Yuba City

Tips: Fish slow with 1/8oz shaky head matched with a chartreuse chompers 6" worm. And for the spot, well can't give my secret spot away
Wednesday, November 2nd, 2011
Water Temp: 64-6

Water Clarity: Clear (4+ foot visibility)

Report: Made a 4 hr trip this afternoon with my friend Mike and found the bite to be what we thought after the previous day north wind. It was slow but we had some action. Mike had 6 or 7 hits while drop-shotting, but only landed one keeper. I lost a good fish on the first cast. I started throwing a Chug Bug topwater bait about 5 pm and did go 3 for 3 - two nice largemouth and a 2 lb 3 oz spot. So, the trip wasn't a bust!
City: Yuba City

Tips: The north wind put the bait deep again - down to 50 + feet. Upcoming rain should get the fall bite going - I hope!
Wednesday, September 28th, 2011
Water Temp: 76-79

Water Clarity: Clear (4+ foot visibility)

Report: I fished the last 3 hours of daylight at Collins, Tues afternoon, and did have 7 or 8 hits but only landed 3. Two of them were very nice spots - one close to 4 lbs and the other at 2 1/4. I even had the first topwater fish of the fall season hit, but I lost her. The big spot hit on the west shore as I was reeling in my drop-shotted Basstrix Flashtrix minnow. Those fish never stay on the hook but this one did She hit around 40 feet deep. Other than the topwater fish, all other bites were about 30 to 50 feet deep. Lake is quite full - only down about 20 feet.
City: Yuba City

Tips: I have fished Collins for 35 years now and have never seen the number of shad present in the lake now. Just before dark, the surface almost looked like Amador - with shad everythere - and small bass chasing them. Fishing should be good when the fall turnover happens. I should mention that the Morning Dawn Robo worm got some bites too.
Saturday, May 7th, 2011
Water Temp: 64-68

Water Clarity: Stained (2-4 foot visibility)

Report: Launched my new Ranger Z521 yesterday morning and putted around seeing if anything was biting. I threw a D&M Piranha swim jig next to a bush on the west side and nailed a 3 lb largemouth. Good first fish!! She was in a foot of water. I sight fished 3 more - all spots from 1 1/2 to 2 1/4 lbs. Missed 2 more. Didn't see any large fish at all. I fished for about 3 hours total and played with the boat another hour or so.
City: Yuba City

Tips: Water temp reached 70 when I left at noon, so I assume the spawn has been going on for awhile. The lake appears to be about 2 or 3 feet from max pool. Lots of boats on the water!!!
Monday, April 4th, 2011
Water Clarity: Muddy (0-2 foot visibility)

Report: Got on the lake around 10am. The day was perfect weather, water temperature was mid 50's. But the fish were not where we thought they should be. I did catch one on a Texas rig craw. The bass must be still deep or just being stubborn.
City: Sacramento

Tips: Since we did not find the pattern the only tip I have is keep trying and not to give up. The day on the water is worth it even if you do not catch fish.