Clear Lake and Reports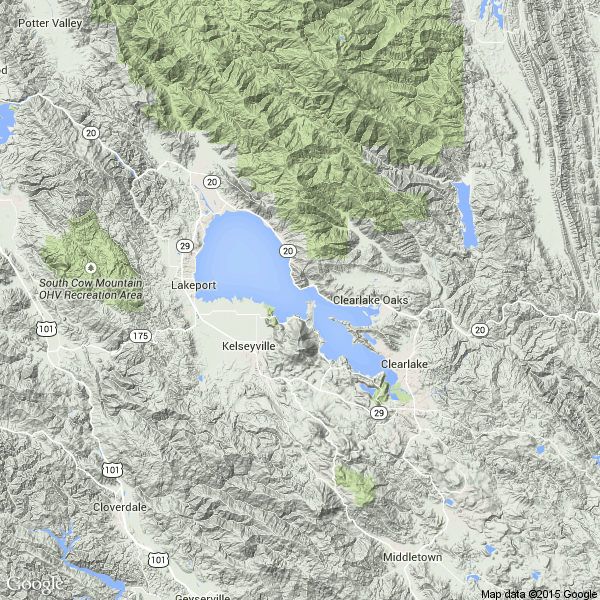 Click for Navionics/Google interactive map
Wednesday, Mar 1

Tuesday, February 7th, 2017
Report: by clearlakeoutdoors » Tue Feb 07, 2017 12:04 pm

Ok guys the county had a meeting today and came up with new regulations. They imposed a no wake zone out to 2500 ft off shore.There is still alot of debris out there so i would not suggest running wide open out there.
DO NOT RUN THE BANKS FAST OR THEY MIGHT CLOSE THE LAKE.
Midlake remains fish able and the crappie bite is taking off .
No news on county ramps opening but State park and Konocti vista ramps are open
Dave

Report: DanIsaac » Tue Feb 07, 2017 9:15 pm

Clear Lake this week 2/7/2017

Wow, what a past couple days. Lake level is now at 8.69 Rumsey and climbing.
Predictors have it topping off at 9 Rumsey or above by Thursday afternoon, coming with that minor to moderate low level flooding.

Updates on the reduced speed are varying, though Dave at Clear Lake Outdoors has reported the County has modified its previous guidelines, having lifted the 5 mph limit 2500 feet from shore.

This basically translates into idling out away from the launch facility into the middle of the lake, where you can then proceed on plane. You then must shut down once again 2500 feet from shore when you arrive at your destination. I still advise you to proceed with caution as even more debris fields have developed around the lake with the rising waters.

All County ramps remain CLOSED at this time, with State Park, Konocti Vista, and Red Bud remaining OPEN.

Ok, fishing report. Fishing has been good one day and then bad the next with regularity.
Fish have been averaging 2-3 pounds with an occasional 5-7 pounder for most. A-Rigs, LV500s, TN70s, and jigs have all been doing their fair share of damage. Pick your poison as they say!

Once this crazy weather breaks and we have a continued warming trend, with clearing waters, I suspect the bite will improve dramatically for quality fish. I would expect that is still a couple of weeks away though, but only time will tell.

Still spring is not too far away. Hang in, we'll get there!...;)
Monday, January 23rd, 2017
Report: Clear Lake this week 1/23/2017

Well, as I sit to write this the rain is beginning to hit the skylights once again. We could use a serious break no doubt. This past week as the rain did subside one could actually catch a few fish here and there. Still, water temperatures continue to hover in the low to mid 40s, and as the water clarity continues to decline, both are adding to what I would still characterize as a tough bite.

However, right now the bite is not the main issue as the lake continues to rise and creep closer to "9" Rumsey and trouble for some who reside around the lake. To this point the near 17 inches of rain already received since January 1st has been more of a blessing than nuisance.

Unfortunately, from this point on real concern should not be merely dismissed as unfounded. The lake currently sits at 8.31 Rumsey and will most likely continue to rise from all of the run-off despite the current flows at Cache Creek Dam.

Having driven through the valley this past Saturday it was quite easy to see why Yolo County cannot just increase the flows to max in order to lower the lake quicker. Any further release would just have nowhere to go with all of the overflows currently downstream in the valley.

Conditions around the lake vary of course depending on where you are. Creek mouths are pretty bad as flows continue to be quite impressive, as is the size of some of the debris seen floating merrily along here and there. Sufficed to say you don't have to back down into any of the ramps around the lake as nearly all are topped out.

Forecasts for continuing rain will most likely continue to contribute to worsening conditions and at some point this week I would not be surprised if the lake was not closed should it get to or past "9" Rumsey. I'll try and get that info up asap should it occur.

I personally doubt that will happen, then again, I don't think anyone expected to get more than half of last year's rain total in just 23 days either so stay tuned.

My schedule remains open this week and next. Anyone considering reel service should get them sent in now before the rush in February begins. Please feel free to call anytime if I can answer any questions. I now provide service on Shimano, Revo, Lews, Daiwa, and BPS products.
Wednesday, January 18th, 2017
Report: Clear Lake this week 1/18/2017
Unread postby DanIsaac » Wed Jan 18, 2017 9:40 pm

Clear Lake this week 1/18/2017

Here we go again!

Current lake level is 7.10 Rumsey and releases out of Cache Creek dam are now booming at 3570 cfs.
Projections are for the lake to top out at 8.0 Rumsey this weekend, or at least that is what is being reported.
Full pool is approximately 7.6 Rumsey so there are some serious concerns as a result.

Roads around the area are experiencing serious slides and some flooding, so perhaps the best bet this weekend is to take a break and go walk around ISE Sacramento, at least you can stay somewhat dry at the show.

For those who still want to chase em' this weekend one will find water temps in the mid 40's, and water clarity mid lake to be quite fishable, though the bite is a bit tough.

On the crappie front, crappie are bending rods all around the middle of the lake on double crappie jig rigs and spoons of all things. Crappie to 3 pounds are not un-common and they're roaming in 12-30 feet of water.

Reminder, debris is everywhere, and one should exercise extreme caution running around, especially, but not limited to the upper and mid lake areas.

Stable weather is forecast for next week, and hopefully everything improves as a result!
ReelEx, your source for quality, professional service on your Shimano, Lews, or Revo reels.

Guaranteed 96 hr turnaround on service.
650-454-4938 http://www.reel-ex.com
Tuesday, January 17th, 2017
Water Temp: 46

Water Clarity: Stained (2-4 foot visibility)

Report: Fished the south Monday afternoon. Make a short story shorter, had 4 bites & 1 fish. Only out for 3 hours, but managed some light taps on a darterhead worm & a 3.5 on a jig. It was very slow, but was a nice day & got to exercise the boat!

Tips: Fish slow, be aware that the bites are extremely light & enjoy the day!
Sunday, January 8th, 2017
Report: DanIsaac » Sun Jan 08, 2017 9:00 pm

Clear Lake this week 1/8/2017

As everyone Im sure has heard, this storm system has dealt moderate to severe damage throughout Lake county and conditions continue to be iffy at best.

Major mudslides around the county make navigating treacherous as does moderate to severe flooding in Hidden Valley, Kelseyville, Upper Lake, Lower Lake, and areas in Lakeport
as well.

The lake itself continues to race towards full pool despite Cache Creek dam dumping near 3k cfs, and Putah Creek is near flood stage in the Hidden Valley area as well.

I think I'd exercise some discretion if one really needs to come up early this week, ss the forecast for Thursday through Saturday looks much better, which would give conditions a chance to stabilize a bit.

Should you choose to take a chance please be aware that there is a ton of debris in the lake
so be careful!

Dan
Tuesday, December 27th, 2016
Report: Doug, Coast Guard » Tue Dec 27, 2016 9:29 pm

The Henderson and Shag Rock points are the community holes this time of year, but a couple other patterns to consider are Wheeler Point, the deep east side of Monitor Island and cove near Indian Beach Resort. Make sure to use your electronics and do a little scanning. The docks near Nice/Lucerne in deeper water can hold schools, but you have to work a lot of docks to find one holding. But the fun part is there is typically a school when you find one.

Report: DanIsaac » Tue Dec 27, 2016 6:03 pm

Clear lake this week 12/27/2016


Brrr……about says it best! With the lake at the highest level it's been at this late in the year in a long time, the bite has slowed considerably for most. Morning air temperatures hover in the mid to high 20's, as the day time highs struggle to get out of the 40's, both have driven surface temperatures down into mid 40's and the bite has suffered for most as a result.

The good news, this week we find the lake at 3.56 Rumsey, an absolute great way to end the year. One or two more good storms and we may just see full pool by the end of February once more.

Everyone wants to know "what should I do"? Well, if you find the secret please let me know. I fishED Christmas day and had the lake to myself. Unfortunately, I only managed to boat 6 keepers for about 22 lbs, and a dozen or so crappie to 3 lbs.

Brown/brown jigs, 2.0 Squarebills, and a shakeyhead accounted for the bass, and the crappie feel for micro-swimbaits, all fished in 10-35 feet of water.

All in all this time of year is pay your dues time for me, though it should start to improve when the day time highs start poking the 50's once again.

Happy New Year all and here's to an awesome 2017!
Monday, December 26th, 2016
Report: jetlag » Mon Dec 26, 2016 9:18 pm

Whoopbass,
Had a pretty slow day at clear lake. Caught 2 fish in the morning. Mid twenties when we launched. Both caught on LV 500's. Only saw one other fish caught. tried a few minnows but nada. was going to give them a try in the afternoon but had to cut the trip short. My 13 yr old managed to stick a hook deep in his hand. Left around 1 so we could wait 3 hours in the ER. Tried a couple of new spots that looked promising. Biggest was 2 pounds.
ty
Bob
Sunday, December 25th, 2016
Report: Anthony Bridges / Dan's Delta Outdoors
Delta Fishing Report…. Bait fishing Stripers Sturgeon continues to be Solid
First Of All, Merry Christmas! Once again, Very little pressure from anglers on the river this week,. Great tides combined with Sunny days ahead to be setting as the Best winter bite we've had in years.. Still there is some cool water and tough bites.

Isleton Fishing Report
Sturgeon anglers are heading to 41, Cache Slough areas with roe and eel reporting success. Cooling water have slowed the stripers in the Cache Slough area. Spoons and hair Jigs have become favorite tools of lure tossers in the area. Many guides are drifting minnows in the area.

Rio Vista Fishing Report
The best place to score a striped bass or sturgeon seems to be below Decker Island in the area of the Power Lines at Light 14 and the Red Barn, where boaters anchor and use threadfin shad or sardine filets. Small stripes and occasionally, a 10-pounder is caught. Eel/crawler combos continues to lead the way for sturgeon anglers in front of Collinsville

Walnut Grove Fishing Report
Slow for the trolling anglers, but stripers cracking the 15 pound plus keeps anglers hopes up. Drifting live baits are the top choices here as well, there seems to bit more call for chartreuse patterns here. Bank anglers tossing shad and eel prevail for an occasional Sturgeon or Striper those looking for fun.

Discovery Bay Fishing Report
Black bass bite improved a bit as water temps stabilize in the fifties. Most Blackie anglers are sticking with rip baits and a-rigs searching ledges near flats om he Indian creek Side Others looking to beat the cool conditions are drop shotting 6 and 7 inch worms. Nice sized stripes are grabbing Bad Bubba Shad . There seems to be a run on Crappie Jigs. This would indicate a crappie bite but no ones talking.

Frank's Tract Fishing Report
Black bass bite both OK but ya gotta Slow down with the weather rolling through more consistently. It's no secret what staying in the 12-15 foot depth can produce. Kriet Kreratures are great options while FatSack Jigs and swim jigs get the mention as well. We found a few of Stripers and Black Bass with Hair Jigs, Swim Baits, like the Optimum Diamond Shad getting grabbed. Lot of Stripers in main River and Mildred areas.

West Delta Fishing Report
Sturgeon leads the way. Eel is the best bait over all, but roe and shad also scoring diamondbacks Broad slough and surrounding cuts. There were many shaker sturgeon reports in double power lines in Decker Island and Sherman Island. There were few shaker sturgeons also reports from Light 42 to Light 49 in the deep channel Most of the nice stripers coming soaking Shad, anchovies and sardines allow Sherman Island rd.

Contra Loma Fishing Report
Trout fishing has been good. They have been biting at the East Side, North side of lake or from a boat with nightcrawlers, power eggs, or mice tails Another 1000 pounds of plants helps spur the bite along.

Provided by Dan's Delta Outdoors, 1625 Main St Oakley CA 925/234-4694 Follow us on Facebook
Saturday, November 5th, 2016
Water Temp: 64-66

Water Clarity: Clear (4+ foot visibility)

Report: In spite of the big tournament, a friend and I decided to fish the late afternoon and for awhile at night. But upon arriving I saw that a trailer tire was destroyed - I hit a big hole on the road at Williams. After AAA was able to finally get the right parts and get the tire changed, it was almost dark. The bite was totally off - with no bites until we found some willing bass at 9 pm. We got several bites, but they was not really taking our baits. Since the water was still rather warm, I put on a 10" Power worm with light sinker to work over some rocks. That is what they would finally hit as I landed a 6 1/2 pounder along with a 3 1/4 and a smaller one. My partner missed several good bites - rare for him. We quit about 11:30 pm. It would seem as no surprise to me that the day bite is better now than the night bite. When I started fishing and guiding after dark at Clear Lake about 25 years ago - no one was on the water in November after dark with the exception of R, C, Stevens. I'll bet I saw 5 or 6 bass boats out last night. It was a beautiful night - no wind!!

Tips: Don't feel we had enough action to give tips. Most of his bites were on Kreature type baits and jigs, but they did seem to commit more to the Power worm - good hookups. Most bites were from 14 to 18 feet of water. Have the dinks headed for deeper homes? No dink bites!!
Wednesday, October 26th, 2016
Report: by DanIsaac » Wed Oct 26, 2016 9:43 pm

Clear Lake this week 10/26/2016

Wow, what a weekend and what a storm, raising the lake level to 1.45 Rumsey.

Water conditions around the lake vary as does the bite. However, don't let the ugly water scare you away. Trust me; fish are biting despite hat really weird looking water as witnessed by the photo below. John Pearl of John Pearl Guide Service displays three fish of his 46 lb. bag caught this past Tuesday in and around that ugly brown water, and I have it on good sources that other guides are wackin' them as well.

While secrets are hard to come by, good solid instruction can really shorten the learning curve, so anyone looking to learn or just looking to catch a good one, reach out and contact a guide and have at em' yourself. Below is a list of just some of the local big fish specialists.

Those who want to get after em' alone, LV500s, Jackal TN70s, Strike King Redeye Shad, 1.5-3.0 square bills, Hudds, and deep diving cranks are all producing more than a few DDs, as is the good ole jig.

With the surface temperatures finally beginning to become normal for this time of year, the bait is beginning to group up and the fish are on the bait, and now is the time of year when big fish can be found in all four reaches of the lake. Lakeport, Redbud, Mid-lake, and Rattlesnake are all kicking out some really good fish this week, and with the forecast stormy weather, it should only get better. Just beware the wind. Don't challenge it, launch where you can fish and get after them safely.
Sunday, October 23rd, 2016
Water Temp: 62

Water Clarity: Stained (2-4 foot visibility)

Report: Showed up Sunday night & ran into some rainy & windy conditions. Ted & I got on the water at 11pm and because the wind picked up, we only fished for a few hours. I got a really fat 6.2 lber on a chatterbait right out of the gate in Konocti & thought it was on! Boy was I wrong! We managed a few more 2 lber's & that was it for the evening! We went out on Monday afternoon, got a few more small ones & then we literally got blown & rained off of the water after a few hours. I thought that we were done for the evening, but at 1am the wind laid down the the rain reduced to a drizzle, so we went out & caught 7 nice 3 lber's on a variety of different baits. No pattern, rythym or reason, but they were very tight to shore. Tuesday afternoon was pretty much the same as Monday, wind, rain & small fish. The night was really windy, so we elected to stay in. Weds turned out to be a bluebird day, so we started out at Wheeler Point & work our way up to Henderson, fishing a bunch of spots along the way. We caught a bunch of dinks & no big strikes at all. Had to come home Weds night, I'll bet all the big fish were hitting then & we had to leave! Lol

Tips: They seemed to be very tight to shore around weeds & rocks. We caught them on jigs, kinky beavers, flapping hogs, chatterbaits, lipless cranks, & deep diving cranks. The colors that worked the best for us had blue with green pumpkin. The weather really limited our fishing & probably suppressed the bite as well. It was still nice to be out on the water though. I would move around & I think when the weather stabilizes a bit, the fishing will take off! There is, like the previous post states, a ton of baitfish in the water. The 6.2 we caught looked like an overstuffed pinata!
Saturday, October 22nd, 2016
Water Temp: 63

Water Clarity: Stained (2-4 foot visibility)

Report: Lots of sub 2lb fish anywhere from 5-20 ft deep. There eatin jigs and drops shot baits. Also LV 500's will work. Lots of bait in the water but they seem to want crawdads more then the shad. Pretty soon the swim bait bite should turn on.
Wednesday, October 5th, 2016
Report: Manny Nevarez II, 14 years old caught Personal best 11.0 lbs out of Clearlake CA. President of the Yuba Sutter Fishing Club, a competitive High School team consisting of 43 members. Caught on a Dobyns Rods, Daiwa reel and lucky rattle trap
Tuesday, October 4th, 2016
Report: DanIsaac » Tue Oct 04, 2016 7:29 pm

Clear Lake this week 10/04/2016

Lake level this week is at 1.36 Rumsey, and water temperatures are running 63-67 degrees.

While the days are becoming shorter, and the day time temperature dropping, the bite is beginning to heat up, as usual, and as most fall bites do.

Unfortunately, the days of summer and double digit bites are behind us, though big bags can still be found for those who choose to chase em'.

Crankbaits, chatterbaits, jigs, and finesse worms are all producing both north as well as south. Docks, rocks, grass, and shade are all must hits around the lake.

This year October is not scheduled to be the busy month past years have seen tournament wise, thus it's a perfect time to come up and throw some of the traditional fall baits.

Jackall Muscle Deep 20, Strike King 10XD, 8XD, Megabass Deep Six, Norman DD22, 6th Sense 300s, Lucky Craft D20s, and LV500s can all produce some really, really big bites, especially on those dreary gray days. As can the A-Rig.

On the bottom contact side, the Carolina rig, brown/purple, black/blue jig combinations, Roboworms, Senkos, and Dropshot rig will produce for those that choose not to chuck and wind all day.

This past weekend I was fortunate to join a friend for the Triton Tournament, and while we had our chances, were forced to resort to the spinning rod and fish "used" water on Sunday. Fortunately, we squeaked out a 13th place finish fishing a Roboworm, and Bass Patrol Jig combination.

Why more Triton Boat owners do not participate in this event is beyond me, as this was a very well run and fun event, not to mention the 20K in raffle prizes given away at the awards ceremony. Five Motorguide trolling motors, Power Pole, five Lowrance units, a half dozen Mercury props, a dozen rods, cases of Mercury oil, etc etc etc.

Next year the date has changed and I would expect 120+ boats wouldn't be out of the question. Triton owners, mark your calendar for this event next year, it really is a low pressure fun time had by all.

This weekend brings the WNS Clayton Fire Benefit Tournament, Sunday at 9am in Red Bud Park. Yes, 9a-5, a three fish limit, and a $100 entry per boat. All proceeds will be donated to the CF Fund, and the raffle should be pretty cool as well.

The WNS guys are really trying to make a difference and your support and participation could really help those who have lost everything as a result of the Clayton Fire. This is a perfect opportunity to bring a father, son, daughter, girlfriend, or wife, and really have a great time fishing a tournament with that special person.

Hope to see ya there!
Tuesday, September 27th, 2016
Report: DanIsaac » Tue Sep 27, 2016 8:06 pm

Triton Owners week 9/27/2016

Lake level this week is at 1.60 Rumsey, and as the transition in to fall begins to work it's magic on the Great Oaks and Valley Vineyards, both the landscape as well as the lake which it surrounds continue to transition daily, as does the bite.

Water levels, water clarity, water temperatures, and day time air temps are all playing a part in driving the bite from poor to good and back to poor, some days on an hourly basis. Still, everyone has to deal with the same conditions so don't let them deter you, just come prepared for everything as they say.

This week we have daytime temps in the mid 90s down to a forcasted 65 degrees on Saturday and Sunday, so obviously things will continue to change on a daily basis.

The weekend will bring the Triton Owners tournament back to the clearest of lakes after a one year hiatus due to the Valley Fire, and this year with conditions much better than they've been in nearly three years, anyone qualified for this one should really consider getting in on the fun.

Crankbaits, soft plastics, and jigs are all catching fish and with the forecast gray skies this weekend, they will most likely spur the top water bite on as well. So, like I said, come prepared!

Here's hoping all the Triton guys have a good time! Be safe, be nice, and have a great time!
Tuesday, September 20th, 2016
Report: Clear Lake this week 9/20/2016

September 20, 2016 brings us to 1.81 Rumsey and the lake level is falling quickly. All ramps remain usable and open. However, caution should be exercised everywhere.

Water conditions are changing once again for the worse. Obvious signs of pelleting can be found just about everywhere around the lake, and yes it's effecting the bite. Brown, tannick looking water is popping up everywhere all of a sudden. Water that had already cleared in the north is now reddish brown again, as is the narrows down into the Windflower/Rattlesnake areas of the east end.

Water surface temperatures are now in the low to mid 70's and are barely reaching 80 by the end of the day.

As for the bite,,,,,well let's just say I began the last two days with 8 rods on my deck, and when I put the boat back on the trailer, low and behold there was 15. Junk fishing has been the key phrase for me, as was the locations.

Crank baits, spinner baits, jigs, chatter baits, and yes the dreaded spinning rod combo all contributed. The results though could not have been more different.

Monday I might have had 9 lbs for the best five, emphasis on MIGHT! Today, I fared a bit better and managed a 24 lb. bag. The natural question "so, what did I do different?" Answer, absolutely nothing! Well, one thing. I did change the time spent in a specific area. Pulling up to an area I fished for 10 minutes and if there was no cooperation, I moved on. Obviously, that allowed me to cover quite a bit more water, and it seemed to help.

So, are they deep or shallow? Actually, from what I could see most of the better fish have suspended on bait. So I found them throughout the water column depending on the position of the bait.

Weather this weekend may change the bite for the better, but only time will tell. Good luck!
ReelEx, your source for quality, professional service on your Shimano reels.
Guaranteed 96 hr turnaround on service.
650-454-4938 www.reel-ex.com
Sunday, September 18th, 2016
Water Temp: 73-78

Water Clarity: Stained (2-4 foot visibility)

Report: Jim's day on the lake!
Went with my buddy Jim McDevitt and his son Sean, first time on Clearlake for Jim or I this year. Sean has been telling us the lake is on fire, him and his cousin are killing them. Got a late start but first spot Sean brought us to was nice. Probably 6-8 fish in the first half hour. The same thing at the next place. Every place he brought is to we got fish. Heard about guys that say "50 fish days" but never been there to see it myself. Well I write every fish I catch in a little notebook with the lure and weight of the fish (or just "dink' when appropriate) and Jim and Sean helped keep it current all day. 22 fish per page and on page 5 the last fish of the day was literally number 100. Not sure how many we did not write or if we maybe double counted one or two but regardless it was a blast.
Sunday started out the same. Got a fish on my first cast, then on my second, then Sean then Jim you get the pattern. They stopped counting after 20 or so, I had 37 in the book but totally safe to say 70 or so. We fished till 3:00 to head home.
Details: Fish came from 2 feet to 22 feet, a few fish on Crankbait, couple on jerkbait, Sean even got one on an umbrella rig. But most fish on one form of plastic or another. Shad everywhere on the lake, almost every place you stopped they were everywhere. From 1" to 3". 80% of the fish were dinks but mostly good fighters, 15% were 1.3 - 1.95. Saturday only one fish to weigh 4.67.
Sunday after about 15 fish we abandoned our pattern and changed locations and some presentation. Good news I got a 2.9 so things looking up. Then at about 11:00 Jim tossed a little 6" robo worm to a nice rocky point and got bit. Looks like a nice one. he smiled but said let's wait till he shows himself. Two or three minutes later he finally comes up and dances across the top. Jim freaked a little and said "Dave, do you have a net"? nice fight light action 10# mono and a tiny hook but eventually he guided her to the net 7.78 lbs. Jim's PB! He was shaking, dropped the poor girl twice trying to weigh it and take a picture to post to the gram.....It was a beauty, so happy for Jim, fun to see his hands shaking, hope it came out on my gopro! Sean stuck a 4.75 and the size seemed to be lookin up. Then a little while later some guys in a tourney jumped right on top of us kind of burned the spot. Great Clearlake weekend. Jim's ready to buy a house on the lake! Sean can be the guide.

On a related note:
Launched out of the little ramp in Clearlake oaks. Saturday evening went to leave around 7 and two guys pulling out. Long story short, inexperienced boater tried to pull out a large Pontoon Boat with a little Ford Ranger. Big Boat, small truck, inexperienced driver, you guessed it. Sunk the truck, barely got his girlfriend out of his window just before the truck finally sunk. Water pressure would not allow her to open her door and her window was up. She could easily have drown! 3 hours later after the Fire department declared the ramp unsafe the last 5 of us with boats in the water went to an adjacent ramp not fit or real boats and pulled out, we were first and it was a little sketchy, hope the others made it. In the end driver and passenger survived and the fire department team did a great job. Odd end to a great day of fishing.

Tips: Get out there as soon as you can - the fish ate every kind of plastic you threw at them.

Tip #2. Put the truck in drive and 4WD if you have it when you are on the launch ramp and don't back your tires up to the moss on the ramp! No one is really sure exactly what happened.
Friday, September 16th, 2016
Report: Clear Lake this week 9/16/2016

Lake level today is 1.95 Rumsey, compared to last year's 1.05 on the same date. Water is still being Pulled around the lake so I expect we will be close to where we were last year by month's end, 1.0 Rumsey or less depending.

Watch the skies, and the water if you're out this weekend as it is the annual "splash-in" weekend, with water aircraft of every era and style landing and taking off around the north end it should make for an interesting weekend, I know it was yesterday for sure. Pretty cool actually!

Around the lake this week the word is CRANKBAITS! All shapes, all sizes, and all depths! Yes, the jig bite is still there but the better fish seem to have moved back and are suspending in and around the bait balls.

The weights last weekend in the annual Bob's Marine event were pretty impressive and again there was the haves and have not bags. None the less a fun time was had by most I spoke off as 12-15 lb limits were quite easy to come by.

We ventured out twice this week and found fish in the 1 to 20 foot range both days and managed several decent bags throwing cranks in 1-25 feet of water and fishing a jig likewise. Either end of the lake produced for us. "Pick your poison" as they say as both the north and south end produced equally for us each day.

Forecast overnight temperatures are beginning to touch the high 30's each night so things should continue to get quite interesting over the next couple of weeks. Stay tuned!

Oh, one more thing! I was made aware yesterday that there will be a $100 all in tournament here on October 9, 2016 to benefit the Clayton fire victims. Redbud will be the host ramp and details will be posted later this weekend, and I will post and update with next weeks report. All proceeds will be donated to the Clayton Fire Victims Fund. One interesting thing is that the event is from 9am to 5pm so no early morning awakening with plenty of time to get here.
ReelEx, your source for quality, professional service on your Shimano reels.
Guaranteed 96 hr turnaround on service.
650-454-4938 www.reel-ex.com