Clear Lake and Reports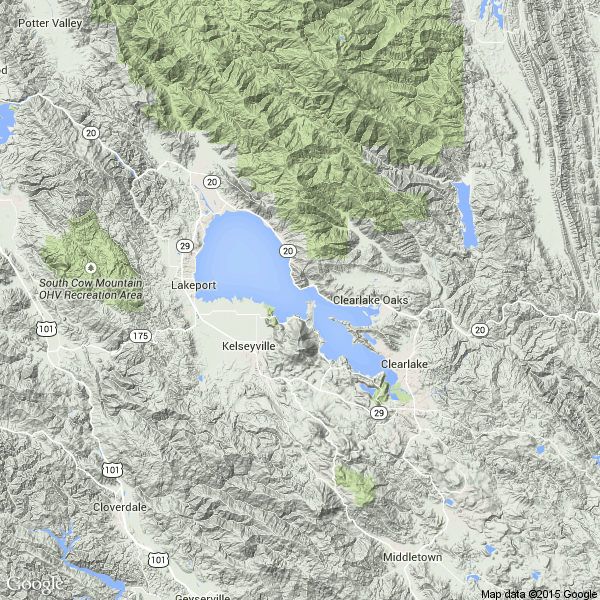 Click for Navionics/Google interactive map
Monday, May 30


Thursday, May 26th, 2016
Water Temp: 68

Water Clarity: Stained (2-4 foot visibility)

Report: Started today at 10am out at rattlesnake island then moved into the keys at 1pm. The fishing was very slow. The fish where chewing very softly. Started off in 15 feet of water looking for a jig bite for nothing and moved to drop shot. Started to catch straight away with small fish. I did catch a 16 lb 10 oz catfish on the dropshot. By mid day the fish moved to the back of the reeds. The fish seemed to be chasing Bluegils and Shad. The fish that I caught seemed to be around the gil beds. I did not catch any big fish though. Once we moved into the Keys we caught fish under docks but no size all 2-3 lb fish.

Tips: Drop shot early in open water around the weeds in 15 feet water with shallow weed beds.
Saturday, May 14th, 2016
Water Temp: 64-65

Water Clarity: Stained (2-4 foot visibility)

Report: One often hears, and rightfully so, how well smallies and spots fight compared to largemouth. Of course, largemouth can make up some of the with a weight advantage. I have written in articles before that hooking a female largemouth a month or two after they have spawned, will often give you a fight that will amaze - IF - you are skilled enough to land her. I experienced that yesterday at Clear Lake with a slimmed-down 6-1 female bass. I did have a medium action rod, but it took forever to get her in the net. Both big bass would not quit!! Some of my clients and I have experienced that several times, as well as some of you! My clients yesterday were a great father/daughter team. We worked with her during the day making her a pretty good caster at the end of the trip. They got into a good bite right away (she was wide awake when I met them at 6:30 am!) and she started catching bass right away. Unfortunately, unlike the last cloudy-all-day trip, the good bite didn't last too long at the bright sun took over. The early bite was good on Robo worms while the 2 big bass were caught around noon, on Senkos. Maybe the cold-front wind that started around 11 am might have triggered a bigger bass bite. Who knows. Dad got a nice bass a little over 3 1/2 lbs, and our best 5 was near 16 lbs.

Tips: The 2 biggest bass were very shallow. The bigger one was on the edge of a tulle line - in the middle of nowhere! We just stayed in the Clearlake arm - fishing mostly rock and tulles.
Sunday, May 8th, 2016
Water Temp: 63-65

Water Clarity: Stained (2-4 foot visibility)

Report: I did a 2 boat guide trip yesterday - I guess I was the lead boat - we took turns!! We just fished the Clearlake arm in a very dark, cloudy, but rain-free day. Fishing for dinks was lively all day with quality bites early. My crew (two 20 year olds) caught a ton of bass up to 2 1/4 lbs, but lost 3 good ones. The biggest one that was lost was not his fault - she hit right at the boat. When I grabbed the net I wasn't confident she would stay on - and she didn't. Their dad and 2 other men took the prize with an 8 1/2 pounder, but was the only big one they caught. We all watched them release her - always a cool sight. The lake was dead calm most of the day - and calm boat-wise. No tourneys I guess.

Tips: We caught some on worms, but the 5" Senkos were our top bait for sure. Didn't matter what color we used - they wanted them!! Interesting - #222 was the best color. I don't usually use that until summer. Maybe the bright color on a dark day was a key. All our bass were in the top 15 feet, and some very shallow. That will probably change with bright sunny days coming up.
Wednesday, April 20th, 2016
Water Temp: 68=70

Water Clarity: Stained (2-4 foot visibility)

Report: I took a father/son team visiting from the mid-west yesterday. They wanted to see and fish the lake. I'm sure they saw more bass boats in one day than they would in a year back home!! We visited all three arms, fishing different on shore and off shore structure. They caught a lot of bass - several keepers, but nothing big. Dad tried a sort of buzz-bait technique with a plastic bait he was using. Kind of a weird technique, but several large bass came up to look, No takers however. The lake is in beautiful shape and weather was perfect. The 3 day tournament will provide a variety of weather patterns - probably with some wind and rain.

Tips: No tips before a major tournament.
Thursday, February 25th, 2016
Report: From Clear Lake Outdoors

Lake is at 4.89 now so we still need some rain to fill it up (full is 7.56)
The rain and cold fronts dropped the water temps last weekend back in to 49 degree range but the warm days this week have brought it back in the 50 s.
Crappie limits everywhere!
Guys are getting fish on everything.Throw what you have confidence in.
Lv 500 ,jigs, ripbaits and swimbaits are getting the better fish.
Monday, February 15th, 2016
Report: From Clear Lake OUtdoors

Its been a amazing couple of weeks with the warm weather, just wish I could get out fishing!
Water was up to 56 degrees yesterday. I've heard of so many limits over 30 pounds I've lost count. Fish up to 14 pounds have been caught. I've even heard of some fish on frogs and spooks already.
Guys are coming in and saying its the best fishing they have ever had here. They are getting them on everything. Crappie limits everywhere and the Crappie have started to move shallow. The rain coming Wednesday thru Friday is going to be a warm storm so it shouldn't effect the bite , might even make the swimbait bite better!
Dave
Wednesday, February 10th, 2016
Water Temp: 51-52

Water Clarity: Stained (2-4 foot visibility)

Report: So, who says Clear Lake is always cold in the winter - I have!! Not yesterday though! What a beautiful afternoon. Buddy Mike and I started fishing about 4 pm, until about 9 pm. Just had to test it out after a month or so. The bite was ok, especially around dusk. We caught them from Jenson area to north of Henderson. The 9 we caught were from 10 inches to my 6.63 pounder. Mike had a 4 and a 6.36. Mine was soooooo much bigger - LOL!! We did have a little over 21 lbs for our 5 best, so the long trip home was good! The first one I caught - at Jenson - was a grown up dink - 14 inches! Those 10 and 11 inchers should be keepers this summer!

Tips: We caught our early bass on Senkos. Robo worms, and beavers. In spite of the warmth. all our bass, big and small, were over 20 feet deep. Mike's and my 6's were again caught on D&M Piranha swimjigs with Yamamoto Heart Tail trailers. Those are awesome trailers - and the big bass think so too!! It was my turn to miss two more big bites - both being right under the boat - which are often very hard to hook well. As is normal for this time of year, the bite really slowed down after 8 pm
Sunday, February 7th, 2016
Report: From Clear Lake Outdoors
Lake is in great shape and fishing is good for 48 degree water. ABA today should have some good bags.Our local club tournament yesterday took 26 + to win. I took third with 20.87. Fish being caught on A rigs, swimbaits , Rattletraps, Jigs, Dropsot, Chatterbaits, ripbaits . If it stays warm the bite should really turn on this week.
Dave
Monday, December 28th, 2015
Water Temp: Don't know

Report: Just want to thank Larry for his reports ,
Larry is way more hard core than most of us half his age. Thank You Lunker Larry.
Thursday, December 24th, 2015
Water Temp: 50

Water Clarity: Stained (2-4 foot visibility)

Report: Well, someone has to do a Christmas report! Buddy Mike and I went to Clear Lake Tuesday afternoon. We looked at the lake while the whitecaps roared! Jimmy, at CL Bait and Tackle said: Well, it was calm 'til you got here!! So Mike and I looked at the lake again and then he said: "You have a 521 Ranger, let's go for it!" So we did. Actually, the ride wasn't as bad as it looked. We fished a few spots on the west side of the lake and found a calm spot off Frazier Point. We fish for about an hour there - Mike was throwing a swimbait out in deep water and actually hooked one and soon I netted his 5.88 lb bass. The trip was worth it! He had another hit - I think I had a hit - and that was it! We decided to call it a night - at dusk - 5:30 PM!! Brrrrrr!! Winter arrived during our boat ride back to the dock!!

Tips: Mike's bass was very deep, maybe about 35 feet deep. We saw deep fish on my new Gen 3 meter, not sure what they were. Saw very little bait. Hope those bass enjoy their new cold water for Christmas!!
Wednesday, December 2nd, 2015
Water Temp: 53-56

Water Clarity: Stained (2-4 foot visibility)

Report: Yes, it is midnight, but I am still slightly wired! Mike Sperbeck and I got back from Clear Lake about an hour ago - very pleased with another 30 lb 11 oz limit! Two 30"s in a row - which is harder to do these days! We caught several up to 5 lbs before dark. Good jig bite. After dark, another 5.48 and one well over 6 lbs. Then Mike caught his first ever swimjig fish, 6 lbs even, using a D&M Piranha bait. We were just about to leave one of our favorite areas, but decided to make one more pass. GOOD decision!! I had a good hit, but not that exciting - until I set the hook! Wow - what a powerful bass - all 8.57 pounds of her!! Those D&M Piranha hooks are great! No wonder my right shoulder is a bit sore now! And we beat the rain!

Tips: I thought the jig bite would pick up with the cooler water, and it did. Still using my brown/orange Rodstrainer jig w/ Yamamoto grub trailer. I got those bass trained - LOL!! Again, saw lots of bait but most of it has moved off-shore, which should be no surprise. Saw some down to 30 feet. Our bass seemed to be spread out too - from 10 to 28 feet.
Wednesday, November 25th, 2015
Water Temp: 58-59

Water Clarity: Stained (2-4 foot visibility)

Report: This is just a very short report about 2 recent trips, last Thurs afternoon/evening with buddy Mike, and a guide trip on Monday the 23rd. I don't usually guide on Mondays, but this was a "teach the lake" trip. Weather was very nice - maybe the last warm fall day. We covered most of the lower - mid lake, and did some fishing too. Had fun showing off my new Gen 3 meters! The bite was very slow, with the biggest at 3 1/2 lbs. He did catch several small bass that are now "keepers!" Monday is not an "off" day for the lake - saw many bass boats out. Thursday, Mike and I only fished a few hours because the bite was dead and we sorta got blown off the lake. The wind just got worse and worse and the bite was slow. We did have a moment to make the trip worthwhile as I did land a nice 6-2 bass thru the crashing waves. That makes the trip home a little more enjoyable!

Tips: The main reason for this report is to remind anglers that this prolonged warm fall weather is ending quickly this week. Lows are predicted to be in the mid-20's at night and highs in the mid-40's. That will remind you quickly about wind chill at 60 MPH! It will be time for the winter layers if you start out early in the morning. Frostbite is no fun!!
Friday, November 13th, 2015
Water Temp: 59-61

Water Clarity: Stained (2-4 foot visibility)

Report: Just read Gary Dobyns report on fall fishing. Good report! I have a good one too for Clear Lake. After a month off from Clear Lake, buddy Mike and I hit the lake Thursday afternoon - and found the dinks - some up to 14 inches now, everywhere! At sundown, we got serious with the night gear. But just before we did that, Mike had one more fish for me to net. Not 9 inches - but 9 pounds!! She hit a small plastic bait and went 9.08 lbs! Been awhile since I had seen one of those! I started throwing a D&M Piranha swim jig after dark, thinking maybe the water had cooled enough to use it. I also thought the new Yamamoto Heart Tail would be a good trailer for bigger bass. Decisions are great when they work!!! My first bass was 7 1/4 lbs. She crunched it!! After I got two more in the 3 1/2 lb range, I was thinking how cool it would be to catch a 7, 8, and Mike's 9. One of us would need an 8. About 15 minutes later, I got crunched again - and she went 8.14!! It has been awhile since we have seen 3 bass in a short period of time for 24+ pounds. The bite died after and we soon left with good memories of a 31 lb limit.

Tips: It seems that the bigger bass still are in deeper water. Following the bait is hard now - since it is everywhere. The 3 bigger bass were 20 + feet deep. They simply attacked our baits, so the fall feed may have begun!
Wednesday, November 11th, 2015
Report: From Clear Lake Outdoors
The weather is finally cooling down and the fall bite is here. Water temps around 60 degrees. It was foggy and frozen this morning. Guys are catching fish north and south. The A rig bite has started. You can catch fish on shallow and deep crankbaits . The lv 500 bite has been good and will be thru march. The jig bite is slowing down. We just got a shipment of minnows and they are bigger than they have been, that bite is just starting to get good. Catfish and Crappie bite is good.
Our winter hours are mon-sat 7am -5 pm and closed on sundays.707-262-5852
The fall /winter is when big fish are caught here.
Dave
Friday, October 9th, 2015
Water Temp: 71-73

Water Clarity: Stained (2-4 foot visibility)

Report: I heard the small sub-keeper bass were a little less active recently. Not so for Mike and me. Those creatures were everywhere - but - some are now keepers - finally!! We fished Friday afternoon from 4 pm 'til 10 pm. We thought the lake would calm dawn in the evening but many of the tourney guys were still hunting the big ones 'til dark. We fished a variety of soft plastics from 10 to 40 feet. Our best 5 limit was only around 13 lbs. I had 2 good hits after dark - landing 1 that went 4 lbs. She was about 35 feet deep. The other one felt big!! I'm sure the best bite would have been at the coolest time, probably from 4 to 7 am. We did a lot of cranking but didn't hook any. Flappin' hogs and beaver type baits worked best for us. I threw a lot of bigger plastic worms - to no avail.

Tips: I don't say much during the busy tournament weekends. It really seems like a late summer bite - fall is NOT in the air yet!!
Friday, September 18th, 2015
Report: Well as you can image we have had one hell of a week up here at the lake with the fire and all. Let me first start off by saying our thoughts & prayers go out to the poor families which lost everything in this devastating tragedy. A special thanks going out to all the fire fighters for once again putting it all on the line to fight the blaze.

On the fishing scene, the Lake continues to fish good with the mid-lake and southern arms accounting for most of the action. Water temps seem to be slowly dropping down a bit to the low to mid 70's. The water clarity has improved slightly as well. The north end of the lake is starting to show signs of life with a few fisherman doing well fishing LV500's with a yo -yo retrieve off the bottom. The jig & crankbait bite is still going strong on the rock piles and deep water areas. There is also a decent swimbait bite starting up on the 6" trash fish or 4.8" & 5.8" Keitech with a moderate retrieve close to the bottom. We have also been selling quite a few 5" & 6" Senkos and plastic worms as well. We finally got our first shipment of jumbo minnows in and some of the local old-timers have been roping them pretty good using the sliding bobber technique.

The lake is just on the leading edge of the fall transition. We are starting to see the silverside minnows showing up and we also believe there is a very healthy population of threadfin shad this year. It won't be much longer and the cooling water temps will push the bait fish to the shore & we will begin to see the bass start to school up & put the feed bag on.

In closing, I want everyone to know that all roads leading to the lake remain open except for highway 29 from Middletown to Lower Lake. Also the prevailing winds have switched back to out of the west so there is absolutely no smoke to contend with out there on the lake. I also wanted to take a moment to applaud Kent Brown for having to make the difficult decision to cancel this year's Triton owner's tournament due to the circumstances. The hotels & motels are pretty much full with the fire fighting personnel & evacuee's, so Kent made the right choice. As we get closer to full containment of the fire, things will hopefully get back to normal real soon. We will see all you Triton owner's guy's and gal's next year for sure. This awesome lake and the giant bass that swim in it aren't going anywhere, anytime soon.

Tight Lines, Troy Bellah (Clear Lake Outdoors)
Saturday, August 29th, 2015
Report: BBt tournament went out of Konocti Vista casino this morning with overcast skies and sprinkles of rain. The lake now has a brown color pretty much the whole lake. I fished the Redbud arm on Thursday .Water was 75-79 degrees . I caught 2 on a buzzbait one was a 5 pounder. I caught fish to 6 pounds on a brown and orange jig, and some small ones cranking. Best 5 around 19-20 pounds. The LV 500 bite is coming soon as it cools a little. Lots of silversides in the south end and schools of bait on the depth finders everywhere. I personally think the bite was better when we still had some green water to fish. The frog bite comes and goes .I had an angler tell me he caught 13 on a frog one day last week. I think the spook bite will get better if the lake clears a little.
Dave
Wednesday, August 26th, 2015
Report: This week the report is provided by Gary Dobyns.

Clear Lake
Fishing is good. It is actually fishing better this summer than it has in the last couple of summers. Topwater, crankbait and jig are all good. The night bite is stronger in the south and so is the crankbait bite, including Shag and Henderson in that. Still fishing the grass in the north.
Saturday, August 22nd, 2015
Report: The bite remains good up here at Clear Lake with very little fishing pressure to speak of. The more productive areas of the lake continue to be mid lake & the two southern arms. The' rust' like brown colored water seems to be slowly creeping southward but it has little to no effect on the deeper fish. Lot's of customers having 15 to 30+ fish days on a combination of jigs & crank baits over the rock piles & main lake points. Dropshotting baby brush hogs & 6" straight tail worm's has also been effective under & in between deep water docks . The top water bite just keeps getting better day by day also. There is a magical little one hour window in the morning, just as it is getting light out, where the fish are just getting silly on the Super Spook. I had some really nice fish in the 4 to 6lb range just blast the bait and come completely cartwheeling out of the water after it this past week. It pays to get an early start for sure.

Spoke with a few guys punching & flipping some fish mid day on deeper grass with creature baits. Hollow bodied & solid bodied frogs are still working good as well. I look for the North end bite to get rolling here pretty soon we just need some cooler overnight temperatures to help with the water clarity. Don't get me wrong, you can catch them up North, you just have to hit them in the head. As for the smoke... it's pretty much none existent right now & all roads leading to the lake remain open at this time.

Tight lines, Troy Bellah CLEAR LAKE OUTDOORS
Friday, August 14th, 2015
Report: The bite here at Clear Lake remains pretty awesome this week with a lot of anglers putting some decent numbers in the boat for their effort. The hot bite is definitely in the middle and southern arms of the lake where the water is deeper with a rocky bottom. The key to being successful right now is paying attention to the water color. Try to avoid areas where the water is a tannic brown color that looks like gravy. Those are the areas where the weeds are decomposing & oxygen levels are low and pretty much devoid of fish.

The Jig bite is nothing short of EPIC right now in the south end of the lake. Throw a 1/2 or 3/4oz football head in the brown/orange or brown/purple with a beaver trailer & smother it in some smelly jelly & marinate that bad boy on the rockpiles & rocky shoreline in 8' to 25'. There is also a great crank bite down south with guys doing well on everything from a square bill to the XD10 in crawdad and baitfish patterns. The top water is going strong early & late on buzzbaits, Rio Rico's and walk the dog style baits like the super spook and G2 Lunker Punker. The frog bite is good but the overall lack of weeds is puzzling this year but I still have it on the deck ready to go if the opportunity presents itself & you stumble on to a decent mat. Chatterbait bite is good on dark colors especially in the afternoon when the wind comes up.

There is not a lot of boat traffic or fishing pressure up here on the lake right now. All the ramps & roads are open & the lake is in great shape. If you guys get a chance, I would highly recommend coming up and getting on the good bite. Next month the FLW boys will be here beating them into remission. LOL. so get it while we can.

tight lines & huge sacks,

Troy Bellah Clearlake Outdoors