Clear Lake and Reports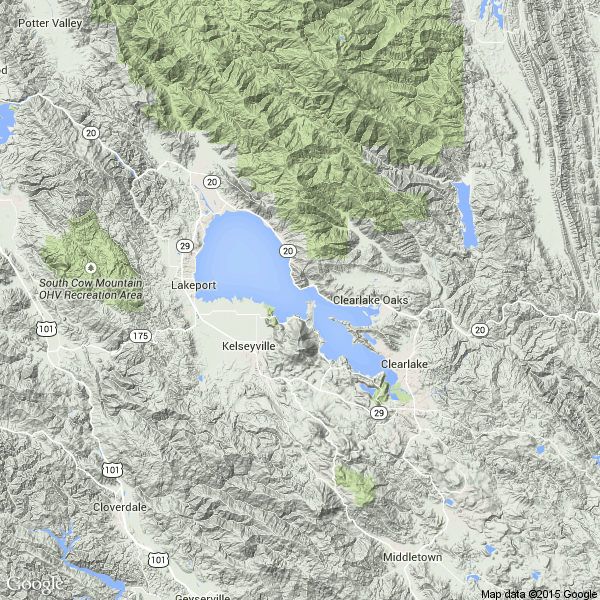 Click for Navionics/Google interactive map
Tuesday, Dec 1

Mostly Cloudy
Precip: 18%
Wednesday, November 25th, 2015
Water Temp: 58-59

Water Clarity: Stained (2-4 foot visibility)

Report: This is just a very short report about 2 recent trips, last Thurs afternoon/evening with buddy Mike, and a guide trip on Monday the 23rd. I don't usually guide on Mondays, but this was a "teach the lake" trip. Weather was very nice - maybe the last warm fall day. We covered most of the lower - mid lake, and did some fishing too. Had fun showing off my new Gen 3 meters! The bite was very slow, with the biggest at 3 1/2 lbs. He did catch several small bass that are now "keepers!" Monday is not an "off" day for the lake - saw many bass boats out. Thursday, Mike and I only fished a few hours because the bite was dead and we sorta got blown off the lake. The wind just got worse and worse and the bite was slow. We did have a moment to make the trip worthwhile as I did land a nice 6-2 bass thru the crashing waves. That makes the trip home a little more enjoyable!

Tips: The main reason for this report is to remind anglers that this prolonged warm fall weather is ending quickly this week. Lows are predicted to be in the mid-20's at night and highs in the mid-40's. That will remind you quickly about wind chill at 60 MPH! It will be time for the winter layers if you start out early in the morning. Frostbite is no fun!!
Friday, November 13th, 2015
Water Temp: 59-61

Water Clarity: Stained (2-4 foot visibility)

Report: Just read Gary Dobyns report on fall fishing. Good report! I have a good one too for Clear Lake. After a month off from Clear Lake, buddy Mike and I hit the lake Thursday afternoon - and found the dinks - some up to 14 inches now, everywhere! At sundown, we got serious with the night gear. But just before we did that, Mike had one more fish for me to net. Not 9 inches - but 9 pounds!! She hit a small plastic bait and went 9.08 lbs! Been awhile since I had seen one of those! I started throwing a D&M Piranha swim jig after dark, thinking maybe the water had cooled enough to use it. I also thought the new Yamamoto Heart Tail would be a good trailer for bigger bass. Decisions are great when they work!!! My first bass was 7 1/4 lbs. She crunched it!! After I got two more in the 3 1/2 lb range, I was thinking how cool it would be to catch a 7, 8, and Mike's 9. One of us would need an 8. About 15 minutes later, I got crunched again - and she went 8.14!! It has been awhile since we have seen 3 bass in a short period of time for 24+ pounds. The bite died after and we soon left with good memories of a 31 lb limit.

Tips: It seems that the bigger bass still are in deeper water. Following the bait is hard now - since it is everywhere. The 3 bigger bass were 20 + feet deep. They simply attacked our baits, so the fall feed may have begun!
Wednesday, November 11th, 2015
Report: From Clear Lake Outdoors
The weather is finally cooling down and the fall bite is here. Water temps around 60 degrees. It was foggy and frozen this morning. Guys are catching fish north and south. The A rig bite has started. You can catch fish on shallow and deep crankbaits . The lv 500 bite has been good and will be thru march. The jig bite is slowing down. We just got a shipment of minnows and they are bigger than they have been, that bite is just starting to get good. Catfish and Crappie bite is good.
Our winter hours are mon-sat 7am -5 pm and closed on sundays.707-262-5852
The fall /winter is when big fish are caught here.
Dave
Friday, October 9th, 2015
Water Temp: 71-73

Water Clarity: Stained (2-4 foot visibility)

Report: I heard the small sub-keeper bass were a little less active recently. Not so for Mike and me. Those creatures were everywhere - but - some are now keepers - finally!! We fished Friday afternoon from 4 pm 'til 10 pm. We thought the lake would calm dawn in the evening but many of the tourney guys were still hunting the big ones 'til dark. We fished a variety of soft plastics from 10 to 40 feet. Our best 5 limit was only around 13 lbs. I had 2 good hits after dark - landing 1 that went 4 lbs. She was about 35 feet deep. The other one felt big!! I'm sure the best bite would have been at the coolest time, probably from 4 to 7 am. We did a lot of cranking but didn't hook any. Flappin' hogs and beaver type baits worked best for us. I threw a lot of bigger plastic worms - to no avail.

Tips: I don't say much during the busy tournament weekends. It really seems like a late summer bite - fall is NOT in the air yet!!
Friday, September 18th, 2015
Report: Well as you can image we have had one hell of a week up here at the lake with the fire and all. Let me first start off by saying our thoughts & prayers go out to the poor families which lost everything in this devastating tragedy. A special thanks going out to all the fire fighters for once again putting it all on the line to fight the blaze.

On the fishing scene, the Lake continues to fish good with the mid-lake and southern arms accounting for most of the action. Water temps seem to be slowly dropping down a bit to the low to mid 70's. The water clarity has improved slightly as well. The north end of the lake is starting to show signs of life with a few fisherman doing well fishing LV500's with a yo -yo retrieve off the bottom. The jig & crankbait bite is still going strong on the rock piles and deep water areas. There is also a decent swimbait bite starting up on the 6" trash fish or 4.8" & 5.8" Keitech with a moderate retrieve close to the bottom. We have also been selling quite a few 5" & 6" Senkos and plastic worms as well. We finally got our first shipment of jumbo minnows in and some of the local old-timers have been roping them pretty good using the sliding bobber technique.

The lake is just on the leading edge of the fall transition. We are starting to see the silverside minnows showing up and we also believe there is a very healthy population of threadfin shad this year. It won't be much longer and the cooling water temps will push the bait fish to the shore & we will begin to see the bass start to school up & put the feed bag on.

In closing, I want everyone to know that all roads leading to the lake remain open except for highway 29 from Middletown to Lower Lake. Also the prevailing winds have switched back to out of the west so there is absolutely no smoke to contend with out there on the lake. I also wanted to take a moment to applaud Kent Brown for having to make the difficult decision to cancel this year's Triton owner's tournament due to the circumstances. The hotels & motels are pretty much full with the fire fighting personnel & evacuee's, so Kent made the right choice. As we get closer to full containment of the fire, things will hopefully get back to normal real soon. We will see all you Triton owner's guy's and gal's next year for sure. This awesome lake and the giant bass that swim in it aren't going anywhere, anytime soon.

Tight Lines, Troy Bellah (Clear Lake Outdoors)
Saturday, August 29th, 2015
Report: BBt tournament went out of Konocti Vista casino this morning with overcast skies and sprinkles of rain. The lake now has a brown color pretty much the whole lake. I fished the Redbud arm on Thursday .Water was 75-79 degrees . I caught 2 on a buzzbait one was a 5 pounder. I caught fish to 6 pounds on a brown and orange jig, and some small ones cranking. Best 5 around 19-20 pounds. The LV 500 bite is coming soon as it cools a little. Lots of silversides in the south end and schools of bait on the depth finders everywhere. I personally think the bite was better when we still had some green water to fish. The frog bite comes and goes .I had an angler tell me he caught 13 on a frog one day last week. I think the spook bite will get better if the lake clears a little.
Dave
Wednesday, August 26th, 2015
Report: This week the report is provided by Gary Dobyns.

Clear Lake
Fishing is good. It is actually fishing better this summer than it has in the last couple of summers. Topwater, crankbait and jig are all good. The night bite is stronger in the south and so is the crankbait bite, including Shag and Henderson in that. Still fishing the grass in the north.
Saturday, August 22nd, 2015
Report: The bite remains good up here at Clear Lake with very little fishing pressure to speak of. The more productive areas of the lake continue to be mid lake & the two southern arms. The' rust' like brown colored water seems to be slowly creeping southward but it has little to no effect on the deeper fish. Lot's of customers having 15 to 30+ fish days on a combination of jigs & crank baits over the rock piles & main lake points. Dropshotting baby brush hogs & 6" straight tail worm's has also been effective under & in between deep water docks . The top water bite just keeps getting better day by day also. There is a magical little one hour window in the morning, just as it is getting light out, where the fish are just getting silly on the Super Spook. I had some really nice fish in the 4 to 6lb range just blast the bait and come completely cartwheeling out of the water after it this past week. It pays to get an early start for sure.

Spoke with a few guys punching & flipping some fish mid day on deeper grass with creature baits. Hollow bodied & solid bodied frogs are still working good as well. I look for the North end bite to get rolling here pretty soon we just need some cooler overnight temperatures to help with the water clarity. Don't get me wrong, you can catch them up North, you just have to hit them in the head. As for the smoke... it's pretty much none existent right now & all roads leading to the lake remain open at this time.

Tight lines, Troy Bellah CLEAR LAKE OUTDOORS
Friday, August 14th, 2015
Report: The bite here at Clear Lake remains pretty awesome this week with a lot of anglers putting some decent numbers in the boat for their effort. The hot bite is definitely in the middle and southern arms of the lake where the water is deeper with a rocky bottom. The key to being successful right now is paying attention to the water color. Try to avoid areas where the water is a tannic brown color that looks like gravy. Those are the areas where the weeds are decomposing & oxygen levels are low and pretty much devoid of fish.

The Jig bite is nothing short of EPIC right now in the south end of the lake. Throw a 1/2 or 3/4oz football head in the brown/orange or brown/purple with a beaver trailer & smother it in some smelly jelly & marinate that bad boy on the rockpiles & rocky shoreline in 8' to 25'. There is also a great crank bite down south with guys doing well on everything from a square bill to the XD10 in crawdad and baitfish patterns. The top water is going strong early & late on buzzbaits, Rio Rico's and walk the dog style baits like the super spook and G2 Lunker Punker. The frog bite is good but the overall lack of weeds is puzzling this year but I still have it on the deck ready to go if the opportunity presents itself & you stumble on to a decent mat. Chatterbait bite is good on dark colors especially in the afternoon when the wind comes up.

There is not a lot of boat traffic or fishing pressure up here on the lake right now. All the ramps & roads are open & the lake is in great shape. If you guys get a chance, I would highly recommend coming up and getting on the good bite. Next month the FLW boys will be here beating them into remission. LOL. so get it while we can.

tight lines & huge sacks,

Troy Bellah Clearlake Outdoors
Tuesday, August 11th, 2015
Water Temp: 75-80

Water Clarity: Stained (2-4 foot visibility)

Report: Water on north end is tanic looking and most of the weed beds are gone. south end is green but no thick blooms. The jig bite is good. some people are struggling with the topwater bite and some are doing real well. The silversides are starting to show everywhere down south. Lots of bait balls on the depthfinders. lake level is 1.80 above rumsey
no smoke on the lake. fishing is good

Tips: windy days throw crankbaits
jig bite has been real good
some swimbait fish being caught
the lv 500 bite is getting ready to bust loose.
you can catch fish on just about any bait you have confidence in
Monday, July 27th, 2015
Report: Clear Lake this week 7/27/2015

Lake level this week is 2.29 Rumsey, and it's supposed to get hot, hot, hot this week so this will definitely go down again this week.

Water temps are running 79-82 degrees and the algae is at a minimum due to the winds., this is a really good time to get out.

This past weekend BBT had another 78 boats duel it out on Saturday with 27+ lbs to take the win once more. Great timing on their part.

Right now the top water, and jig bite will get you through the morning, then it will begin to slow considerable as the day progresses. Still, if you grind it out with the jig and move a little deeper, you may just get rewarded for your efforts. Today we started with the jig and stuck with it, moving every half hour or so and we managed to put 27lbs in the boat with a 10 lb kicker. Half to three quarter pound jigs with an assortment of trailers brought 16 keepers in total to the boat. Brown, Brown Black, Brown Purple, Brown Red all contributed.

Moving forward this rising moon will/is beginning to have an effect on the bite, to the extent it's becoming an early morning, late evening pattern which will continue as the moon fills out. Not to worry though, that just means the night bite is about to explode, and I think it's really going to get good!

Warm temps, minimal bugs, biting fish, and a FULL MOON! Have at em' and be careful out there!

Thank you again for the opportunity WBass, I've had FUN this past year!
Wednesday, July 22nd, 2015
Report: Clear Lake this week 7/22/2015

Lake level this week is 2.42 Rumsey versus 0.72 Rumsey on this date last year.

All ramps are open with no issues, except one should be aware there is road work going on around the lake. This work is beginning in the evening and running through 8 am or so each week day, and the delays can be lengthy. I would not attempt going anywhere early on a week day, unless you leave an extra 45 minutes or so to get where you want to go.

Areas currently affected are Highway 29 West from Kelseyville to Lakeport in both directions, and Highway 20 West from the Oaks on up to Nice, again both directions can be affected.

Fishing remains good to very good, with the crankbait and top water bites really beginning to come on strong. Leading the way on the crank side's top baits are the Lucky Craft BDS, Strike King 8/10xd, and Megabass Deep 6, with the Whopper Flopper and Frog doing the most damage on top.

Last weekend's BBT event went off out of Red Bud Park with 81 boats and after all of the dust had settled, the winning team and their 29+lb bag took the win. Yes, 29+ lbs with an 11+lb kicker, and that was followed up with a 27, 26, 25, 24 etc etc, down to 19lbs for the final check. Not too dang bad for the middle of summer, and a 6 hour event.
You can see all of the results at:

http://www.bestbasstournaments.com/Even ... ?e=127&r=5

This week BBT has yet another event here which will be going out of the Casino, making it even closer to the wide open Kermit bite, and the crank bite has gotten even better, so I would expect the results to be pretty much the same…..iffin' the wind will lay down.

Water conditions remain good, so now is the time to bring the chuck n' wind gear and have some fun!
Tuesday, July 14th, 2015
Report: Clear Lake this week 7/14/2015

Tuesday finds the weather warming again, and the forecast is for warm/mild temps for the coming week, and weekend. Overnight lows will only drop into the low 60's and daytime highs will approach 90 during the day.

Water conditions continue to be good to very good depending on the area and time of day. Yes, there is a bloom mid-day but it has not made any areas un-fishable, but yes your line will get green as will your boat, but the fishing is well worth it for most.

The above air temps combined with 78 degree water equals TOPWATER time, and yes, there is a fair to good early morning topwater bite. WhopperFlopper, buzzbaits, IMA Lil sticks, Spooks, and frogs will all add some quality fish to the livewell.

Then as soon as the sun hits the water, the jig, dropshot, and senko bite takes over a bit. Then there's the crank bite we've been waiting for. Yep, it has started with the arrival of the shad on wind-blown banks and ledges. Use your electronics to find the shad, and a Megabass Deep Six, DuoRealis, and 8XD will help add to your fish counts.

This coming weekend we have BBT at Red Bud Park on Saturday, and it will most likely be a "junk fishing" derby. These types of tournaments are always fun, and I suspect 22-24lbs, will top what should be a fairly good sized field, still, if you are looking to jump into a tourney before the year's out, this would be a good one as one can catch em' just about any way they prefer. Deep, shallow, big baits, finesse baits, fast, slow, etc etc etc.

Tip of the day…."don't run from the wind", it's a good thing right now! The wind is positioning the bait, and once you find it you can catch em' pretty good!
Friday, June 26th, 2015
Water Temp: 77-83

Water Clarity: Stained (2-4 foot visibility)

Report: I had another nice guide trip on Wed - out of the Oaks. I hadn't been in that area for awhile, so I pick a ledge to start on at 6:45 am. My client made a few casts with his rod but I saw that it was just too light. I gave him one of my G Loomis rods to use and within a cast or two, he hooks and lands a 5 lb 2 oz bass. We had been on the water for about 10 minutes! Why doesn't that happen on every trip??? Talk about taking the pressure off the guide! I had him using my hot Berryessa bait - a 6" MMIII Robo worm. We fished all the way from the Oaks to Henderson Point, where we found aa floatilla of boats - that means a LOT of boats for a summer Wednesday! We got bites and landed bass up until the time we quit at 2:30 pm. Our best 5 was about 17 lbs.

Tips: I tried a frog in the afternoon with no takes. Also couldn't get big on a jig - the bait that was so good last June. After my client landed his 5, I missed another bass in the 6 to 7 lb range that jumped and said "look at me!" The breeze was blowing most of the trip which made for a confortable trip before Thursday's heat. Most of our bass were caught at the 10 to 15 foot depth. Couldn't get the deeper bass to bite!
Thursday, June 25th, 2015
Report: Clear Lake this Week 6/26/2015

HOT HOT HOT!

Early

Get up early and chase a good to very good top water bite! Spooks, Stickbaits, and Buzzbaits are all producing a good number of bites EARLY each morning until the sun hits the water. The bigger bites are coming on the Spook and Ima lil' Stickbaits fished in and around spawning flats. Once that bite goes slows, pick up your chatterbait and go through the same areas for some additional fun. Should you find the right area topwater bags of 22-27 lbs are not un-common.
The fish are loading up and chasing the bait first thing in the AM…..4:30 AM until 7 AM has been prime time, so get at em' early.

Mid-morning

Now it's time to get out the jig, or Carolina rig and get after them on the ledge areas, deeper docks, and rockpiles. You may have to weed through some lil guys, but the better bites will come, just stay with it.

Noon

Kermit time, and while there not a ton of big bites, the action can be non-stop if you hit the right area. Tules lines, and weedy areas are all producing 2-4lb fish with an occasional 5-7lber thrown in if you stick with it.

Afternoon-dark

This is when the chatter bait takes back over once again and really begins to produce some good numbers and size, and don't be afraid to chase the evening with the frog, or even the spook once more.

Night Fishing

The night bite is improving with this rising moon and should continue to get even better. Big jigs, swim baits, and chatter baits will all produce for those who brave the bugs…
Saturday, June 20th, 2015
Water Temp: 78-84

Water Clarity: Stained (2-4 foot visibility)

Report: Mike and I made a quick trip yesterday afternoon, since we had not been there in a few weeks. Nice to see the lake still above last years level. We started about 3:30 and quit at dark. We found that some of the dinks are now keeper size - wow!! We caught 4 nice bass from 3 1/4 to the nicest - Mike's 7 pounder!!! Our 4 went about 17 1/2 lbs. I had the pleasure of snagging a big crappie on one cast and landed a catfish on the next cast - ugh! We were going to fish at night for awhile but just got tired of the wind.

Tips: We just fished shoreline structure near deep water, using worms and beaver type baits. Could not get a Senko bite. I worked a frog some - just small bass were interested. I was VERY sad to hear about the number of bass that died during the Calif Open - and after. Isn't mid-June a little late for an 8 hr day on a noted "big bass" lake in California?
Friday, June 19th, 2015
Report: General Info

Lake level this week is 3.29 Rumsey and falling, but the bite is actually beginning to improve dramatically. Now, the average fish runs 3-4 pounds, with an occasional 5 pounder for a picture.

Water Conditions

Water conditions vary day to day depending on wind and air temps but in general they are really good for this time of year.

Techniques

Carolina rigs, drop-shots, senkos, jigs, frogs, and chatter baits top the list of offerings
producing 10-15 keepers a day. Plastic colors, MM3, green pumpkin/watermelon, and watermelon candy are the big three this week.

Locations

Both ends of the lake and most areas in-between are producing fish, with the North end and mid-lake topping most reports.
Tuesday, June 9th, 2015
Water Temp: 80

Water Clarity: Muddy (0-2 foot visibility)

Report: Clear Lake this week 6/9/2015


As I write this piece we have rain and lightning in Hidden Valley, and higher winds have dominated this afternoon. Wednesday morning's California Open launch will be interesting to say the least.

Forecast for tomorrow is high winds, lightening, and rain in the AM hours, with a high temp of just 82 degrees, not what the sight fishing guys wanted to see for sure. Forecast for Thursday and Friday are much better wind wise with higher temps returning by Friday afternoon. Hopefully this is good news for the fish caught, and we do not see another 100+ fish mortality rate like last year's tournament produced.

Water temps remain high, 73-82 degrees depending on the area, and yes, the dreaded algae is here mid-lake south. Still, the winds and lower temps should help this as well.

Patterns? Junk fishing seems to be the word, and is definitely what we experienced this past week as well. Squarebills, punching, soft plastic topwaters, drop-shotting, trashfish, Chatterbaits, Carolina rig etc etc, and you never know what may bite!….. This pattern will likely continue through the end of the month, with the bottom contact bite improving as we go. I HOPE!

Results, 10-15 keepers a day is not unusual, and an average bag is around 15lbs, still much better than most lakes would produce during post-spawn. I suspect we'll see 6-10
Bigger bags each day in the Open, then it will be the 12-15lb average bags that dominate.

Good luck everyone!
Tuesday, June 2nd, 2015
Report: So what's going on at Clear Lake?

Well, for one, the bite has become as fickle as it's been since late last year. Yes, there are still a few bed fish to be found, but water quality is quickly becoming an issue once again. Clarity is hit and miss from one day to the next, and yes there is the beginning of an algae bloom throughout the lake.

Prepare to junk fish as they say, as that has been the most productive pattern aside from sight fishing. Everything from buzz baits to bottom walkers are putting fish in the net but finesse fishing plastics slow, slow, and slower has been the bite producing the best "numbers". I suspect that will continue until this moon is going away, and then watch for the jig and chatter bait bites to kick in like any other June.

RoboWorms, Senkos, Brush hogs, and Wooly Buggers, drop shotted, nail rigged, darter headed, wacky, or Texas rigged will all produce fish right now, but you will have to weed through the little guys in order to find a quality bite. That said, there's also a flip/punch bite, and a top water bite here and there.

Everyone was moaning last weekend about the junk bite, yet BBT and ABA had 25 and 31 lbs. taking top honors in their events, so it wasn't all that bad! Just look at their results, BBT had the majority of their field weigh limits and I believe in took 19+ pounds to make the top 15 out of their 80+ boat field. I haven't seen the full ABA results as yet but I suspect they're very similar.

This week the fishing pressure is already down, and the fish are getting somewhat of a break up north, but the wind has returned and is doing its dastardly deed making sight fishing nearly impossible to this point. Deeper docks and weed edges are what I would focus on until this moon is gone, and the catfish finish doing their deal as well, then I would head for a rockpile somewhere…….good luck!
Tuesday, May 26th, 2015
Report: Clear Lake this week…5/26/2015


Boy, what a change over the past week. Overall I'd rate the fishing at fair to very good. The thunderstorms Friday and Saturday certainly did not help, but nonetheless, the bite wasn't affected too much. Lake level is 3.77 Rumsey and the flows have been slowed dramatically, all of the way down to 45 cfps.

Unfortunately the water quality did suffered some from the warmer temps and boat traffic, still it remains above average for this time of year as well.

Apparently the boat/ water ski traffic did a pretty good job of dicing up the weed beds up north and the floating remnants made bladed top waters challenging to say the least. This weekend the whopper plopper and frog took the top water honors, and the punch bite began to really take hold.

Mid-lake finds the ledge fishing beginning to pick up with jigs, and Carolina rigs accounting for the best results there.

South end you'll find the senko and drop shop bite producing fish in the 4-5lb range on the breaks, and deeper docks.

Yes, there are still some bed fish to be had, but water clarity dictates when and where right now.

This weekend BBT is out of Red Bud Park on Saturday, and ABA has their event out of the Casino on Sunday.

Speaking of Red Bud Park; all of the new docks are finally in as is the new lighting. Five full launch lanes with a car topper lane to make six. With the final sealer being applied this week, and stripping to be completed by the weekend, along with the new landscaping which is also on its way, this in now IMHO the finest launch facility on the lake.

What a difference, and yes, as promised CLPD is actually cracking down on the local element as well, so perhaps there is some hope after all. One would certainly hope so after spending close to a million dollars on these improvements. Fingers crossed.