Limit:
Clear Lake and Reports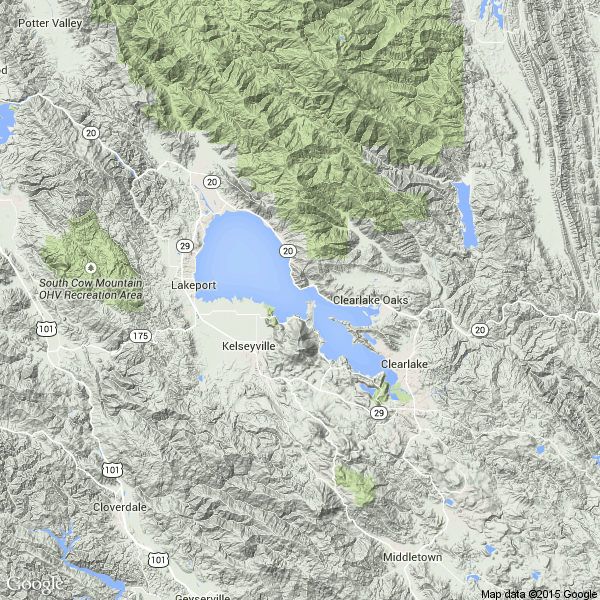 Click for Navionics/Google interactive map
Monday, May 25
Hi: 78 ° F

Lo: 49 ° F


Mostly Sunny
Precip: 4%

Mostly Clear
Precip: 5%
Clear Lake is at an elevation of 1,320 feet. It has 43,000 surface acres and 100 miles of shoreline. The lake is surrounded by resorts, many which have marinas and launch ramps.
There are also 11 free public ramps around the lake. Complete services are available in the city of Lakeport.
Clear Lake is California's largest natural lake. It's a shallow body of water with many grassy flats, brush covered banks and abundant tule growth. Much of it's shore is lined with privately-owned resorts, residences and boat docks. During seasonal weather fronts winds can create 3' to 4' waves in the open areas of the lake.
Clear Lake State Park offers camping with good launch and parking facilities.(707)279-4293

For more information contact the Lake County Visitors Information Center at 800-LAKESIDE or (707)263-9544.
Quagga Mussel Inspection Application Here is the application that you can have pre-filled before going to Clearlake, so that you can speed your inspection process
Reports
Tuesday, May 5th, 2015
Water Clarity: Muddy (0-2 foot visibility)

Report: Clear Lake this week 5/4/2015

Conditions continued to improve here last week, and the bite did as well.
Clear, warm water is driving the final stages of the spawn to get on with it, and the first stage fish are beginning to chase.

Both ends of the Lake are now producing fish to 9 lbs on a regular basis once again. The average from what I've experienced personally is fish in the 5-7 lb range are not all that
hard to find, with an average fish running 3-4lbs, and 20 fish days are not hard to achieve.

Now that the first stages are coming off the bank and beginning to chase, the jig bite can't be too far away. Still, double winged buzz baits, chatter baits, and frogs lead the way for non-bed fish contributors. Glide baits will get you bit as well, just be patient.

My advice, go top water in the morning, wait for the sun to get up, and go hit the banks, and flats.

As always, anglers beware, tis the season, hydrate, hydrate, hydrate, and keep covered up.
The sun can really sneak up on you right now, especially when the wind lies down.

I expect this bite to continue through mid-month as weather allows. Then it's anyone guess where it goes from there, so get on em' while you can.
Thursday, April 30th, 2015
Water Clarity: Muddy (0-2 foot visibility)

Report: Spring has sprung onceagain on Clear Lake, and the bed fishing is ON as they say.
Water temps are now in the low 60's to start the day and reach 70+ by the afternoon, and as an added bonus for a really confused Spring, the topwater bite is finally beginning as well.

This week the water clarity we so much needed earlier this month finally hit mid-lake south and the bite broke wide open as yet another wave of spawners came into the shallows with this newest moon.

Unfortunately, the jig bite is yet to come on, but should be soon to come, and I suspect the topwater bite will only get better as wave 3-4 start their fry guarding as well.

Also, watch for fish busting on bait, as the spawning bays are all loaded with bluegill, shad, and hitch, and I mean they are everywhere!

Your typical bed baits will all work, except here's one tip. What color is everyone throwing this time of year? Yep, just look at any bass boat deck around here and you'll see more WHITE baits than one thought available.

So, you want to improve your chances of success? Yes? Then try a different color, and you'll see a big difference in how the fish react to your presentation. Right now, white means "be afraid" to these fish. They've been bombarded with white for nearly two months now, and they indeed learn fast!

Good luck and have fun!
Friday, April 24th, 2015
Water Temp: 59-63

Water Clarity: Stained (2-4 foot visibility)

Report: Mike Sperbeck and I made a quick trip to the lake on Tues, starting about 3pm. We got into shallow big bass immediately. They must have move in to warm up. He lost 3 big bass but did land several up to 7 lbs. Biggest I could land was only 4 1/2 lbs. The bite stopped as the sun set and the wind became a problem. Mike did land another 5 1/4 pounder an hour after dark, and with that we left as the wind was getting nasty. We could have had a 30 lb+ trip but only managed 23+ lbs for 5 bass. Still caught several of those dinks that are everywhere!!

Tips: We found bass from 2 to about 10 feet - all clean with no spawning marks on them yet. If there were a few beds, we couldn't see them in the wind. We used a variety of soft plastics, most in green pumpkin color. I caught my biggest on a MM111 6" Robo worm. We stayed south of the narrows in the Clearlake arm. The constantly changing weather patterns could keep the spawn going for quite some time!!
Sunday, April 19th, 2015
Water Clarity: Muddy (0-2 foot visibility)

Report: Fished out of Redbud today. Stopped in to Clearlake Bait & Tackle to get my sticker, Jimmy said we would do ok with senkos and drop shots, but they were small. We fished senkos all day, must have caught 40 bass, only one small (not even 2lbs) keeper. Other boats were saying the same thing. Kept hoping the next bite would be a big one, never happened.

Tips: Posted from forums

Water Clarity: Muddy (0-2 foot visibility)

Report: Clear Lake this Week 4/18/2015

Well, the bed bite is on in earnest…last week a big wave of new fish finally moved up and as witnessed by some of the weights out of the Lucas Oil event here this weekend It's pretty clear this is the main wave. The only issue is finding clear enough water to see em'.

The first bed fish of the year for me occurred February 28th and I have seen em' on and off since then.
However, changing water clarity has hampered some of the better areas since then. With that last rain storm came additional run-off and boom we had our first major algae bloom of the year as the water warmed. If that wasn't bad enough, the winds moved in behind it, and yes, I said algae bloom! This is way early and I suspect we'll see it from this point on….thank you vineyards.

Anyways, this past week we saw improving water conditions in the North end and the bite began to take off as one would expect for this time of year. Hopefully, we'll see this continue throughout the lake in the weeks to come.

Don't stay away if your not a bed fisherman though. The first wave is coming off and fry can be seen in a number of areas, so it's time to pick up an open water frog or buzz bait and get after a little top water action. It's bound to happen if it already hasn't, and this is also a good time to bring the kids out with minnows. There are still some fish staging and there are some of the early ones moving off to feed, so the ledge areas are producing some really good fish right now on the lil swimmers.

So, my advice would be the following. Get up early and get out with an LV500, or Buzz bait and hit as many of the spawning flats as you can until the sun gets up, then it's time to put the Costa's on and start looking for "Maureena"…….she'll be the one with the big green lips and dark black stripe down her sides, weighing in at a mere 9 or 10lbs… :D Want to relax with the kids, or significant other? Flyline a lil swimmer.

Remember though, Catch, Photo, and Release. Re-production mounts are unbelievably good and affordable these days, so don't carry her around in the live well unless you're in a tournament.
Friday, April 10th, 2015
Water Clarity: Muddy (0-2 foot visibility)

Report: Clear Lake this week 4/9/2015

Wow, this has been a really tough couple of weeks. Why? Well, nobody seems to be quite sure. Either way, take one look at the B.A.S.S. Western Regional Standings and see for yourselves.

Warm February, wind, rain, more wind, warm March, and now this latest cold front? Take your pick. Honestly, it's not a fun place to fish right now. You really have to finesse em' right now, or time it just right around incoming water, and or spawning flats.

I'm pretty certain the early Spring has contributed to these tough time as we're already seeing fry in and around some of the docks, both North and South. What is unusual though is the lack of pre-spawn fish moving up and chasing. Like I said, if you time it right you may luck into a small school, but for the most part, numbers is a real tough thing right now.

Morning air temps are in the high 30's to low 40's with water temps running 56-65 throughout the day. Water clarity is poor, and there are some areas which are already blooming. Yet another why?

ABA is here again this Sunday so I'll be interested to see how some of the guys who are familiar with the lake do over this weekend. Go get em' fellas! Show us how it's done!
Monday, April 6th, 2015
Water Clarity: Muddy (0-2 foot visibility)

Report: 45 degrees right now and raining. Calling for rain off and on thru Tuesday. Water temp on sat morning was 59-60

29 degrees this morning
Tuesday, March 31st, 2015
Water Clarity: Muddy (0-2 foot visibility)

Report: Clear Lake this Week 3/31/2015

Wind, wind, and more wind…..almost feel like I'm living on the Delta. However, when it does laydown and the water clears just a bit, the bite has been pretty good. That's if your bed fishing skills are up to snuff. Really? Yep, pretty much. While a lipless crank, and a swim bait can still entice a big bite, the
bed fish deal has pretty much taken over.

Last week saw very erratic reports across the board prior to the CTT event, and there was more than a few guys scratching their heads. Not all, but most that I spoke with. There was a bit of a swim bait bite, and some lipless fish being caught, but for the most part guys were predicting a bed bite, if the water cleared just a little.

I snuck out Wednesday and it was ok visibility wise in some areas and not so in others. Well, that pretty much continued throughout the week, and it changed in specific areas from day to day as well. One day clear, next day not. Pretty frustrating I'm sure. Still,
When one looks at the results from CTT it is pretty plain to see that this year's quality of fish is much better than last year's, at least to this point.

CTT anglers weighed multiple 10 pounders Saturday, and one Sunday as well so I think I'm pretty safe in making that claim. I know there wasn't an event last year that even came close to that, and I was reminded yesterday that last year we had gone most of the way through the Spring before anyone even saw multiple 9 pounders weighed in. Interesting.

This week, with the high winds in the forecast I suspect the bite will go back to being the haves and have not's once again, but this Full Moon should bring the next wave up so I certainly wouldn't put that lipless or jerk bait down quite yet.

This weekend the night bite should really begin to pick up if one is so in-tuned. I guy could do a lot worse than going out with a box full of jigs and fishing the transition areas around rock. This next wave of big girls should be up and eating, and weather permitting, it can be extremely rewarding. Either way, Spring has sprung so get out after em'! Summer is just around the corner
Friday, March 27th, 2015
Water Clarity: Muddy (0-2 foot visibility)

Report: Hi CLum! Yes, I was there that night. I did a report - some big fish also. My buddy Mike just missed the 10 lb mark! I am cautious about approaching other boats at night, but will look for you now!
Wednesday, March 25th, 2015
Water Clarity: Muddy (0-2 foot visibility)

Report: March

Man, what a nasty two week stretch. Wind, clouds, more wind, more clouds. Despite that
The surface temps continue to run into the mid 60's on most afternoons, and the fish have continued to elude most chasing them.

Last Week

This past week was no different. BBT had it's Wine Region event here last Saturday and while it took 36lb to win, more than half of the 86 boat field failed to weigh a limit. Not the norm for Clear Lake in the Spring, and if that weren't bad enough I checked ion with a half dozen "Top Ten" Pro's that were pre-fishing for this week's CTT event. Four of them reported "no keepers" for their weekend efforts. These individuals are guys that are always sniffing around the top ten here and they were pretty frustrated.

This Week

Well, so far this week is starting off just like last week. Wind, more wind, and more wind. The result is some pretty dinged up water conditions, and while I'm sure someone will find some fish shallow, it won't be everyone that's for sure.

The Weekend

Well, we really need this wind to stop and stop for a prolonged period if the water is going to clear at all. My suspicion is it won't clear before the weekend. Perhaps by
mid- week next week if it lays down. Either way, the five days of warmer weather forecast should help things somewhat.

Last Resort

The minnow bite is off the hook right now, and while that won't help the tourney guys, anyone who wants a shot at a DD, now is the time. Focus on pre-staged areas and please practice catch and release. Measure her, take a pic, and have a replica made. Call ahead for minnow reservations as I suspect the word is going to get out!

Water Clarity: Stained (2-4 foot visibility)

Report: As always, we released everything!

Tips: Larry, was that you who came up on us Weds the 4th at Konocti Harbor Resort aroung 10 pm? If so stop by next time & I can tell you how it's going for us. I was in the White Champion with yellow & black stripes!
Clum553946

Water Temp: 56- 59

Water Clarity: Stained (2-4 foot visibility)

Report: We came on Sunday the 22nd & hit the water at 11 PM. We had our lines in the water for 10 minutes when this 10lb 1 oz beauty crushes a jig under a dock in Konocti Bay & we think this is gonna be a great trip! It was, but the bites were sporadic, but the ones we did get were large fish! We had exactly three more strikes for the night & they went 7.11, 7.7 & 1.1, all on jigs. On Monday, got on the water at 6 pm, managed to get a pair of 6's, then got blown off the water. Tuesday, also got on at 6 pm & the wind was howling! Tried Monitor but couldn't keep the boat in place. Went to Wheeler, then Jago trying to find wind breaks. Went into Richmond for some wings, came back out & the wind went slack around 10 pm & so did the bite. We had a 4 & a couple of deuces with a bunch of dinks til the bite & wind went south. Weds. was a nice day & we got on at 2 pm. Ran all over the place, Shag, Henderson, Buckingham Pt, Anderson, Monitor, Konocti, Wheeler, Jago, & Jones & managed to get a bunch of swimbait sized dinks on 6" power worms. Went into dinner & came back out at 2AM. Fished Frazier with no strikes & then went to Wheeler Pt. We weren't getting any bites on the jig so I remembered an old school combination I learned from Larry Hemphill years ago; Rodstrainer Jig with a single tail grug trailer. Figured what the heck & tied one on for Paolo Mangini & he promptly gets crushed by a 10.7 lb beauty. Managed two more at 5.3 & 3.13 & that was it. We threw Double Wide Beavers, Brush Hogs, Blades, Swimbaits, Cranks & Jig 'til our arms were about to fall off & got the big ones on jigs & the sixes on Beavers save for the 7.8 coming on a crankbait. For the trip we had, 10.7, 10.1 7.11, 7.8, 6.6, 6.3, 5.3, 3.13, two 2 lber's & a plethora of dinks!

Tips: The fish are tremedously fat & healthy. I think because of this, you have to cover a lot of water, throw a gazillion casts, & put the bait right in front of them. There is a big fish bite, but you really have to work for them. We got the majority of strikes on the jig & double wide beaver with the lone exception of the 7.8 hitting a crankbait (our only reaction strike!) Pics are in photo section with Paolo holding the two 10 pounders. This was his first trip to Clear Lake & he's hooked for life on the lake & bass fishing in general! There's still a ton of baitfish in the water & the bass are fat,fat, fat & on the lazy side, not like the last two springs when we were catching 5-9 lber's in droves! I think the summer bite will be lights out this season, hope I'm correct!
Friday, March 13th, 2015
Water Clarity: Muddy (0-2 foot visibility)

Report: Clear Lake this week 3/11/.2015

Conditions

What a difference a week makes. Talk about transitions? Well, we've seen three or four up here in the past two weeks alone. We've gone from what was a pretty consistent "good" bite to one that's not all that great right now.

Changes

1) Well let's see, two weeks ago we had water that was still in the low 50's each morning, climbing
into the mid to high 50's by the end of the day.
2) We had no moon to speak of and the bite was really good through noon on most days.
3) Boat traffic was way down.

Now, all of the above has changed dramatically. Water temps are now in the mid to high 50's and they've ranged into the mid 60's for several days prior to this rain.

Then we had the full moon and that really changed things, with the bite dying early each morning. Great for the night guys, with the warming water temps and the full moon the night bite took off big time, with a number of anglers reporting multiple DD's each evening.

This weekend will make three weekends in a row for tournaments and the resulting pre-fish has the shallow fish extremely jittery. Not really un-common for this time of year but with the unusually clear water for this time of year the fish seem to be a tad bit spookier than normal.

Forecast

Who knows, this has already been a weird pre-spawn and I suspect it will continue. Everyone is asking the same question. Why? Again, who knows? I suspect it's mainly due to how fast the water warmed and then all of the changing conditions every third day or so. The lake went from 52 degrees or so (PM temp), to 64 degrees in 8 days.

Right now you can move around and find fish in all stages of pre-spawn depending on the area of the lake you are in. Once we get a week of steady weather on the dark of the moon, things should improve. We'll see, but that said, it's still not that difficult to catch 15-20 fish a day and have 15-23 lbs. to show for your best 5. It's the big girls that have become a bit more difficult to pin down right now.

Want a big fish? Let me throw this out there. If this past full moon is any evidence of what will come on the next one, I'd reach out to a night specialist a book a trip. I know I'm planning on being out there. Below are a couple of specialists you may want to contact.

M and P Night Fishing- Marty 530-308-8453
Larry Hemphill-530-674-0276
Clear Lake Guide Service- Carl Keller 707-543-6677
Friday, March 6th, 2015
Water Temp: 56-60

Water Clarity: Stained (2-4 foot visibility)

Report: Mike Sperbeck and I hit the lake about 4 pm Wed, and the lake hit back with tough fishing. One dink for me and a 1 1/2 pounder for Mike. I didn't expect much of a bite since the previous days of north winds and cooler temps. It got very chilly after dark. I have found around the first of March, there is a fair bite about an hour after dark, It last for an hour or two and then really slows. We got into that bite about an hour after dark. Mike started off with a big yell for the net - something new lately!! I got her in the net on the first swipe and struggled to lift her in the boat - good sign!! He's goin' - "Ten - or Eleven!! I'm going to myself - No way! Well, he was close - 9.83 lbs - roughly 2 oz off! What a beautiful fish (see forum for photos!). I gather my senses and tried harder since I hadn't caught a good fish at Clear Lake in awhile. Ten minutes late I get the same great hit he did. Mine was about 15 feet deep whereas his was about 6-7 feet. He got her in on the first swipe too. She was thicker than I thougt and went 7.16 lbs. A few minutes later, Mike got a hit that he claims was the hardest he ever had. He was thinking monster but I told him that 3 to 5 pounder can give the most violent hits. Who knows? We had a few more bites but could NOT hook them. We finally left about 9;15 pm as he had to get up early Thurs morning. Very slow trip except 2 big bass for 17 lbs!! I'll take that!

Tips: Most baits we tried didn't work. We fished both sides of the south end before dark with equal non-success. Our 4 total bass came on west side areas. The 2 big bass were caught on double-wide Beaver baits. I had a hit or two on a jig with the new Yamamoto Heart Tail grub - an amazing bait!
Wednesday, March 4th, 2015
Water Temp: 53

Water Clarity: Stained (2-4 foot visibility)

Report: Back on the lake after an almost four month absence & ran into a tough bite! Started Monday & fished through Weds. We generally fished at night but also put in Tues afternoon as well. We caught some small dinks each day, but the bites were tough to come by! We fished south on the west side of the lake. The highlights were an 8.2 fatty that crushed a blade, but was the only reaction bite we had. Ted had a 6.4 Texas fish & a 4.8 jig fish. All the rest were small. I think we hit the weather wrong & are gonna give it another go in a few weeks!

Tips: We moves around a lot, the fish were fat & heavy, so they may be a little sluggish? Keep moving for strikes. Since it's Clear Lake, you always stand a chance of running onto a big one! I also threw a 7" swimbait a lot with no strikes!
Monday, March 2nd, 2015
Water Clarity: Muddy (0-2 foot visibility)

Report: Wholly COW! March already? Yep, and with each day, and each set of changing conditions, so goes the bite here.

Last week we started off with nice weather, and it gradually declined through the weekend, as did the bite in most cases. Looking at the weights from the LCCC Tourney this past weekend though and you'd be hard pressed to call it tough. Still, had that tournament experienced the weather we had early in the week, I'm not sure 70 lbs. would have been enough.

This week the forecast is for improving, warmer temperatures, almost the opposite of last week. It has started out cool, but is expected to warm into the mid 70's by this weekend, so I expect the bite will pick right back up.

How about that, 48 lbs. for the top ten or so, and I'm looking for the bite to improve? Definitely, more for overall bite, not so much for the quality. The fish we were catching definitely pulled back. I'm not sure if it was the boat pressure or the cooler temperatures (probably a bit of both) but they did become tougher to find, and stay on.

Today we had surface temps of 52-57 degrees, and while the bite was tough for the most part, and even though I had a fuel rail go out on the big motor, it was still nice to get out. We had to move around a lot as the bite for us was one here and one there. To be honest, tough for the most part.

Moving forward, FPT is here this week for their TOC, then the following weekend BBT
is here for their Spring visit. Spring has sprung fellas. Break out the big sticks and get after them, or should I say let the sword fights begin!...;)

Lake level is 4.52 Rumsey, and all ramps are open.
Thursday, February 26th, 2015
Water Temp: 48/56

Water Clarity: Muddy (0-2 foot visibility)

Report: Fished from 7 to 5 yesterday slow bite we caught 7 or 8 fish nothing til the water got to 55 fish were 2lb to 4/12 lbs on drop shots and small swimbaits around tules

Tips: We're not tourny guys anymore
So just stick with the basic stuff til the bite opens up more

Water Temp: 58-61

Water Clarity: Stained (2-4 foot visibility)

Report: I'm back - took a break from Clear Lake for 2 months. My buddy Mike and I returned late afternoon yesterday, starting out about 5:30. We caught several dinks right away and I got a small keeper. No bite at dusk - surprising. After dark I got a big bite on a double wide Beaver - but missed her. We stayed until midnight even though the bite was very slow. It was worth the time however as Mike got the big bite on a shallow rockpile, using a Brush Hog. She went 8.02 lbs! Fun to a bass like that again! Earlier, I finally landed one a hair over 5 lbs. I switched to a black/chartreuse jig just before midnight and was rewarded with our 4th big fish bite. She went 5 lbs 6 oz. So, counting my earlier monster 1 pounder, we wound up with 4 bass for close to 20 lbs. The hits were few but strong. Most bites were around 10 feet, on rock.

Tips: Most of our bites were on off-shore rock - not just rockpiles. We really had to cover a lot of water to find our bites. We just stayed south of the narrows.
Saturday, February 21st, 2015
Water Temp: 57-60

Water Clarity: Stained (2-4 foot visibility)

Report: Just read the other guys post about Saturdays fishing. I have not been to clear lake in a very long time, and had to get my sticker as well at the tackle shop. Launched at Lucerne and fished around the north, lots of boats from nice to rodman, saw 1 fish caught and it was small. Talked to 3 to 4 guys all were having a hard time.
We had 7 fish caught on 4 different baits, ripping, swim baits, A rig, and flipping plastics.

We were at the mouth of rodman at around that time, and there were 10+ boats stacked in there, bait and grebe's were thick, at least 5 boats throwing A rigs, and not catching much. Lots of boats up rodman as well. I guess we just hit the wrong day. I will say all the fish we did catch were 4+ lbs, and that was nice.
City: Chico

Water Temp: 56 - 60

Water Clarity: Stained (2-4 foot visibility)

Report: Late start not a good idea from what I heard. Had to get me 2015 sticker and give CL a try. Heard 4# avg fishing the north - rodman, the park and the north west flats. Started at the park at 10:00 tried swim baits, rattle trap and jerk bait for about 45 minutes. Many boats more than 1/2 throwing the arig but no fish noted. Then headed to the north west - same deal many boats 3/4 throwing the a rig. Tried that, swim bait, trap, jerk bait for over an hour - most of the spots I know had boats so I was further out but still in 4-8 feet no fish no boats in the area with a fish either. Hit a couple areas on the way over to Rodman mostly just the a-rig and a little swimbaits. Same result but less boats! Fianlly, a point east of Redman I did see a fish landed, looked like a 3# dad and his son. Hopped over to Rodman - not hard to find just follow the parade. Feb 21 and there were 15+ boats in there around 11:30. Stayed on the perimeter - don't like to crowd and figured fish would be moving in and out anyway. Fished there 2 1/2 hours swim bait and a-rig no fish and none hooked by the others. One nice guy, Dean said he caught 2 but it was much earlier and "you should have been here yesterday". Not exaggerating a new boat entered the area every 10 minutes or so and some of those guys just big motored it up right past all the guys patiently waiting outside with no regard for the others. On the other hand it was a beautiful day. Picked up one dink at rattlesnake on a staysee 90 before heading out to keep the skunk smell off the Triton. Spoke to 6 or 7 people who said it was tough - one said nothing after 9:00 but one guy reported several fish a-rig, swim bait and jig said he had a great day - good for him gives me hope

Tips: I don't fish clearlake much so I'm not the right tip guy so I'll relay the tip from nice guy at Limit out. Any reaction bait up north. All the standard places from the State park up to Rodman. There are definitely fish up there you could tell from the number of boats and yesterdays stories out there. One guy claimed 25 fish yesterday on nothing but a drop shot - which I never pulled out of the box Sat.