Limit:
Clear Lake and Reports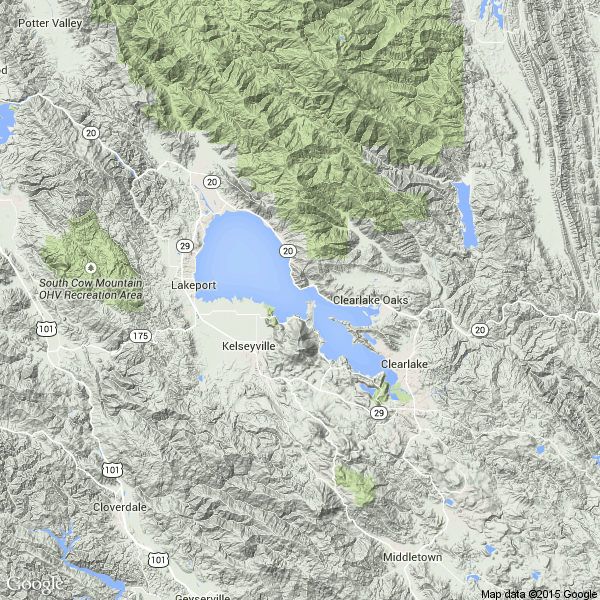 Click for Navionics/Google interactive map
Sunday, Aug 2
Hi: 89 ° F

Lo: 56 ° F


Mostly Sunny
Precip: 2%

Partly Cloudy
Precip: 2%
Clear Lake is at an elevation of 1,320 feet. It has 43,000 surface acres and 100 miles of shoreline. The lake is surrounded by resorts, many which have marinas and launch ramps.
There are also 11 free public ramps around the lake. Complete services are available in the city of Lakeport.
Clear Lake is California's largest natural lake. It's a shallow body of water with many grassy flats, brush covered banks and abundant tule growth. Much of it's shore is lined with privately-owned resorts, residences and boat docks. During seasonal weather fronts winds can create 3' to 4' waves in the open areas of the lake.
Clear Lake State Park offers camping with good launch and parking facilities.(707)279-4293

For more information contact the Lake County Visitors Information Center at 800-LAKESIDE or (707)263-9544.
Quagga Mussel Inspection Application Here is the application that you can have pre-filled before going to Clearlake, so that you can speed your inspection process
Reports
Tuesday, July 14th, 2015
Report: Clear Lake this week 7/14/2015

Tuesday finds the weather warming again, and the forecast is for warm/mild temps for the coming week, and weekend. Overnight lows will only drop into the low 60's and daytime highs will approach 90 during the day.

Water conditions continue to be good to very good depending on the area and time of day. Yes, there is a bloom mid-day but it has not made any areas un-fishable, but yes your line will get green as will your boat, but the fishing is well worth it for most.

The above air temps combined with 78 degree water equals TOPWATER time, and yes, there is a fair to good early morning topwater bite. WhopperFlopper, buzzbaits, IMA Lil sticks, Spooks, and frogs will all add some quality fish to the livewell.

Then as soon as the sun hits the water, the jig, dropshot, and senko bite takes over a bit. Then there's the crank bite we've been waiting for. Yep, it has started with the arrival of the shad on wind-blown banks and ledges. Use your electronics to find the shad, and a Megabass Deep Six, DuoRealis, and 8XD will help add to your fish counts.

This coming weekend we have BBT at Red Bud Park on Saturday, and it will most likely be a "junk fishing" derby. These types of tournaments are always fun, and I suspect 22-24lbs, will top what should be a fairly good sized field, still, if you are looking to jump into a tourney before the year's out, this would be a good one as one can catch em' just about any way they prefer. Deep, shallow, big baits, finesse baits, fast, slow, etc etc etc.

Tip of the day…."don't run from the wind", it's a good thing right now! The wind is positioning the bait, and once you find it you can catch em' pretty good!
Friday, June 26th, 2015
Water Temp: 77-83

Water Clarity: Stained (2-4 foot visibility)

Report: I had another nice guide trip on Wed - out of the Oaks. I hadn't been in that area for awhile, so I pick a ledge to start on at 6:45 am. My client made a few casts with his rod but I saw that it was just too light. I gave him one of my G Loomis rods to use and within a cast or two, he hooks and lands a 5 lb 2 oz bass. We had been on the water for about 10 minutes! Why doesn't that happen on every trip??? Talk about taking the pressure off the guide! I had him using my hot Berryessa bait - a 6" MMIII Robo worm. We fished all the way from the Oaks to Henderson Point, where we found aa floatilla of boats - that means a LOT of boats for a summer Wednesday! We got bites and landed bass up until the time we quit at 2:30 pm. Our best 5 was about 17 lbs.

Tips: I tried a frog in the afternoon with no takes. Also couldn't get big on a jig - the bait that was so good last June. After my client landed his 5, I missed another bass in the 6 to 7 lb range that jumped and said "look at me!" The breeze was blowing most of the trip which made for a confortable trip before Thursday's heat. Most of our bass were caught at the 10 to 15 foot depth. Couldn't get the deeper bass to bite!
Thursday, June 25th, 2015
Report: Clear Lake this Week 6/26/2015

HOT HOT HOT!

Early

Get up early and chase a good to very good top water bite! Spooks, Stickbaits, and Buzzbaits are all producing a good number of bites EARLY each morning until the sun hits the water. The bigger bites are coming on the Spook and Ima lil' Stickbaits fished in and around spawning flats. Once that bite goes slows, pick up your chatterbait and go through the same areas for some additional fun. Should you find the right area topwater bags of 22-27 lbs are not un-common.
The fish are loading up and chasing the bait first thing in the AM…..4:30 AM until 7 AM has been prime time, so get at em' early.

Mid-morning

Now it's time to get out the jig, or Carolina rig and get after them on the ledge areas, deeper docks, and rockpiles. You may have to weed through some lil guys, but the better bites will come, just stay with it.

Noon

Kermit time, and while there not a ton of big bites, the action can be non-stop if you hit the right area. Tules lines, and weedy areas are all producing 2-4lb fish with an occasional 5-7lber thrown in if you stick with it.

Afternoon-dark

This is when the chatter bait takes back over once again and really begins to produce some good numbers and size, and don't be afraid to chase the evening with the frog, or even the spook once more.

Night Fishing

The night bite is improving with this rising moon and should continue to get even better. Big jigs, swim baits, and chatter baits will all produce for those who brave the bugs…
Saturday, June 20th, 2015
Water Temp: 78-84

Water Clarity: Stained (2-4 foot visibility)

Report: Mike and I made a quick trip yesterday afternoon, since we had not been there in a few weeks. Nice to see the lake still above last years level. We started about 3:30 and quit at dark. We found that some of the dinks are now keeper size - wow!! We caught 4 nice bass from 3 1/4 to the nicest - Mike's 7 pounder!!! Our 4 went about 17 1/2 lbs. I had the pleasure of snagging a big crappie on one cast and landed a catfish on the next cast - ugh! We were going to fish at night for awhile but just got tired of the wind.

Tips: We just fished shoreline structure near deep water, using worms and beaver type baits. Could not get a Senko bite. I worked a frog some - just small bass were interested. I was VERY sad to hear about the number of bass that died during the Calif Open - and after. Isn't mid-June a little late for an 8 hr day on a noted "big bass" lake in California?
Friday, June 19th, 2015
Report: General Info

Lake level this week is 3.29 Rumsey and falling, but the bite is actually beginning to improve dramatically. Now, the average fish runs 3-4 pounds, with an occasional 5 pounder for a picture.

Water Conditions

Water conditions vary day to day depending on wind and air temps but in general they are really good for this time of year.

Techniques

Carolina rigs, drop-shots, senkos, jigs, frogs, and chatter baits top the list of offerings
producing 10-15 keepers a day. Plastic colors, MM3, green pumpkin/watermelon, and watermelon candy are the big three this week.

Locations

Both ends of the lake and most areas in-between are producing fish, with the North end and mid-lake topping most reports.
Tuesday, June 9th, 2015
Water Temp: 80

Water Clarity: Muddy (0-2 foot visibility)

Report: Clear Lake this week 6/9/2015


As I write this piece we have rain and lightning in Hidden Valley, and higher winds have dominated this afternoon. Wednesday morning's California Open launch will be interesting to say the least.

Forecast for tomorrow is high winds, lightening, and rain in the AM hours, with a high temp of just 82 degrees, not what the sight fishing guys wanted to see for sure. Forecast for Thursday and Friday are much better wind wise with higher temps returning by Friday afternoon. Hopefully this is good news for the fish caught, and we do not see another 100+ fish mortality rate like last year's tournament produced.

Water temps remain high, 73-82 degrees depending on the area, and yes, the dreaded algae is here mid-lake south. Still, the winds and lower temps should help this as well.

Patterns? Junk fishing seems to be the word, and is definitely what we experienced this past week as well. Squarebills, punching, soft plastic topwaters, drop-shotting, trashfish, Chatterbaits, Carolina rig etc etc, and you never know what may bite!….. This pattern will likely continue through the end of the month, with the bottom contact bite improving as we go. I HOPE!

Results, 10-15 keepers a day is not unusual, and an average bag is around 15lbs, still much better than most lakes would produce during post-spawn. I suspect we'll see 6-10
Bigger bags each day in the Open, then it will be the 12-15lb average bags that dominate.

Good luck everyone!
Tuesday, June 2nd, 2015
Report: So what's going on at Clear Lake?

Well, for one, the bite has become as fickle as it's been since late last year. Yes, there are still a few bed fish to be found, but water quality is quickly becoming an issue once again. Clarity is hit and miss from one day to the next, and yes there is the beginning of an algae bloom throughout the lake.

Prepare to junk fish as they say, as that has been the most productive pattern aside from sight fishing. Everything from buzz baits to bottom walkers are putting fish in the net but finesse fishing plastics slow, slow, and slower has been the bite producing the best "numbers". I suspect that will continue until this moon is going away, and then watch for the jig and chatter bait bites to kick in like any other June.

RoboWorms, Senkos, Brush hogs, and Wooly Buggers, drop shotted, nail rigged, darter headed, wacky, or Texas rigged will all produce fish right now, but you will have to weed through the little guys in order to find a quality bite. That said, there's also a flip/punch bite, and a top water bite here and there.

Everyone was moaning last weekend about the junk bite, yet BBT and ABA had 25 and 31 lbs. taking top honors in their events, so it wasn't all that bad! Just look at their results, BBT had the majority of their field weigh limits and I believe in took 19+ pounds to make the top 15 out of their 80+ boat field. I haven't seen the full ABA results as yet but I suspect they're very similar.

This week the fishing pressure is already down, and the fish are getting somewhat of a break up north, but the wind has returned and is doing its dastardly deed making sight fishing nearly impossible to this point. Deeper docks and weed edges are what I would focus on until this moon is gone, and the catfish finish doing their deal as well, then I would head for a rockpile somewhere…….good luck!
Tuesday, May 26th, 2015
Report: Clear Lake this week…5/26/2015


Boy, what a change over the past week. Overall I'd rate the fishing at fair to very good. The thunderstorms Friday and Saturday certainly did not help, but nonetheless, the bite wasn't affected too much. Lake level is 3.77 Rumsey and the flows have been slowed dramatically, all of the way down to 45 cfps.

Unfortunately the water quality did suffered some from the warmer temps and boat traffic, still it remains above average for this time of year as well.

Apparently the boat/ water ski traffic did a pretty good job of dicing up the weed beds up north and the floating remnants made bladed top waters challenging to say the least. This weekend the whopper plopper and frog took the top water honors, and the punch bite began to really take hold.

Mid-lake finds the ledge fishing beginning to pick up with jigs, and Carolina rigs accounting for the best results there.

South end you'll find the senko and drop shop bite producing fish in the 4-5lb range on the breaks, and deeper docks.

Yes, there are still some bed fish to be had, but water clarity dictates when and where right now.

This weekend BBT is out of Red Bud Park on Saturday, and ABA has their event out of the Casino on Sunday.

Speaking of Red Bud Park; all of the new docks are finally in as is the new lighting. Five full launch lanes with a car topper lane to make six. With the final sealer being applied this week, and stripping to be completed by the weekend, along with the new landscaping which is also on its way, this in now IMHO the finest launch facility on the lake.

What a difference, and yes, as promised CLPD is actually cracking down on the local element as well, so perhaps there is some hope after all. One would certainly hope so after spending close to a million dollars on these improvements. Fingers crossed.
Wednesday, May 20th, 2015
Report: Clear Lake this week 5/20/2015 Memorial Day Forecast

Wow, almost June! Can you say topwater? How about big jig? Chatterbait? Trashfish? Glidebait? Well, it's time, and the bite is on.

Early morning, yes, there are still some bedfish to be had, but boy, passing up an early morning topwater bite just doesn't seem right, so DON'T do it! Grab your buzzbait or frog and go after em', they're there to be had. Oh, and don't forget the whopper plopper!

Mid-morning, as the morning progresses I'd pick up my Trashfish or Chatterbait, and I'd start searching for some sub-surface chasers. Again, they are there and these fish are usually found in schools, so find one, and find a bunch is usually the rule.

Afternoon time, I'd pull out the jig rods and start searching the usual deeper waters, and rock piles, again, find one and you'll usually find a bunch.

Evening time, I'd go back to chasing either the top water or sub-surface chasers of earlier in the day.

Forecast for the weekend is 7-80 degrees and sunny so it should be fairly comfortable as long as the wind doesn't rare it's ugly head.

Water levels are better than last year as is the dreaded algae, and the bite. So make the most of it guys and gals, get up to the lake and get a fix to last the summer.
Tuesday, May 12th, 2015
Report: Clear Lake this week 5/12/2015

As some of you know I ran away last week to go chase some a State smallmouth, and when I did, Clear Lake blew up again, and another big wave of fish moved up yet again.

The lake level un-fortunately is beginning to drop and sits at 3.86 Rumsey today, and I suspect we will see two or so by the 4th of July, as water is beginning to flow.

Still, the bite is really beginning to pick up on standard type baits as well. Jigs, cranks, chatterbaits, and swimbaits are all beginning to add fish to the livewell for anglers who can ignore the temptation to move to the bank and chase bedfish.

Personally, I'm headed out with the jigs rods this week to look for those big girls that went first back in early March.

The weather is mild, so I suspect the lake to be quitter than normal for a Memorial Day weekend, and the fishing should benefit as well.
Tuesday, May 5th, 2015
Water Clarity: Muddy (0-2 foot visibility)

Report: Clear Lake this week 5/4/2015

Conditions continued to improve here last week, and the bite did as well.
Clear, warm water is driving the final stages of the spawn to get on with it, and the first stage fish are beginning to chase.

Both ends of the Lake are now producing fish to 9 lbs on a regular basis once again. The average from what I've experienced personally is fish in the 5-7 lb range are not all that
hard to find, with an average fish running 3-4lbs, and 20 fish days are not hard to achieve.

Now that the first stages are coming off the bank and beginning to chase, the jig bite can't be too far away. Still, double winged buzz baits, chatter baits, and frogs lead the way for non-bed fish contributors. Glide baits will get you bit as well, just be patient.

My advice, go top water in the morning, wait for the sun to get up, and go hit the banks, and flats.

As always, anglers beware, tis the season, hydrate, hydrate, hydrate, and keep covered up.
The sun can really sneak up on you right now, especially when the wind lies down.

I expect this bite to continue through mid-month as weather allows. Then it's anyone guess where it goes from there, so get on em' while you can.
Thursday, April 30th, 2015
Water Clarity: Muddy (0-2 foot visibility)

Report: Spring has sprung onceagain on Clear Lake, and the bed fishing is ON as they say.
Water temps are now in the low 60's to start the day and reach 70+ by the afternoon, and as an added bonus for a really confused Spring, the topwater bite is finally beginning as well.

This week the water clarity we so much needed earlier this month finally hit mid-lake south and the bite broke wide open as yet another wave of spawners came into the shallows with this newest moon.

Unfortunately, the jig bite is yet to come on, but should be soon to come, and I suspect the topwater bite will only get better as wave 3-4 start their fry guarding as well.

Also, watch for fish busting on bait, as the spawning bays are all loaded with bluegill, shad, and hitch, and I mean they are everywhere!

Your typical bed baits will all work, except here's one tip. What color is everyone throwing this time of year? Yep, just look at any bass boat deck around here and you'll see more WHITE baits than one thought available.

So, you want to improve your chances of success? Yes? Then try a different color, and you'll see a big difference in how the fish react to your presentation. Right now, white means "be afraid" to these fish. They've been bombarded with white for nearly two months now, and they indeed learn fast!

Good luck and have fun!
Friday, April 24th, 2015
Water Temp: 59-63

Water Clarity: Stained (2-4 foot visibility)

Report: Mike Sperbeck and I made a quick trip to the lake on Tues, starting about 3pm. We got into shallow big bass immediately. They must have move in to warm up. He lost 3 big bass but did land several up to 7 lbs. Biggest I could land was only 4 1/2 lbs. The bite stopped as the sun set and the wind became a problem. Mike did land another 5 1/4 pounder an hour after dark, and with that we left as the wind was getting nasty. We could have had a 30 lb+ trip but only managed 23+ lbs for 5 bass. Still caught several of those dinks that are everywhere!!

Tips: We found bass from 2 to about 10 feet - all clean with no spawning marks on them yet. If there were a few beds, we couldn't see them in the wind. We used a variety of soft plastics, most in green pumpkin color. I caught my biggest on a MM111 6" Robo worm. We stayed south of the narrows in the Clearlake arm. The constantly changing weather patterns could keep the spawn going for quite some time!!
Sunday, April 19th, 2015
Water Clarity: Muddy (0-2 foot visibility)

Report: Fished out of Redbud today. Stopped in to Clearlake Bait & Tackle to get my sticker, Jimmy said we would do ok with senkos and drop shots, but they were small. We fished senkos all day, must have caught 40 bass, only one small (not even 2lbs) keeper. Other boats were saying the same thing. Kept hoping the next bite would be a big one, never happened.

Tips: Posted from forums

Water Clarity: Muddy (0-2 foot visibility)

Report: Clear Lake this Week 4/18/2015

Well, the bed bite is on in earnest…last week a big wave of new fish finally moved up and as witnessed by some of the weights out of the Lucas Oil event here this weekend It's pretty clear this is the main wave. The only issue is finding clear enough water to see em'.

The first bed fish of the year for me occurred February 28th and I have seen em' on and off since then.
However, changing water clarity has hampered some of the better areas since then. With that last rain storm came additional run-off and boom we had our first major algae bloom of the year as the water warmed. If that wasn't bad enough, the winds moved in behind it, and yes, I said algae bloom! This is way early and I suspect we'll see it from this point on….thank you vineyards.

Anyways, this past week we saw improving water conditions in the North end and the bite began to take off as one would expect for this time of year. Hopefully, we'll see this continue throughout the lake in the weeks to come.

Don't stay away if your not a bed fisherman though. The first wave is coming off and fry can be seen in a number of areas, so it's time to pick up an open water frog or buzz bait and get after a little top water action. It's bound to happen if it already hasn't, and this is also a good time to bring the kids out with minnows. There are still some fish staging and there are some of the early ones moving off to feed, so the ledge areas are producing some really good fish right now on the lil swimmers.

So, my advice would be the following. Get up early and get out with an LV500, or Buzz bait and hit as many of the spawning flats as you can until the sun gets up, then it's time to put the Costa's on and start looking for "Maureena"…….she'll be the one with the big green lips and dark black stripe down her sides, weighing in at a mere 9 or 10lbs… :D Want to relax with the kids, or significant other? Flyline a lil swimmer.

Remember though, Catch, Photo, and Release. Re-production mounts are unbelievably good and affordable these days, so don't carry her around in the live well unless you're in a tournament.
Friday, April 10th, 2015
Water Clarity: Muddy (0-2 foot visibility)

Report: Clear Lake this week 4/9/2015

Wow, this has been a really tough couple of weeks. Why? Well, nobody seems to be quite sure. Either way, take one look at the B.A.S.S. Western Regional Standings and see for yourselves.

Warm February, wind, rain, more wind, warm March, and now this latest cold front? Take your pick. Honestly, it's not a fun place to fish right now. You really have to finesse em' right now, or time it just right around incoming water, and or spawning flats.

I'm pretty certain the early Spring has contributed to these tough time as we're already seeing fry in and around some of the docks, both North and South. What is unusual though is the lack of pre-spawn fish moving up and chasing. Like I said, if you time it right you may luck into a small school, but for the most part, numbers is a real tough thing right now.

Morning air temps are in the high 30's to low 40's with water temps running 56-65 throughout the day. Water clarity is poor, and there are some areas which are already blooming. Yet another why?

ABA is here again this Sunday so I'll be interested to see how some of the guys who are familiar with the lake do over this weekend. Go get em' fellas! Show us how it's done!
Monday, April 6th, 2015
Water Clarity: Muddy (0-2 foot visibility)

Report: 45 degrees right now and raining. Calling for rain off and on thru Tuesday. Water temp on sat morning was 59-60

29 degrees this morning
Tuesday, March 31st, 2015
Water Clarity: Muddy (0-2 foot visibility)

Report: Clear Lake this Week 3/31/2015

Wind, wind, and more wind…..almost feel like I'm living on the Delta. However, when it does laydown and the water clears just a bit, the bite has been pretty good. That's if your bed fishing skills are up to snuff. Really? Yep, pretty much. While a lipless crank, and a swim bait can still entice a big bite, the
bed fish deal has pretty much taken over.

Last week saw very erratic reports across the board prior to the CTT event, and there was more than a few guys scratching their heads. Not all, but most that I spoke with. There was a bit of a swim bait bite, and some lipless fish being caught, but for the most part guys were predicting a bed bite, if the water cleared just a little.

I snuck out Wednesday and it was ok visibility wise in some areas and not so in others. Well, that pretty much continued throughout the week, and it changed in specific areas from day to day as well. One day clear, next day not. Pretty frustrating I'm sure. Still,
When one looks at the results from CTT it is pretty plain to see that this year's quality of fish is much better than last year's, at least to this point.

CTT anglers weighed multiple 10 pounders Saturday, and one Sunday as well so I think I'm pretty safe in making that claim. I know there wasn't an event last year that even came close to that, and I was reminded yesterday that last year we had gone most of the way through the Spring before anyone even saw multiple 9 pounders weighed in. Interesting.

This week, with the high winds in the forecast I suspect the bite will go back to being the haves and have not's once again, but this Full Moon should bring the next wave up so I certainly wouldn't put that lipless or jerk bait down quite yet.

This weekend the night bite should really begin to pick up if one is so in-tuned. I guy could do a lot worse than going out with a box full of jigs and fishing the transition areas around rock. This next wave of big girls should be up and eating, and weather permitting, it can be extremely rewarding. Either way, Spring has sprung so get out after em'! Summer is just around the corner
Friday, March 27th, 2015
Water Clarity: Muddy (0-2 foot visibility)

Report: Hi CLum! Yes, I was there that night. I did a report - some big fish also. My buddy Mike just missed the 10 lb mark! I am cautious about approaching other boats at night, but will look for you now!
Wednesday, March 25th, 2015
Water Clarity: Muddy (0-2 foot visibility)

Report: March

Man, what a nasty two week stretch. Wind, clouds, more wind, more clouds. Despite that
The surface temps continue to run into the mid 60's on most afternoons, and the fish have continued to elude most chasing them.

Last Week

This past week was no different. BBT had it's Wine Region event here last Saturday and while it took 36lb to win, more than half of the 86 boat field failed to weigh a limit. Not the norm for Clear Lake in the Spring, and if that weren't bad enough I checked ion with a half dozen "Top Ten" Pro's that were pre-fishing for this week's CTT event. Four of them reported "no keepers" for their weekend efforts. These individuals are guys that are always sniffing around the top ten here and they were pretty frustrated.

This Week

Well, so far this week is starting off just like last week. Wind, more wind, and more wind. The result is some pretty dinged up water conditions, and while I'm sure someone will find some fish shallow, it won't be everyone that's for sure.

The Weekend

Well, we really need this wind to stop and stop for a prolonged period if the water is going to clear at all. My suspicion is it won't clear before the weekend. Perhaps by
mid- week next week if it lays down. Either way, the five days of warmer weather forecast should help things somewhat.

Last Resort

The minnow bite is off the hook right now, and while that won't help the tourney guys, anyone who wants a shot at a DD, now is the time. Focus on pre-staged areas and please practice catch and release. Measure her, take a pic, and have a replica made. Call ahead for minnow reservations as I suspect the word is going to get out!