Clear Lake and Reports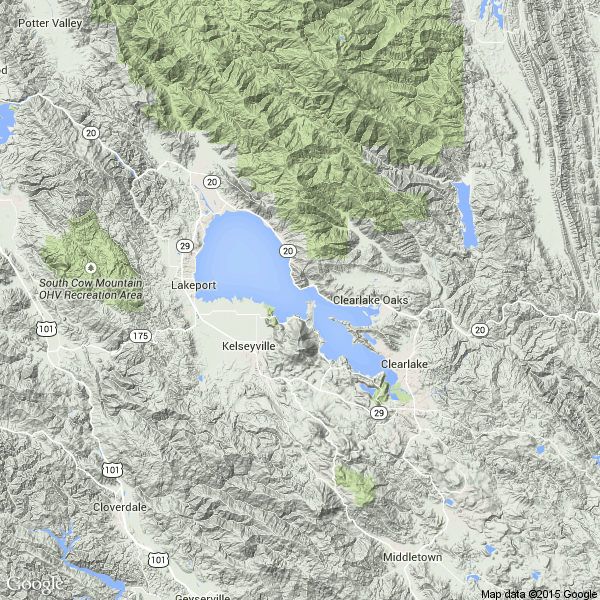 Click for Navionics/Google interactive map
Friday, Apr 20


Wednesday, August 24th, 2016
Report: Man, what a difference a week can make. While the numbers bite remains good, the quality of fish being caught
has diminished considerably with these cooler daytime temps, and with the coming weekend approaching I'm glad I can take the weekend off and wait for some warmer days, at least I hope we see some warmer days before fall arrives.

This week the reaction bite seems to be the early morning ticket, with the jig and carolina rig coming on stronger once the sun is up and warms things up. Dingier water seems to be holding the better fish right now, with the cleaner water holding the numbers. Crankbaits such as the Lucky Craft BDS 2, 6th Sense 300, and Megabass S Cranks, along with a Jackall Muscle deep 7 can all entice bites if you find the right tempo. Personally I've been burning them on a 6:1 reel and a fairly high rate. Same can be said for a 3/8 Chatterbait fished on the flats or around tule lined banks. Be prepared though, there are some really nice fish holding in 2-3 feet of water when you find em'.

Tuesday, as well as today, the jig bite did not come on until the sun was high in the sky and the water started to get dingy from the baby algae blooms. Again, fish are anywhere from 3-15 feet deep, in and around the rocky areas. Mid-lake, eastside, westside, and Lubo are all holding fish.

Everyone asks, "what about up north"? What about it...;)? It's still there....yes you can find a topwater bite should you choose to look hard enough for it, and yes, the "trap" bite is beginning to happen as well. Find some canopy and the punch bite can be decent. For me though, the quality has been better south, but that's me. Trust me, there are a number of guys getting them up north as well. It really is a matter of personal preference where and how you fish, so just go fish and enjoy some of what has been a summer bite to remember!
ReelEx, your source for quality, professional service on your Shimano reels.
Guaranteed 96 hr turnaround on service.
650-454-4938 www.reel-ex.com
Monday, August 22nd, 2016
Report: Clear Lake this week 8/22/2016

Lake level this week is 2.89 Rumsey, and it's time to be really careful in and around boat ramps, and rock piles.

All ramps are open and operating just fine. However, 2.5 Rumsey or so is where things start to get a bit dicey on some of the ramps around the lake. Just remember to trim up coming in and going out and you should be fine.

Road closures from the past two weeks are all gone, though you may find construction zones all around the lake depending on the day and time of day.

Lodging? Well, that's where things are beginning to get a bit dicey as well. Apparently, KVCasino's remodel is a bit behind schedule, and with the downtown renovations in Lakeport, the fire clean up in the Lower Lake area, the various Highway construction projects around the lake, and they assorted firefighting agencies and evacuees around the county, lodging is extremely tight. Will this continue into the Triton, and TOC tourney timeframes? I would think so, at least to the degree I would have a back-up plan or two already in place just in case.

Options? There isn't many. However, there is the Twin Pines Casino Hotel in Middletown, the Rancheria in Nice, and Blue Lakes resorts on Highway 20 west of Lakeport. Certainly most of this will depend on the progress at KVC and any remaining fire issues that may linger.

Fishing? It remains better than normal, though it is beginning to slow just a bit. The topwater bite is finally beginning to pick-up with some consistency, as is the crankbait bite. Still I just can't put the jig down, and with multiple 30lb days last week I don't think I'm going to anytime soon.

Water conditions continue to improve and are nearly fall like at this time, though surface conditions continue to hover around 85 degrees. Cooler nights this week will likely contribute to an even more improved topwater bite in the AM so I would still be prepared to throw it. Toads, Ploppers, and smaller buzzbaits are all getting bit right now.

Have fun!
Monday, August 15th, 2016
Report: Well, as most have heard Lower Lake has burned and the fire continues basically out of control.

As a result the Lake can only be accessed via Highway 20 out of Lakeport, 20 out of Williams, and Highway 175W out of Middletown (which I would not advise). You cannot access the intersection of Highway 29 in Lower Lake.

Please be advised, all arteries around g get lake are extremely busy so major delays can be expected.

Please be advised accommodations are FULL around the lake as a result of evacuations and fire fighting personnel.

Power is off and on in the Lower Lake area as is Internet services so be prepared fuel and food wise if you do come up.

Waiting a couple of days or accessing the lake from Lakeport might be ones' best bet at this time.

As far as the bite, it is still above average but certainly not what it had been over the past three weeks...all in all though it is still pretty good.....just hard to get too excited with all of what is going on.

Prayers go out to all of those impacted by this fire.
ReelEx, your source for quality, professional service on your Shimano reels.
Guaranteed 96 hr turnaround on service.
650-454-4938 www.reel-ex.com
Sunday, August 7th, 2016
Report: Clear Lake this week 8/7/2016

Lake level is 3.47 Rumsey and water temps are running 77 to 85 degrees depending.

Well, the bite has finally begun to slow a bit, at least for the quality fish we had been seeing. Anglers can still expect to catch their fair share of fish, but now the lil guys are beginning to dominate.

However, if you are willing to run and burn some fuel, the topwater bite is beginning to become a little more predictable around the lake, just not in large quantity in any one area, and when I say this I mean respective of quality fish. Like I said, the 1-3 pounders seem to be everywhere.

Ploppers, frogs, spinnerbaits, jigs and drop-shots will all get you bit, and you never know the net bite just might be her. Just like these two plopper and jig fish which were part of a 30+ bag.

Water conditions are better than the past couple of summers, at least so far. Yes, there has been a pretty bad fish die off around the lake, and yes there is a mild case of algae, but neither has affected the bite.

With regards to the fish die off, it's just a dang shame this lake isn't managed for what it truly is. Despite the neglect, and lack of a management plan by F&W, this place continues to amaze most. It is truly scary to think what possibly could be if were managed as the trophy fishery it truly is. Like I said, just a shame and that's all the further I will comment.

ReelEx, your source for quality, professional service on your Shimano reels.
Guaranteed 96 hr turnaround on service.
650-454-4938 www.reel-ex.com
Saturday, August 6th, 2016
Water Temp: 81-85

Water Clarity: Stained (2-4 foot visibility)

Report: Fishing buddy Mike and I hit the lake yesterday about 5 pm and fished 'til 11 pm. We found no bad algae, but the lake is green in most areas in the afternoon but in nice shape! I agree with clum - the bite right after dark is non-existent. That is usually the case in August - no bite until midnight or after. But before dark -- sometimes awesome as it was yesterday. I even caught a 4 pounder at Fraiser Point about 6 pm. I almost don't fish it anymore - too many great memories of 30 years ago. Most of those bass live up north now. Anyway, I have had so much success with the 7" black Power worm while guiding at night at Berryessa, I decided to find out if Clear Lake bass like them too. They do!! Mike even asked me if he could have one! I told him they were really expensive in my boat - LOL! I caught the Frazier bass on one and a 5-2 in the narrows at night. Mike landed a 4-10 on one also. The bite was great as dusk - landing bass after bass in about 5 to 15 feet of water. Our best five were only about 19 lbs - couldn't get a BIG bite. I must say that those 8 to 12 in bass from 2 years ago have done well feeding and growing! Many are now FAT two-plus pounders - and do they fight!!

Tips: It was impossible to get a deep bite going - if there was one. We caught a few next to the weeds, but found in the hot afternoon, they were out just a little deeper, buried in the rocks. Could not get a crank bite as I did on the previous trip. Some places we tried were simply too windy with rough water
Thursday, August 4th, 2016
Water Temp: 80-84

Water Clarity: Stained (2-4 foot visibility)

Report: Got on the water Tuesday night around 10 pm,fishing was pretty slack for the first couple of hours. Finally got some action on Texas rigged Sweet Beavers pitching them to the weedline and working it slow. There was no crankbait or blade action & the jig bite was slow as well. Ted did manage to stick a nice 7.9 & we caught quite a few in the 2-4 lb, range for the evening. Since there seemed to be a good day time bite, we got out in the afternoon Weds and ran into a brisk lipless crankbait bite. We were south and caught around 30 small bass in the 1-2.5 lb range and also ran into 16 crappie! No bigs but very entertaining! Went in for dinner at 10pm and came back out at midnight. There was a good blade bite and we caught 14 with a best at 6lbs with many 3-4.5 lbs. They were also hitting the jig as well. Best color was watermelon with red flake for jig trailers and dark red blades.

Tips: Not being a good day time fisherman, we were pleasantly surprised to get into a good day bite. Just throw those lipless around rocks and the fish will hit it. The bite died at the onset of dark however. For the blades and jigs, run them slow and they will pick it up and run with it. We stayed south in Konocti and by Wheeler Point. The weeds were not very heavy, but I don't think they were spraying in the areas we fished. This allowed us to fish a lot more places than normal for this time of year! Have at it, the lake is fun right now!
Tuesday, August 2nd, 2016
Report: From Lake County News

LAKEPORT, Calif. – Warm water, lack of oxygen and a heavy biomass load in Clear Lake are among the factors that local and state officials believe are behind a fish die-off in the Lakeport area that occurred over the weekend.

Melanie Pressley, who lives on the lake in the north Lakeport area, said the lake looked good on Saturday night, but when she got up Sunday, she saw hundreds of dead fish on the water.

She said there was a wide variety of fish involved in the die-off – "big, small, medium, anything in between."

Pressley said that in the 10 years she has lived at her current residence in Lakeport, she's never seen such a die-off, although they're not uncommon on the lake.

"I've heard of it, I've never seen it in a big mass like this," she said.

Carolyn Ruttan of Lake County Water Resources said she got a report of the die-off on Sunday. She confirmed Pressley's statement that all types of fish were involved.

The area where the die-off occurred starts at Berger Bay, which Ruttan said is the midpoint between north and south Lakeport on the eastern side of Clear Lake, and moves south along the southern part of the lake's upper arm.

"In my opinion, it's low oxygen," Ruttan said of the die-off's cause.

Read more: http://www.westernbass.com/forum/clear-lake-fish-die-off-this-weekend-t103814.html

Report: by Gary Dobyns » Tue Aug 02, 2016 9:23 pm
There are a fraction of the weeds that were there in early June. The lake also has a strange color to it now. Still fishing is excellent 60-70 fish days with numerous 5-6 pound fish. Lots of fun guys!!

Water Temp: 79

Water Clarity: Stained (2-4 foot visibility)

Report: Here til Weds. Hit the water @ 7:30pm, fished south in Konocti, ran into a grip of 2 - 2.5 lber's on blades & jigs. Best was a 4.3 husky fish, broke a few good ones off,but the action was fairly brisk on the small fish. Going to give it a try again tonight

Tips: There was some good action on bigger fish yesterday, so My guess is to move around a lot. We primarily fish at night!
Saturday, July 30th, 2016
Report: Clear Lake, here comes August!

Amazing is all anyone can say. Last year we saw so many juvenile 1 pound fish early in the year everyone was hoping for things to come. Well, things to come are here. The number "willing" of 2-4 pound fish in the lake right now is nearly
unbelievable. Better yet, the big girls have not been shy either, and it should only get better in the coming month or so.

Putting the closing moves on July this weekend has been some of the best fishing anglers have seen in years, anywhere in the state. This harkens back to the crankbait bite we experienced in 08'/09' on the Delta. Yes, it is that good.

I'm pretty certain this is a bite we will be talking about for some summers to come, better yet it's a bite it doesn't take an expert to experience. Safe to say one can actually get bit on just about anything they want to throw. Deep crank, shallow crank, chatterbait, spinnerbait, senko, drop-shot, carolina rig, swimbait, buzz bait, etc etc etc.

My understanding is 25 lbs did not get a check today, which isn't all that unusual, except, IT's SUMMERTIME!

Anyone who hasn't been up and experienced this yet, you may want to re-consider. Call any of the tackle shops and I'm sure they'd be more than happy to send you in the right direction!

20160213_162216-1.jpeg
ReelEx, your source for quality, professional service on your Shimano reels.
Guaranteed 96 hr turnaround on service.
650-454-4938 www.reel-ex.com
Thursday, July 28th, 2016
Report: by clearlakeoutdoors » Thu Jul 28, 2016 5:28 am

End of July yes there is algae .I think part of the reason the bite is so good is the stained water! Ive seen the lake way worse and never fished any areas that had the nasty algae smell. Some of the lake is worse than other parts.Any shad color spinnerbait will work. I personally like terminator with the large blade gold.My friend was throwing a golden shiner one yesterday.
Wednesday, July 27th, 2016
Report: by clearlakeoutdoors » Wed Jul 27, 2016 2:59 pm

Fished till noon today ,Water 82 at noon.Caught 30-40 fish on everything.Even caught 2 smallies.I would just like to add that the spinnerbait bite is as about as good as it gets right now. Took a rookie out and thats all he threw and caught 15 or so on it.Our best five 22-24 #
Dave

Water Temp: 75-78

Water Clarity: Stained (2-4 foot visibility)

Report: I had trips on Monday (not my favorite day to guide) and Tuesday. Monday an uncle and 14 yr old (future pro!!!) fished with me and got into bass right away - amazing Monday bite! Lost count or the number of bass landed - maybe over a hundred bites! The bass only ran to about 2 lbs but the young man ended with a 4 lber at our last stop! Believe me - this young man has a future in our sport!! Tues found somewhat bigger bass hitting and the crank bite was on after 11 am. One of the clients did something I have never seen before - ever!! Four fish in a row on a crankbait - largemouth, smallmouth (3 lbs), catfish, and a crappie - all on the same crankbait in about 25 minutes - in the same spot. I wouldn't believe it if I didn't see it! I think the feed bag was on!!

Tips: We used a variety of Robo and Berkley worms - mostly 6 and 7 inch. As has been reported, bass were fairly shallow most of the trips. Tuesday a nice breeze help up survive the heat and I believe helped the quality of the bass (and other species!) We only fished rock areas, points, and one great dock that had lots of bass under it! Most of the others had nothing!
Friday, July 22nd, 2016
Water Temp: 75.8

Water Clarity: Stained (2-4 foot visibility)

Report: Well, I haven't posted in a while, fished Mon - Weds with my teenaged daughter this trip. Poor old Ted couldn't get away! Hit the water @ 2:00 AM early Tuesday & fished south in Konocti Bay. There hasn't been a steady jig bite this season & I was happy to see that there's one now! Got a nice 8.8 on the Rodstrainer jig plus a 6.1. Missed a few that was my fault from being rusty & tired! Went in at 5:30 & limit went 23.8 as I also caught quite a few 3+'s. The next two days was devoted to teaching my kid how to fish. We had a rocky Tues evening with her missing quite a few fish on the Senko. I managed to get a few 3-4 lber's but that was it. Weds I decided to let her throw the Senko wacky as her problems were getting the hang of a good hookset. Found some weedfree water around docks & let her have at it! Got onto a good spot & all I did was unzip the fish for her! She caught 9 fish with two 3+'s & one 4.2! Made her day & made mine even better! Anyway, gonna grab Ted & come back in a few weeks! I haven't been able to fish here consistently in the last 18 months due to my Dad's illness, but I'm gonna try to go back to coming more often!

Tips: The Sweet Beaver & Flapping Hog in green/reds were effective & the jig bite was really good! They were in tight around tules & rocks & I got quite a few strikes when I popped the jig away from the rocks. The Senko bite was good too. They seemed to prefer the 5" over the 6" & in watermelon red flake. Only a few dueces on the blade, didn't throw the crank too much as I didn't have a netter & I don't like lipping fish with a mouth full of treble hooks! OIh yeah, caught one frog fish that went 2.5 at dusk!
Wednesday, July 20th, 2016
Report: Clear Lake this week 7/20/2016

This week finds the lake level to be 4.21 Rumsey with surface temperatures in the mid to high 70's.

There are times during the year when you are asked the question "how is the bite", that you just can't bring yourself to tell the person asking how it really is. No, not as a result of secrecy or being protective rather because no one will believe you, and you will have to deal with the tilted head response or the "yeah right".

We had this for a time back in February when some of us exceeded 40 lbs for our best five multiple times during a three week period. Ready for this?.....Yes, it happened again on Monday, and I nearly backed it up again this morning, unfortunately I dropped an 8 at the boat and had to settle for 37 lbs. Yeah, I know, poor baby. However, it's not just me, several guides here have reported the same results, with one claiming he thinks it was one of the best bites he has ever experienced here.

See, I told you! I can see the tilted heads through the screen! Well, choose to believe what you will, but this is a bite one has to experience to believe.

Me? I'm throwing a jig and a crank. Brown and a shad pattern. Where? Let's just say Henderson south and everywhere in between. How deep? Not deep at all, 2-15 feet. When? My best bite has been daybreak until 10 am or so with it then picking back up around 1pm. Isn't there a topwater bite? Answer, at times, but from what I've seen, no a lot of big ones on a regular basis. The jig and crank on the other hand produced an 11, two right at 10, and a mess of 5-8 pounders. Yes, you will have to weed through the 2 pounders but the big girls are in there with them, just keep fishing.

This weekend is the BBT event Saturday out of Red Bud, and I will curious to see how this holds up for them. I suspect it may take a bag to win it, but catching fish sure shouldn't be a problem, then next week the weather is supposed to heat way up and the topwater should really begin to heat up along with it…..at least one can hope!

Oh, watch what it takes to win the WNS Moonlight event this evening.....3 fish limit....my prediction, 25 lbs!
ReelEx, your source for quality, professional service on your Shimano reels.
Guaranteed 96 hr turnaround on service.
650-454-4938 www.reel-ex.com
Friday, July 15th, 2016
Report: Clear Lake this week 7/15/2016

Lake level is down to 4.4 Rumsey or so, and the water temperature are hovering in the mid to high 70's, and yes there is a daily algae bloom.

This week there is more than just an information report to share. While the fishing continues to improve overall, there is word of a major "fish kill" in the south end, and Cache Creek.

While the direct cause of this "fish kill", or "die off" is un-clear at this time, the fact that there was a lot of air boat activity in and around the affected areas all this week may just be a coincidence, but that is doubtful. Hopefully someone will look into this, even the crawdads are headed for the hills!

Weed spraying activity seems to be at a heightened level of late, and the disappearance of massive weed lines is not encouraging, especially mid-lake south. The bite has gone along with it as well; brown water equals "no bites".

Moving around and looking for cleaner or green water will pay off with a jig, deep crank, chatterbait, or topwater (1st thing). We spent Wednesday doing just that and were rewarded with a 32 lb. bag on deep cranks and jigs.

Last week I mis-reported that BBT was here last weekend, that was in-correct and I apologize, too many irons in the fire lately. However, BBT is here on the 23rd and 30th of July and the bite should be pretty good. A good time to jump in one for sure!

Red Bud and Clear Lake Bait and Tackle will be hosting these two events which is a change so don't be late!

ReelEx, your source for quality, professional service on your Shimano reels.
Guaranteed 96 hr turnaround on service.
650-454-4938 www.reel-ex.com
Friday, July 8th, 2016
Report: Clear Lake this week 7/8/2016

Down we go! Air temps, and water temps are dropping as is the lake level.
This week the lake is at 4.77 Rumsey, and water temps are in the low 70's to 80 degrees in the afternoon.

As a result, this past week the deep diving crankbait bite has turned on and a Strike King 10XD in a Perch pattern will load the boat, as will the Megabass Deep Six in a Crawdad pattern.

Targeting areas in the southern extremities of the lake in 10-25 feet of water has been the pattern I have been running, and all of the likely areas are producing good numbers. Lubo, No Name, Jensen Point, Wheeler, and Bayshore points are all holding some nice fish, as is Monitor Island.

The cooler temps have apparently triggered the fish and they are chasing, and while the topwater bite for me has been erratic at best, the jig bite remains extremely strong. Fish can be found in 2-25 feet of water, and don't be afraid to move your jig fairly quickly, and or toss a swim jig. Both can be yo yo'd back to the boat with impressive results.

This weekend has a number of smaller events up north as well as BBT out of Red Bud so be aware and be careful running around the lake.

Dr. appointments and "reels" kept me off the water all but one day this week, so I thank those who are so open and willing to share info for me to pass along in these reports. Too many to name but you know who you are. Thank you!
ReelEx, your source for quality, professional service on your Shimano reels.
Guaranteed 96 hr turnaround on service.
650-454-4938 www.reel-ex.com
Sunday, July 3rd, 2016
Water Temp: 82

Water Clarity: Stained (2-4 foot visibility)

Report: If you're coming to fish Clear Lake you might want to pack a couple of frogs and spinner baits. I'm just sayin.

Tips: Morning and late evening frog bite has been strong. Spinner baits fished over rock piles helped us put 20 in the boat.
Friday, July 1st, 2016
Report: July 4th Weekend at the Clearest of Lakes!

Well, while it might not actually be the clearest of lakes, it is beginning to fish like the lake we all know and love!

The projections for the weekend are GOOD to VERY GOOD! Yes, while it may be a busy weekend on the water, the fishing is really, really good right now, and it doesn't take much imagination to catch em', even in the heat of the day.

How you ask? Jigs, jigs, and more jigs, that's how! Personally, one of my favorite bites of the year, whether a football head or vibrating model, right now they are on the chew and snapping both, HARD!

When it comes to Mr. Football Head, 3/8 and ½oz Brown with a blue, purple, smoke or cinnamon double tail trailer will get ya bit, as will the same tipped with a PBJ Beaver, or I believe they actually call it Oxblood. Either way fish em' in 2-20 feet of water adjacent to rock and hang on, or check out one of the many rock piles as they are beginning to kick out some nice fish as well.

Want to chase em' and find a reaction bite, then tie on a vibrating jig. My preference is a Ladies Man Custom Bait, either 3/8 or ½ oz version in green pumpkin, or ghost minnow. Tip it with a matching Keitech, or one of the new Strike King swimmers and go fish the flats and or tule lines early and late. Hit the right spot and you can load the boat, and while they are usually 2-4 lbers, a 5-8 lber is not uncommon.

So, with this extremely hot weather, the bite has really begun to heat up, and I suspect it is only going to get better. Caution though, be smart and hydrate or this heat will get ya!

Here's wishing you all a safe and happy 4th!
ReelEx, your source for quality, professional service on your Shimano reels.
Guaranteed 96 hr turnaround on service.
650-454-4938 www.reel-ex.com
Tuesday, June 28th, 2016
Report: Clear Lake this week 6/28/2016

Lake level is 5.24 Rumsey and water temps are 70-85 degrees depending on time of day.

Finally, a more consistent bite is beginning to greet anglers this week, and one will be rewarded for weeding through the shorts. Trust me, stick with it and you will be rewarded.

Whether you choose to power fish, or finesse em', one has to be willing to wade through the smaller fish in order to put a good sack together. Basically, for the first time this year one say the pattern is about normal for the time of year. Yep, "summertime" pattern.
Chase em' on top early, cover water mid-morning, and hit the shade in the afternoons.

Early morning a buzz bait, spook, or whopper plopper should raise some interest, and mid-mornings the chatterbait, crankbait bite is now going pretty good, as is a Carolina rigged brush hog. Once the sun gets up and there are shade lines, the drop-shop, nail rig, and senko begin to takeover.

Whereas up to now it's been hit and miss depending on the day, the bite is really beginning to improve as was expected. Just be prepared for the heat, it can be quite stifling.

Top colors this past week? Watermelon candy, MMIII, Aarons Madness, Yamamoto's 330, 301, 926, and PBJ. Oh, minnows are back in stock at Clear Lake Bait & Tackle. I suggest you call ahead and reserve yours as they will go fast over the holiday.

In closing, again please wear your PFD at all times. We unfortunately lost yet another angler this past week. Even one drowning is too many. This one unfortunately makes four in the past month alone here on Clear Lake.
ReelEx, your source for quality, professional service on your Shimano reels.
Guaranteed 96 hr turnaround on service.
650-454-4938 www.reel-ex.com