Berryessa Lake and Reports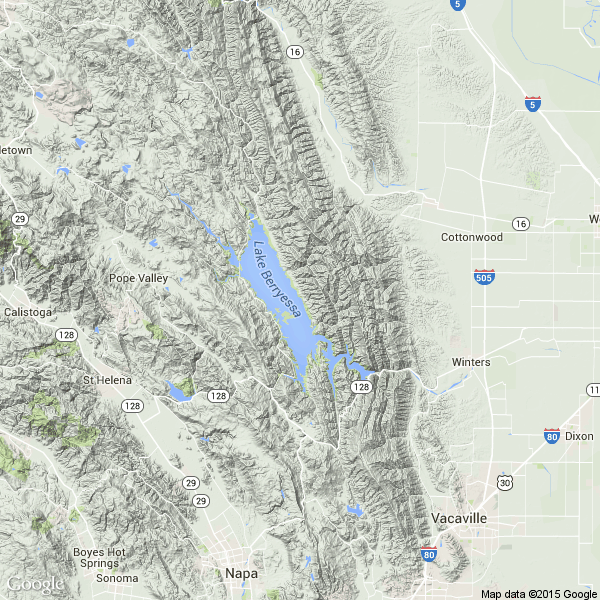 Click for Navionics/Google interactive map
Tuesday, Mar 31


Saturday, March 14th, 2020
Water Temp: 52-54

Water Clarity: Clear (4+ foot visibility)

Report: A friend and I hit Berryessa on Friday for about 6 hours and found the bite to be slow, but ok. Several in the 2 1/4 to near 3 lbs - all three species - with some fat smallies! One of my 2 1/2 lb smallies looked like a trophy - tall as she was wide - gorgeous!!! Love this time of year - pre-spawn! We fish the narrows and the lower lake areas - both sides. No hot spots as they were scattered - one here and one there. Best 5 about 12 lbs. We found some on shallow flats near deep water and a few on points.

Lake was about as gin clear as it gets with the lack of rain. I don't think this weekends rain will change that much as the ground soaks up most of the first rain after any kind of drought - even just a 2 month drought. I usually don't join the Putah Creek crowd, so don't offer info on that area. Gives me more fishing time.

Tips: Ya might want to use lighter line if we don't get much rain in the future. The sun will be higher each day and water can get really clear in the spring if no runoff. If there is runoff - find the murk or the mudline!! I did try some crankbaits and usually do well this time of year, but not this trip. Water is warming - slowly.
Wednesday, March 11th, 2020
Water Temp: 56

Water Clarity: Clear (4+ foot visibility)

Report: Got out to fish this nice weather, got on about 7:30am hooked up within 30 with a deep diving crank. Another next cast with a Little Dipper. Fish are definitely up, seems like there targeting beds looking for somewhere to spawn. Rest of fish on dropshot which made those first two bites a tease. I'm sure this cold front storm will throw them off but might be a tough tourney this weekend.

Tips: Wear your sunblock
Friday, January 31st, 2020
Water Temp: 52 to 56 degrees

Water Clarity: Clear (4+ foot visibility)

Report: After last weeks "blowout" at Oroville with only one bite, we hit Berryessa today and did some better. I had my first fish on my first cast, a smallie, but it slowed down from there. We stayed pretty much in the narrows today and I ended with six bass with no size. Buddy Doug ended the day with just two. We found bait both shallow and deep but could not get them to bite. All eight of our fish came from less than 20 ft., with the shallowest at about 8 to 10 feet.
Thursday, November 21st, 2019
Report: To all club members

mailbox service

Thu 2019-11-21 15:15

bac Peter Lancestremere
It is with great sadness to let you all know of the death of BILL SCOTT husband of Stephanie Scott. Owner of:
Gus's Fishing Tackle
3710-Balboa St.
San Francisco, Ca
94121.

Gus' has been an institution in the fishing community forever.

Sent from my iPhone
Saturday, November 16th, 2019
Water Temp: 59

Water Clarity: Clear (4+ foot visibility)

Report: Bite was not on for today, conditions seemed great the overcast, light breeze. Surface temp is lower than I prefer but was expecting to find more active fish feeding before it gets too cold, trout are very active fish chasing bait on the surface every spot I fished. One smallmouth on a jig and one spot on dropshot. Fished from 6-2 an called it
Wednesday, November 13th, 2019
Water Temp: 61-64

Water Clarity: Clear (4+ foot visibility)

Report: I guided two older gentlemen at Berryessa on Thursday. We found the fishing - "dead calm without a hint of a breeze." Normal for Berry lately! Finally some clouds the next day. I don't say much about my clients, respecting privacy. But one of them the most senior I have ever guided -- 90 +
and could cast like he was mid 20's - no kidding!!! And he set the table, catching a keeper bass on his first cast!! I have now "seen it all" as a 36 yr guide!! We moved around the lake quite a bit and found the very clear water everywhere. Really couldn't find any big schools of bait fish, though we only went up to mid-lake. We wound up with several nice bass of all three species. Biggest was 2 3/4 lbs. We were drop-shotting Robo worms and dart heading Yamamoto grubs. Best 5 only about 10 pounds.

Tips: Whatever tip I have, yours is probably better. We did find a lot of bass in the wood on the east side and did well in the afternoon. Maybe should have tried topwater there in the early morning!
Sunday, October 20th, 2019
Water Temp: 63-67 F

Water Clarity: Clear (4+ foot visibility)

Report: Got out to the lake this past Sunday hadn't fished up there in months was hoping the fall feed would be on! Water temps were still a little high but definitely some packs of schooling fish chasing bait. Started off the day on an off-shore hump in about 15-25' of water dragging a small underspin and caught a few dinks then decided to get on the big motor and idle around and do some graphing.

Found a pretty large school of largemouth out in about 45-55' and went to work spooning. Caught about 8-9 largemouth (up to 3lbs) out of there in rapid succession then before I knew it they were gone and I couldn't get on top of them again in the general vicinity.

By this time it was about noon and it was starting to warm up so I decided to try and start running some bank and fishing shallow with a weightless fluke. Caught a couple small ones here and there not too much action though.

Went over to the vineyards and that seemed to be the juice. Was fishing pretty shallow 3-6 feet fishing fluke pretty fast and erratic. Caught some more largies up to about 2.75 lbs. Had one big mama come out from under a half submerged bush but she wouldn't eat it. Circled back to the same bush about 15 minutes later with a popper and she blasted it. Some schools of bass running/busting on bait through the Vineyards also were easy to pick off if you could get your bait to them

Overall a solid day, Was catching fish in 3' down to 50'. They seem to be all over the place still.

Tips: Most of the bait i was seeing was micro in size, .5"-1" in size.
Friday, September 27th, 2019
Water Temp: 75-79

Water Clarity: Clear (4+ foot visibility)

Report: Amazing day at Berryessa yesterday - and not in a good way! My client, who is an excellent bass fisherman, and I stared out in areas near the dam with no results. We went further up the narrows and found a nice, deep point. We threw topwater and soon I had a vicious hit and after a major tussle, landed a 3 + lb spotted bass. This is going to be THE day!! Not so!!! We drop-shotted a dink, then headed for the main body where my previous trips had worked out well. I stared looking for the bait that had been everywhere in previous trips - filling the screen of my HDS 12. NO bait here, NO bait there, NO bait anywhere!!! Moved around quite a bit - still NO bait. And, no bites. Couldn't believe it. He finally did catch a small bass. Hard to remember a trip that tough after the overall good September. The thrill of the day was getting across the main body after the cold front wind hit about 2 pm. Wow, that lake with all the open water, like Clear Lake, can get nasty in a matter of minutes. Only speared one wave - highlight of the day

Tips: Obviously, the bait made a fall move and we didn't make the same move - I guess. We got a few spoon bites but missed 'em. As we moved back to the narrows in the afternoon, we did see a little more bait on the meter. Bait could be moving towards the north end of the lake
Thursday, September 12th, 2019
Water Temp: 78-82

Water Clarity: Clear (4+ foot visibility)

Report: I took my first-ever (I think) clients from Iowa, who wanted to fish Lake Berryessa while they were in the area. A wonderful husband/wife couple who has been traveling around the country. She read - he fished!! I always wish the fishing would be tip-top for out-of-state visitors. Actually - it wasn't bad! If Berryessa wouldn't go dead-flat calm in the fall afternoons, the morning bite would continue. After 1 pm the lake was like a pane of glass! But the morning was breezy and the bite was on - sorta. We drop-shotted Robo worms in shad and morning dawn colors until about 11 am and then switched to spooning with Blade Runner 1 3/4 oz spoons mostly in the morning dawn color. Around noon he hooked the big-un of the days at 3 1/4 lbs - a nice spotted bass!! We had a few dinks, but most were 2 1/4 to 3 lbs - all three species! His best five - around 12 or 13 lbs.

Tips: We started early out of Markley Cove and fished shadow areas in the narrows. We went thru a tough stretch, losing several quality bass. Just think they weren't aggressive early since we saw NO topwater action - only a dink or two. Our spoon bite was interesting as we found the most active bass closer to the bank than I expected. That's where the bait was. Didn't find many schools of bait far offshore as we usually do. Most were in 20 to 35 feet - close to Big Island and the west side. Interesting that we didn't find many huge schools of bait. Last week they were everywhere!! Fall fishing is here at Berryessa - hunt bait - fish. Hunt bait - fish!!
Tuesday, August 6th, 2019
Water Temp: 84

Water Clarity: Clear (4+ foot visibility)

Report: I took a friend out for a short evening/night trip. Bite was very slow - probably because of the heat, We did catch a good largemouth about 8 pm that went 5 1/2 lbs. We caught a few in the 2 - 2 1/2 lb range. After dark a 3 lb spotted bass and another largemouth just under 6 lbs. The two night fish hit the usual 7 inch black Berkley Power worm. Our best five were close to 20 lbs. Quality bass fishing but not quantity this trip. Saw lots of fish on the meter from 20 to 40 feet, assuming many were bass. I think the sudden heat spell slowed the bite.

Tips: Topwater didn't work with the sudden heat. I guess that was the problem. It was strange to catch one of the big largemouth during the first 10 minutes of the trip on a hot evening. We were fishing evening shadows on a deep wall. Overall, I really think the sudden hot days that were late this year might have the bass a little disoriented. Even after a few hours of dark, the fish were not active as they were on my night trip two week ago. Warmer water with dark of the moon probably the reasons. Yet, bigger bass were biting. So - that's bass fishing - something different every trip!! That's why we keep coming back ---right??
Monday, July 22nd, 2019
Water Temp: 80-83

Water Clarity: Clear (4+ foot visibility)

Report: I fished Berryessa on Sunday at possibly the worst time of the day, 9:30am to 3pm. Busy with my imminent move to the east coast, I couldn't pick a more optimum time. Us weekend warriors have to make do with the time we have.

It was a hard bite for me, I searched shallow along Putah Creek and Schoolhouse Island area with no luck. I picked up 4 keepers 30+ feet deep with a drop shot. All of them came from one point. One of them at least was a nice 3lb 18inch long spot. He hit hard and fought hard. After 12pm it was like the entire lake shut down. I couldn't find ANY fish up Putah. Berryessa is like that for me sometimes, as in all the fish seem to vanish. My graph was showing empty much of the day.

In hindsight I should've run around more, graphed more areas, tried to locate schools of fish. But hey, sometimes you just want to lazily put a line in water, fish be damned.

Another confounding factor was that the pleasure boats and the jet skiers were out in full force today. Driving by Capell it looked packed, and by the time I recovered the boat, Putah Creek Campground was also full. There was one jackass jet skier that rode way too close to my boat. He then peeled off and did the same to another boater fishing. Then he did it again to some shore fisherman. He was staring us all down and made a fist or something. Be safe out there guys, there's a lot of idiots on the water this time of the year. Interestingly enough I only saw 1 or 2 other bass boats. The rest were smarter than me and probably were waiting for the evening.

Tips: Well for starters don't fish the time I fish. There's a reason why reports recently have been at night. If you must, you'll have to run around to try and find them. Generally speaking bass either go deep or REALLY shallow during the hot deep summer days. I haven't had any luck really shallow, but Greg Blanchard put out a youtube video and he got some shallow. If you fish deep most likely they'll be at least 30 feet deep. Again, this is middle of the day, at night they seem to move up shallower, chasing shad back into the coves or creeks.

Once again, the googan baits drag n' drop did the trick. I used the morning dawn color. Don't get me wrong I love roboworms but it's good to switch it up every now and then. I've been using Gamakatsu finesse worm hooks to t rig my worms in my dropshot setup, but decided to try the Owner down shot offset worm hooks. Very impressive, sharp, slim profile, and all the fish were hooked well.
Wednesday, July 17th, 2019
Water Temp: 80 plus

Water Clarity: Clear (4+ foot visibility)

Report: Fishing with sid

This past week I took Al and his son Jon out for the day. The first two hours of fishing were a little disappointing. We caught many fish but none were keepers. We fished the east side from the ranch house to the vineyards. After an hour of worming the bass were still small so we headed toward big island on the west side hoping to hit some bigger fish. Sure enough we started to hit bigger bass. At the end of the day we ended up with a couple of nice limits (see photos). The following day I went out with Patrick following the same routine as yesterday but the bite was better and the bass were bigger (see photo). The fishing is great at this time and the weather perfect.

https://nam04.safelinks.protection.outlook.com/?url=www.fishingconnection.net&data=02%7C01%7C%7C92aa5d49a971417d01dd08d70a4159b0%7C84df9e7fe9f640afb435aaaaaaaaaaaa%7C1%7C0%7C636989148096033357&sdata=Ci2ZMjgXY%2Fdgj02tZEH4bTNVTyCPdrEeEn3Bk30QoHs%3D&reserved=0 If you have any questions or stories you would like to share or are interested in booking a guided fishing trip please email me at bestguide@hotmail.com or call me at 650-583-3333.

Tips: looking to go out for a full day of fishing next week will try many ways to catch bass.

Water Temp: 81-84

Water Clarity: Clear (4+ foot visibility)

Report: I finished a guide trip with a good angler that I had to postpone from May during one of the many heavy spring rain days. In 2 hours we were soaked thru and thru!! Glad we did as the night bite was pretty good last night and the full moon rise was stunning! Never get tired of that on Berryessa or Clear Lake!! Only hooked one real big one - right at total darkness (no moon yet). I thought he had her hooked good but she came off - big fish!! We fished until 1 am and found the bite to be steady most of the time. All smaller bass of all 3 species - maybe up to 2 3/4 lbs. Toads were fast asleep!! I was happy that the bite did hold up most of the trip - lots of action from 1 to 2 1/2 pounders. Most bites from 10 to 20 feet. Didn't hook any deeper bass. Drop-shotting worked best before dark - MM111 was strong.

Tips: We did get a fair topwater bite at dusk. Best just before total dark! Could hardly see them for the net job. One doesn't lip them at dark with treble hooks!!! After dark the bite was consistent with the smaller bass, mostly 1 1/2 to 2 1/2 pounders. Interesting that all 3 species of bass were active - almost an equal number of all three. Black Power worms were the best bait last night. Nothing fancy, just Texas rigged.

I noticed that the bait wasn't very deep - 15 to 25 feet. That was the depth of most of our bites. After dark, we only heard one loud power boat at the north end. Berryessa was our private lake!! AND!!! A shout out to the brand new navigation blinking light buoys all near points in the narrows. Not sure when they arrived, but will be a great help during the dark of the moon. Fantastic!!!!
Saturday, July 13th, 2019
Water Temp: 76-80

Water Clarity: Clear (4+ foot visibility)

Report: Fished the weekend in Berryessa with a friend. Water was super calm in the morning and the lake was fairly clear. There were a ton of bait fish everywhere and we saw multiple bait balls throughout the entire lake. Started the morning at Markley cove and worked our way from the south side of the lake and later in the morning moved up towards Putah creek. We practically fished the entire Putah creek area where it was much calmer from all the boat traffic happening on the main lake area.

I caught a few smallmouth on a ned rig with 1/5oz weighted shroom and Missile baits ned bombs using green pumpkin and black and blue flake colors. Also caught a nice 2lb 14oz bass on a megabass vision 110 jerkbait and another 2lbr on the same jerkbait. Most of the fish we caught were around 1lb or so. My friend caught all of his fish on a dropshot rig with a morning dawn roboworm.

There was a lot of action on top of the water with a few bass chasing bait but we just couldn't get anything to bite with topwater. We missed a few blowups as we saw swirls behind out biats, but they just wouldn't commit. All in all, it was a decent day with both of us limiting out. We took pictures and released the fish back in the lake.

Tips: Ned rigs and dropshot seems to be the ticket. I'm sure slow rolling a jig could also work. Most of the fish we caught were closer to the bank in about 10-15ft of water and various points are a great place to catch the larger fish.
Monday, July 8th, 2019
Water Temp: 78 to 80

Water Clarity: Clear (4+ foot visibility)

Report: Fishing over the Fourth of July holiday was great!!! On Wednesday I took out Josh and his son Luke. We fished the shoreline on the east side and west side with fair results the largest bass weighing in at 3 1/2 pounds and the second largest weighing in at 3 pounds (see photo). The following day I went out with Lonny and his sons Max and Dylan. We trolled around the big island catching and releasing bass and the largest one weighed in at over five pounds (see photos). The next day I went out with my fishing buddy Albert and we did very well catching and releasing over twenty-seven fish mostly small mouth bass. We ended the day with two nice limits. All in all it was great weather, great fishing and a very enjoyable holiday with friends and family.
'til next time..............................................good fishing!!!!!

https://apc01.safelinks.protection.outlook.com/?url=www.fishingconnection.net&data=02%7C01%7C%7C4b92fd1a63834cd6079708d703d09899%7C84df9e7fe9f640afb435aaaaaaaaaaaa%7C1%7C0%7C636982066755896205&sdata=wKhe%2F%2FIOHimeFXmw8GOKnZMMkaXumqjKBlr6ellwMhM%3D&reserved=0 If you have any questions or stories you would like to share or are interested in booking a guided fishing trip please email me at bestguide@hotmail.com or call me at 650-583-3333.

Tips: try and fish early so you don't get wakes from the boats water skiers and tubers call for reservations early don't forget your fishing license and plenty of fluids.
Saturday, June 29th, 2019
Report: by Kyle46N » Sat Jun 29, 2019 12:40 pm

Took my kids to Berryessa yesterday, started out on main lake points. We caught some good fish, 3.5 lb smallie, some 3lb largemouth, and about a 3.5lb spot. About 15 fish in all but a pretty good best five. We fished in to some coves in the narrows, caught only one largemouth, but lost what I guesstimate a 5 lb spot on a neko rig. She made one too many runs under the boat and pulled the hook. Kind of stung for a while. Otherwise, nothing in the coves. Fish were anywhere from 10 to 30 ft along the points, shallower in the morning, moving deeper later. Always on the downwind side, nose to the slope. We couldn't get them to eat anything but TRDs....3 and 4 inch. Had to really crawl it on the bottom. I threw alot of jigs, swingheads, and shakyheads in the same areas the kids were NEDing, but couldn't get bit. Hope someone can use this to get you or your family on some fun.
Saturday, June 22nd, 2019
Water Temp: 75

Water Clarity: Stained (2-4 foot visibility)

Report: This past Saturday I took Jessica and Andrew out for the day. As we headed out of Steele Park the wind seemed to pick up and we saw we were heading into good size white caps. I had planned to go to the Narrows first but the large waves prevented me from doing so. I headed west towards the Big Island and was able to cross over to the Ranch house cove where the water was calm and we were able to fish. I decided that worming would be the most productive method and it rewarded us with a nice 3 1/2 pound largemouth bass brought in by Jessica (see photo). I wanted to take them to the vineyards so we headed in that direction fighting the waves and trolling the shoreline. They had a few hits and hooked a few fish but the rough water worked against us and managed to knock the fish of the hook. It was a rough ride to the vineyards but we made it only to encounter the same conditions and the same problems. We tried worming but the wind and the waves pushed the boat to fast. We started heading back towards Steele Park which was a lot easier because we were working with waves and not against them. Andrew hooked a nice bass along the way (see photo). As we neared Steele Park I decided to go into what used to be Willie's Ski School and the water was calm and there was a nice breeze and we ended the day there. With all the difficulties they told me it had been a great day and they would definitely do it again.
'Til next time.............................................good fishing!!!!!!

If you have any questions or stories you would like to share or are interested in booking a guided fishing trip please email me at bestguide@hotmail.com or call me at 650-583-3333.
Sent from my iPad

Tips: looking forward to the holiday see you on the water

Water Temp: 80-83

Water Clarity: Muddy (0-2 foot visibility)

Report: Yes, the lake was very murky Thursday. I tried to do this report yesterday, but didn't go thru. This will be short! Had an excellent trip Thursday with a wonderful client - fun and a good stick. I guess the guide is happy to say that when the client landed a beautiful 4 1/2 lb largemouth early in the trip and follows that with his first-ever spotted bass at 3 lbs 5 oz. Hey, this client is a keeper - LOL!! And the client is from big bass Texas, so he needs to be impressed. He land his two big 'uns and I lost my two toads - one a big smallie that I saw for a second or two. I showed him a big part of the lake and we fished some of the main body. Most of our action was in the narrows however. The new #980 Senko continues to work well and produced several bass. So - what does he catch his two nice bass on? What else - a morning dawn-chartreuse tail Robo worm - drop-shotted. Yea, a lot of thought went into that set-up!! Best 5 at 16 lbs. Should have - could have been better!

Tips: It was hard to figure out the conditions as a very cool early morning breeze greeted us and the water was quite dingy. That surprised me! We tried topwater but only had one blowup. Figured the cool breeze shut that bite off. Caught a few on Keitech swimbaits. A good early summer pattern worked for us, finding every last east shore tree shadow we could find. Bass were there until shadows were no more!!
Saturday, May 25th, 2019
Water Temp: 68

Water Clarity: Clear (4+ foot visibility)

Report: We fished from 12:30pm to 7pm. Water was more stained than usual. Launched off Putah Creek Campground and stayed in the general vicinity. It was a fun style of fishing, largies and smallies were biting near shallow cover. Best 5 about 10lbs. 21 fish total. Nothing special considering 50-100 fish days here are possible, but fun nonetheless.

Tips: Postspawn patterns. Fished near the mouth of coves around the main lake and Putah Creek. Drop shots and finesse jigs. Best fish was a 2.5 lb largemouth that nailed a finesse jig in Putah Creek.
Friday, May 17th, 2019
Water Temp: 69

Water Clarity: Clear (4+ foot visibility)

Report: Fishing for the season started for me this past Friday. I took Tim and his children, James and Elena, out for the day. We went to the back of the Monticello Ski School for our first stop just to check it out. I saw no real signs of fish activity. Next stop was the Narrows where we trolled along the rock wall with no bites. I decided to go towards the vineyards. We trolled along the shoreline using Speed Trap crank bait and Procure rainbow trout scent and our first catch was a largemouth bass that weighed a little over 2 1/2 pounds which Elena did a good job bringing it in and her dad netted it. Tim was next to get a hit and he brought in a nice size bass and Elena did a great job netting it. Our next bite was a nice size crappie using the same lure. I found a spot where we could worm and throw crank bait at the same time. Using a 4 inch senco chartreuse colored worm with brass and glass set-up and drop shot set-up we had success landing bass. We all agreed that it had been a very enjoyable day.
'til next time.................................................good fishing!!!!!

If you have any questions or stories you would like to share or are interested in booking a guided fishing trip please email me at bestguide@hotmail.com or call me at 650-583-3333.
Sent from my iPad

Tips: pro cure scents ,senko, speed traps ,brass and glass, drop shots, , top water,are successful ways to fish this lake call me if you need help or want to book a trip on lake berryessa only.