Berryessa Lake and Reports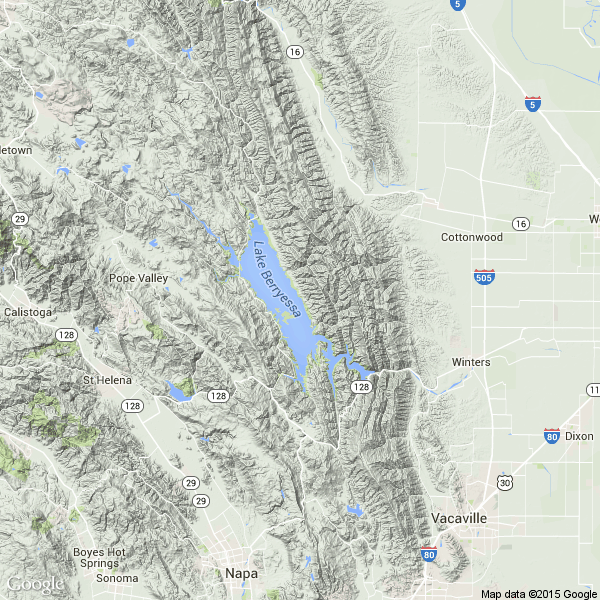 Click for Navionics/Google interactive map
Wednesday, Nov 14

Friday, November 2nd, 2018
Water Temp: 67-70

Water Clarity: Clear (4+ foot visibility)

Report: Spoonmeister Rick Tietz (Blade Runner Tackle) and I finally got to Berryessa yesterday for a great day of spooning for bass. That's all you are allowed to do when you fish with him - LOL!! I did drop-shot a bit, but most mostly spooned all day. I still have feeling in my fishing arm after 7 hours of spooning!! You don't count the number of spoon fish when you fish with Rick - he will catch a million and I am only in the thousands!! What a day! We covered the whole lake - even into Putah Creek some. There were a few slow areas, but when you found the feeding schools of bass - WOW! One doesn't keep count on a day like that - but at least 80 plus. AND - my 9 lb catfish hooked at 50 feet which took several minutes out of my day. Who knew they would take a spoon! As Rick would say - we saw massive schools of bait in the main body - and the bass were eatin'!! Our best five - about 16+ pounds. Since we were in short sleeves on a November 1st day, I guess the bass felt a need to feed as winter is in doubt! By the way, the 7th out of 8 trips at Berryessa with totally flat water - not a HINT of a breeze all day - even into evening. This on the main body - there was some breeze in the narrows.

Tips: Some days when a spoon bite like that is on, it seems any color will work. Rick and I do have our favorites - he was using his UV Morning Dawn most of the day and I went with my favorite Black Shad. He even makes a UV Black Shad, but I was using the old fashioned plain Black Shad. He tells me after the trip - "Oh, I have a UV Black Shad!" He tells me that after he is assured that he caught the most - LOL!!! We only use the 1 3/4 oz size as one wants to get down to the "eatin zone" quickly - where the action is!! The bait balls were always near the bottom but later in the afternoon moved up to the 25-30 foot depth. Remember, don't spoon below their feeding depth because fish can't see down, only level and up. Fishing for suspended bass is always a little more tricky. That is why you always see fish in an aquarium feeding on the bottom at a 45 degree angle. If their food source is at their level or above, fish will always be horizontal or head raised. That is why they spook so easy when you approach them from above - on a bank or on a dock. The vibration will do it too - why do our boats have carpet? Anyway - great day with a great and talented friend. If I could just get him out of the shop more often.....!
Thursday, November 1st, 2018
Water Temp: 67

Water Clarity: Clear (4+ foot visibility)

Report: Got in a little late this morning and the fall bite is here! Millions of bait fish right at the doc at Merkley Cove. Used rattle trap, deep dive swim bait, Ned rig, drop shot and Senko. Cought some nice fish.

Tips: Always keep your eyes open... lots of birds usually means bait fish which equals big bass
Thursday, October 18th, 2018
Water Temp: 68-72

Water Clarity: Clear (4+ foot visibility)

Report: I will have to agree with Will about his previous report. The bite is picking up - at least at Berryessa yesterday (Wed). Not sure why - same conditions. Totally flat water again - 5 out of 6 trips - NO breeze even after 3 pm!!! We used the Lowrance again to find bait, and about 1 pm - we did!! Bait that was not in the typical tight baits balls we have seen recently. Drop-shotting and spooning - back at it!! Blade Runner 1 3/4 oz spoons (black shad) were working almost a well as previous years. Finally found bait that were not in tight schools. Average depth was 40 feet. This trip had a special blessing as I had not seen many smallies in my previous trips. It is sort of normal that the 3 species of bass have their ups and downs of activity during the year. We were still fishing morning shadows as one of the clients sticks a good one. As I got a glimpse of her near the boat, I almost freaked! Got the net quickly and soon boated a 3 1/4 lb smallie. Soon I landed a 3 lb even smallie! There're back (maybe)! We didn't catch big numbers of bass, but they were bigger this trip - guessing around 14-15 lbs - best five.

Tips: Shad color Robo worms were working better on this trip, along with MM111. Even used a blue shad color. Didn't see any bass chasing bait (haven't for the last 3 trips), but would see fish breaking the surface occasionally, with no particular pattern. One here, one there - all off-shore. Didn't seem to be chasing anything. Bass are moving some - areas that had been good last month, dead now. I'm working new areas with my clients now - worked yesterday!!
Sunday, October 14th, 2018
Water Temp: 69-74

Water Clarity: Clear (4+ foot visibility)

Report: I have to agree with the previous report, generally speaking. I did two guide trips this past week at Berryessa and the bass were asking "Where is the fall cool down?" Surface temp was still above 70, even in the early morning. Finally had a breeze on Friday, but it didn't help much. Both trips were about the same - lots of largemouth and spots. Very few smallies lately. Since I had three clients for the last trip on Friday, I didn't fish much. Did make some casts at each new area, trying to get something going as the bite was pretty tough. Near the end of our trip, I threw out the 'ol Robo worm, actually trying to feel the bottom structure as the lake is dropping some. I got hammered!! Good fight which I won - beat a 3 3/4 lb spotted bass! Where did she come from?? She's back in the water to fight another day! Besides a few 4" bass they caught, the quality for my clients on both trips was pretty fair - many up to 2 1/2 lbs. Again, mostly largemouth.

Tips: After several trips with good surface activity in the morning, that all changed this past week. Almost no surface feeding. Friday we saw GIANT bait balls on my HDS-12, tightly organized, with no bass feeding on them. One of the bait balls covered half the screen! Weird. I have seen this before many times - a real slow period of a week or two before the sudden cool down which gets the fall bite going. I have noticed that other lakes are creating the same problem for anglers. Have faith - it will change!
Tuesday, October 2nd, 2018
Water Temp: 71-75

Water Clarity: Clear (4+ foot visibility)

Report: This is two reports - last week and this week, a very rare Monday trip for me. Who would guide on a Monday?? It was very hard to figure out what was going on yesterday (Monday) - not a bite until noon. Was it the result of weekend boat traffic or the weather. Yesterday saw the lake totally covered over with clouds and a cool breeze - not fog but REAL clouds. I mention this because this was the first cloud cover in months! We even got about 20 to 25 drops of rain. About 10 am the breeze died and the lake went TOTALLY flat - even calmer than last week. Not a single fish was seen on the surface for hours! No birds in sight. As the clouds slowly broke up around noon and the sun came out - killed the bite - right? Since there was NO bite, the bass decided they were hungry and started to feed around 1 pm. A big school of medium size bass even started to bust shad on the surface for about 10 minutes. Bass started eating our Robo worms and Yamamoto Cowboys. Once again, the bite on my boat at Berryessa is around 2 pm - weird! We had to leave shortly after, but having caught several bass in the 2 to 3 lb range. I had a father/adult son team. The son ended the trip with 2 back to back bass in the 2 1/2 lb range. I guess patience is a good thing when bass fishing - you never know!!
The previous week I had a guide trip and found the bite to be the slowest of the year. Wouldn't you know - a client from Australia! Bluebird bright skies and dead calm water as most of the fall has been. We did get a very nice topwater bite early in the morning, but very slow bite after that. He tried to lift one in the boat on his topwater before I could get the net ready. Naturally, he lost her. Of course, it was the biggest at maybe 3 1/2 lbs! Got a few drop-shotting Robo worms - not much else working.

Tips: It seems that the only thing that will cool our lake water is the longer nights. It will happen soon and the bite should take off. Yesterday we saw some big schools of shad on my HDS-12, but very tightly bound together. Only saw one or two with bass in and around them and we did catch a few of those bass in the afternoon. Didn't see many bass on some of my favorite off-shore island tops - maybe because the lake isn't dropping much.
Thursday, September 20th, 2018
Water Temp: 72-75

Water Clarity: Stained (2-4 foot visibility)

Report: I was able to do a trip on Tuesday with Justin Wolff, owner of Angler West TV productions. With a camera everywhere and being recorded with all the pearls of wisdom - just a normal trip, right? And the bass recovered from all the weekend tournaments, right? Not sure. Clara Ricabal works with his company and was along for the trip. Thankfully, she caught the biggest bass! As it should be! Actually, it really was a fun day except for the weather conditions. The forecast was for a cool, breezy morning. Well, not so. We had bright sun with no breeze and the lake went totally flat by noon. Not a breath of wind. Very tough conditions! Thankfully, we did get a slight breeze in the early afternoon and the bass became active! What's new - the usual afternoon bite - at least in my boat. We didn't fish the early morning - started about 10:30 am at their request. Not sure how many we caught, but a pretty fair afternoon bite. It started with a really nice smallmouth, near 2 1/2 lbs, and then several quality largemouth. No 3 pounders this trip, but all over 2 lbs. We had our best action on a point I like around 2 pm. Some bass had actually moved shallow in the afternoon. They were hitting with authority! Couldn't get a bite there in the late morning!

Tips: I really enjoyed the time with both of them in spite of a slow bite. It is weird to lip your bass as you bring it in the boat, lift it up, and a camera is next to your ear! That was way cool. Justin is a master of the camera! Then the angler (Clara or me) tries to say something intelligent. We did sound like pro anglers - I think?? We are looking forward to the finished product, or show, or something! I hope he has an enlarging app on his camera - LOL! While a few anglers did well on the major weekend tournament, September is really a slow month at Berryessa and Clear Lake (daytime). Night fishing is best. October will bring the colder and longer nights and the overall bite, day and night, will improve!
Wednesday, September 12th, 2018
Water Temp: 75-78

Water Clarity: Stained (2-4 foot visibility)

Report: I enjoyed a really nice guide trip today with two excellent bass fishermen - one being from Utah. The bite was good - again better in the afternoon! We fished the narrows in the morning and the main body in the afternoon. Caught a few small ones on spoons, but drop-shotting was again the way to go. They each caught a largemouth and a spotted bass in the 3 lb range and several from 2 to 2 1/2 lbs. We did have some help with the first cloud cover in weeks which might have off-set the very cold, breezy morning. Most of our fish were still in the 40 ft range even though bait was all over the place. Small bass were chasing bait in the early morning, but no big ones were seen. Our best color Robo worm was the MM111. Don't understand - that is not a shad color!! We fished all over the west side of the main body.

Tips: We found most of our bass on deep water flats - mostly off-shore types. They seemed to be roaming a lot. The bite would be on and off. As the afternoon cloud cover increased, the bites became "pressure" bites. Seemed like they were bothered by the clouds. I thought it would be the opposite. They really had to pay attention to hook their fish. Overall - very nice trip. Around 25 keeper bass, all 3 species, but only 12-13 lbs for our five best.
Monday, September 10th, 2018
Water Temp: 79

Water Clarity: Clear (4+ foot visibility)

Report: Fishing with Sid


The month of August was full of family and friends visiting and wonderful weekends at the lake. The fishing was outstanding and the best part was teaching my nephews and my friends children how to fish. A few highlights were taking my new friend James out and he caught his personal best bass with me. Another weekend I took Max (age 7), his brother Dylan (age 4) and Jose (age 9) out for a couple of hours (see photos). They were so excited when they caught fish I think three new fisherman were born. Every time they tell the story of how big the fish they caught were it gets bigger and bigger. I want to thank Ranger Products rubber nets which made it easy to land the fish which I bought at Dick's Sporting Goods. As the summer comes to an end and the chill will soon be in the air I hope the fishing will continue to be as enjoyable as it was for the last few months. 'til next time........................................good fishing!!!
https://eur02.safelinks.protection.outlook.com/?url=www.fishingconnection.net&data=02%7C01%7C%7C4a69033ac01e4b3c043308d615b3ec9e%7C84df9e7fe9f640afb435aaaaaaaaaaaa%7C1%7C0%7C636720259838595819&sdata=1cRdI6lH8Qw8mS5Nx6KRQWENjBS%2FfEqPu9v%2FTzjb0U8%3D&reserved=0 If you have any questions or stories you would like to share or are interested in booking a guided fishing trip please email me at bestguide@hotmail.com or call me at 650-583-3333.

Tips: for pictures please email me I will be happy to send the photos with every story,Happy new years today I hope what ever you want comes to you.why I like the rubber net the hooks come out so easy,more time for fishing.on some of the days top water bite where ok we are about 16 feet down from the glory hole.my email bestguide@hotmail.com
Thursday, August 30th, 2018
Water Temp: 76-79

Water Clarity: Stained (2-4 foot visibility)

Report: What is with the 3 PM afternoon bite?? That is supposed to be the dead period in August. Mike Sperbeck got 2 nice bass last week about the same time after we had just started. I took "Cover Girl" Clara Ricabal to Berryessa on Tuesday, (Last week - Western Outdoor News - holding two foreign fish - salmon!) I confess - I fished for them many year in my backyard Feather River. She wanted to learn about spoon fishing, summer areas for bass, etc. We were using Blade Runner spoons in the 1 1/4 and 1 3/4 oz size, Again, the bite was fair, not as good as normal. She is a talented angler and picked the technique up pretty quickly. She even caught the biggest bass, a nice 3 1/2 + pound largemouth. She always does! Good summer bass, again, caught around 3 pm! Who needs to get up early anymore!! She did some drop-shotting also, and that technique was still good. She has her own collection of worm colors, so not sure what was best. We had to deal with a fair amount of wind on the main body but still were able to fish ok. Our best five only about 12 lbs, but we had a short day because of her work schedule. Caught all 3 species again - one 2 1/4 lb smallie and several good spotted bass.

Tips: One needs to look for the bait if possible as summer bass will follow it around. There are lots of bait balls but not as many bass around them as in normal years. There are bass roaming that are not tied to the bait. We found a big school or bait in the morning, caught a few and then left. Came back in the afternoon - the bait was nowhere to be found. Water level at Berryessa is excellent - only dropping very slowly. We found a lot of worm fish as shallow as 30 feet, but 40 to 50 feet was the prime zone.
Friday, August 24th, 2018
Water Temp: 79-83

Water Clarity: Stained (2-4 foot visibility)

Report: Had a nice trip yesterday with LONG time fishing buddy and owner/creator of Blade Runner Tackle, Rick Tietz! Most of you know he created the now famous Blade Runner spoon, with the most natural colors ever seen on a spoon. When I fish spoons with Rick, I do my best not to be embarrassed. He is the best! The bite was slower then expected in spite of bait everywhere now! Yesterday was cooler and windy which might have slowed the bite. Yea, we only caught around 50 and lost 15-20 more. It wasn't a search and destroy trip, just covered about 2/3's of the lake, checking out locations of bait, etc. Wow, Berryessa is one healthy lake!! In one section of the narrow, we saw an amazing feeding period of about 45 minutes, bass chasing bait all over the place. Makes one realize how many bass are in the lake - that don't BITE!! We did catch a few of them. I caught a few drop-shotting a MM111 Robo worm in 40 feet of water. We didn't catch any big bass, but several in the 2 1/2 to a little over 3 lbs. All three species were biting - and the smallmouth were back!!

Tips: We didn't fish much on the bank, just tried to find off-shore structure with ledges, rock piles, and creek channels. These are the new homes of summer bass, following the bait! We use the 1 3/4 ounce spoons. Don't waste time with a light spoon! As in drop-shotting, get down to where the summer bass are.
Friday, August 17th, 2018
Water Temp: 79-84

Water Clarity: Clear (4+ foot visibility)

Report: Mike Sperbeck and I started our trip out of Markley Cove about 3 pm, planning to do some night fishing. The afternoon/evening bite was good - better than we expected! Mike caught 2 very nice fish right away including a smallie over 3 lbs and and a 2 3/4 lb spotted bass. First place we stopped! And this is summer?? Those were in the narrows. We worked our way out to the main body, catching quality 2 to 2 1/2 bass of all three species. The smallies were back! We did catch a few dinks mixed in! Mike lost the usual "one that got away" right at dusk - a 6 lb plus that he lost on the first jump! Sad!! The mid afternoon good bite was a pleasant surprise! We were going to night fish some, but forgot about the Thurs night tournaments, and it was late, so we left at dark. If we didn't have a 14 lb limit, the best 5 was very close.

Tips: We were looking for the bait balls in the afternoon and found a few - one big one with some fish around it. The intense heat this summer might delay the bait balls for a week or so. Mike tried some topwater baits and caught a few small ones. I only had one or two hits on a spoon. How can one beat 6" Robo worms for a steady bite under tough conditions. MM111 was the best color yesterday. As the summer progresses, I have found the bass not as attracted to the morning dawn color as they are in the late spring and early summer. Just my observation. The night bite and topwater bite should pick up when the water cools a bit.
Sunday, August 12th, 2018
Water Temp: 83

Water Clarity: Clear (4+ foot visibility)

Report: Subject: Fishing with Sid




I took out Gary in the early afternoon and headed to the east side of the lake towards the vineyards. Along the way we caught some nice bass trolling. His five best bass weighed 16 lbs 7 oz the largest weighing almost 4 lbs. Our system was easy we used Procure trout scent on the crank bait and the fish kept biting. The next day I decided to fish in the narrows. I headed towards the dam and fished the rocky shoreline trolling back towards the main lake. I caught 41 bass in less then three hours with only one keeper weighing 2 lbs 4 oz it was a fun morning. The average size I was catching were about ten inches. Hope I get lucky when they get bigger next year. Fishing is still great and I hope it continues into the fall. 'til next time.............................good fishing!!!!
https://nam01.safelinks.protection.outlook.com/?url=www.fishingconnection.net&data=02%7C01%7C%7Cb08dcbeba714496bc29d08d600c5bb06%7C84df9e7fe9f640afb435aaaaaaaaaaaa%7C1%7C0%7C636697246570250252&sdata=D%2BLuba6nEOeh%2F70eOtKAl36De5blekzVnivVOc0%2BWew%3D&reserved=0 If you have any questions or stories you would like to share or are interested in booking a guided fishing trip please email me at bestguide@hotmail.com or call me at 650-583-3333.

Tips: one day all large fish next day onlt one keeper that's why we call it fishing.
Tuesday, July 31st, 2018
Water Temp: 81.5

Water Clarity: Clear (4+ foot visibility)

Report: Last week my son and daughter-in-law went out fishing and did very well. They want me to mention that they attribute this to their "good luck charm" Amelia (see photo). On Thursday I took Mike and his 14 year old grandson Jack out for the day. Jack's largest bass weighed five pounds two ounces (see photo) and he set the bar for the day because it was his first catch of the day. We had to take swim breaks during the day the temperature climbed up to 102 degrees. They continued to land bass all day but Jack held the record for biggest catch which he let us know over and over all day. Job well done Jack!!! 'til next time...............................................good fishing!!!!!
https://nam04.safelinks.protection.outlook.com/?url=www.fishingconnection.net&data=02%7C01%7C%7C5f627e99098945b2bd3a08d5f5ce2cc3%7C84df9e7fe9f640afb435aaaaaaaaaaaa%7C1%7C0%7C636685188211234725&sdata=hYNc%2Bdf%2FCF%2Fs3BHO2AKbhnwidRtx6la0UBtPxiEThpM%3D&reserved=0 If you have any questions or stories you would like to share or are interested in booking a guided fishing trip please email me at bestguide@hotmail.com or call me at 650-583-3333.

Tips: top water has not happened a few blow ups and roll overs drop sh0ts and square bills are the two best ways to put bass in the boat .I look for signs call me I will go over the signs I look for your call sid 650 583 3333 9am to 9 pm.
Thursday, July 19th, 2018
Water Temp: 84-92

Water Clarity: Stained (2-4 foot visibility)

Report: No kiddin' - water temp at Markley at 6 pm Wed was 92 - on the surface! When we quit at 1 am it had dropped to 84. I guided another pro athlete
for afternoon/night trip. Mr. Moody played for the Oakland Raiders during the Tom Flores era - early 80's. He wanted to learn more about fishing
artificial lures. We mostly used Robo worms until dark and then 7" Power worms after dark. About an hour after dark, he hooked into a good one. I stood there with the net for several minutes, finally netting a bass that never seen to end. Couldn't believe what we saw in our headlights as she
came out of the net. The longest spotted bass I think I have ever seen - but not skinny! She went 4 lbs. Pretty good for July! Don't think he will
need minnows now as he had a good limit around 14+ lbs. We tried topwater, but just too hot.

Tips: Besides seeing 2 eagles, I saw something I have never seen before in the summer at Berryessa. As we headed up past Big Island around 7 pm, I
never saw or heard a single boat north of the island the whole time we were there. That was a first for me. The fire damaged trees was a sad thing to see in the narrows. I guess I could say that the slow night bite didn't surprise me. The bite died around midnight as the quarter moon set.
Saturday, July 14th, 2018
Water Temp: 81

Water Clarity: Clear (4+ foot visibility)

Report: Fishing continues to be red hot at Lake Berryessa. My son and daughter-in-law landed some nice size bass this past weekend weighing up to 7.5 pounds (see photos of Sarah and her good luck charm Amelia). Friday night near sunset Kevin, Bob and I went out for a couple of hours. We went to the east side of the lake to one of my favorite sites and within moments of casting out the bite was on. Within a little over an hour we had limited out (see photos). I feel that the top water bite is ready to explode at any time and that is one of my favorite methods of catching fish. A few of my personal tips are I like to use P-line 6 lb. test green, Procure scents on all my hard baits and rubber worms and I like Speed Trap crank baits that sink down to 10 feet. These seem to work well for me continuously. 'til next time..........................................good fishing!!!!!
https://eur01.safelinks.protection.outlook.com/?url=www.fishingconnection.net&data=02%7C01%7C%7C1b9b2659b87948c3565e08d5ea019cb5%7C84df9e7fe9f640afb435aaaaaaaaaaaa%7C1%7C0%7C636672214995300979&sdata=sv%2B9cWGnWGC8otBJw8JyGE719U6hMa5At2%2BO%2FRrTKAs%3D&reserved=0 If you have any questions or stories you would like to share or are interested in booking a guided fishing trip please email me at bestguide@hotmail.com or call me at 650-583-3333.

Tips: call me for any fishing tips related to lake berryessa 650 583 3333
Thursday, July 5th, 2018
Water Temp: 78-81

Water Clarity: Clear (4+ foot visibility)

Report: Shout out to Larry Hemphill for the kind words. Before fishing Berryessa, I would read his reports for tips and inspiration. Hope to book a trip with you soon Larry!

Took a friend who's never caught a bass before to Berryessa. Even though the lake is over an hour and half away, I told him, "I can't guarantee a fish, but this place is the best chance". We launched at around 10:30 on July 5th. Being on the weekday and the fires, we were one of three boats. We pretty much had the lake to ourselves. Conditions for most of the day were calm. Almost no wind. I was nervous about that, hoping it wouldn't complicate things.

Thankfully the spots that I am slowly accumulating were still decent. With no wind, the water was crystal clear, and we could see everything. Schools of carp, bass, blue gill, it was awesome. That meant the fish could see us too, so we had to be stealthy, slow it down and downsize. Small jigs and drop shots were key. Tried top water but only one taker. Friend hooked a giant Smallmouth, but lost it right at the boat. I would guess 5lbs. Welcome to bass fishing I told him.

Tips: -Surprisingly, most of the fish we caught were shallow. Even the larger ones. No giants, probably out in deep water.
-Slow down and downsize.
-I'm very particular with line visibility and I feel that makes a difference.
-Don't spook the fish. Be quiet, lay off the t motor, watch hatches slamming, maintain distance etc.
Thursday, June 28th, 2018
Water Temp: 77-81

Water Clarity: Stained (2-4 foot visibility)

Report: I was happy for the previous posted report about Berryessa. Sounds like they had a great trip! I did my first night guide trip Wed - late afternoon/night. One night before the full moon. Not the night I would have preferred, as we were greeted by another cool front with a fair amount of south wind. We fished the narrows and some of the main body. In spite of the weather, the bite was fairly good the whole trip - lots of very shallow bass. Pressure was off me right at dark as my father-son team became a team - hooked 2 bass at the SAME time - seconds apart! No way to treat a guide - LOL!!! Luckily, the black light was on. Wound up putting both largemouth in the net in back to back swipes!! Lifted them in the boat - barely!! About 9 1/2 lbs combined! Dad's went 6 lbs 2 oz and son's - 3 1/4 lbs. That's the way to start their first night trip!! The rest of the night was good except for a few more quality bass they lost. The wind let up some around midnight and the bite improved. Several bass right on the bank after that. Good trip, especially seeing two bass over 6 lbs for back to back guide trips. I guess they do bite day and night!!

Tips: My clients gave the topwater bite a good shot, using buzzbaits. With the cold wind, it was slow for them. They did have one or two good blow-ups, one a good bass! Had it been a nice evening, I think they would have done well. After dark it was fun to do a night trip in my new Z521. Jeremy of C&C Marine did his usual excellent job getting my boat ready for night fishing. Fun to remember how big those bass sound at night!! We fished a few different baits, but the 7" Berkley Power worm again was the best bait.
Sunday, June 24th, 2018
Water Temp: 78-81

Water Clarity: Clear (4+ foot visibility)

Report: Last week was our first time at berryessa and we caught 20, staying in just one arm of the lake. This time, with a little experience, we wanted to break that number.

We launched at 12:30 pm. Given the extremely hot weather on Friday and Saturday, we were unsure how the day would go, especially since we were launching at a non-optimal time. Boy were we in for a treat.

Without giving too much away, we fished the west part of the lake starting at school house island. We landed 49 fish on the boat, which should have been 60+ if we weren't screwing around. Most of the fish were smallmouth with a few largies and spots thrown in. It seemed like anytime we found likely underwater structure/ledges, a finesse jig or dropshot would kill it. Submerged humps, dropoffs, rocks, you name it. What an amazing lake. Too amazing really, now I'm spoiled.

Most of the fish were caught with finesse. Around 2pm, after which we caught well past a limit, my partner decided to throw a topwater and only topwater for the rest of the day, because who doesn't like topwater? Some people will disregard the proven technique just for those few blowups. I can't say I disagree. Not expecting much, we were blessed to find a school of smallies munching on bait. Excited, he tied on a popper and lit them up.

I would estimate our best five at about 13-14 lbs, all of them smallmouth. We did have a giant largemouth hit a zaraspook but we couldn't hook up. I'm hesitant on guessing weight but it would've definitely been the biggest of the day. I moved here from central North Carolina 4 years ago, and have not caught a smallmouth until 2 years ago. So catching this many smallies was truly heaven.

Tips: If you're the type of fisherman who only throws reaction or senko close to the shore, you need to change your strategy. California reservoirs are not like the stained water reservoirs on the east coast. With frequently drawn down water levels removing shallow cover, you need to be comfortable fishing deep water. We literally threw everything just for fun. As stated before, a finesse jig or dropshot were the most effective for use, however we caught some on spinnerbaits, poppers, spooks, and cranks. Rocks and dropoffs were key, though flats were good if there were baitfish as well.
Friday, June 22nd, 2018
Water Temp: 78-81

Water Clarity: Clear (4+ foot visibility)

Report: I have mentioned in my reports about the good average size of the bass this year - and it continues! Buddy Mike Sperbeck and I hit Berryessa around 2 in the afternoon. That is usually when I am getting off the lake! So, what does he do? Breaks the rules and lands a 4 1/2 lb+ largemouth about 3:30 on the of the hottest afternoons yet (glad we are not there today and Sat)! Overall, the bite was good up until dark - except - the topwater bite. I got one small bass on topwater and no other interest. I really wasn't surprised as it was suddenly very hot in the evening with surface temp in the 80's. Some of the smaller keeper bass showed up again yesterday. Once again, only 2 or 3 smallmouth, but Mike did get a nice 2 3/4 lb smallie. None of the numerous 3 lb bass clients have been catching on my guide trips showed up yesterday. I think summer is here! Bass will need a little time to adjust to the heat.

Tips: Topwater might have been better on the east shore - around weeds and wood. Drop-shotting Robo worms worked well most of the trip. The new Yamamoto Senko "Moondust" attracted a lot of bass for us. Most all of our bass were caught in areas that have deep water access available. Not a lot of bass on the shoreline now. Our best five were probably around 12-13 lbs - summer limit!! One more item. The lake was almost empty out in the main body yesterday afternoon. Very quiet. Then, around Big Island, we thought we heard bugs coming. Then the bugs showed - 3 bass boats going north at the cruising speed of around 65-70! Then I remembered - Thursday night tourneys. Of course!!
Saturday, June 16th, 2018
Water Temp: 78

Water Clarity: Clear (4+ foot visibility)

Report: Since Memorial Day weekend the fishing has been red hot. On some days the top water bite was pretty good. My largest bass on top water was a little over 8 pounds and was caught on a whopper popper made by River2Sea. Kitty and her grandson caught some nice bass and a 3 pound trout (see photos). I took Abe and Freddie out and they each caught a limit of nice size bass (see photos). This past week I captained a pontoon boat for Tom, his two sons and his grandson (see photos). We had a very enjoyable time and caught bass drop shoting and Texas rigged Senko worms at the Vineyards using crank bait was the most successful method my favorite colors are blue and silver and chartreuse square bill. I feel that the fishing will be good through the summer. I want to wish all the Dads a very happy Father's Day and 'til next time............................good fishing!!!!
https://nam05.safelinks.protection.outlook.com/?url=www.fishingconnection.net&data=02%7C01%7C%7C0e0886bae2f34b2cd3e808d5d2209a94%7C84df9e7fe9f640afb435aaaaaaaaaaaa%7C1%7C0%7C636645959835247135&sdata=0yaaTCoLxIkUVL2%2FQePfBTc2Y%2B1cy5GEK6fDDihL5wA%3D&reserved=0 If you have any questions or stories you would like to share or are interested in booking a guided fishing trip please email me at bestguide@hotmail.com or call me at 650-583-3333.

Tips: caught a few top water fish we used a whooper popper the fisherman next to me caught a 10 pounder he also caught it on top water Sammy email request to see photos.Eagles are having babbies the bald eagles on goat island nest the branch broke and the nest fell to the ground...6foot wide nest.good news they relocated near the tubes near the B O R.