Berryessa Lake and Reports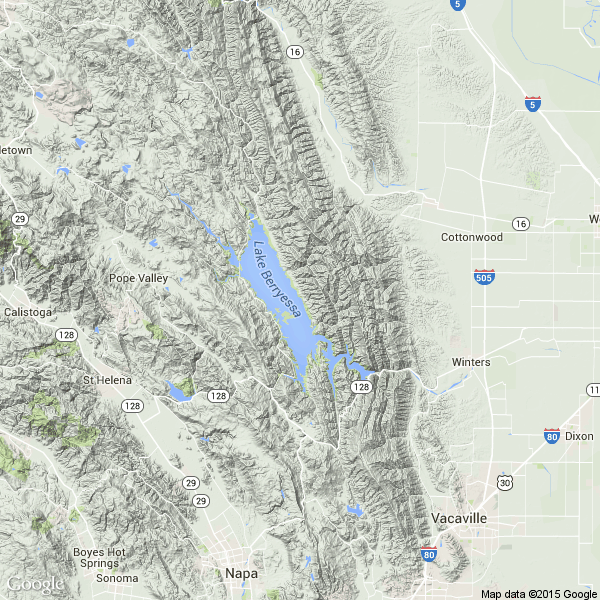 Click for Navionics/Google interactive map
Wednesday, Dec 6


Rain Showers Likely
Precip: 58%
Sunday, April 23rd, 2023
Water Clarity: Clear (4+ foot visibility)

Report: Posted many reports here pre 2005. Living in Oregon since then. Used to fish Won Bass from 2001-2004- Berryessa and Clear Lake. Making yearly Napa trip mid June to visit family- looking for numbers, not giants! What would you guys toss?? Any current tips appreciated! Come on Napa Steve and Skandy35- help a fishing brother out! PS- I really miss Lake Hennessey and Black Butte- two of my favorite lakes ever. I fish Cottage Grove Lake, Dorena Lake, Tenmile Lake, Cooper Creek Reservoir, Loon Lake and Siltcoos (once) here in Oregon.

Tips: I'd love some!
Saturday, December 10th, 2022
Water Temp: 52

Water Clarity: Clear (4+ foot visibility)

Report: Reaction baits working well main lake.
Had good success in the morning working whats left of the grass with a rattle trap. Caught 10 on the trap.
slowed down mid day and went to narrows. Caught maybe 7 or 8 on an A rig where bait was present.
Saw maybe 3 boats all day. Was great to be on a non crowded lake unlike the other ones.

Tips: jigs also working well on 10-20 feet
Friday, October 28th, 2022
Water Temp: 65.8 - 68.5

Water Clarity: Stained (2-4 foot visibility)

Report: Launched my buddys boat at Spanish around 8am. Found small bait fish schools with no Lassagna for the most part the whole day. Spooned, cranked top water for one or two. Blasted around the lake till 5pm. He caught 10 or so. I caught 2 all day throwing swimbaits, spinner, cranks. He stuck with the drop shot. Good day on berry fishing, could have been and will be better catching soon.

Tips: Keep coming back.
Sunday, September 11th, 2022
Water Temp: 77-83

Water Clarity: Stained (2-4 foot visibility)

Report: Fished primarily he north end of the lake and found a few fish in the 15'-25' range on the main lake areas. Lots of grass along the shallow areas of the lake down to 10'. We marked a lot of bait on the Garmins schooled up at the mouths of cuts. Once you get out past 10' the grass disappears. We found fish on the steeper banks where there was no grass. Caught a nice spot on a popper in the morning, then we stuck to plastics such as worms, hula grubs and jigs. Water temp was the highest on the northern most end of the lake. Water should start cooling down soon and the grass will disappear as the bass move into the creek arms chasing bait.

Tips: Get the bait down on the bottom and feel the rocks. Color didn't seem to matter. Green pumpkin, brown, prism shad.
Saturday, February 26th, 2022
Water Temp: 50-53

Water Clarity: Stained (2-4 foot visibility)

Report: I haven't submitted a report in quite a while. The lake has still been fishing pretty tough but is finally showing signs of improving. Decided to try the north end. Started on the west side and creek area marked allot of fish in the 15 to 25 ft range only caught 2 on a jig for the first 3 hours. Nothing on reaction Water warmed to 53 moved to the east side pulled up on a staging area. Started throwing an underspin 2nd cast I get a 3 pounder the bite continued for a while and ended with a limit for 14.5lbs. The wind picked up, so I moved around tried reaction and non-reaction baits with nothing to show for it.

Tips: They are starting to move up but only in small areas. You have to cover allot of water to find them but when you do they seem to be grouped up. Crawl the bait on the bottom as slow as you can stand, and the bite is very light.
Sunday, January 16th, 2022
Water Temp: 53-54

Water Clarity: Clear (4+ foot visibility)

Report: got 5 bites all day landed 3. all were near primary rocky points, drop shot, and split shot rigs. fished bama rig a bunch, no hits or followers. got 1 hit on a rattle trap.
Tuesday, June 8th, 2021
Report: y Fishermans Warehouse Megastore » Tue Jun 08, 2021 1:17 am

Went to Berryessa this week with my brother Ron. Took my dad's Boston Whaler, Ron put on MinnKota trolling motor and two Cannon electric down riggers. This was our maiden run and everything went great! Ended up catching our limit but it took us until 1 pm to do it! Lost five fish earlier and a couple big ones.

The Kok fishing at Berryessa is starting to pick up on the main body. Fish are 50 to 68 feet deep.

If you need some stuff to get started or restock, come on into Fisherman's Warehouse and will get you taken care of.

Alan Fong
Sacramento Fisherman's Warehouse
Thursday, April 8th, 2021
Water Temp: 68 to 72

Water Clarity: Clear (4+ foot visibility)

Report: My friend Pete and I fished Berryessa today and finally I can say the action was not too bad at all. We never left the narrows and ended the day with 17 fish. I had 15 and Pete got two. Nothing on small swimbaits, the umbrella rig, square bills, and even the rip bait. All our fish came on Texas rigged Robo worms. I didn't even try a Senko. I had my 1st limit by 9 AM and then moved around and found some good spots. We saw some beds in the back of coves but only small bucks sitting on them but did not catch any. Big fish was 2 1/2 to 3/4 pounds. Most fish were 14 to 17 inches.
Friday, March 5th, 2021
Water Temp: 52 to 56 degrees

Water Clarity: Clear (4+ foot visibility)

Report: I took my young friend from Church today for his second time ever fishing. He is just 10 years old and he is going to be a pretty good stick in just a few more years. We fished from about 7 AM to 2:45 PM, put on 26 miles before finding the right area. Together we caught 5 bass between us, 3 spots and 2 smallies. Biggest went about 3 Lbs. Needless to say the kid was quite happy! All five fish caught in shallow bays on the main body and in 10 feet or less. Small swimbaits and Texas rigged worms did the trick. I would attach a couple of photos but I don't see where I can do that here.
Friday, January 15th, 2021
Water Temp: 54

Water Clarity: Clear (4+ foot visibility)

Report: Went to Berryessa today after having a tough past few days at the mother lode lakes. I caught about 40 fish today on rip baits, jigs, and swimbaits.

All the fish were in 5-15 feet of water. Biggest 3 were a 6lber on the swaver, 4lber on the rip bait, 4lb spot on the jig, 3lb smallmouth on the rip bait
Lots of fish in the 2-2.5lb range.

Tight lines!

Tips: Have fun!
Friday, November 13th, 2020
Report: by Bassdrool » Fri Nov 13, 2020 9:39 am

I had to get back on Berryessa after the last visit with my dad. This time I went out with Tyler Frey who runs The Frey Experience YouTube channel. We catch a bunch of fish in the 2-3lb range and Tyler connects with a 4.40lb spotted bass that looked like it just ate a trout! Again, almost all the fish including the big spot were caught on the new baits that we will be telling you more about in the future.

When the weather starts to cool in Northern California, you can run the bank and fish points with a jig or a drop shot and catch a few here and a few there, but if you take the time to run the lake and find the birds and bait, you can have a field day. We have been on a huge school of shad and bass. When they group up, you will catch every species of fish and they are a range of sizes.
Tuesday, July 28th, 2020
Water Temp: 78 to 80

Water Clarity: Clear (4+ foot visibility)

Report: Fishing with Sid
Mon 2020-07-27 22:38
The Lake Berryessa News
This past week NorthBay Hospice & Bereavement honored Alfonso and his family at Steele Park. Alfonso's wish was a day spent fishing at the lake and enjoying time with his family. I was honored to take members of his family out fishing and to spend the day with them (see photos). I went out with Bob and he landed some nice bass (see photo). The fishing was off during the day with no signs of activity at all till late evening when the sun started to set and the surface water started to cool down and then the action started. We did much better then the day time. Hopefully the day bite will pick up.
'til next time...……………………………………..good fishing!!!
If you have any questions or stories yo would like to share or are interested in booking a guided fishing trip please email me at bestguide@hotmail.com or call me at 650-583-3333.
Thanks,
Sid

Tips: it was an honor on my part to grant a mans last wishes died 2 days later they told me he was happy to his last breath and never stopped talking about his fish,
Friday, July 10th, 2020
Water Temp: 76 to 778

Report: Fishing during the day during a full moon was challenging. I went out with Gary who wanted to fish for crappie. Needless to say it was not an easy task!

We ended up catching a few nice bass. Next morning I took Frank and his two sons out with almost the same results as the day before. this pattern continued through with Mike, Dusty, Tim, and David. When I went out in the evening with Steve we ended up with two limits of five each the biggest bass was about four pounds. Since the fishing was better in the evening that's when I went out for the next few nights and landed limits each time. Fishing in the evening was not only more productive but cooler as well.

t'll next time...………………………………………………………………………………….good fishing!!!




If you have any questions or stories you would like to share or are interested in booking a guided fishing trip please email me at besstguide@hotmail.com or call me at 650-583-3333.




Thanks,

Sid

Tips: keep trying until you find something that works;what worked for me was to fish while the full moon was out
Monday, June 15th, 2020
Water Temp: 73-76

Water Clarity: Stained (2-4 foot visibility)

Report: Got to berryessa at about 6:30 and we launched out of Markley. Stayed in the narrows as it was pretty windy and hopped from point to point. Had about 30 fish on darter heads and crankbaits. Most of our fish were all largemouth which was surprising. Our big fish went about 3.5 and was a spot.

Tips: Wherever there was wind we could usually pick 1-2 off a point within the first couple casts. We would move pretty quickly if it wasn't "happening"
Monday, June 8th, 2020
Water Temp: 76

Water Clarity: Clear (4+ foot visibility)

Report: Fwd: Fishing with Sid. Ok

Date: June 10, 2020 at 10:41:21 AM PDT
To: "bestguide@hotmail.comi" <bestguide@hotmail.comi>, The Lake Berryessa News <pkilkus@gmail.com>
Subject: Fishing with Sid

This past Monday I took out Scott and Mark. My game plan was to start on the east side near the ranch house but that quickly changed as we headed out and encountered white caps. I decided to go to the back of the Monticello ski school to be sheltered from the wind. We were in calm water but no fish action. After a while I headed out to the Narrows the wind was still a factor but I tried the first cove by the ranch house and we landed the first bass of the day. We changed from crank bait to worming at that point but no bites. I continued on to the vineyards and still no bites. After about a half hour I headed towards big island hoping our luck would change and it did. Went back to crank bait and Mark caught a nice bass and this began the catching part of the trip. From that point on both Scott and Mark were busy bringing in some nice bass from 2 to 4 pounds. We ended the day with limits and two happy fishermen.

'til next time...………………………………………………………….good fishing!!!

If you have any questions or stories you would like to share or are interested in booking a guided fishing trip please email me at bestguide@hotmail,com or call me at 650-583-3333.

Tips: hard to fish in white caps and wind so we went where we were sheltered good idea but no fish back of ski school near the narrows. we went up the east side to the vineyards with no signs of life and no fish. we went thru white caps until we reached big island water was quitter and we started to catch fish ,call me will tell you the rest of fishing story
Wednesday, June 3rd, 2020
Water Temp: 74-77

Water Clarity: Stained (2-4 foot visibility)

Report: I took two very nice people to Berryessa yesterday (Tues) and found the fishing to be pretty good for a bluebird, HOT summer day. Luckily, though the water was flat without a hint of a breeze all day, it did have some color to it which I think helped the bite. One of my guests was Clara Ricabal, world record holder (female) for the 7-2 lb spotted bass she caught with me last year at Bullards.Bar. The other was recent Shasta Lake tournament winner Alex Niapas who single handedly put Shasta on the map with his 13+ lb largemouth and 8 lb spotted bass. Yea - everyday stuff at Shasta!!
I think the two good friends had a nice day with me as we each caught 5 nice bass with Alex spoiling our record with the only dink - LOL!!!

Alex and I shared the sort-of big fish honors with a spot and largemouth that were just under 3 lbs. If Clara would have just stop catching smallmouth early in the trip - we would have had a bigger limit! But she saved herself at the end of the trip, in the narrows, by catching a really nice,
quality smallie - a least 2 1/2 lbs. Considering the brutal weather conditions, I was happy with some good action and our best five pushing 14 lbs.

Tips: I saw little or no bait on the meter which can be common during the post-spawn. We found one big area of bait and small fish that were scattered all over the screen - typical for post-spawn time. I found my best bite on the smaller Yamamoto Chigger Craw (green pumpkin). They were using Senkos and other jig-like baits. As typical post-spawn bites, we found fish at all depths - very shallow to around 25 feet. Talk about scattered!! Makes the guide work too hard!!!

I guess part of the fun of post-spawn fishing is finding the recovering active feeders and their location (depth). I guess that's fun??

Good day yesterday - except taking the boat out when it is 100 degrees!!
Tuesday, June 2nd, 2020
Water Temp: 74-80F

Water Clarity: Clear (4+ foot visibility)

Report: Got out first thing monday morning to break in the new Ghost trollingmotor. We found them quick by positioning the boat in 14 ft of water on gradually tapered banks near the main lake. We used chatter baits, underspins, and texas rigs to produce the majority of our fish. Chatter bite died as soon as sun got higher and wind simmered down. We moved offshore in the afternoon and continued to catch them on the T-rig and dropshot.

Tips: It seemed like if we were not around grass or deeper water we would not get bit. The combination of submerged trees, grass, and chunk rock provided the best results. The afternoon fish came in about the same depth however the fish positioned themselves closer to the deeper water or ends of points.
Tuesday, May 26th, 2020
Water Temp: 68 thru 72

Water Clarity: Clear (4+ foot visibility)

Report: Fishing with Sid

Subject: Fishing with Sid





After many months of waiting to get back on the lake and fish this Memorial Day Weekend was perfect. The weather was ideal the fishing conditions great and just being outdoors was wonderful. With having to be house bound for so long I was eager to get back to what I love to do. I took out my son's friend Spo (who is like a son to me) the first day out. We had a good time and he limited out with five nice bass. The next day I took Roxanne and Andrew out. It was their twentieth wedding anniversary and they wanted to go for a day of bass fishing. Besides the bass they landed they caught a good size trout (see photo). I think they will do this trip with me yearly they had a great day. My son Henry landed a six pound bass (see photo). I got to take my buddy Albert and his grandson Daniel out on Sunday afternoon and we stayed out till dark. We fished all over the lake and each one of us caught limits of quality bass from 2 1/2 to 4 pounds. It was a really good weekend for fishing and I hope it'll continue this way through the summer.
t'll next time...............................good fishing!!!

If you have any questions or stories you would like to share or are interested in booking a guided fishing trip please email me at bestguide@hotmail.com or call me at 650-583-3333.

Thanks,
Sid

Tips: knowledge of the lake helps in finding the good spots
using scents on your bait attracts more fish, I use Pro-Cure scents
Friday, May 22nd, 2020
Water Temp: 68 to 72

Water Clarity: Clear (4+ foot visibility)

Report: I took a friend from Church and his 9 year old son to Berryessa today. Neither had fished before. I found the bite very spotty and we really had to work to get bites. The boy did very well considering and landed three fish by himself with two of those fish being our biggest fish of the day at about 16 1/2 inches. It was well after lunch before Dad got his only fish and it was the smallest of the day. I spent a lot of time helping, un-sticking, and coaching but I still ended up with somewhere around 15 fish for the day. Good day and we all came home happy! I was there the last time the day before the lake was closed down and water clarity was near 15 ft visibility. Today it was much less clear but very fishable. All fish on soft plastics,.
Saturday, March 14th, 2020
Water Temp: 52-54

Water Clarity: Clear (4+ foot visibility)

Report: A friend and I hit Berryessa on Friday for about 6 hours and found the bite to be slow, but ok. Several in the 2 1/4 to near 3 lbs - all three species - with some fat smallies! One of my 2 1/2 lb smallies looked like a trophy - tall as she was wide - gorgeous!!! Love this time of year - pre-spawn! We fish the narrows and the lower lake areas - both sides. No hot spots as they were scattered - one here and one there. Best 5 about 12 lbs. We found some on shallow flats near deep water and a few on points.

Lake was about as gin clear as it gets with the lack of rain. I don't think this weekends rain will change that much as the ground soaks up most of the first rain after any kind of drought - even just a 2 month drought. I usually don't join the Putah Creek crowd, so don't offer info on that area. Gives me more fishing time.

Tips: Ya might want to use lighter line if we don't get much rain in the future. The sun will be higher each day and water can get really clear in the spring if no runoff. If there is runoff - find the murk or the mudline!! I did try some crankbaits and usually do well this time of year, but not this trip. Water is warming - slowly.