Oroville Lake and Reports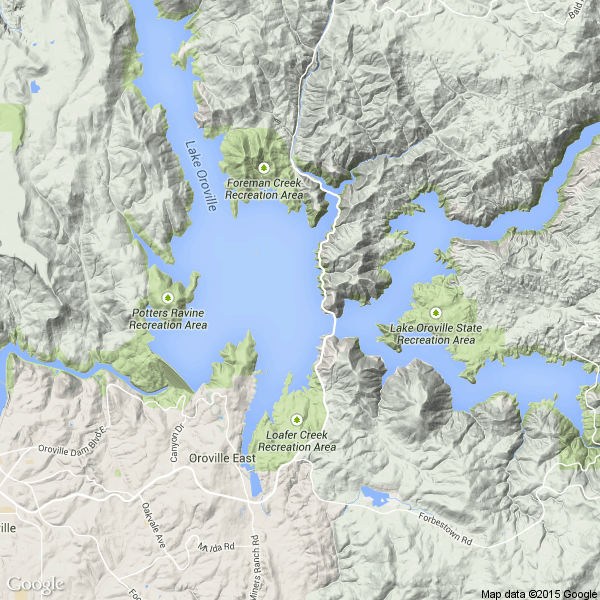 Click for Navionics/Google interactive map
Thursday, Dec 1


Slight Chance Snow
Precip: 43%
Saturday, August 13th, 2022
Report: by LookoutRanch » Fri Aug 12, 2022 1:09 pm

Catching fish won't be an issue. Most finesse the techniques are easy to have 30+ fish days. Graph before dropping lines, bait is everywhere.
Saturday, January 8th, 2022
Report: by Rmats » Sat Jan 08, 2022 4:54 pm
First time fishing Lake Oroville. Found a decent jig bite and caught quite a few on a brown purple 1/2oz football jig with a green pumpkin rage chunk trailer!
Sunday, October 24th, 2021
Report: by Pat » Sun Oct 24, 2021 7:16 am

This will definitely put some water in our Lakes. Oroville has come up 2 feet since Friday, and this major storm is still coming. They just opened a low-low-low water gravel ramp at the Oroville spillway. With this storm, the possibility exists that the water will raise enough that it will not be usable. The problem since August has been the water level had this old gravel haul road on a flat area that did not have enough slope for launching. Let's hope it rises enough to get past this flat stretch. The few people that have gotten on the lake have reported that fishing is off the hook. Fish have not see a lure in months! And it is time for the fall feed.
Thursday, October 22nd, 2020
Report: by Joe daddy » Thu Oct 22, 2020 3:55 am

Went out yesterday with Cotton and Big John. They crushed it. Catching fish all around me. The drop shot rig definitely produced more bites for Cotton. A number of fish on the reel in on that rig also. We did dabble into the cranking some, heard it's been hot. Not much luck with that but we are no crankster gangsters by any means. Gave it up pretty quick. I finally managed to find a nice one around 3:00. Missed what felt like a large mouth bite around 10:30 on best point we came across...good day of fishing, happy to get back on the water.
Tuesday, May 26th, 2020
Report: by Joe daddy » Tue May 26, 2020 4:05 am

So just been laying low lately. Some how I got my hands on a picture worthy fish from oroville awhile back. I believe enough time has passed so I'm going to post it.
The fishing story-
So, jitterbug and I were out beating the banks up like we do. On our way back up we run into a guy with his girlfriend walking down the ramp. We start b s ing with them and dude is like 'yeah my buddy caught an 8 pounder the other day.' So we were like 'oh that's cool take it easy' and proceeded on our walk up. After that of course we were joking back and forth yeah I caught a 5 pounder, yeah I had a 6 pounder on but she broke me off.
So, the next day by chance jb runs into one of his old high school buddys. They shortly got to talking about fishing when jbs buddy says one of the kids he coaches caught an 8 pounder at oroville and sent him this picture.
All this transpired in early April.
Wednesday, March 4th, 2020
Report: by Joe daddy » Wed Mar 04, 2020 6:02 am

...man guys it was beautiful out there. The hottest day or the year and a 12 mph northwest wind, sign me up. Had 3 bites, missed the first bite on point, based on poor knot tying, good hook set though. :roll: Just one of those days where everything just looked amazing. Could of lived in that moment forever, very special. I'm assuming the bite should just get better here on in. Some fish are up and aggressive.
Friday, February 7th, 2020
Report: by Joe daddy » Fri Feb 07, 2020 3:32 am

Jittterbug and I again, one fish on rock wall next to bank. Running water in the cove with deep water access. Pretty slow, glassy water, only that bite. I'm sure more wind would of helped. Just nice to get out.(In one of the pics you can see where the hook set was in the right side of its mouth)
Friday, January 24th, 2020
Water Temp: 50-51 degrees

Water Clarity: Clear (4+ foot visibility)

Report: Fished Oroville Friday with Rick J. caught 20+ in the slot area and Forman Creek area. All fish were caught on dropshot with wacky rigged prism shad. No size fish ranged 1.25 to 1.75. Fish were caught from 20 to 55 ft.

Tips: Find steeper rock walls and bait . Bait is stuck in the bottom and varied from 1' to as much as 8' thick. Fish slow!

Water Temp: 49

Water Clarity: Clear (4+ foot visibility)

Report: I had the itch to fish Oroville today for my first trip of the year. I satisfied my itch but did not catch any fish. I had one bite all day and missed it. My buddy got two bites and missed one and caught the second, which was about a 5 lb Channel Catfish. Fished glide baits, small swim baits, jigs, ned rig, lipless cranks. Fished a few points around the main lake, Potters Ravine, and up the middle fork. We did find some fish, mostly in 20 to 25 foot range but just could not get them to bite. Water is very clear.

Tips: Sorry, I can't give any tips here but I could sure use some. Bass Union makes it look so easy. Maybe I should invest in some of his jigs.
Monday, December 16th, 2019
Report: Lake Oroville 12-16-19
Unread postby Joe daddy » Tue Dec 17, 2019 5:42 am

Water has came up a tad bit. Bite was about the same maybe a little slower/colder. Got-eem, went 3-3, jitterbug 3-4. This spot like the gift that keeps on giving. Marry X-Mas.
Wednesday, November 20th, 2019
Report: by Inland fisheries advocate » Wed Nov 20, 2019 6:03 pm

Grest day on Oroville. It was gusty winds, but we found some protected coves up the middle fork. Fish were in 15 to 35. Nice fat healthy fish.
Used minnows, but I'm sure they would take senkos. Lots of fidh in back of coves around rocks & downed trees
Saturday, November 16th, 2019
Report: Lake Oroville bass by Inland fisheries advocate » Sat Nov 16, 2019 8:45 am

Fished the the Big O Thursday. Middle fork rock piles & coves. Fished with minnows. Caught 12-15 fish. All really fat & spitting out pond smelt. Mostly in 15 to 30 feet. Going to try plastics next time, minnows were $20+/dozen... ouch.... time to enjoy this fishery
Sunday, November 3rd, 2019
Report: by Pat » Sun Nov 03, 2019 4:46 pm

Yes, the fishing has been pretty good. Target bait fish, if you don't see bait on your graph, keep moving. Not saying you won't catch any if you don't see bait, but it definitely improves your chances. We have been catching fish from right on the bank out to about 30 feet. Water has been falling about a foot a day.
Friday, September 13th, 2019
Water Temp: 74-78

Water Clarity: Stained (2-4 foot visibility)

Report: Kayak fishing for spots at lake Oroville launched at String Town ramp at 6am, fished until 11am, 22 fish, most in the 15" to 17" range with one 18" to 20". Most of the fish in 40' to 45' range a few in the 30'. Submerged rock piles and islands seem the be the best bet. Friday was a great day only saw one boat on the south fork. See fishing forum for pictures.
Thursday, July 4th, 2019
Report: by Joe daddy » Thu Jul 04, 2019 2:46 am

It's been a tough week for me on the lake. Oh, I been fishing just not catching. So I got my sorry butt off the couch to utilize the last 2 hours of daylight. Glad I did. Fished the main body point before the bridge on the left (hobo-spot). With all the boats on the water banks finally looked like they had the right color stain to my eye. So the more the merrier. Had 3 bites, caught 2 that would keep. Felt like lunkers :lol:
Notes: post spawn, find structure, cooler water, evening bite has been good. This is what I noticed in the past week. *happy 4th*
Sunday, May 26th, 2019
Report: by Pat » Sun May 26, 2019 10:15 am

And, the fishing at Lake Oroville is great right now. Not unusual for a pair of anglers to catch 100 in a day. There will be some dinks in the lot, but a lot of solid 14-16" fish too. They are fat and strong. The recent cold snap slowed things down for reaction and topwater, but small plastics in the top 15 feet of water will get bites all over the lake. I even caught a 4 pound kamikaze king salmon while reeling up my Ned rig on Friday. Would be a great time to take kids out.
Monday, May 13th, 2019
Water Temp: 70

Water Clarity: Clear (4+ foot visibility)

Report: I think the spawn is mostly over , the bite was good . Launched from lime saddle for the first time ever . fished the north arm from Berry creek to the edge of the main body . Fished mainly senkos the first three hours and we caught about fifty . then switched to Keitecs and did well all those . Blades were working as well . We ended up with 90 bass , almost all were spots . best 5 was probably 9.5 lbs . We had a few that were 2 lbs and a lot that were close . Had a lot of fun catching all day long . we were there about 7 hours .

Tips: Mud lines were the ticket for the Keitec . senkos anywhere seemed to work , all weightless and wacky .
Monday, April 8th, 2019
Report: by Inland fisheries advocate » Mon Apr 08, 2019 7:38 am

I miss Tom's weekly reports on Oroville so here is mine for Sunday. Fished about 4hrs. Caught about 12 bass, mostly on wacky senkos & drop shot white paddle tale grub. Mostly in back of coves & some rocky walls..

Not on fire..but water clarity is decent... nelsen
Sunday, March 31st, 2019
Report: by Joe daddy » Sun Mar 31, 2019 7:14 pm

Jp/jitterbug caught this one today 15''. Launched at enterprise but probably not much longer. Heard they're letting water out Tuesday...nice to see fish starting to get some color!
Wednesday, March 13th, 2019
Water Temp: 50?

Water Clarity: Muddy (0-2 foot visibility)

Report: Dues in the mail, this one for ash.
A tale of to worlds.
High pressure north eastern winds. Started at McCabes excess road point the easier one. Blown out and busted I was still destined to catch a bass today or die trying. I saw ash's posts bout big mama or even lil mama this time of year. And that 5 year old out fishing me really don't sit to well.
Started around 11, bad idea Dr Jones. Cold windy and nasty uncatchable. So the hell with this I need deeper water an at least a lil shelter. Moseyed my way to McCabes point/rocks. Beaten and defeated I sat down on rock and gave it one more cast; 2 o'clock. I'll be darned if I got a bite. Fish on! Yeah buddy this bout to be good. Then no more bites for next hour, craps. One and done? Walked back on 'dwr road' all proud of myself ready for more. When I got back water wind and points looked way different. Think that cold front had run its course. Now fishable caught one more on point. (Pylons) the better one. Missed another lil guy too! Hopefully that's that, and good fishing here on in.

Tips: If you think your fishing to slow fish slower.