Almanor Lake and Reports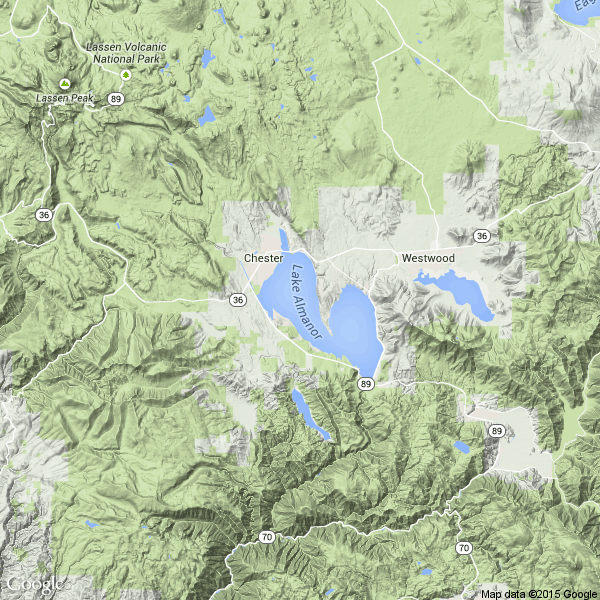 Click for Navionics/Google interactive map
Wednesday, Dec 6


Monday, April 23rd, 2018
Report: I forgot to mention that our 4th place weight was 15.87lbs - 5 smallmouth
Sunday, April 22nd, 2018
Water Temp: 56-59

Water Clarity: Stained (2-4 foot visibility)

Report: Mike Sperbeck and I fished our second Mountain Bass Association tournament at beautiful Lake Almanor yesterday - Saturday. I didn't hear the total number of boats, but over 30, We survived the early morning start but felt like popsicles when we arrived at our spot. Brrrrr!! By around noon, the weather had warmed with the sun out and the afternoon was drop-dead gorgeous!! What a beautiful lake - especially with the snow on all the surrounding mountains. The bite seemed a little slower than last year, probably because of the very cold weather the weekend before. Lots of beautiful smalies were weigh in, but only one over 4 lbs. Last year there were three and Mike had caught one of them. This year the big limit was over 17 lbs and two limits of 16+ lbs. Last year Mike and I had one of the 17 lb limits and took third. This year we fell a notch and didn't get a plaque. Darn - they were good looking plaques. We took fourth, one place out of the plaques! We did get a check and they paid down to 7th place - nice. Great bunch of anglers and good fellowship after the tournament. Next year I hear the are handing out heated jumpsuits. That is a rumor I am starting!!

Tips: Since there were no wrap-ups by the top finishers, can't give any tips. Folks were fishing all over the lake, just as we did. I though we got off to a rough start as Mike's second fish was a beautiful 5 3/4 lb brown trout. Wow - gorgeous fish!!! biggest brown I have see up close. How many of the trout boats we saw would love to catch that fish!! Don't think we caught anything deeper than 25 feet, but most were 10 to 20 feet. We got bites from super-jerks to nothing bites. Mike got our big smallie at 3.75 lbs and caught 3 of our 5 smallies to weigh-in. Lake was calm all day - very nice!!
Saturday, October 14th, 2017
Water Temp: 58-60

Water Clarity: Clear (4+ foot visibility)

Report: Mike Sperbeck and I made our annual fall trip to beautiful Lake Almanor Thursday and Friday. We could have left after the first day!! Something happened on Friday and the smallies totally shut off. This is kind of rare at Almanor. Wind came up gently in the early afternoon and we were suddenly blown off the lake at 3 pm - very quickly!!! Maybe the bass felt that coming on - who knows. As bad as Friday was, Thursday was one of our best day ever - great bite - maybe the best I have ever had there! We lost a few big ones - some pushing 4 lbs. The bite was intense, but the smallies didn't seem to really inhale our baits. We lost a lot of quality fish - they would just come off after good hooksets. Our hooks might have been a bit too small for these hard fighting fish. Mike landed the first bass down by the dam which went 2 lbs. That was the only small one. As mentioned, we lost some big ones but did land 22 smallies from 2 1/2 to 3 lbs 7 oz. They averaged around 3 lbs and our best 5 was pushing 16 lbs. The bass were a bit deeper than we have experienced in previous years. We caught most of our bass from 18 to 30 feet deep and found no shallow bite. To compare the two days - we found big schools of bait on Thursday, along with the feeding bass, and could find NO bait on Friday and almost NO bass! Everything had moved and we never found anything much on the meter! Sure glad that happened on the second day. Happy memories of the first day kept up going!

Tips: I did not throw any crankbaits because the plastics bite was so good. I tried a bit of topwater - no takers. I remember 2 years ago catching a 4 lb smallie on topwater in October. I'll never forget the sound of that smallie taking the topwater bait!! Topwater is a fickle bite at Almanor, either ON or OFF! We used a variety of soft plastic baits like small brush hogs. If they had some blue, green, or brown, they liked it.
Saturday, October 24th, 2015
Water Temp: 62-63

Water Clarity: Clear (4+ foot visibility)

Report: My buddy Mike and I made our annual fall assault on beautiful Lake Almanor and found a good bite! We caught 23 on Thurs and about 14-15 on Fri. Nothing under 2 lbs with the average 2 3/4 to 3 1/4 lbs. Fun to fish when there are no dinks biting - all good fish. Our first day limit about 18 1/2 lbs, second day about 17 1/4 lbs. Not sure if the weather helped - kind of strange. First day was flat water with bright sun and a great bite. Second day was flat water and all day cloudy. Should have been ideal, but the bite was slower. Go figure!!! The trees that change color have barely begun to change and the water temp was up to 63 degrees still. The biggest thrill was my sudden decision to throw a topwater late Thurs afternoon. First cast put a Storm Chug Bug near the bank. I let it set about 10 seconds, twitched it twice, and a small bomb went off in the form of a 4 lb smallmouth! She nearly cleared the water totally and the next 2 1/2 - 3 minutes were terror. Surely she wouldn't stay on, but with my drag set perfectly, she found Mike's net. And he brought the small net!!!! Great fish for Almanor, and for a few coins in my "hot" hand, I will tell you the "hot" spot where she was released!! (I loved that joke when I read it!!). We caught the smallies from 4 feet to about 25 feet - on the bank to about 200 yards off-shore. Mike's biggest, just under 4 lbs, was the one in 4 feet of water!! So, pick your depth!!

Tips: We fished the whole south area of the lake up to mid-lake. We did not try cranking and topwater was off the second day - it's like they wanted the sun! I forgot to mention that after the big topwater bass, a second big smallie hit it twice, but wouldn't stay hooked. We had the most success on small bulk baits like beavers, small Flappin' Hogs, and Berkley 4" baits. Green Pumpkin was good, as were blue shades. We could not get these fall bass to hit plastic worms. For example, they tear up Robo worms in the spring and summer, but would not take a worm on this trip.
Friday, October 31st, 2014
Water Temp: 56-57

Water Clarity: Clear (4+ foot visibility)

Report: Mike Sperbeck and I made our final trip for the year Wed and Thurs, and found the fishing to be simply great (as well as the weather) - especially the second day as the storm clouds were approaching. The lake was as flat as I have ever seen it with heavy fog in the early morning. The fishing might have been as good as I have every seen it - during the day. We spend both days on the east shore fishing mostly off-shore structure - some of it now good since the lake is down 18+ feet. As last year, we caught fish at all depths, this year from 13 to 60 feet!! While we could not break 4 lbs, we caught more 3 to 3 3/4 lb smallies than I have ever seen in one trip. We used a variety of small plastics, mostly in green and brown colors. I tried spooning for the first time and caught several on a 3/4 ounce Blade Runner spoon. Could not get much of a Senko bite and only a few on a jig. Our best five for the second day weighed between 17 1/2 to 18 lbs. Again, these are some of the most gorgous, hard fighting smallies in the state!

Tips: Again - a warning about Almanor wind!! As mentioned, Thurs the lake was as calm as I have ever seen it - something like Clear Lake on a cold winter night. About 4 pm at little breeze picked up from the west - in about 5 minutes - shifted to the south. We were up near Big Cove. I just had a feeling - maybe the Lord spoke to me - we needed to get back to the dam - quick! "Reel in Mike - we're outta here!" We immediately hit the Almanor version of the famous Tahoe "black line!" Always beware of afternoon storm winds - Almanor is a big, open water lake! A very bumpy end to a great trip. Man, I love my Ranger Z521!!!
Thursday, October 2nd, 2014
Water Temp: 65-67

Water Clarity: Clear (4+ foot visibility)

Report: My wife and I took a mini-vacation to beautiful Lake Almanor over the weekend, dragging the Ranger boat all the way! As usual - timing was suspect as it was cloudy with rain showers most of the time. The lake is down about 18 feet and got to see lots of "new" stumps!!! Went out Fri evening and found the bite to be good with small bass biting everywhere! I did land one of the better bites - smallie went 3 1/4 pounds! Those "tall" smallies impress me all the time - with light line it took me nearly 5 minutes to land that fish. One doesn't want to rush then to the net because one never knows just how big they might be!! Didn't even go out Sat - just too nasty. Sunday afternoon was better, so I fished the east side of the lake on the bank and some off-shore - dragging and casting Robo worms and Senkos! I had very few bites but two were very nice (see photo section), weighing in at just under 7 lbs for combined weight. Buddy Mike Sperbeck joined me on Monday for some post-front fishing. Lake was dead flat calm until late afternoon which helped the evening bite. Overall bite was quite slow with only 3 from 2 to 2 1/2 lbs. In think we landed about 15 bass total, mostly 1 1/4 to 2 lbs. Small beavers and 6" Robo worms worked best. I caught one surface smallie the was 1 inch longer than the Chug Bug!! Three quality smallies always make the trip worthwhile! A good bite should last another month, maybe.

Tips: Until the lake comes up some, keep your eyes on the meter - especially on the west side. Some of the flats are REALLY flat now - and shallow!! Bass are spitting up pond smelt now. I didn't try any jigs this trip for some reason. The smallies were moving quite a bit while I was there - probably because of the weather.
Monday, June 9th, 2014
Water Temp: 69-74

Water Clarity: Clear (4+ foot visibility)

Report: Wife and I fished Almanor for 2 evenings. First evening the water was calm. Tons a bait in 12 feet of water. Was able to catch them on Craw and Minnow Cranks at first. Once sun down catching fish almost every cast, but most small fish with a 1 to 1. 5 lbers mixed in on jerk bait (don't ask me why they switched preference). The last 20 minutes of the daylight there was a small Hex Hatch (large yellow May Flies). Fish started to rise. We were able to catch a few on yellow colored topwater baits. I caught a smallie going 3 lbs on the topwater. Shortly after all went dead.

Next evening, had a pretty good wind. Used dropshot 1 hour before sun down. 4" minnow colored roboworms worked. Found a good school around bait 10' deep. We caught 2.0, 2.0, 2.3, 2.8, and a 3 lber. What fun! Sun went down and switched to cranks. Caught a couple more 1 lbers. No hatch. Nothing on Topwater.

Tips: Launched out of Almanor Campground Launch Ramp. Still no dock after 1 year. Sign says work on the ramp would start today (June 10th). I was down there in the morning at 10 am and no one around. Hopefully they start on it soon and get it in.

Found bait most placed stopped, but not fish. Keep moving until you find the right location with bait and fish.
Sunday, November 3rd, 2013
Water Temp: 64-68

Water Clarity: Clear (4+ foot visibility)

Report: This report is from 2 weeks ago - forgot to post it. Mike Sperbeck and I did an overnight trip to Almanor, fishing on Thursday afternoon and Friday for about 6 hrs. The fishing was good around noon on Thurs but died in the later afternoon along with many short strikes! Quality was good though with several 2 to near 3 lb smallies. Friday was slow during the first few hours but picked up near Hamilton creek where I caught back to back 3 and 3 lb 6 oz semi-toads. About 2 pm I showed Mike an off-shore hump that has been fairly good off and on. It was on fire!!! Mike had a field day, landing about 10 smallies in the 2 3/4 to 3 1/4 lb range and I caught a few too! We landed 14 or 15 smallies from 2 1/2 to 3 1/4 lbs - in a row - nothing smaller! Wow!! Mike did lose a 4+ lb smallie at the boat. The wind came up rather quickly around 3:30 pm and we got out of there fast. A nice, bumpy trip to the dam - but it was worth it!! Great trip!

Tips: Green pumpkin was the color of choice - their choice! That is the color they wanted! We fish many types of small plastics - mostly on dart heads. We actually caught quality bass from 14 to 55 feet, mostly on the east side of the lake. Some areas we like produced nothing - weird!
Wednesday, June 19th, 2013
Water Temp: 65-70

Water Clarity: Clear (4+ foot visibility)

Report: Fished with the family for a few days last week; first time at Almanor. Wind and a smallish boat kept us from exploring much of the lake, so we spent most of our time along the rocky east shore near the dam. Best day was Tuesday when the 3 of us boated 33 smallmouth. Nothing big -- up to 1.5lbs, but still fun, especially for my 10-year-old who caught 15 of them. Most came on various shad-colored dropshots (Baby Bass and Hologram Shad Roboworms, Baby Bass Crosstail Shad, etc.)

Best fish of the week was a 3-6 smallie I caught from the dock in front of our cabin on a Ghost Minnow Pointer. Surprise of the week was a 2.5lb Brown Trout that grabbed a Margarita Mutilator dropshot.
City: Foresthill

Tips: Dropshotting in the rocks -- bring lots of weights!
Wednesday, April 3rd, 2013
Water Clarity: Muddy (0-2 foot visibility)

Report: Heading up at the end of April for a few days. Never bass fished Almanor and was wondering from you guys how the fishing usually is that time of year? Will be bringing my bass boat. Any tips would be great
City: Lafayette
Saturday, March 16th, 2013
Water Temp: 43-47

Water Clarity: Clear (4+ foot visibility)

Report: Fished from 9am to 2:30pm and found a pretty tough bite. Had a few followers on a rip bait, caught 3 on tubes in about 7ft of water. overall it was a pretty slow day, although the bass are starting to stage and getting ready for that prespawn frenzy. Give it 2-3weeks and the fish will be on!!!
City: Susanville

Tips: Rip slow, then slow down even more. Fish are extremely lethargic right now and are not actively hitting those reaction baits. Best advice is to stay in about 20ft of water and cast in....they will eat tubes right now, just have to dead stick and fish extremely slow. Good luck!!!
Tuesday, October 16th, 2012
Water Temp: 63-65

Water Clarity: Clear (4+ foot visibility)

Report: Mike Sperbeck and I decided to spend the weekend chasing smallies - hoping some bigger ones would be feeding. Mike did find one quality smallie that topped them all at 4 lbs 6 oz! Great fish!! Our best 5 for the weekend were about 14 1/2 lbs - not great, but OK. We caught about 60 for the 2 days including all the small ones. Several spots were quite good and a few provided no action. Most bass were in the 7 to 20 feet depth around stumps and near sharp drop-offs. Everything we caught hit plastics - worms, grubs, small brush hogs, and Berkley Power baits. No takers on topwater or crankbaits. We fished nearly the whole lake with the exception of the far north end.
City: Yuba City

Tips: The conditions were absolutely gorgeous which caused a lot of flat, clear water - making the bite a bit tough. Lots of boats out including a few bass boats. Six pound test was a must. I even used 4# since the lake was so flat and the sun so bright. The morning dawn w/chartreuse tail Robo worm worked about as well as it did this spring. They love ii!!
Monday, July 9th, 2012
Water Temp: 69*to 75*

Water Clarity: Clear (4+ foot visibility)

Report: Provided by: profisher65
So here is my fishing report from lake Almanor.  I was on the water @ 6:30 am and off by 7 pm. I started on the south east shore line throwing a 2 1/2"  Rapala jerk bait. I caught some smallies not much bigger than my bait. Lol. I noticed the the fish I caught were spitting out lots of 1/2" bait fish so I headed north and started drop shotting the Autumn Rose 3", and man what a difference in the bite. Every cast I was getting hit yet they were all 12" to 13" inches and I need 15" or       Bigger to win this up coming tournament. I decided to switch to the 6" bluegill pattern Atomic bait. I wasn't as sure about this pattern yet I'm glad I gave it a shot. I started getting the bigger fish. My best five weighed almost 12 lbs. awesome day on the water 20 plus caught. I'm telling ya getcha some of those Atomic Custom Baits @ atomiccustombaits.com. Good fishin.
City: Carson city

Tips: With the amount of bait fish it is a real finess bait so drop shot with 1/4 oz weight and a small bait 2" to 4" for a lot of fish or a 6" bluegill pattern for the bigger fish. Fish the first drop offs in 10' to 15' of water on the south east shore line. Good fishin!
Thursday, July 5th, 2012
Water Temp: 71* to 74*

Water Clarity: Clear (4+ foot visibility)

Report: So let me first say this report is for Antelope lake,ca just east of Almanor and I think for being a small impoundment it offers great bass fishing and me and Barry jr. caught two of the three spiece of bass. We caught them all on the drop shot again in the 4" Autum Rose and Desert Rose hand pour by Atomic custom baits and strike king shimmi stick in green punkin. Between me and little B we caught about 15 fish and are best 5 wieghted 12.13 lbs not a bad day for the first time on that lake.
City: Carson city

Tips: fish the south end of the lake for the bigger bite!
Thursday, June 21st, 2012
Water Temp: 68*

Water Clarity: Clear (4+ foot visibility)

Report: First time on the lake and tried to crack the code!fished from 7:30 to 7:30 p.m. I started on the south east end of the lake. I was throwing a Stacy 90 in the hitch pattern had one small hit didn't commit. so I moved to the north east end of the lake and the wind picked up hard had 2 1/2ft swells it got rough yet I didn't quit. I moved to the North West side and started throwing a spinner in the chartreuse and white pattern caught a couple one an half pounders. I decide to move back South and start drop shoting my Atomic Custom Baits in an Autumn rose and desert rose color. Wow what a day changer I must of caught 20 to 25 fish on this little custom hand pour bait by Atomic Custom Baits. my best 5 weight 11.8 lbs all smallies and good fighters
City: carson city

Tips: drop shoting in 10 to 15 ft look for deep water access on to rocky flats! I didn't really get to fish the north end yet if I would have up is perfect for spinners right now.
Friday, May 18th, 2012
Water Temp: 61-64

Water Clarity: Clear (4+ foot visibility)

Report: I fished this beautiful lake from Tues evening to Thurs evening - early and late in the day. My long-time fishing buddy Rick Tietz, founder and owner of Blade Runner Tackle, fished with me all day on Wed. We really had a terrific day, lake was flat until 3 pm and we mostly sight-fished 65+ smallies up to 3 lbs 2 oz. No monsters. I mostly used morning dawn/chartreuse tail 6" Robo worms, and we both used the 2 3/4" Basstrix Flashtrix minnow with a drop-shot rig. That was really the top bait. We fished most of the east shore on the south end of the lake. Tues evening I fished Big Cove on to the west and caught 10 from 2 1/4 to 3 lbs 5 oz, and some smaller ones. Most were caught on morning dawn Robo worms and a few on green pumpkin Berkley Havoc Baits. Those fish were all caught on or around the private boat docks. Thursday was very cloudy and windy but improved about 6 pm. I again fished the east shore and caught about 14-15 smallies up to near 3 lbs, but most were 1 1/2 to 2 lbs. Most all bass during the 3 days were spawning or had spawned.
City: Yuba City

Tips: I found a lot of smallies hitting crankbaits just before dark on the 2 warmer evenings - not Thursday evening. Most of those fish were smaller. Most of the fish caught during the 3 days were on shallow flats near shore or on flats a little off-shore. Not much action on walls.
Monday, May 14th, 2012
Water Temp: 61 to 63

Water Clarity: Clear (4+ foot visibility)

Report: We got on the water at 8am, water temp was 61. We headed for the Gould Swamp area and started searching for stumps...when we found the stumps we found the bass. We also found males making beds in the gravel beds. We caught 10 smallmouth between 2 and 4lbs all males...Fished till 11am, water temp was 63 and the winds picked up with thunder storm moving in. Could see 8 to 10 feet depending on the area.
City: Quincy

Tips: Fish the shallows near Chester, look for beds in 4 to 10' of water. Caught most the fish drop shotting a Prizm Shad Roboworm and a camo cut tail on a 1/4oz darter head....
The next 6 weeks are going to be a sight fisherman's dream....don't miss it!
Friday, October 14th, 2011
Water Temp: 65

Water Clarity: Clear (4+ foot visibility)

Report: 10 trout largest 7lb 2oz on spoons and small minnow jerk baits. Fish were on the west side near the dam.
City: Pollock Pine

Tips: Call ahead for stock report.
Thursday, July 28th, 2011
Water Temp: 69-74

Water Clarity: Clear (4+ foot visibility)

Report: I was able to spend a few more days at beautiful Almanor last week. It was a short vacation with my wife and family, but I had to fish some - of course! I just fished some mornings and evenings and once at night for awhile. The night bite was very slow except at dark when I landed a good smallie that would have been well over 4 lbs, but after the spawn she was only 3 lbs 11 oz. I didn't catch many during my outings, but the quality was above average for summer. Several were in the 2 to 2 lb 6 oz range. Only a few small ones. Where were all the usual summer dinks? The big one was caught on a green pumpkin Berkley 4" Chigger Craw. Not sure why I picked that bait, but it was the ticket! I spent most of my time on off-shore rockpiles and flats.
City: Yuba City

Tips: I fished the east side of the lake mostly but found the best quality on the west side. I did miss one and caught one on the next cast, using a Chug Bug topwater lure. That was it - no other topwater activity - maybe because of very cool weather and lots of wind for several days before we got there. Robo worms were good again - this time it was oxblood they wanted.
Friday, June 24th, 2011
Water Temp: 68-73

Water Clarity: Clear (4+ foot visibility)

Report: What was the previous report about? I guess he is talking about Almador, har! I just got back from Almanor (2 days) and found the smallie bite to be pretty good overall. I caught many, many bass from 6 inches to 3 1/4 lbs. I kept my boat in Big Cove and fished the east shore and west of Big Cove - about half a mile. The bite Wed late afternoon was as good as I have seen in several years. The wind came up big time and so did the quality smallies. The first two I caught were 3 1/4 lbs and 2 lbs 10 oz. Wow! The bite was off the chart - most of them from 1 1/2 lbs to 2 1/4 lbs. I was just fishing docks - right near the rocks. The fish were shallow and eating!! This started about 6 pm in whatever shadows I could find. About 7:30 pm the bite started to slow and I started to miss a few. About 8:30 pm, when the bite should have gotten better, the wind calmed down and the bite died!! I caught about 25 in that 2 hr period and lost about 10 more. My 5 best were about 12 1/2 lbs. The other morning bites and first evening were pretty good also - but only one 2 1/2 lb smallie of good size.
City: Yuba City

Tips: I used brown 5" Senkos with the chartreuse tips just before dark Tues evening and they worked well. During the day and during the "great' bite, I used the 6" Robo worm - gradually bitten down to 5 inches after several bites. The morning dawn w/chartreuse tip was by far the best color. As it got darker, I switched to MMIII. Also caught a few on small green pumpkin Berkley Chigger craws. I was using a #1 Gami hook with small bullet weight.