Skinner Lake and Reports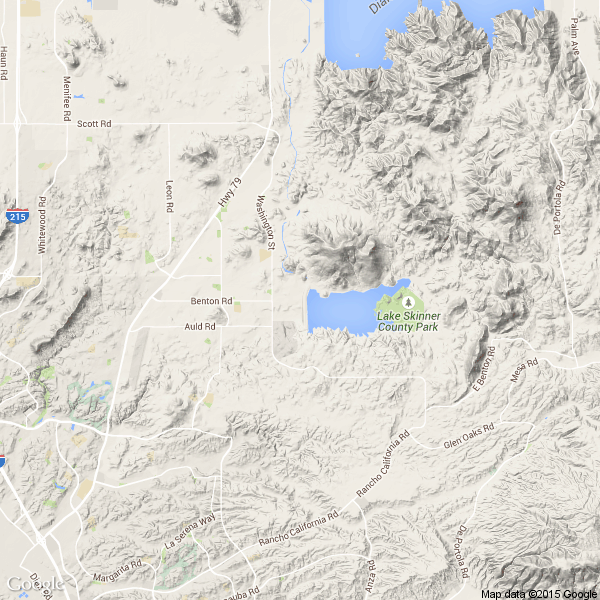 Click for Navionics/Google interactive map
Friday, June 6th, 2014
Water Temp: 73-75

Water Clarity: Clear (4+ foot visibility)

Report: Got on the water about 6:30 do to the long line at the gate! Had a little morning fog and it was as nice a day as you could get.
Started off throwing buzz baits, spooks, flukes and jigs but all was slow. Finally started pitching a drop shot(Arons majic/6") in fifteen feet and they started eatin; first one was 4+, 2+, 3+....Moved on down toward the flume and started throwing a 1/2oz NuTech jig in brown/black with a Yamamoto green punking two inch craw and it was on.
Had twenty over the next couple hours with biggest being about 6lbs. Best five for about 24lbs.

Tips: Keep moving and pitching the jig to tuly edges and rock points. Slow constant drag seemed to work the best. They will be in the shade of the tulys or in the weeds which there is a ton of. Seemed to be stacked up when we found them!
Sunday, November 24th, 2013
Water Temp: 55-58

Water Clarity: Clear (4+ foot visibility)

Report: Went out to try some new jigs I bought and had pretty good success. Fished main lake points at about 10-15'. Caught six total with biggest being a little over 6.25 and the others from 2.0 to 3.5.
The jigs I was trying were NuTech Lures Jigs in brown/purple and black/brown with Yamomoto twin tail trailer in watermelon red.

Tips: Slow retrieve with 30 second pauses on long points that drop into 12-15' and fish from all directions. I was also juicing them up with crawdad sent smelly jelly.
Tuesday, December 15th, 2009
Water Temp: 55

Water Clarity: Clear (4+ foot visibility)

Report: Caught a 27 lb Striper @ 8am on a 5 in hollow belly sb
City: murrieta

Tips: Fish Early and late
Friday, September 4th, 2009
Water Temp: 79

Water Clarity: Stained (2-4 foot visibility)

Report: Girlfriend and I on the water early. Tossed Jackall DD ripbaits in shad colors. Wacked'em pretty good. Eleven stripers went home with us, seven keeper LMB, also on ripbaits and top water. Five biggest for around 16 lbs, girlfriend big fish was a tad over four lbs.
City: Sun City

Tips: Fish ripbaits near grass beds, next to deep water. Toss top water over islands and humps. Long cast get more bites, spooky fish...
Saturday, August 8th, 2009
Water Temp: 79

Water Clarity: Clear (4+ foot visibility)

Report: On the water late, launched at 1pm. Way too hot! A lot of bait fish in the water, but did not see many cruisers. Girlfriend, aka drop shot queen, get one solid keeper of a shad colored worm. I toss a Jackall ghost minnow SP rip bait. I get five LMB, biggest was 3lber, and one nice striper. Water is dropping, but still pretty high and clear. A few weeks back, the frog bite was outstanding!
City: Sun City

Tips: Find deeper weed lines and grass. Toss a suspending jerk bait in a bait fish pattern. If you find any good looking frog water, toss the black or brown frog. This place has really big bass!
Friday, August 26th, 2005
Water Temp: 79

Water Clarity: Muddy (0-2 foot visibility)

Report: Summer is here. Hot weather, The Stripers are dancing on top. The new Z-Plug#400 in the blue shad pattern was the ticket. had lots of schoolies and trolled in the afternoon and landed 13 stripers mostly 2-4 pounds. Lots of moss in the water a rubberband tied on tour line about 8 foot from the lure will catch the moss that slides down the line.
City: altaloma ca

Tips: Use 2 rubberbands when the moss is heavy on top and have an ice chest and lots of ice for the fish. Z-Plug #400 awsome!
Thursday, November 11th, 2004
Water Temp: 170

Water Clarity: Clear (4+ foot visibility)

Report: Just like Chad, wasn't getting anything until I threw out a slab of gecko. Got 50 stripers in the 500 lb range and 30 Cats in the 300 lb range. Great day! I also got the world record Bass at 32 lbs. I just released it and didn't even think of taking a picture.

Tips: Shut up Chad.

Water Temp: 78-80

Water Clarity: Muddy (0-2 foot visibility)

Report: Fishing for any thig that can bite not shit was until i cast out a piece of cut sardine and just in a few minutes i hooked up with a 50 pound striper and two cats each weighing at 30 pounds.
City: Riverside

Tips: None find out your own way to fish
Thursday, April 10th, 2003
Water Temp: N/A

Water Clarity: Clear (4+ foot visibility)

Report: Not sure what to say. Got there in morning let in the evening. Oh yeah. WE CLEANED THE LAKE OUT!!!!AT LEAST 25 PANFISH. GILS,CRAPPIE, SAME AREA.12 STRIPER - BIGGEST 12Pounds8 BASS 7 pounds1 WHITE LOOKING BASS HOOKED ITS SIDE.1 CATFISH SMALL IT GRABED A JIG, WIERD.Between me and my buddy

Tips: Night Crawlers. Worms. Lippin Lizzards. Jigs. Variety o Lures including rooster tails.Deep Divers.BEST LURE BAYOU BOOGIE. CAUGHT AT LEAST 10 OFF IT.
Wednesday, April 17th, 2002
Water Temp: 58

Water Clarity: Clear (4+ foot visibility)

Report: ished the lake 2 days, no pressure wed, thur's only one other boat. trolled the dam , nothing, worked all the shoreline's, nothing, then went to handicapp beach and irst cast 9 lb bass on 8" yellow worm, next cast, 8lbder on purple lizard, 8lb line, 10" leader, carolina rig, 2 beads in 8 to 10 t water, wanted striper but or some reason cant catch any. I moved my boat there or the one reason, to catch striper and am having a tough time, i any one out there knows a lot about catching striper at skinner please let me know as i will pay you to teach me! sincerly laurin
City: bev hills

Tips: everybody at skinner says or lg mo bass anything dark or purple in plastics will work, my biggest ish was 9lb on yellow i guess i was always a nonconormist
Friday, February 15th, 2002
Water Temp: 47.2-53.1

Water Clarity: Clear (4+ foot visibility)

Report: great. using top water poppers caught 3 largemouth in 3-6 lb range and about 14-19 in caught 9 little dinkiy largemouthon purple jigs.Got there at 7:30a.m. got boat in the water in7:57.LEFT AT 4:16P.M.BIGGEST BASS 6LB.18OZ
City: norco

Tips: AARONS MAGIC WORMS PURPLE OR GREEN TOP WATER POPPERS PRESENTATIONWILL BE GREAT.LEFT WITH 19 BASS ALL TOGEATHER LET ALL GO.GOOD LUCK!!!
Saturday, November 11th, 2000
Water Temp: 63

Water Clarity: Stained (2-4 foot visibility)

Report: Hit the lake about 8am (cause the dogs ate the wiring on the trailer)went to the east end rom ramp 1, one o thecoves in back tossed in a worm nothing tried a castaicswimmer (shad) as I was retrieving it, I could just see itbreaking into the clear when I saw something black behide it, stoped or just 1/2 second,and started agin, and pulled up a 3 1/2# Lg mouth. Tried it agin and saw 2 more but notakers. Moved on by ramp 2 got some hits on worms & lizardsput on a at ree shad(deep running) got a hold o a 3#.Not a bad day had lots o un.
City: Whittier
Date Unknown
Water Clarity: Clear (4+ foot visibility)

Report: Fished Saturday, it was very windy and slow. My boat is only 12t but guys with 21 t boats were coming in at the same time as me, could not drop shot in that kind o wind and there is no hard bait bite going. OK here even more bad news, my truck got broke into and $800.00 worth o ishing and camping gear stole plus they cut my gas line to my tank and drained my tank, I ran out o gas at the launch ramp. My brother was parked next to me and they put a rock the size o a basketball threw his window and stole $700.00 worth o CD's, ishing and camping gear, they tried to get his gas but could not. this was at Jones Valley public launch ramp. A local named David and his 12 year old son in a 20 t Ranger came to our rescue he said that there has been alot o break in's at Jones Valley and some much worse things also, the Sherri veriied everything he said including the much worse things. Why they did not post the act that there has been a lot o thet going on I don't know. Can someone local there please post signs telling people not to leave valuables in there cars because that is what they are doing, they walk by and i they see something they break in.
City: San Jose

Tips: Don't leave things in plain site in your truck or car, don't launch at Jones Valley Launch ramp. Also, it took the Sherri 1 1/2 hrs to arrive and she was not happy she had to drive all the way to Jones Valley and I think the people that are doing the breaks in's know it.

Water Temp: 60

Water Clarity: Stained (2-4 foot visibility)

Report: lake skinner does it again or me. ive been ishing this lake since i was a little boy and it consistantly pumps out nice bass or me. hit a ew south shoreline piles. by 10 i had two 4 pounders in the boat.... lipped some tules and got a 5. took o to t he aquaduct pile, a nailed a 3 and a 2... the ishing wasnt red hot but the ish were good sized considering the time o teh year. all bass released alive...blue grape up shallow, otay special out deepboth in 6" curltail.
City: Temecula

Water Temp: n/a

Water Clarity: Stained (2-4 foot visibility)

Report: Test.
City: n/a

Tips: test