Collins Lake and Reports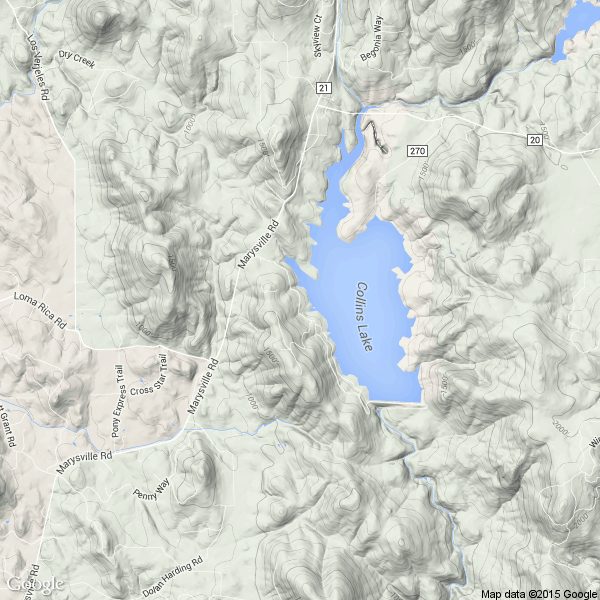 Click for Navionics/Google interactive map
Monday, Dec 4
Wednesday, February 1st, 2023
Report: February 1st, 2023 by Ed


Collins Lake has been 100% full for just over two weeks. Currently we're still gently spilling a couple of inches. Over winter, rain or shine we've continued our trout planting program with a bi-weekly cadence. Next week we're returning to a weekly plant schedule which we're hoping to continue through February, March, April and into the second week of May, provided the surface temperature permits.

Share your Collins Lake Catch with us, fishing@collinslake.com

Over winter, rainy, cloudy and foggy plant days with low fishing pressure means that the lake is well stocked for a great spring season. In spite of the winter norm there have been quite a few calm sunny days and the few who have made it up to toss a line in have had good results.


We'll start with last week's 8+ pounder which Trent Zizilueskas who caught his on rainbow PowerBait near the dam. Randy Suschnick who reported a 8.5 pound rainbow trout caught on a 3/8oz gold kastmaster- he said "just before the lake flipped" so maybe a while ago, but still definitely a notable catch!


Randy's son also reeled in this beautiful lightning trout on green PowerBait. Tammie Gabrielson (above, right) caught that 6.5 pound beauty on worms fishing the shoreline north of the main marina.

Over the last two weeks the lake has just barely begun to settle after the heavy rain. It's stained with visibility of only about 3ft. With visibility low, Powerbait is a good option or if you're casting or trolling at least consider using something with a rattle to it. Temperature is down around 47°F so you'll find trout right up to the shoreline.


On the 25th Sandy Wright of Olivehurst caught this 28 inch monster, reported as 9 1/2 pounds down by the dam using PowerBait- this would have been after the lake was spilling so I expect she reeled it in along the shoreline near the 400's, (which are right on the lakefront at the moment). In addition to these lunkers we've had a number of limits and near limits, all within the last week:


Christ and Danny (above) caught nine trout using PowerBait from the shoreline. Brian Bender & Dan Lake did one better with a double limit using garlic PowerBait along the north end of the beach:


The biggest catch in one day was Craig, Kristina, Natalia & Mikayla who teamed up using PowerBait and PowerEggs to catch a Quad-Limit of trout, including a 5.5lb rainbow right there in the middle of Kristina's brag board. Don't worry folks, we are still stocking!


Finally we have Camilia who brought in a stringer of 4 trout, the biggest weighing in at 5.25lbs that she caught from shore below campsite #56 using green PowerBait and Juliana who caught her 5 pounder on a rainbow PowerBait nugget way up by the old submerged bridge (toward the powerlines along the north fork)

The weekdays have been mostly sunny which has been favorable- this weather will likely continue until late Friday when we have a quick shower rolling in. In any case, the fish are biting! It's beautiful up here and the few that are camping are enjoying a special treat!
Friday, December 1st, 2017
Water Temp: 58-59

Water Clarity: Clear (4+ foot visibility)

Report: I fished the last 3 hours yesterday at Collins and was surprised to see some of the local guys had just completed a small fun tournament (I guess it was fun!). One of the fellows said the bite was pretty good, but no big bass. As I was about to launch, another bass rig arrived for the late afternoon. it was open house! Anyway, I caught 2 spotted bass at the dam (about 30 feet) and 2 more on island tops. The 4 spots were between 1 1/2 and 2 lbs. Missed 2 or 3 others. Bright sun when I arrived and then cloud cover with wind moved in - and cleared out when I left at dark. Weird! No bites on topwater this time. Lake need to cool a bit more which might get a good bite going.

Tips: Collins has risen several feet in the last 2 weeks. Most of the buoyed areas are deeper now. I caught my 4 bass on #301 Senkos with an inserted nail weight. Couldn't get a jig bite this trip. Bass should started hanging in the deeper part of the lake. I only had one good shallow bite, but missed her!
Friday, October 27th, 2017
Water Temp: 66

Water Clarity: Clear (4+ foot visibility)

Report: Got a day in fishing with my brother. We drop shotted Aaron's magic worms for seven fish for a total of about 13 pounds including a nice 3.5 pound spot dead sticking the worm. The spots were the usual places up the river but we did get into a couple down by the dam near the overflow.
Thursday, October 26th, 2017
Water Temp: ?

Water Clarity: Clear (4+ foot visibility)

Report: Using a loaner boat, I visited Collins Lake this afternoon for the last 3 hours of light. The lake is in beautiful shape and higher then normal for this time of year. The fires stopped short of the lake property and everything looked fine. The ice cream is still being scooped for visitors - I had some! The bite was slow - one hit on a jig. I threw a D&M white buzzbait after the sun went down and got a great blowup and a great spotted bass, almost 3 lbs. That was fun!! I had another great blowup from a quality bass but she missed it. Weather needs to cool for the bite to pick up.

Tips: If you are running around the east side of the lake, watch the buoyed areas. There are some shallow areas to watch out for. I would fish the main body now. I saw lots of fish and bait from 50 to 60 feet deep.
Sunday, October 1st, 2017
Water Temp: 71-73

Water Clarity: Clear (4+ foot visibility)

Report: Mike Sperbeck and I hit Collins Lake Saturday afternoon around 1 pm. Very busy lake but still room to fish. We started on an underwater island top and Mike put 4 in the boat right away - 3 largemouth and a spotted bass, 1 1/2 to 2 lbs. They were shallow - only 10 to 15 feet deep! The water temp had dropped several degrees from the previous cold front and probably got some of the smaller bass active. Mid-afternoon was slow but the bite picked up in the later afternoon. We wound up with 10 bass in the boat - mostly largemouth - and lots of missed bites. Probably a Saturday bite!! I tried topwater for quite a while in the evening - not a single blowup! That bite is probably 2 weeks away.

Tips: The jig bite is working at Collins like it is at most other lakes this year. Most hits on jigs and a few on 7" Power worms. Mike got a few shallow bass on a Senko too. We tried the river arm for awhile, no action there.
Friday, October 28th, 2016
Water Temp: 64-67

Water Clarity: Clear (4+ foot visibility)

Report: I made a quick 3 hr trip Tues before dark and found my number one rule about bass fishing was still in effect - "Whatever happened on your last trip will NOT happen on this trip!! The clouds were just starting to move in as part of the present storm. Thought the bite would be good - especially topwater. Not a chance!! I only had one topwater bite, which was a 1 1/2 lb largemouth that I landed. So - what do I do?? I wacky rigged some Senkos and threw Robo worms. That did the trick just before total dark. I caught 3 more spots from 1 3/4 to 2 lb 10 oz. Missed another and broke off a big fish. So, not a total bad trip. I broke off the big one on a jig.

Tips: All I had to do was look at the surface water to tell the topwater bite was off. I saw only 3 or 4 bass break the surface. Never got a bite on the spot that was the best on my previous best. Again, my fish I did catch were off the bank on structure. The lake will be coming up this weekend with the present storm and the Sunday storm.
Saturday, October 22nd, 2016
Water Temp: 66-68

Water Clarity: Clear (4+ foot visibility)

Report: I did a quick solo trip to Collins yesterday - testing the usual good fall topwater bite. It was on the hour before dark. The problem was -their accuracy in hitting my Chug bug wasn't very good. I missed several - one good one. They just wouldn't take it very good. It did land 3 spotted bass at 2 lb 13 oz, 2 1/4 and 1 3/4 lbs. I started about 4 pm and the late afternoon bite was dead.

Tips: I just followed the bass that were chasing shad and also fished some the of the submerged island tops. The middle of the lake and the east shore were best. Water was still pretty warm for late October!
Saturday, September 3rd, 2016
Water Temp: 80-83

Water Clarity: Clear (4+ foot visibility)

Report: I took a few hours to check out the bite at Collins Thursday afternoon. Weird - knowing what the holiday would bring in terms of boating on the lake, I and another boat, trolling for trout, were the only ones on the lake. I fished from 5 to 9 pm and got about 12 bites, landing 6 from 1 1/2 to 2 1/2 lbs. The bigger bass were all largemouth, hitting Robo worms in the MM111 color. I had 2 good topwater hits, landing one of them - a 2 lb spotted bass. My 5 biggest went close to 10 lbs. As is normal in the fall, all my bass were caught on off-shore structure.

Tips: Collins is an amazing lake and fun if you like fishing off-shore structure. it is just amazing to see when the lake is down - island tops, ledges, rock piles, stumps everywhere!! Speaking of the lake level, it is higher than I can remember for the Labor Day weekend.
Wednesday, October 7th, 2015
Water Temp: 71-73

Water Clarity: Stained (2-4 foot visibility)

Report: I made a quick solo trip to Collins today (Wed). starting about 3 pm and fishing until 6:30 pm. I looked and studied all the low water sights - structure that is normally under water. I fished some and looked around some. I was metering the middle of the lake with my NEW Gen 3 12" Lowrance. Fantastic!! All of a sudden a bunch of bass busted shad - out of nowhere!! I had the presence of mind to quick throw a spook and nailed a 3 1/4 lb spot. Good first topwater fish of the fall. I landed 3 more keepers on the spook - one a 2 3/4 lb largemouth. The bite didn't last long. I cranked a lot, but no hits. One worm hit.

Tips: With another warm week in store, I think the Oct bite will be a bit late this year. Launching take some time down by the dam, but had no trouble with my Ranger.
Friday, December 26th, 2014
Water Temp: 47

Water Clarity: Muddy (0-2 foot visibility)

Report: Cold day at Collins, 26 degrees when I got there, knocking ice out of my rod guides all morning. Ended up with 5 Spots for around 12 lbs. All in shallow water no more than 10 feet. Took all on plastic worms and dart heads. Graphed lots of fish around 40 feet on the bottom, but no takers (maybe catfish). Bass were all scattered, one here, one there.
Monday, September 22nd, 2014
Water Temp: 76-78

Water Clarity: Clear (4+ foot visibility)

Report: I visited the lake last Friday for a few hours before dark. Saw lots of bait in the center part of the lake but not much down by the dam. Had 3 or 4 bites and landed one 2 1/4 lb spotted bass - near the dam. It hit a jig of all things! Water is still warm and bait is deep.

Tips: I was not surprised that there was no surface activity - didn't get a hit on topwater. Things should perk up in mid-October.
Sunday, March 23rd, 2014
Water Temp: 59-62

Water Clarity: Muddy (0-2 foot visibility)

Report: I fished solo Friday afternoon and late Sunday afternoon. Fri I had some good takes on swimbaits and dumped a big spot at the boat. They are hard to net when alone. I caught 2 smaller spots this afternoon, but no takes on swimbaits - probably because of a north wind. Water temp dropped about 3 degrees because of the wind. I caught the 2 smaller bass on jigs.

Tips: As usual, the water temp is a little better on the east side, but not much. West side has some good structure under the water now - should be good before long.
Tuesday, November 26th, 2013
Water Temp: 55-56

Water Clarity: Clear (4+ foot visibility)

Report: I did a solo 2 1/2 hour late afternoon trip today, looking for the new hangout places since the lake is pretty low now. Launching is still fine. I threw jigs most of the time - casting and dragging. I missed a good bass mid-lake dragging in about 30 feet of water. I ending the trip fishing structure on the lower part of the lake and landed 5 spots up to 2 1/4 lbs. Missed about 3 or 4. Most hits were from 20 to 45 feet. Nothing shallow. Had to have some rock to find the fish.

Tips: I really didn't try many other techniques since my time was short. I was using brown/orange jigs with Yamamoto grub trailers.
Thursday, March 14th, 2013
Water Temp: 56-62

Water Clarity: Clear (4+ foot visibility)

Report: Spots and Largemouth in the shallow water East side and spawning, Largemouth on a Pre spawn with males cruising Throw worms to the base of the submerged trees and wait. Flukes, Senkos ,Sluggos any type of weedless plastic jerkbait.
City: Truckee
Sunday, February 17th, 2013
Water Temp: 49-51

Water Clarity: Stained (2-4 foot visibility)

Report: Fished Collins Sunday evening and Monday morning.
After figuring out the submerged tree pattern the fishing was pretty good. Had to find trees in 15-25 feet of water that were submerged completely. Caught fish on a variety of baits, senkos, drop shot, swimbait, dart head and jigs.
Fish were 1.5-2# average with a couple 3+ spots tossed in the mix.
Find those trees and fish slow!
City: Reno
Saturday, January 26th, 2013
Water Temp: 52 f

Water Clarity: Stained (2-4 foot visibility)

Report: Fished the Dam area. Caught five and missed 7 or so more. All on Berkley Powerbait Garlic. One had a stomach full of little silver minnows, inch and a half long.
Bite was best at sunrise and there was a midge hatch happening most of the morning.
City: Woodland
Friday, December 21st, 2012
Water Temp: 52

Water Clarity: Stained (2-4 foot visibility)

Report: I fished Collins yesterday afternoon for about 4 hours, but couldn't do much because of the howling wind. Hard to get away from it in this lake - being so open. I did most of my fishing at the lower end, near the dam. I missed about 6 or 7 fish - including a pretty good one - but landed 4 up to 2 lbs - all spots. Wind at 25-30 mph made feeling a bite impossible. All hits were on a D&M Piranha swim jig - craw color. I was using a Yamamoto Swim Senko as a trailer. Fishwere all over the water column - from 5 to 25 feet.
City: Yuba City

Tips: The lake is 10 feet from full and will fill within a week. Water will probably be dingy again for a few days. Bass will probably move quite shallow as the lake fills.
Tuesday, December 11th, 2012
Water Temp: 54

Water Clarity: Stained (2-4 foot visibility)

Report: I made a quick 3 hr trip today, mainly to try my new G. Loomis NRX rods. I only used 2 models, hooking 2 bass - a 2 1/4 and 1 3/4 lb. The rods felt great! I did hook a bigger one, but lost it. As I was leaving. I made one more cast with a D%M Piranha swim jig (craw color) and got a good hit in about 15 feet of water - and I even landed her! She was a spot just shy of 3 1/2 lbs. Nice short trip!
City: Yuba City

Tips: The lake has come up some 20 feet. It looks great but still fairly dingy. I would use some type of bladed bait or bulky bait. All my bites were about 15-20 feet deep. Got the first 2 drop-shotting Robo worms in the main body.
Tuesday, October 30th, 2012
Water Temp: 68-70

Water Clarity: Clear (4+ foot visibility)

Report: I made another afternoon trip to test the bite and found it still to be a bit slow. We need some cold nights! I found drop-shotting a grape color Robo worm to be the bait of choice and got a lot of action before dark - about 20 to 30 feet deep. Even though I had a lot of bites, I only landed 5 - but they were nice spots from 1 1/2 to 2 1/4 lbs. I caught one on the east side and the rest on the west side. Had one quality blowup on topwater, but missed her.
City: Yuba City

Tips: The coming rain and longer nights should cool the water some in spite of no cold fronts yet. The usual good October bite will be in November this year. I did quite a bit of spooning with no results.
Thursday, September 13th, 2012
Water Temp: 76-79

Water Clarity: Clear (4+ foot visibility)

Report: I made my first short early fall trip to Collins yesterday afternoon since the summer crowds are now gone. And - I was almost a hero! I was throwing my favorite Chug Bug topwater bait in the evening and hooked a big bass - well over the 5 lb range, but quickly lost her. There was shallow rock present and was lucky to get my lure back as she frayed about 2 feet of line on the rock. I lost another good one in the 3 to 4 lb range. Overall, the bite was slow. I caught 3 dragging a morning dawn Robo worm, and one on topwater - and a bluegill on topwater! Bass were all in the 2 lb range. Big fish might be about ready to show - probably another 2 or 3 weeks. Water need to cool a bit.
City: Yuba City

Tips: Look for areas that have a deep drop-off. When the lake drops, there are a lot of flats that just don't hold fall fish. The jig bite well pick up soon. I saw some shad on the surface, but only a few bass chasing them.