New Melones Lake and Reports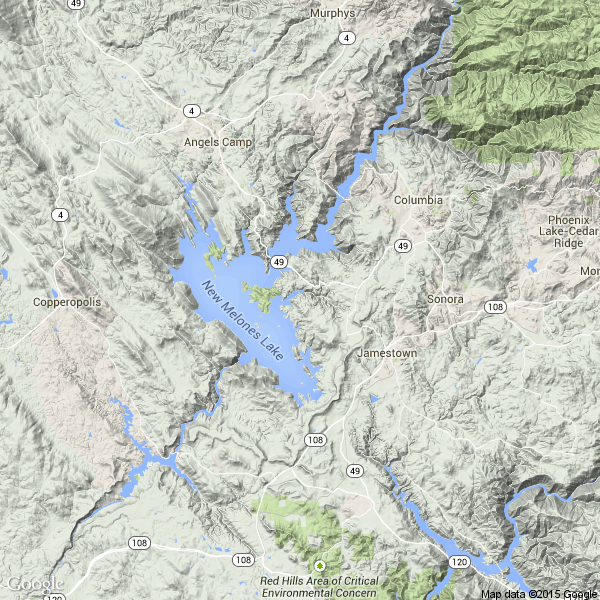 Click for Navionics/Google interactive map
Sunday, Jan 17

Wednesday, January 13th, 2021
Water Temp: 53

Water Clarity: Clear (4+ foot visibility)

Report: Started the day running lake points . First stop me and my buddy fishing 35 ' of water he sets the hook on 3 lb largemouth using a Carolina rig . Couple minutes later I hook up a nice spot 2 3/4 lb on a drop shot . Needless to say we duplicated this around lake with great results .

Tips: Slow down dead stick you're bait . Also if you can't see fish on you'r electronics move on .

Water Temp: 48

Water Clarity: Clear (4+ foot visibility)

Report: Went to my new Melones and fished for 8 hours. Got on the water by 9 and roads were very icy coming in. Not sure why they were icy but I saw two accidents. Tried a lot of patterns and they all didn't work, jigs deep, jigs shallow, swimbaits, drop shot, Ned, none produced bites.

Fished a float and fly and let my bait soak for 10 minutes per cast to get bites. Only had a handful of keepers, none of them were big.

I went on Wednesday the 13th and there were probably 70 boats on the water, mostly bass boats. Couldn't fish half of my spots and people were less than courteous when I was fishing and rolling up very close to me.

Not worth it. Berryessa is fishing too good right now to drive that icy road in.

Tips: Don't go.
Thursday, December 31st, 2020
Report: Last week my buddy Ed Austin and I made trip over to New Melones to get out of the fog.

When we started fishing we noticed the water was pretty clear with about 10' of visibility and the surface temp was at 54*. It looked like the water had been falling so we hit the points first and started getting bit right away!

Remember, when the water is falling, yhr points are always a good starting spot. There's an old saying I heard from Rick Clunn..... "falling lakes point's fish out". Well it is true and The fish are on points big time. We found them scattered from 20' to 65'.

Ed started with a dropshot with a 4" worm and I used a Bass Union 3/4 oz jig because that's what I have been using at every reservoir for the past month Shasta, Camanche,and Hogan. It didn't take long to start catching them, so take your favorite bait, get on some points and don't be afraid to fish out to 70'.

We had such a good time that we decided to go back on Tuesday and had a another awesome day with over 30 fish, but while we where fishing Ed got a text from his son Jason that was fishing at Camanche. Jason was fishing with his son Cole and HOLY MOLY !! It was a picture of a 13.88. Jason had just caught it on a swimbait.

Congratulations to Jason.Tthat is a fish of a life time for most people! This is my favorite time of year to fish!

So put on some warm clothes and get out and enjoy some of the best fishing of the year!

I hope this helps! Good luck fishing!
stanL
Wednesday, November 25th, 2020
Report: by Whoopbass » Wed Nov 25, 2020 5:02 am

I was there on Saturday. There were bait balls all over the lake in the 30-60' range but nothing was feeding on them. Partner and I fished mainly in 15-50' of water with neko rigs and drop shots for around 25 fish with no size to speak of.
If you can't find active bait balls then the fishing stinks. There's trout feeding on the surface so have a rod ready with your favorite trout lure tied on.
The water is clear with temps around 55 degrees.
Monday, August 3rd, 2020
Water Temp: 81 avg

Water Clarity: Stained (2-4 foot visibility)

Report: Fished Angel's arm from 6:30 pm - 11:30 pm. Bite was dead until dusk when I picked up a 1.5-2.0 lb fish on a jig. After dark, got 2 more on a jig.1-1.5 lbs. I got no bites on any other lure. Bite died about 2 hours after dark. Maybe Mondays are a bad day to go since a guide (drives ChampioN) said there was maybe 500 boats on the lake the day before (Sunday). Or, maybe the fishing is just lousy or maybe I'm not fishing in the right places.

Tips: Maybe dont fish Angel's arm;)
Monday, July 20th, 2020
Water Temp: 80-84

Water Clarity: Stained (2-4 foot visibility)

Report: We got on the water right at dawn and fished until about 1 PM. Went with topwater right away and got a few dinks on a popper. The zara spook and whopper popper did not produce. Then we ran crank baits some and got nothing. Drop shots with oxblood roboworms produced small ones. We finally got into a few keepers to 2 points with jigs worked slowly around wood. Overall a very slow day.
Saturday, May 9th, 2020
Report: Fished from sun up til after sundown on the day of the opener. Hit Angels first thing and caught 3 decent fish from 2.5-3.75 lbs. I believe we caught all of those on a neko rigged senko. From there headed to the back of Mormon creek. Decent bite there. Caught a few more in the 3 lb class plus a bunch of others from 1/ 2lb to 2 1/2 lbs. We used cranks, blades, senkos, drop shot, etc.
Sun was up so we fished an island a little south and caught a half dozen dinks. Headed up river past Parrots Ferry Bridge and caught dink after dink. We fished all the way up river to the log jamb and managed a bunch more dinks and a few in the 2 lbs class and a few more that were larger with the biggest weighing a little over 3lbs.
Got bored and headed into Coyote. Nothing but dinks. It was getting later so we headed back to Angels and caught a few more dinks. There was about an hour more of light so we headed for the Tuttletown ramp. We were going to leave but decided to fish a couple islands around there. The bite picked up considerably. We boated around another 30 fish around those two islands. These fish were healthier up to a little over 2lbs.
Caught em on the neko rig and after it got dark a white willow leaf spinnerbait was working the best.
Since the moon is full it made the fishing tough during the day but good in the morning and evening.
During the day I think we only got bit a couple times deeper then 5 feet. There was nothing biting deeper then that. Shallow fish were biting but they were 10 inchers.
With this full moon my advice is to show up later in the day and stay til midnight.
Wednesday, March 4th, 2020
Water Temp: 58-60

Water Clarity: Stained (2-4 foot visibility)

Report: Fished from 4:30 - 9 pm. Started out throwing chatterbait, senko, worm, crawfish, and small/medium sized Keitechs with no bites, then first cast with a jerk bait produced about a 1.5, then got 2 more on a crankbait. I stayed after dark a bit to sample the bite. It started out ok (2 fish on jig and worm, nothing on spinnerbait) then the bite shut down. 5 fish total, biggest was a 3.3.
Monday, March 2nd, 2020
Water Temp: 55

Water Clarity: Stained (2-4 foot visibility)

Report: My friends and I at the Wild West (Video) https://youtu.be/rqQ2halzI5E
Thursday, January 2nd, 2020
Report: by Pat » Thu Jan 02, 2020 7:59 am

I was there on the Dec 23rd. Fishing with a buddy and his son we caught all of our fish on Ned rigs in the top 15' . We fished Angels arm and between the bridges, did better between the bridges targeting points. They are starting to bunch up so if you catch one, hang around. Water temp was still mid 50s, I think it will get better as it cools.
Tuesday, December 31st, 2019
Report: by Chad Sweitzer » Tue Dec 31, 2019 10:44 am

There is a swimbait bite, but it's been slow. Spybaits have been getting solid limits for me, especially when the lake is busy.

Report: by THE DR » Tue Dec 31, 2019 9:31 am

I was there Sunday. We had a dozen fish to 4lbs. Mostly fishing deep ledges and deep island tops. Best bite was from 20-55ft. Everything came on dropshot shad baits and shakey head shad color.

I threw the mag and glides part of the time and never had a follower...
Monday, December 30th, 2019
Report: by Whoopbass » Mon Dec 30, 2019 9:27 pm

I was there with my partner on Saturday for the first time in 6 months. We caught 28 fish all day with nothing over 2 1/2 pounds. The fish were scattered anywhere from 10' down to 60'. All we threw were nail weighted senkos.
We fished the South end and half way up river. The entire lake fished about the same. Seemed like up river the fish liked the bait shook pretty good and the south end we had to dead stick it with an occasional shake. The fishing wasn't great. There were a couple times where we didn't get bit for an hour or so.
Friday, November 22nd, 2019
Water Temp: 61

Water Clarity: Clear (4+ foot visibility)

Report: My friend Fred and I fished New Melones for 2 days Nov 21-22. I have only been here a few times and never at this time of year. The first day we struggled to locate fish while we looked for bait, hoping to find a spoon bite. We were fishing steeper areas in between the bridges. Expected the fish to be deep. We only manged 5 decent fish on a variety of baits. Next day we changed tactics and fished major creeks off the main body. Much better day. We found fish in the top 15 feet willing to take tubes and Ned rigs. We totaled 20+ decent fish, biggest was 3-12 plus a couple 3 pounders and several more in the mid 2 pound range. We figure the best 5 were 14 pounds. We were pretty happy with the end result. Really like this lake, it fishes a lot like Berryessa..

Tips: Best areas were 45 degree banks and points with a mix of large rock and clay. Shade or a breeze seemed to help the bite. Hindsight, I might try an underspin or jerk bait along those banks with some wind. Watch for grebes, the birds were in all the areas we caught fish.
Friday, September 13th, 2019
Water Temp: 78

Water Clarity: Clear (4+ foot visibility)

Report: Fished four of five days around this date. Fishing was slow but I did manage to catch 1-2 okay fish in the 2-4 pound range each day. Farther up the river, there seemed to be a morning topwater bite at dawn that lasted only 20-30 minutes. After that, deep was the ticket with underspin swimbaits working in 20-30 feet of water but again, pretty slow bite. Also snagged a 2.5 pounder under a rock with a wacky worm. And dredged a few out in the late morning near shore using a deep diving crankbait (orange).

Tips: Fish the points, as I had zero luck in the pockets
Thursday, September 12th, 2019
Water Temp: 76.4

Water Clarity: Stained (2-4 foot visibility)

Report: A quick trip, fished from 5 pm to 9:30 pm. Fishing was slow overall. I caught about 7 small fish 12" and smaller on jigs, worms, and spinnerbaits from the bank out to 20' depths. Maybe the fishing will pick up when cooler weather arrives.
Thursday, August 29th, 2019
Water Temp: 79.5-80.5

Water Clarity: Stained (2-4 foot visibility)

Report: Launched out of Glory Hole around 4:30 pm. Since only my 2nd time to this lake, I scouted a few miles of shoreline, saw some amazing structure, and noted some fish were busting shad in one cove. After I finished scouting, I returned to the topwater action cove and found they were small fish, so switched to other baits. Fishing was very slow until dusk, I picked up a dink on a crankbait, then I got a 2.5 pound LM on a 6" worm (I think was an old Magic Worms summer moss color). That was it for daytime. After dark, I motored over to a rocky point inside a cove and found the action good (though size only about 1-2 pounds) black/blue jigs and the 5" fat ribbed Power Worm in dark grape. Around 9:30 pm, I was working my way along the bank out of the cove to the main body and found waves and wind. So, I called it a night and headed back across the whitecaps to the ramp, caught a lot of spray on the way back. I think I would have found some heavier fish if I had been able to stay out later.

Tips: Main and secondary rocky points were the best.
Saturday, August 3rd, 2019
Water Temp: 80

Water Clarity: Stained (2-4 foot visibility)

Report: Launched at Glory Hole ramp at 7:20 ran up the river and started fishing main points. The fish where at 20 ft plus for me using zoom worms. Ended the day about 1:30 it was getting to hot for me and the bite also was slowed way down after 12. Ended the day with about 11lbs. I had a 3lb spot and a 3.75 large mouth, 16 total fish a mix of large mouth and spots. I haven't fished New Malones in many years can't wait for the spring.

Tips: This was my 3rd trip in 4 weeks. Same pattern working for me. The fish seem to like the 6" zoom worm, fish it down to 20 to 30 ft fish it slow, a little shaking helps and move the boat slow. Most fish I don't feel, when I go to move the worm they are just there.
Tuesday, July 16th, 2019
Water Temp: 78-79 degrees

Water Clarity: Clear (4+ foot visibility)

Report: Wow, what a beautiful lake! This was my first time on the lake. Fished the full moon July 16th from 7:30 pm - 1:30 am. Because of a strong west/northwest wind right before sunset (whitecaps), I headed directly into the wind and fished the sheltered areas along the 1 mile of shoreline due west of the Glory Hole ramp. I also fished a main lake peninsula about a mile north of Glory Hole for about an hour. It didn't matter where I fished, steep or sloping banks, I always got the same results: over 30 bites, many very aggressive, but with only about 8 fish landed, all 9-13 inches - all tail biters! No quality. Fish were caught on spinnerbaits, black/blue jigs, and 5" thick ribbed power worms with a couple of blowups on a spook. Areas with large rocks on shore seemed a bit better. The grub trailer I used on jigs and spinnerbaits was a #177 5" Yamamoto grub. I think these small fish were after the grub tail. When I switched to a different grub color on the jig, no bites. The only worms which got bit were dark grape power worms. Senkos were not producing, I might have gotten one bite on a senko. There were enough insects out that I didn't bother turning on my black light (which attracts bugs at night). I hope to return here again with better (larger) results!

Tips: Spook: twitch 3-4 times then stop, that's when the fish hit.
Spinnerbaits: Cast parallel to bank over submerged rocks, let helicopter down once in a while. I was lazy and didn't use a stinger hook, this would have added about 8 more dinks to my fish count. At night, I use the Strike King Midnight Special black/blue with rattles, a very good night time spinnerbait with #177 5" Yamamoto grub trailer. During the day I used a Terminator silver willow-leaf with same grub. Both worked.
Worms: Dead stick it once in a while. I used brass and glass but I doubt it mattered this trip.
Jigs: Mostly black with big gap hook and rattles with 5" #177 grub and Smelly Jelly crawfish.
Saturday, June 22nd, 2019
Report: by Wrknap » Sat Jun 22, 2019 6:09 am

We had a great trip to New Melonies this past week. We fished three days and every day was fantastic, 50+ fish days and we were off the water by 1pm. I found the better areas were above the 49 bridge. Early mornings were beautiful but slow, the bite didn't really get going until the sun hit the water. SpiderJigs with twin tails seemed to work best although we caught fish on just about whatever we threw. My brother-in-law even caught a big cat on a spinner bait, crazy!
Looking forward to the next trip!