Shasta Lake and Reports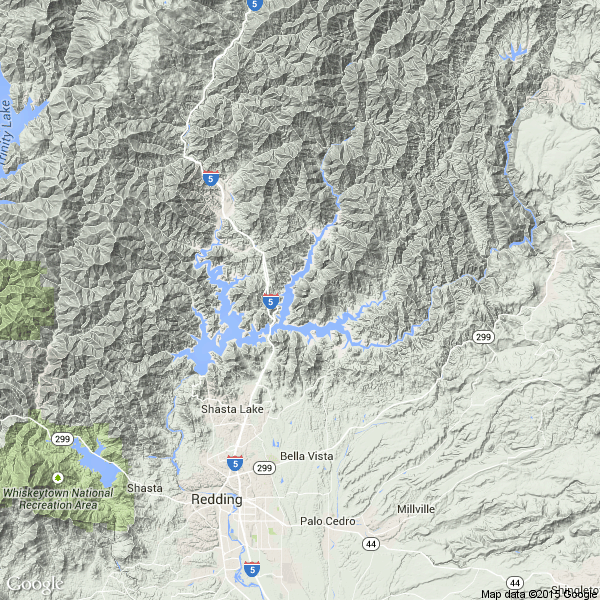 Click for Navionics/Google interactive map
Saturday, Sep 23

Friday, April 21st, 2023
Report: by BASNFAN » Fri Apr 21, 2023 6:45 pm

I took my cousin Charlie up to Shasta and we fished 3 1/2 days beginning on Monday the 17th. A couple of good showers that afternoon but very cold day with best water temp at about 52 degrees. It warmed a little each day (air temp and H2O temp). By Thursday PM, we found some water temps up to 57. Fishing was great but the catching sucked. In the 3 1/2 days, we only put 8 bass and one 17 inch trout in the boat. Biggest bass was just 15 1/2 inches. Might have done better but I am not the greatest deep water fisherman. We did mark lots of fish in the 10 to 20 ft range and got quite a few bites but for the most part, they would just not hook up. Our neighbor at the cabins with his big, beautiful bass boat only caught 2 bass on Thursday so I don't feel so bad. The lake is now only about 9 feet from full pool.
Sunday, August 21st, 2022
Water Temp: 82

Water Clarity: Clear (4+ foot visibility)

Report: Hit the water at 06:00 AM. Top water produced nothing. Caught 5, all less than 1 lb. 3 on Sencos, 2 on Shakey head, 7-inch worm. Off the water by 10:00 AM. Looking forward to some cooler weather.

Tips: All caught at 25 feet +/-
Monday, August 15th, 2022
Water Temp: 80+

Water Clarity: Clear (4+ foot visibility)

Report: On the water at 6AM, First cast 2lb+ Shakey head. Lost 2 more in the next 3 hrs before heading home. Air temp approaching 100. Dropped green pumkin senco on top of school, not interested. Few rising, not interested in Sexy Shad. Friend was out day before, No results.

Tips: Fish seen on graph 25 feet. Waiting for cooler weather.
Tuesday, July 5th, 2022
Water Temp: 76

Water Clarity: Clear (4+ foot visibility)

Report: Cloudy, temps in the mid 70s. Good day, best 5 went 9lbs, largest spot was 2lbs 8 oz. Early on many small, size picked up around 11AM. All caught on shakyhead. Could not buy a bite with Sencos!
Monday, June 6th, 2022
Report: by Jboutfishn » Mon Jun 06, 2022 6:11 pm

I try to fish Shasta 2 days a week. Being an old guy I really don't like fishing in the rain and on hot summer days I get off the water by 11:00AM If anyone reads my reports I will try to post weekly.

Shasta has produced a lot of spots most everywhere with finesse baits in 1 to 10 feet. Early morning top water has produced some to 3 lbs.
Friday, January 28th, 2022
Water Temp: 48-50

Water Clarity: Stained (2-4 foot visibility)

Report: Launched at Centamudi because it's only 10 minutes from the house. Got on the water around 7:30 and fished until noon. Stayed near the dam, and found a lot of bait in one of the creek arms. Continued towards the back of that arm until we found the fish and I was surprised they were only in 14 to 20 ft of water, with some even shallower. My partner started off throwing a drop shot and boated a 3.19# spot on his first cast. I started off throwing a Neko rigged senko, which has never been my go-to bait anywhere really but I am trying to gain confidence in it. I missed a fish, and my buddy had two more in the boat very quickly on the drop shot. I switched to the drop shot, and we were both throwing keitech easy shiners. Immediately started getting bit and we had about an 8.5# limited within 20 minutes fishing.
A light breeze came up out of the North causing enough chop for me to pick up my float and fly rod. I casted to the bluff wall opposite of the bank we were fishing, and immediately had to pull down with the hair jig running out about 12 ft deep. That fish was a solid 2 pounder. Continued with the float and fly and missed two lift bites, and then hooked several more on it before switching back to the drop shot.
My partner started throwing a Ned rig as the sun peeked over the ridgeline. He caught two on the Ned rig. I started throwing a jig as the sun hit the water and the fish seemed to suck down into the guts of the creek channel and cuts. Caught a couple on a jig, and missed a few as well. We left at noon with a 10.5# limit on the scale. I was really surprised the bite was as good as it was after 3 days of heavy pressure from the Wild West Pro-Am tournament. We definitely hooked several fish that had been sore lipped three or four times.

Tips: It seems to be the usual Shasta bite in January when we've had the storm door shut for over a month. Just find fish on the electronics and then don't leave unless you are not catching the quality you are looking for.
Wednesday, October 27th, 2021
Report: From Shasta Lake

Good afternoon Shasta Lake!
The lake has not only stabilized, but it has shot up a few feet from where we bottomed out this year. From October 21, 9pm to midnight of October 22 (3 hours), CDEC reported an elevation of 882.24 ft, or 184.86 feet down from full pool. In comparison, we were very close to 2014 elevation when we bottomed out around 177 feet down.
Interesting information about the recent storms:
- Highest recorded rainfall at the McCloud location - 5.34" (10/22)
-Highest inflow was 53,864 cubic feet per second (6am, 10/22)
-The lake has jumped up 3.78 ft from it's low.
It is how the storms arrived that has made the unique impact from these storms. Usually it will take several events of rain before the ground is saturated enough to allow run-off and "sheeting" to take place. This year, it happened on the first event. The amount of heavy and steady rain certainly saturated the top soil and even further. So much so that it is raining in Lake Shasta Caverns, you can hear the amount percolating through the mountain in the video.
With the hydrology back in action on the lake, it promotes other obstacles. The fine silt has turned into a slick mud encasing the majority of the shoreline. The mud is pulled towards the lake through erosion and ends up in the lake. The turbidity of the lake continues to turn the silt & water mixture into what looks like chocolate milk. Some of these valleys have potential for large mudslides, moving hundreds of yards of material in minutes during our deluges.
What I will point out as an interesting observation is to why the powers that be, were releasing water from the dam almost at the same rate as the inflow. This helps to explain why Oroville jumped 12 feet and Shasta only 4. I have not heard any explanation for this yet, but everyone on the lake is wondering why that happened.
While this creates a muddy, and almost impossible mess to work in, you can rest assured that the lake is very busy with employees keeping the docks, boats and other infrastructure safe. Yet we are loving every single drop that falls and fills the lake.
Keep those rain dances up and BRING ON THAT RAIN!!!
Lake Level Report (10/27/2021 at 12:00 hrs)
Lake Elevation: 885.73' (181.08' below full pool)
24 Hour Difference: (UP) +0.27'
Lake Elevation (2020): 962.75' (104.25' below full pool)
Storage: 1,271,310 af (estimated)
Storage (2020): 2,095,094 af
Outflow (24 hr avg): 4,851 cfs
Inflow (24 hr avg): 6,657 cfs
Total Capacity: 22%
Historical Average: 41%
Precipitation (24 hr @ McCloud): 0.06"
Precipitation (Season @ Dam): 7.89"
Precipitation (2019-2020 Season @ dam): 0.20"
Sunday, October 17th, 2021
Water Temp: 60's

Water Clarity: Clear (4+ foot visibility)

Report: Just got back from 5 days on the lake. Oct 10 - 14) The bite was outstanding when the winds were howling. Fish were between 3 - 8 ft. Fished white chatterbaits with fluke trailers in backs of coves with salt cedars. One day I had 15lbs with largest being a 61/2 lb spot. When wind died down , top water bite was in full swing.(Vixen in rainbow trout color on and next to points with shad balls) (for those of you who don't know what a Vixen is, I believe it was a reaction innovations or John Dare's take on a zara spook). Special shout out to the guys at Phils who went the extra mile to make sure my trailer was safe.

Tips: Reaction baits Reaction baits Reaction baits!
Use Bridge Bay Ramp, Jones Valley was pretty muddy. Saw 2 4wheel trucks tied together try to pull a ski boat out and they couldn't do it. Took a tractor to pull it out.
Monday, July 26th, 2021
Report: by Jboutfishn » Mon Jul 26, 2021 12:07 pm

Launched at Sugarloaf, 6:00 am, what a pit. the dock (for what it's worth) is at an angle to the ramp which is Old Hwy 99. Left side of road is deeper that the right, always fun loading. If I did not have an annual pass I would launch at Bridge Bay. Rant over.

Lost several Sencos to what I perceived to be small fish on the Sac. Tried a shaky head with 7 inch Robo worm. All small. Ran over to the Pit/McCloud area picked up a 2lb 9 oz spot, had another on felt about the same, lost it. Both on green pumpkin Senco.

11:00 am, getting hot, Headed home.
Friday, April 23rd, 2021
Report: by BASNFAN » Fri Apr 23, 2021 5:55 pm

Shasta fishing was crazy this year compared to most years . Between my partner and I, we boated 72 bass and one crappie in the 3 1/2 days. Usually we do that many for both of us in one day. Biggest was pushing 2 lbs. The crappie though was 14 1/2 inches and provided more meet and bigger filets than the bigger bass. We saw a few beds and little bucks swimming around. We kept 14 fish for the freezer and not one with eggs and only two that had red tails. Keitecks at about 3.8 in was a good bait but most fish came on Robos rigged Texas, darter headed, or Neko rigged. My umbrella rig never got a bite, nor did any cranks. It was still a good trip for us. Water temps were up and down but generally between 58 in the AM and 63 or 64 in the PM.
Sunday, January 10th, 2021
Water Temp: 50-51 degrees

Water Clarity: Stained (2-4 foot visibility)

Report: Fished the Pit Arm near Jones Valley Marina. Caught about a dozen keepers, nothing over 2lbs. Most fish were caught on the Ned Rig or a 1/2 ounce football head jig with a watermelon with red flake Hula Grub. Marked a lot of fish in the trees with the Humminbird 360 with little success in getting the fish to bite. Overall great time on beautiful Shasta Lake. Side note be careful out there with the lowering lake levels trees are everywhere!!
Sunday, June 21st, 2020
Water Temp: 71-75

Water Clarity: Clear (4+ foot visibility)

Report: Whew. Spent the past week up at Shasta with the lady and had a blast. I managed to get out on the lake a few times and the bite was wide open. I spent most of the time fishing up the McCloud arm and could pretty much catch em on whatever I threw. Early mornings and late evenings topwater bite was wide open. A lot of cookie cutter 1-2lb spots but mixed in were solid 2-4 lb spots and ended up getting my biggest shasta spot (4lbs) and largemouth a touch over 5lbs on a spook. This morning I got out from 5am-10:30am and boated roughly 85 fish; the majority on a spook and whopper plopper. Fast and erratic with the spook with the occasional pause seemed to be the pace they wanted.

Tips: Switched out the back treble on my spook to one with a feather, seemed to get more bites. Also burning a fluke nose hooked produced some wild bites as well; and I mean burning that thing as fast as your reel will let you
Saturday, September 7th, 2019
Water Temp: 80

Water Clarity: Clear (4+ foot visibility)

Report: Some top water very early or late on Berkley Choppo. Bass are heavily feeding on shad and most are on points. Favorite plastic or jig in 10-30 feet on points will get fish. Although it's past Labor Day weekend, there are still a lot of boats on the lake.

Tips: If not fishing top water then be sure your jig is in contact with bottom.
Friday, May 3rd, 2019
Water Temp: 64-70

Water Clarity: Clear (4+ foot visibility)

Report: Fishing was decent when I went down a week ago. Was able to pick up quite a few top water bites in the morning and in the evening, but was pretty tough to pick up bites during the daytime. I changed up baits quite a bit and found the most consistency on a wacky rig and spinner bait. Biggest spot was around 3lbs on top water, but other than that I didn't catch any decent fish.

Report: by Wilson » Fri May 03, 2019 8:05 am

Was on Shasta from April 25th-28th. Fished about 13 hours each day except for Sunday. Total fish caught was 404 between the two of us. We learned having a clicker counter helps keep track of total fish caught when the fishing is off the hook!!! Best day was Friday with 144. All really nice fish from 1.5lbs-3lbs.
Wednesday, May 1st, 2019
Report: y Inland fisheries advocate » Wed May 01, 2019 3:08 pm

If you can get to Shasta lake it is the best fishing I've had in 40 years. We were on Sacramento arm for a week. Most fish in first 15 foot. Senkos in baby bass & rainbow trout... Bass are far and have nice shad in their mouths. Willows are packed with fish & the lake is basically full
Thursday, April 25th, 2019
Report: by Inland fisheries advocate » Thu Apr 25, 2019 6:37 am

Don't hear much on lake shasta... it is fishing great... We're fishing senkos..
Time to get out & enjoy this fabulous fishery
Wednesday, March 13th, 2019
Water Temp: 48-50

Water Clarity: Stained (2-4 foot visibility)

Report: Stayed, launched, and fished Bridge Bay Resort. Water was stained to clear despite recent rain. Over 4 days the weather was a mix of cold snow and rain to sunny and warm. Found most of the bass in 20-35 ft of water with an occasional deeper or shallower bite. Caught fish on rocky points and steep walls. Dropshot, shakey head, and jig rig produced the best. 20 +/- fish a day 1-3 lbs.

Tips: -Braided line to fluorocarbon leader worked better than straight fluoro or mono. More sensitive and less line twists.
-I got better hookups with a 1/0 gama octopus hook compared to similar sized gama finesse split shot/dropshot hook.
-Watch your graph for fish, but I do think my graph was not picking up fish that were tight to the bottom or laying in crevices.
Friday, May 11th, 2018
Water Temp: 66 - 71

Water Clarity: Clear (4+ foot visibility)

Report: Close to 20 of us gathered on two house boats on the pit arm for a great time. 9 boats and a daily weight in had most bringing 8 to 10 lbs each day to the scales. 100 plus spots and small mouth caught each day. early am and pm top water was off the hook. drop shot, keitech, wacky, cranks, poppers and many others were our go too's.
Tuesday, November 7th, 2017
Water Temp: 65

Water Clarity: Clear (4+ foot visibility)

Report: Guys trip to Shasta on October 28th and 29th. Fished for bass all day long on Saturday. Fish finder said they were there, but we tried plastic (twin tail grubs; worms; etc), crank baits; drop shot; umbrella rig with little success. Four fish in 8 hours and none bigger than a pound. Spoke to a local and he said he had same results.

Changed focus and went up Sacramento arm toward river on Sunday. We changed tackle and fished for trout (sorry, we are traitors). We could not miss. 34 fish in four hours for the 4 of us. (We released them all). Large one at about 2.5 pounds. Best tackle was the good ole cast master. Had a strike on almost every cast. Trolled back to the boat ramp and picked up 6 more fish.

A fantastic day!

Tips: Fish for what's biting! Sometimes the best tackle is the old tackle.