Shasta Lake and Reports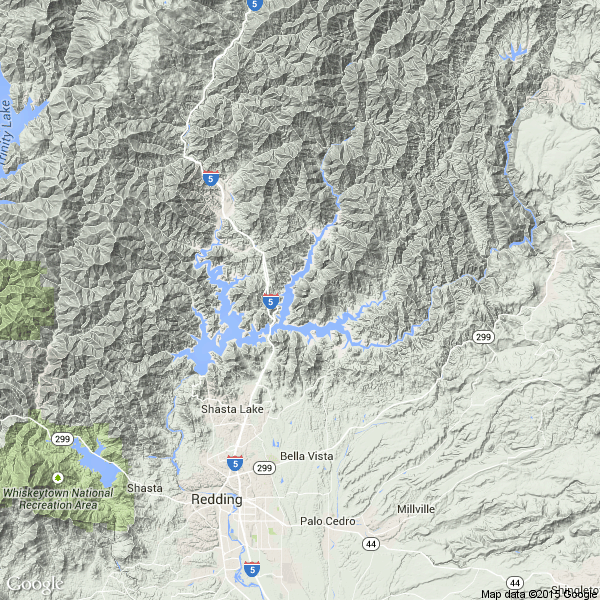 Click for Navionics/Google interactive map
Saturday, Jun 6
Slight Chance Thunderstorms
Precip: 20%
Slight Chance Thunderstorms
Precip: 21%
Saturday, September 7th, 2019
Water Temp: 80

Water Clarity: Clear (4+ foot visibility)

Report: Some top water very early or late on Berkley Choppo. Bass are heavily feeding on shad and most are on points. Favorite plastic or jig in 10-30 feet on points will get fish. Although it's past Labor Day weekend, there are still a lot of boats on the lake.

Tips: If not fishing top water then be sure your jig is in contact with bottom.
Friday, May 3rd, 2019
Water Temp: 64-70

Water Clarity: Clear (4+ foot visibility)

Report: Fishing was decent when I went down a week ago. Was able to pick up quite a few top water bites in the morning and in the evening, but was pretty tough to pick up bites during the daytime. I changed up baits quite a bit and found the most consistency on a wacky rig and spinner bait. Biggest spot was around 3lbs on top water, but other than that I didn't catch any decent fish.

Report: by Wilson » Fri May 03, 2019 8:05 am

Was on Shasta from April 25th-28th. Fished about 13 hours each day except for Sunday. Total fish caught was 404 between the two of us. We learned having a clicker counter helps keep track of total fish caught when the fishing is off the hook!!! Best day was Friday with 144. All really nice fish from 1.5lbs-3lbs.
Wednesday, May 1st, 2019
Report: y Inland fisheries advocate » Wed May 01, 2019 3:08 pm

If you can get to Shasta lake it is the best fishing I've had in 40 years. We were on Sacramento arm for a week. Most fish in first 15 foot. Senkos in baby bass & rainbow trout... Bass are far and have nice shad in their mouths. Willows are packed with fish & the lake is basically full
Thursday, April 25th, 2019
Report: by Inland fisheries advocate » Thu Apr 25, 2019 6:37 am

Don't hear much on lake shasta... it is fishing great... We're fishing senkos..
Time to get out & enjoy this fabulous fishery
Wednesday, March 13th, 2019
Water Temp: 48-50

Water Clarity: Stained (2-4 foot visibility)

Report: Stayed, launched, and fished Bridge Bay Resort. Water was stained to clear despite recent rain. Over 4 days the weather was a mix of cold snow and rain to sunny and warm. Found most of the bass in 20-35 ft of water with an occasional deeper or shallower bite. Caught fish on rocky points and steep walls. Dropshot, shakey head, and jig rig produced the best. 20 +/- fish a day 1-3 lbs.

Tips: -Braided line to fluorocarbon leader worked better than straight fluoro or mono. More sensitive and less line twists.
-I got better hookups with a 1/0 gama octopus hook compared to similar sized gama finesse split shot/dropshot hook.
-Watch your graph for fish, but I do think my graph was not picking up fish that were tight to the bottom or laying in crevices.
Friday, May 11th, 2018
Water Temp: 66 - 71

Water Clarity: Clear (4+ foot visibility)

Report: Close to 20 of us gathered on two house boats on the pit arm for a great time. 9 boats and a daily weight in had most bringing 8 to 10 lbs each day to the scales. 100 plus spots and small mouth caught each day. early am and pm top water was off the hook. drop shot, keitech, wacky, cranks, poppers and many others were our go too's.
Tuesday, November 7th, 2017
Water Temp: 65

Water Clarity: Clear (4+ foot visibility)

Report: Guys trip to Shasta on October 28th and 29th. Fished for bass all day long on Saturday. Fish finder said they were there, but we tried plastic (twin tail grubs; worms; etc), crank baits; drop shot; umbrella rig with little success. Four fish in 8 hours and none bigger than a pound. Spoke to a local and he said he had same results.

Changed focus and went up Sacramento arm toward river on Sunday. We changed tackle and fished for trout (sorry, we are traitors). We could not miss. 34 fish in four hours for the 4 of us. (We released them all). Large one at about 2.5 pounds. Best tackle was the good ole cast master. Had a strike on almost every cast. Trolled back to the boat ramp and picked up 6 more fish.

A fantastic day!

Tips: Fish for what's biting! Sometimes the best tackle is the old tackle.
Tuesday, May 2nd, 2017
Water Temp: 60-66

Water Clarity: Clear (4+ foot visibility)

Report: Fished the lake for four days with a few of the Tri Valley Bassmaster boys. Caught a lot of fish. About 40 fish per person per day. Nothing over three pounds. All the usual baits worked well with best baits being a clear black flake single tail grub, and a dark multi color jig. Pit river arm near floating wood or submerged trees were best spots, caught plenty on the other arms also.

Tips: THERE IS A LOT OF BIG FLOATING LUMBER!!!! Be very careful, you can't help but hit some. Several south side ramps were full of lumber making them inaccessible. Also several windows were smashed and trucks broken into at the Jones Valley ramp.
Sunday, April 30th, 2017
Water Temp: 58-61

Water Clarity: Stained (2-4 foot visibility)

Report: We fished Shasta for 4 days, 2
of which were a tournament. We didn't catch anything bigger than 1.9 lbs but lots of fish in the 1.3-1.6 lb range. All spotted bass. Best bite was on muddy points fishing the muddy water line. Kaitechs and morning dawn roboworms ned rigged worked best for us.
Saturday, January 28th, 2017
Water Temp: 49

Water Clarity: Clear (4+ foot visibility)

Report: Saturday morning after the sun hit the water and frost begin to thaw, the wife and I launched our Design Concept River-Jet at Centimudi ramp. The water was calm, clear and cold. We set out for Dry Creek first thing and dropped down riggers in attempt to find a few rainbows or salmon. Multiple flasher/lure colors were presented with no fish to be found on the graph. After about an hour, we switched to bass rigs and headed for main lake primary points. The blonde in the back focused on using Keitechs while my choice was green/white Senkos. After approx. 30 minutes I located a school of females between 40-50 feet of water. My first strike was very light and I admit that my drag was too loose and I flubbed the "set" and didn't get a good hook set. It came off after 3-5 seconds but I felt she was heavy. We concentrated on that hole and I was able to hook five descent fish but only boated two. Both were females at 2.5lb and 2.2lb. We brought them home for dinner and I was surprised to find each was already producing nice sets of roe. I will regret saying this but I skunked the wife today and she is already asking for a rematch!

Tips: Take a child fishing. They will remember it forever!
Monday, January 9th, 2017
Report: Good morning Shasta Lake!
With the New Year, we have received a tremendous amount of rain and even snow! With the largest deluge of precipitation arriving yesterday. Unfortunately the warmer water washed away the snow that we had at the McCloud location.
We started off the year at 1022.20' or 44.80 feet below the full pool level (3,340,120 acre feet of storage). Since that time we have had several storms that doused the area and catch basin for Shasta Lake. Temperatures even dipping down below freezing for several days. The lowest we saw here was 23 degrees. Fortunately it allowed us a short lived experience of some decent snow on the lake! Snow conditions near Yreka and the Oregon border caused closure of Interstate 5 for several hours during the middle of the week causing overnight delays and massive amount of traffic build up in the Redding area.
Since the first of the year we have gained 6.74' of elevation on the lake and increased the capacity by 166,638 af of water! Our highest inflow during the past several days was at 2 am last night at 100,116 cubic feet per second! An average Olympic sized swimming pool is approximately 88,000 cubic feet! Here are the rainfall totals that I have recorded from our McCloud location:
01/02 - 0.31"
01/03 - 3.02"
01/04 - 0.64"
01/07 - 1.76"
01/08 - 6.04"
January total: 11.77"
(Rain totals can vary greatly depending location on the lake)
Here are some other interesting items and comparisons:
- The lake has risen 4.30 feet in the last 24 hours
- The lake increased by 54,299,230,907 gallons
- At the highest flow, the water could fill 1.14 Olympic pools every second
- Various sources has confirmed the largest rise in water in one 24 hour period was in the winter of 1976-1977 at 18 feet. During that time over 220,000 cubic feet was entering the lake.
One last item of interest is that our 2016 rainfall totals have actually passed our totals for this year. The biggest factor is that these storms continue through winter and into spring. That and how much the BOR decides to release as we are now in the flood control stages of operation at the dam. Currently at 76% capacity and 120% of the historical average to date.
I have posted numerous figures and plots as well as weather warnings to indicated the severity of weather that we are experiencing.
This is something that we are all keeping a close eye on and will keep you posted ;-)
Until then, stay dry, stay safe and enjoy the New Year!
Lake Level Report (01/09/2017 at 09:00)
Lake Elevation: 1028.94' (38.06' below full pool)
Lake Elevation (2016): 984.52' (82.48' below full pool)
Storage: 3,506,758 af (estimated)
Storage (2015): 1,398,142 af
Outflow: 11,517 cfs
Inflow: 53,323 cfs
Precipitation (24 hr @ dam): 1.85"
Precipitation (Season @ dam): 32.35"
Precipitation (2016 Season @ dam): 39.81"
Sunday, January 8th, 2017
Report: NorCalBassnPJ » Sun Jan 08, 2017 4:41 am

No good at Shasta either for me yesterday. Can't say i really gave it a fair shot though. Started out with me casting from the deck and my buddy holding his S-Waver 168 in his hands with his rod stretched forward. I caught his line with my line and the S-Waver slid off his hand and buried one treble point into his thumb way past the barb. he pulled it out we put some superglue on it and we kept fishing. Launching at the Dam was out only option since the snow was coming down hard and sticking in town that morning before i had even left the house. so our options were fairly limited to where we could go launching down there. We stayed in Li'l Backbone all 2 hours that we were there and maybe had 2-3 bites no hookups. fished 1/2 oz football jigs with hula grubs, a little spinnerbait, and would've fished some osprey but that was the rod i hooked my buddy with so I couldn't back the backlash out and use it the rest of the day..Add on to that, my buddy didn't grab any gloves so his hands were numb and frozen the whole time so that was a big reason we came in early. We definitely should have fished deeper in the calmer water but the wind was about perfect for a reaction bite elsewhere on the lake. Just couldn't do much with my buddy getting cold quick and me hooking him first cast didn't help that either. If it would've went to plan we would've bounced around a bit more and tried the mouth of the Sac or some more main body stuff yesterday. But just wasn't gonna happen with how the day got started on a bad note out there. I would say though we were probably the only boat out on the water yesterday with how much snow we got. Now all this snow is melting and its pouring rain up here in Redding. The lake should be pouring water in from everywhere right now. Levels are going to rise quickly and muddy the water. Its a somewhat warmer rain too. Water temps at Shasta are hanging right around 50 degrees, at least down by the dam. I'm sure it fluctuates in different areas by a degree or so..
Saturday, January 7th, 2017
Report: Gary Dobyns » Sat Jan 07, 2017 6:31 pm

At Shasta I'd start in the rivers. The Sac or Pitt probably. But with Shasta you can catch good ones about anywhere. Oroville report is not good. Caught plenty of fish but nothing worth a crap. Reaction bite killed me as I wouldn't give up on it. Stupid too. The fish simply weren't chasing. Crazy I figured on a shallow water, load the boat on reaction bait bite with this big weather front. It did not happen. Some shallow water fish by anglers today but most guys caught them fairly deep. My best fish came out of 50' on one ounce jig with Yamamoto Hula grub. I sucked today. Shasta had to be better...I hope :)
Friday, January 6th, 2017
Report: NorCalBassnPJ » Fri Jan 06, 2017 9:17 pm

Not sure if this will help or not. But, with that being said, I'm planning on heading out to Shasta tomorrow morning for the first time in 2 weeks. Hopefully I don't sink my 17' bass boat in the process as this big storm is projected to start rolling through.. lmao.. planning on throwing reaction baits tomorrow for the first half of the day or all day depending on conditions. Going to throw some ripbaits, mainly a vision 110 and 110+1, along with some Staycee's and couple other LC ripbaits. In my very limited knowledge i've gained through reading articles and watching tournament results along with tips and tricks videos, I really believe ripbaits (jerkbaits as others might call them) are one of the most under-utilized big fish bait on Shasta. Everyone throws spinnerbaits or crankbaits on the windy and stormy days along with the keitech swimbaits on small ball head jigs or darterheads. And depending on where you are on the lake they all produce well from what i understand. But i really want to get good at throwing ripbaits because it kinda seems like they just elicit some monstrous bites from bass of all sizes because sometimes they just try to rip the rod out of your hands it seems. Also, I am a huge fan of the Hula grub on a football head jig of various weights (depending on the conditions, wind, etc). You may already know all this already so i might be just putting my .02 in the conversation but the comments before me know what they're talking about. I'm sure Gary Dobyns knows way more than any of us on Shasta and Oroville though, especially with the ripbaiting and other reaction style of fishing. I actually went to the FLW Costa Tournament weigh-ins at the beginning of the year which was way cool. I would definitely listen to what Gary has to say regarding the bite with the incoming water run-off we are projected to have from all the rains. Good luck when you get a chance to go! i'm just trying to beat a personal best tomorrow haha! Since a 3.3lb Spot isn't extremely big for Shasta lol..

Report: Larry Hemphill » Fri Jan 06, 2017 2:26 pm

If you can find an "edge" - a line between murky and clearer water, bass tend to move up and down between that "edge." If that edge has some cover or structure - even better! Bass will follow a moving mud line. Also, look for clearing water at the mouth of incoming runoff a few days after the storm is over. Bass will avoid muddy water if at all possible!

Report: Gary Dobyns » Fri Jan 06, 2017 12:45 pm

The fish bite better in storms. The low pressure really helps shallow bites. Great time for reaction baits. Also they love incoming water so this is a plus as well.
Friday, December 23rd, 2016
Report: From Shasta Lake
December 23, 2016 at 1:01pm ·
Good afternoon Shasta Lake!
As we enter the Christmas weekend, we are getting some intense weather! Although it doesn't show on the CDEC information, since midnight we have received 2.06" of rain! I apologize for the lack of current pictures, but the visibility is pretty low right now.
Even before the rain started the lake was at 120% of the historical average to date (73% full). With the rain since midnight we are starting to increase the storage even more.
The most interesting part is that the snow levels are rather low. We have had reports of snow falling in Lakehead. There are chain restrictions in numerous areas as well as several accidents. Follow this link for the CalTrans Quick Map for the most up to date information: quickmap.dot.ca.gov/
Even though I am loving this rain, it is a shame to see carelessness on the road in weather like this.
Please travel safely if you heading to be with family in the next couple of days!
Since I will not be back with another report before the weekend...
MERRY CHRISTMAS!!!
Lake Level Report (12/23/2016 at 10:00)
Lake Elevation: 1022.31' (44.69' below full pool)
Lake Elevation (2015): 918.05' (148.95' below full pool)
Storage: 3,342,798 af (estimated)
Storage (2015): 1,398,142 af
Outflow: 7,718 cfs
Inflow: 8,857 cfs
Precipitation (24 hr @ dam): 0.00"
Precipitation (Season @ dam): 23.45"
Precipitation (2015 Season @ dam): 15.95"
Thursday, September 1st, 2016
Water Temp: 77

Water Clarity: Clear (4+ foot visibility)

Report: Did some bassin on Shasta today caught a lot of fish in the Squaw arm probably got 40 to 50 spots most small none keepers and 2 Smallies both small. Got 1 nice spot around 2 1/2 pounds. Awesome day on the lake. Fish were anywhere from 5 to 40 feet deep most were suspended chasing shad. Best lures were half blue half silver 1/4 ounce cast master, 4 in dropshot rigged senkos and Megabass top water for on the top. Overall had a great day for first time ever fishing the lake... Can't wait to get back soon!
Wednesday, April 27th, 2016
Report: From Lake Shasta

Lake Shasta Good afternoon Shasta Lake Fans!!!
The sun is coming out from the clouds and warming up. Currently we are at 63 degrees and a slight breeze.
The Forrest Service held a meeting today with businesses, marinas and others who had an interest in operations on the lake this coming summer. Some of which I wanted to share for everyone to get the best out of our 2016 summer! AS you can imagine, everyone at the meeting was thrilled to have the lake at the level that it is at.
First and foremost, the biggest question on everyone's mind is what the expected draw downs are...
Estimations are that the lake will bottom out at 75' below full pool by the end of October!!!
If you recall the highest lake level we saw at the beginning of 2015 was 71' down...that is where we started the 2015 summer season.
Although, it is still a prediction, it was tremendously good news for us all, and quite the relief comparative to years past! grin emoticon
With that said, here is some more useful information about just a small portion of the activities on Shasta Lake this summer:
Boat-in campgrounds
• Ski Island, Arbuckle Flat, Greens Creek and Gooseneck Boat in campgrounds are currently open. Given current water levels, we are already seeing use even on weekdays at these sites. Hazard tree reduction is complete as we continue ongoing fire prevention and vegetation management. All developed boat access campgrounds have received an initial cleaning and will continue to receive regular service throughout the season.
Floating Toilets
• We maintain 6 floating toilets on Shasta Lake. Normally, our goal is to ensure all floaters are installed prior to Memorial weekend. However, as we have a full lake and our toilets have
received recent maintenance and repair, they will likely all be in place prior to mid-May.
Regulatory Buoys
• As a courtesy to the Sheriffs office, the Forest Service maintains about 50 regulatory buoys identified by County Ordinance. Most are currently in place. Regulatory buoys include 5mph and No-Ski buoys.
• Many of you buoys had to be removed last season due to low lake levels.
• We are currently in the process of reinstalling regulatory buoys.
• Our target is to have all County Ordinance areas marked by Memorial weekend.
Obstacle Marking Program
• The obstacle marking program is a volunteer program implemented by Shasta Lake Marinas and now Shasta Lake Boaters (new partners)
• The Forest Service provides materials, guidance and monitoring for the program.
• There are 321 areas identified in the obstacle marking program.
• The fall survey conducted October, 2015 identified 45 markers needing repair.
• According to returned survey forms (not all are in), volunteers provided 54 hours of labor to
replace 24 out of 45 damaged markers or about 93 overall success.
• Thank you Obstacle Marker Volunteers! (all marinas and Shasta Lake Boaters) lake Clean-up
• Despite extensive past man made debris clean-up efforts, high lake levels have floated a noticeable amount of marina related debris.
• We will continue to collect floating lake junk and time and opportunity permits
• Please take care to secure broken or unwanted sections of docks, booms, foam, etc and remove it from the lake and dispose as soon as possible.
Woody Debris
• Storms in January and February deposited a fair amount of new woody debris into the lake. Using booms purchased from Bagley Fire BEAR funds, we captured nearly 4 compacted surface acres on the McCloud and Squaw Creek arms. Our intent was to leave the booms in place long enough to capture any additional debris washed in by winter storms so it could be contained and transported to an area which facilitates easy access to wood cutters.
• Unfortunately, recreational boaters loosened both booms (presumably to attain access) and ALL debris was lost. It is unlikely the FS will attempt woody debris management in future years due to decreased reliability of our aging booms and the inability to monitor public interaction at all times.
Mother's day-Memorial weekend
• Expect a large turnout.
• Extent of Forest Service involvement is picking up the mess at the end of the event.
• Shasta Lake Boaters were a huge help last year and I expect a fair turnout from them again as
well.
• Thank you Shasta lake Boaters!
Lake Level Report (04/27/2016 at 13:00)
Lake Elevation: 1055.53' (11.47' below full pool)
Lake Elevation (2015): 993.20' (73.80' below full pool)
Storage: 4,218,322 af (estimated)
Storage (2015): 2,683,198 af
Outflow: 4,708 cfs
Inflow: 7,884 cfs
Precipitation (24 hr @ dam): 0.00"
Precipitation (Season @ dam): 61.54"
Precipitation (2015 Season @ dam): 48.10"