Folsom Lake and Reports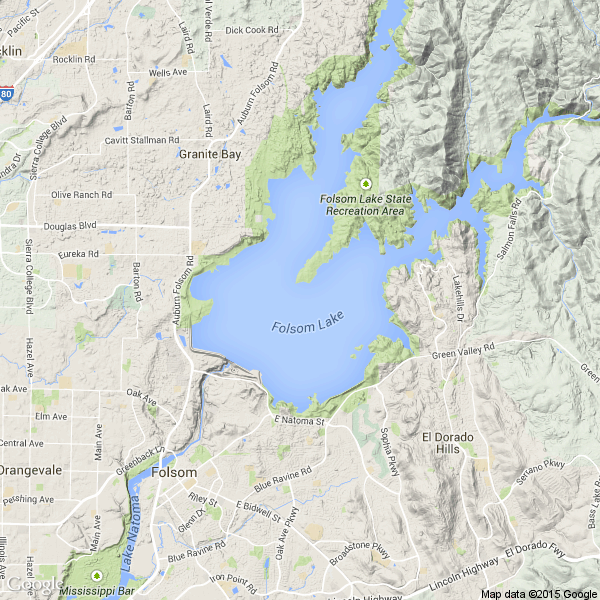 Click for Navionics/Google interactive map
Saturday, Sep 23


Wednesday, February 8th, 2023
Report: by kb » Wed Feb 08, 2023 4:16 pm

No weird rules about direction of travel etc. The lake is about 1/2 full right now and it raised alot and then dropped luckily that left most of the debris and wood on the bank but there is still some out there. You will see alot of hazard buoys and make sure you know that many of them are on granite rocks so it may seem deep enough but they come up quick...... also those rocks and points and islands are holding some fish right now.

Concentrate on the top 25 feet out there right now. Reaction baits, A-rigs, jerkbaits all good and it is a really good plastics lake Ocho or Senko, robo or ned rig all catch fish out there. Green Pumpkin is a favorite and any of the aarons magic, oxblood or peoples worm.

Lake has all three species the majority will likely be spots but will see some largemouth and maybe a big one or two. Rivers are running way too cold right now half way up is as far as I would venture and would concentrate on the main lake. lots of bait in the lake it is both pond smelt and shad minnows.

Hope this helps......
Saturday, February 12th, 2022
Water Temp: 50-52

Water Clarity: Stained (2-4 foot visibility)

Report: I fished Folsom Lake yesterday with my Father-in-law on his Tracker, getting on the lake at about 10:30a. As another fishing report suggested, I tried small swimbaits (hard and soft), drop-shot and grubs off main lake points. I also tried a few different crankbaits in red or chartreuse, pulling them across points. My best (and only) fish was a beautiful 2-1/2 lb spotted bass off a point just passed the earth dam on the main lake, 20 yards off the bank. Setup was a Strike King 1/8oz Squadron Swimbait Jig Head, using a Yamamoto double-tailed hula grub in pumpkin seed (orange), on 12-lb line and a spinning rod. We also fished hazard buoys near launch and on east side of lake across from launch with no bites, but this was around 2:30p so timing may have been off.

Tips: Too early for coves, stick to the points. Try orange or red colors.
Saturday, November 13th, 2021
Water Temp: 58-62

Water Clarity: Stained (2-4 foot visibility)

Report: Fished Folsom for the first time in 7 months. Parking lot was empty when I got there and the courtesy dock was pulled halfway up the shore. Fished from the main point up passed the Pilot Hill launch area. I fished only reaction baits catching fish on isolated structure in 8-15 feet of water. Also with the rising water fish were positioned on the edges on the newly flooded grass areas. Most consistent bait was Staycee 90 worked aggressively until coming into contact with rock and stalling the bait. Also picked a few up with a 1.5 silent squarebill with the same stalling technique after contact near the grass. No info on the finesse bite as I didn't pull them out, but talked to someone who caught a few on drop shot in deeper water.

Tips: Cover water and fish the rock piles from a few different angles. I didn't graph or see much on Live Scope in the areas I caught the most fish as they were positioned in the deeper cuts of the boulders, but I worked all the edges before figuring out the fish locations and moved to similar rock piles on both east and west shores. FYI they still as enforcing the 5 MPH speed limit until the lake hits around 400ft.
Monday, August 30th, 2021
Report: by ash » Mon Aug 30, 2021 9:03 am

Browns Ravine is closed, the only ramp i know of is the Granite Bay low water ramp. Lake is at 180 not a lot of options. Berryessa or the Delta would be other viable options.
Thursday, June 25th, 2020
Water Temp: 80

Water Clarity: Clear (4+ foot visibility)

Report: Went out to Folsom today and started off really slow. Caught a bluegill on a drop shot and that was the only action until about 10am when the bite finally picked up. Finally found about 10 fish up to 3 pounds on rocky points in 16-25 ft throwing a brown and orange 1/2 oz jig and a drop shot with a hologram shad 4 inch Robo Worm. The only was to get these fish to bite was to drag it really really slow after spotting them on my electronics. Tried Whopper ploppers, flukes, swimbaits, cranks and nothing. It's definitely a tough bite but if you stick with it and fish slow you can manage to get a few.

Tips: Fish were really hugging the bottom so bottom baits worked best.
Saturday, March 28th, 2020
Report: Well, it's happened. I went to Folsom Lake today at Browns Ravin and they have closed the park.
You can't get through the gates let alone put the boat in.
Now, this officially sucks!
Wednesday, February 19th, 2020
Water Temp: 48-52

Water Clarity: Clear (4+ foot visibility)

Report: Went out to Folsom yesterday (2/18/20) and the wife and I spent 2 hours driving around looking for baitfish. After locating some in the North fork I hooked up and caught a 10 inch dink in the first 30 minutes of fishing. I caught him in 25ft drop shotting a 3.5" Keitech and the poor little guys eyes bulged out and was upside down from the air in him. I felt horrible and spent 30 minutes trying to revive him to get him to swim down but the lil guy was just to tuckered out and died. I didn't have a venting/fizzing needle on me and I even flagged down another bass boat to see if he had one on him, which he didn't. There was nothing else I could do. He was a dink and I couldn't keep him. There was DF&G all over the launch ramp when we left and I didn't want to risk keeping him. The wife wanted to move spots cause she couldn't stand seeing the lil fella, I tried explaining to her that we just spent 2 hours driving around looking for this exact spot and ended up getting in an agreement and just said fine, you want to move spots...I packed up my gear and drove right back to the launch ramp.

Tips: My tip on this trip is to leave your wife at home if she's not a fisher-person and carry a fizzing needle which I ordered from Amazon the second I got home. Haha.
Thursday, February 13th, 2020
Water Temp: 53

Water Clarity: Clear (4+ foot visibility)

Report: I spent 4 hours on the lake yesterday thinking the warmer days might make for decent fishing. I was wrong. It took me almost an hour to find a spot holding even a few fish, and this spot had no baitfish to speak of. I got zero bites. Maybe the bait was so shallow it didn't register in my cone beam.
Tuesday, January 28th, 2020
Water Temp: 48-51

Water Clarity: Clear (4+ foot visibility)

Report: Got out to Folsom for a few hours today, Found tons of baitfish but had trouble hookin up. Caught 2, one was just over a pound and the other was just under 2lbs. Got 1 on a drop shot and 1 draggin a 4" Keitech Impact. Hung out at the ramp for a bit cleaning out the boat and spoke with 2 other bass boats and 2 trout boats at the ramp and 1 bass boat had 1 keeper just over a pound and the other bass boat got skunked. One of the trout guys caught a decent size king salmon and the other trout boat said they should have stayed home. Water is low, islands popping up every where, State park boats constantly putting up buoys but they're not catching all the big rocks poppin up so be careful. Launched out of Granite Bay at 5%, had to drive through mud and huge mud puddles just to get to a ramp. Went to Folsom Pointe last week and had to back up my truck to the exhaust just to get my boat off the trailer cause the ramp is darn near flat. Rattlesnake ramp is closed. Browns Ravine seems to be the best place to launch from but my last trip to the South fork I got skunked so I wanted to try going North today. Was only out for 3 hours, saw massive amounts of baitfish and tried everything from NV500's, rip baits, wacky rigged small senko's, ned rig, back spinner, under spins, but all they wanted was something slowwwwww and small on the bottom.

Tips: Everyone keeps saying to find baitfish and you'll get fish but just a simple tip that I didn't even think of until today...look for the big red lines under or around the schools of baitfish. I fished a massive school of baitfish in 15-20foot of water today for over an hour and didn't even get a bite. Then it dawned on me I hadn't seen a single bigger red lines (bass) under or around the baitfish. Took off and drove around until I found the bigger red lines going through the schools of baitfish and got those 2 within an hour. Schools of baitfish are everywhere, if you don't see the bigger red lines by the schools just keep on looking.
Wednesday, December 11th, 2019
Water Temp: 53-55

Water Clarity: Clear (4+ foot visibility)

Report: Got on the water around 9:30am Dec 11th and right away picked up schooled baitfish on the graph on rocky ledges and secondary points. Within 30 minutes I had 2 keepers in the boat dragging swimbaits on the bottom. Picked up another 4 keepers, biggest was 2.2lbs and got off the water just after 12:30pm since it started to rain and I had no rain gear. Tried dropshotting for a few minutes but put it down pretty quickly since I was picking up fish with swimbaits. Found a ledge that had access to 40+ foot of water super close and picked up all my fish in 15-20ft on the bottom.

Tips: Fish on the bottom, fish slow. Most of my fish I didn't even feel the hit. Just felt some weight and set the hook. I only felt 1 hit that day and I missed that one. Find the baitfish. They were literally breaking the surface where I was at there were so many.
Friday, November 29th, 2019
Water Temp: 54-56

Water Clarity: Clear (4+ foot visibility)

Report: Super cold so I didn't get out on the water until 8:30am today and had a Thanksgiving thing to get to so I was off the lake by 12:30pm but I still managed to locate tons of bait fish and picked up 3 spotted bass, biggest was 2.5lbs and missed 2. I tried LV500's, deep diving jerkbaits, ned rig, drop shotting but the only way I got fish was off slow rolling a small swimbait in about 35-40ft of water. A trout fisherman trolling a Rapala picked up about a 3lb bass aprox 50 yards from me in 50ft of water. I had a really nice bass follow up my swimbait but when he saw my boat darted back down.

Tips: Make sure your bait is on the bottom and go slow. Picking up tons of baitfish on rocky points.
Saturday, November 16th, 2019
Water Temp: 58-61

Water Clarity: Clear (4+ foot visibility)

Report: I fish Folsom almost every weekend and I've been doing pretty good. Last weekend (11/16/19) I caught 11 total, got out at safe light and left at 1pm. Been fishing the south fork for the last month looking for schooled up baitfish in small coves along ledges with access to deep water. Got my limit of keepers around 2lbs each by 9am. First couple came off a Ned rig around 25-30ft, next few came off a dropshot rig, picked up tons and tons of baitfish in the 30-50ft range and tried using a spoon but couldn't buy a hit off it but to be fair I'm awful at spooning. I wanted to try it though since I've heard people slammin the heck out of them spooning right now. Got the next 5 or 6 on a Keitech. Just trying to match the hatch with the baitfish swimming around so I went with the smaller impact Keitechs to match the baitfish size and did pretty well.

Tips: Fish slow...dead stick the ned rigs and tiny twitches on the drop shot rigs. Couldn't even feel the hits, just felt weight on the line.
Slow rolling a steady retrieve with the Keitechs just barely enough to move the tail. The smallest taps on the swimbait set the hook, several times I just felt a little tap and it was bass hitting them.

Almost every fish I pulled up was spitting baitfish out so find the batifish!
Wednesday, November 6th, 2019
Water Temp: 65

Water Clarity: Clear (4+ foot visibility)

Report: I only fished for a few hours (2 pm - 5 pm). I figured I should try offshore structure today, so I went to (3) of my favorite underwater humps but didn't graph a large concentration of fish. On my 4th spot, I did see several fish along with baitfish and picked up a 2# smallmouth on a Carolina rigged grub in less than 8' of water. That was it - another slow day on Folsom.
Monday, October 28th, 2019
Water Temp: 63

Water Clarity: Clear (4+ foot visibility)

Report: With power out and no school, two boats from our high school fishing team went fishing. I was glad to get our faculty advisor out with me. We started in south fork first thing about 7 AM. In the first hour the two boats netted 6 keepers on worms and jigs. Nothing big but solid keepers. Most were shallow. Then one boat went further up the south fork and got two more including a 4. The other boat went up north fork to and could not buy a bite when the sun was high on the lake. We could see large schools of bait fish on the electronics and fish coming up from deep to hammer them. But we could not get bit until the sun got lower creating shadow lines, we could cast to for keepers. We got a few more there including two largemouth and a small mouth. Then cocktail time was closing in so we headed home.

Tips: Never fished Folsom in the fall so no tips except jigs and worms.
Monday, August 12th, 2019
Water Temp: 78-80

Water Clarity: Clear (4+ foot visibility)

Report: Went out this morning got to the first spot about 6:25 a.m. Fourth cast had my first fish in the boat. Caught on an isolated grass area just on the inside of a point. Second fish about 30 minutes later on a rock wall. Had one on a jig in some of that suspended weeds in a cove. Then once 10 a. m hit no other bites. Got off the water about 1 p.m.

Tips: Fish slow and go back through with different baits
Monday, July 22nd, 2019
Water Temp: 78-79

Water Clarity: Clear (4+ foot visibility)

Report: Got out yesterday morning 7-21 as well as today 7-22 from about 6am-9am both days. Little to know ski boat action both day that early which is nice. Water is WARM 78/79 I actually hit 80 in a few spots. Topwater bite is still not happening for me. Traditionally when that water temp get down to about 75/76 that topwater gets a lot better for me. Doesn't mean I still don't try and force it each morning haha. Had a couple smack a Jig on the main lake area near the south arm found a couple humps with fish stacked up on them. Also had some luck with a spoon. I had 3 fish I hooked into but came unhooked (most likely due to being a spoon newbie). All in all two great days on the water. Wish this lake would get some love. She can be tough but personally I love the challenge.

Tips: Get out early before temps rise even hire both water and outside. Jigs and Spoons have what I've had luck catching some better fish one recently.
Thursday, April 25th, 2019
Water Temp: 72

Water Clarity: Clear (4+ foot visibility)

Report: Got on the water at 2;00 pm and fished til 6;00 pm . started at Mooney and blanked , went to beals by the swim beach and fished the trees , caught one . Then went to the peninsula to fish the trees and started getting them . The shady side is where the fish were . Some trees hold one and others might have three or four . The real problem is the trees that hold none , it seems you fish four trees and only one of them will have fish .
Mornings are a lot slower than afternoon , that will change as the warmer weather is starting .
Ended up with my five best over 14 lbs , Had a 3.5 SM , 3 plus LM , Lots of spots over 2.5 . My last tree I caught ten spots in thirty minutes , almost every cast . Had a little over twenty fish , most came the last two hours .

Tips: All on weightless wacky senkos , color didn't matter that much , used green pumpkin and baby bass 5'' on wide gap 2/0 . cast leave 8' of slack and watch your line for a fish swimming away . You wont feel the bite if your doing it correct . cast every thirty seconds or so to cover lots of water ,
Friday, April 19th, 2019
Water Temp: 60-64

Water Clarity: Clear (4+ foot visibility)

Report: Fished from 8:00 am - 3-00 pm. Bite began to pick up around 10 once the sun hit the water. I could see down about 10 foot up the North fork, and if I saw one, there were multiple in the area. Largest fish was a 4.54, with one 3.4 to follow, and some other little keepers.

Tips: Fish brush from 10-17 ft of water. Especially focus on the isolated tree tops off from shore. I caught them all on a nekorigged senko in a natural shad color. I did throw an S-Waver for a little and got lots of followers.
Wednesday, April 17th, 2019
Water Temp: 59 to 63

Water Clarity: Clear (4+ foot visibility)

Report: Fished from 10:00 am to 4:00 pm with my friend Brian . We started fishing the trees and the bass were not complying with us . By noon we had maybe four fish just under two lbs . Started fishing rocky banks in the north arm and started getting them . We went back to the trees later in the day and they just were not there or biting . We fished Anderson island to Rattlesnake we caught over thirty , sounds like a lot but not really . lots of slow areas between the hot spots . Largest was a 2 lb 14 oz spot . We caught Largemouth , spots and smallmouth . I still think the bite will break loose soon with the warm weather coming on .

Tips: All on wacky senkos , light line . no weight . on the drop . 5'' natural shad . nothing on blades or Keitec swimbaits
Sunday, April 14th, 2019
Water Temp: 54 to 60

Water Clarity: Stained (2-4 foot visibility)

Report: I have been fishing Folsom the last two weeks with good results , day to day its different . The bite picked up with water temps two weeks ago . reaction and keitecs were working well . Now however it seems that bite has slowed down and plastics in and around trees is working well . I think the best bite has yet to happen . The north wind the last few days has not helped , as well as the temps dropping 5 degrees . Still the fish are there , you just have to work for them . More sun this next week will make it better . The best fish the last week has been a 5.5 spot , 5 and 4 Largemouth and to many 3 lb and 2 lb fish to count . One day will be a fish every 10 to 15 minutes and the next day every 30 minutes .

Tips: Senkos on 6 lb fluoro next to trees . If you don't get bit in five minutes go to a different tree or trees . Trees in 15 feet is the sweet spot .