Folsom Lake and Reports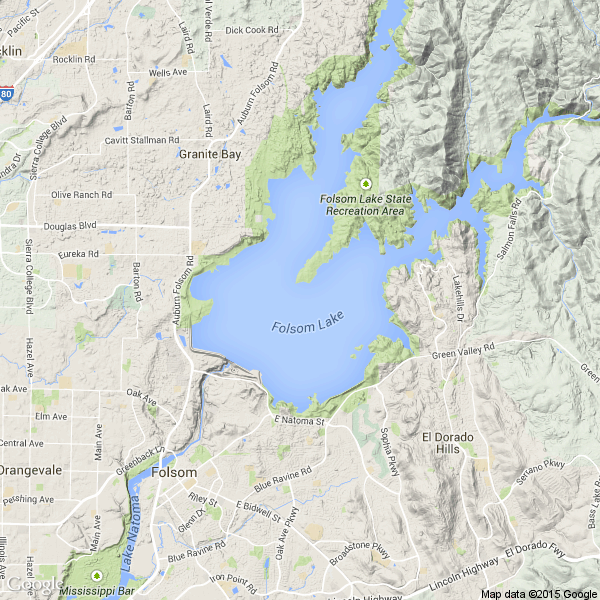 Click for Navionics/Google interactive map
Saturday, Mar 23
Slight Chance Thunderstorms
Precip: 48%

Monday, February 11th, 2019
Water Temp: 47

Water Clarity: Stained (2-4 foot visibility)

Report: We participated in the Vista De Lago High School Bass Tournament yesterday. 75 boats on the water and another well organized event with kids from all over NorCal. The guys running these tournaments are awesome.
We got a keeper in the first hour which is our goal to weigh in at tournaments but after that, we had a tough day.
Small mouth was caught on a shad color worm fishing slowly and dragging the bottom. I'm going to say around a quarter of the boaters didn't weigh in and most of the boats only got one or two. We drop shot deep and slow, we worked the vertical walls and secondary points. Even, tried over near the dam. Tough day, cold but no rain. A big thank you to Vista De Lago HS Fishing club for putting this on each February.
Wednesday, January 23rd, 2019
Water Temp: 49 to 45

Water Clarity: Stained (2-4 foot visibility)

Report: If there is one thing I hate about living in FOLSOM it's not being able to catch quality bass consistently in a lake 1.5 miles from my house... got on the water at 10 hoping to hit that afternoon bite ... saw several bass boats running around the lake and looked like they had a tough day like me... missed a few bites but other than that nada! Someone please share the secret of folsom lake. I tried crank baits, drop shot, jerk bait, and Ned rig. Horrible fishing on such a beautiful day... could it be the full moon? In between storms? Started on. North shore and worked around lake hitting rock points. Tried shallow and deep with no success.

Tips: Water has risen 17 feet in the last week. Temps are cold and finding the fish was a mystery.
Sunday, October 21st, 2018
Water Temp: 66

Water Clarity: Muddy (0-2 foot visibility)

Report: But continues to be hit and miss... this weather is definitely keeping the bass in a holding pattern. Nothing special to talk about. South fork was really slow today got out for a few hrs... tried too water, jogs and Senko.... lots of fisherman very little bites..
Monday, October 15th, 2018
Water Temp: 67

Water Clarity: Stained (2-4 foot visibility)

Report: The bass bite is heating up... caught some nice large and smalls today inbetween the Smud and rattlesnake bar off of a sned and senko.. others said they killed it on drop shot and jig inbetween Beals point and the damn near the island said they got 15 or so fish... will be even better in a couple weeks
Tuesday, May 1st, 2018
Water Clarity: Clear (4+ foot visibility)

Report: Fished this morning for 3 hours with a friend who is a good companion but a novice to bass fishing. Caught 8 smallish bass and noticed no particular pattern. Had three others come loose. Did not fish the trees because of my friend. All were caught dart heading/grub or on a Rapala SR5 Shad. Pretty morning till the wind came up. Not much boat traffic up the North Arm.

Folsom gets so much pressure...
Friday, March 30th, 2018
Water Temp: 58-61

Water Clarity: Muddy (0-2 foot visibility)

Report: Man it's been heating up nicely all week I thought the bite An the conditions would be on point today but I was wrong big time. Launched at noon from browns ravine An found out the lake has risen 30+ feet in the last 3-4 weeks, I shot straight in lower arm to check out some of my usual spots, after gettin about 1/2 mile in I noticed the whole arm was chocolate milk, filthy! I then checked out a couple spots on main lake but boat traffic was heavy so I worked the upper arm the rest of the day, fished rock walls ranging shallow to deep, flipped trees, shallow flats some with mainly grass An some mostly rocky, fished deep boulders offshore. Light colors dark colors with no success except for my only bite a 2 pound spot slammed my creature in about 4 ft of water. No other fish were on that pattern. I'm not really what the fish do when the lake levels rise so much.

Tips: I'll take some tips if anyone has any to offer
Thursday, March 15th, 2018
Report: by kb » Thu Mar 15, 2018 5:10 pm

The warmer rains will have the fish biting on jerkbaits, spinnerbaits, a-rigs and plastics. From the bank the Beals Point and Granite Bay Area will be good with some fish near the rocks.

Report: by HrdHookSets » Thu Mar 15, 2018 4:57 pm

Early this week when it rained I found fish up in the shallows on top water explosions!!! As the rain was warm... Unlike today it was a cold front rain which no top water and pushes the fish towards inactive as much n found less fish but a few on plastics on the bottom... I dont own a boat just another shore fisherman with little knowledge....
Wednesday, November 23rd, 2016
Water Temp: 58

Water Clarity: Stained (2-4 foot visibility)

Report: Water levels and temp: Water levels have risen significantly in the last two weeks due to the recent rain, which has lifted the 5 mph restrictions, so put the pedal to the metal! Water temps are ranging from 57-59 degrees. Surface temp was also in the upper 50's to low 60's. Wind was blowing pretty good on the main body at 10- 15 mph with gusts to 20mph. Calmer water was found on the south and north arms and within creek channels. Water clarity is surprisingly clear even after the rains

Fishing: It's all about the bait! If you can find balls of bait fish you will find the bass. Right now the bass are scattered and aren't schooled up like they usually are but, again, if you can find the bait you will have a good chance of putting multiple bass in the boat. Fish were found at 20-30 foot depths with the occasional shallow water fish.

Fishing locations: Concentrating on the creek channels and offshore structure on the main body will give you the best opportunity to find and catch these guys. New York Creek produced a couple decent fish down at the 30-foot range. Offshore Rock Piles and Island Tops seem to be holding fish too. Any creek channels or offshore structure holding bait is going to be your best bet. Anderson Island and Anderson Creek had holding fish as well in 30 foot depths.

Bait: Finesse, finesse, finesse! That's the name of the game in Folsom Lake right now. Drop-shot a Robo Worm. Shaky Head, Neko rig senko, and 3/8 oz football jig in green pumpkin or brown and purple with double paddle tail grub trailers will get the job done. A few shallow fish were caught yo-yoing a lip-less crank bait in red eye shad or LV500. Even The Staysee 90 got a few.

What to expect: You want 'em? You're going to have to work for them. Expect the fishing to be a little tough, especially with the colder weather coming in, but don't give up!! Find the bait and drop it on their heads. My predictions are the fish are in early winter mode so you're going to have to put the bait right in front of their face. Good luck!

Tips: Most important tip is to be patient.and Find the bait!
Monday, March 14th, 2016
Water Temp: 52-55

Water Clarity: Stained (2-4 foot visibility)

Report: Second time on this lake and first time by myself or without a 5mph speed limit. Launched around 0700 from Folsom Lake Marina at Brown's and headed east into South Fork. Stopped on the inside edge of the first point I came to and picked up a 1.5 spot on a Frenzy Nail. Fished up the bank from there and graphed a few, but no more bites.
Explored all the way up the fork stopping here and there and went as far back as the mud line.
Fished the point on the north side of South Fork where it emptied into the main lake and caught several there, none over 2.5.
I heard there were largies in North fork, so I went that way until I hit the mudline there and then found a good-looking largemouthie spot. Second cast there I caught a largemouth. Only another 2.5, but it made me happy and brought my weight to 11# and I called it a day.

Tips: Frenzy nail with a blue plastic and Martens madness on a drop shot worked best all day. Most fish were fairly shallow.
Sunday, February 14th, 2016
Water Temp: 49

Water Clarity: Clear (4+ foot visibility)

Report: Launched 815am Brown's Ravine - wanted to test my new Minn Kota Riptide 70lb with iPilot...wow, what a difference from the old 55lb powerdrive unit. Love the spot-lock anchor option.
Anyways, went across to the peninsula and headed for the far side inlet before heading up South Fork. First cast on a dropshot 3.5" tube and a nice 2lb smallie grabbed it. I didn't expect to hook up on this watermelon/red flk tube as it was left on the rig from fishing the delta a month and a half ago. I was too lazy to replace it and got lucky. No more hits in that cove so we headed up the s.fork to one of our fav points and my brother stuck a scrappy 1.5lber dropshotting a 6" Aaron's Magic in about 10ft. Ran into New York and graphed fish deep at about 50ft but couldn't get another bite. Headed in about 1pm. Accomplished what we set out to do and that was to test the new trolling motor and learn a little about iPilot.

Tips: Not qualified to give any tips but the dropshot worked for a couple of isolated hits...one smallie, one spot. First time on Folsom Lake in the boat in a long while. I'm thinkin' N.Fork submerged boulders is next if we go again....but likely hittin' the Delta.
Sunday, January 24th, 2016
Water Temp: na

Water Clarity: Clear (4+ foot visibility)

Report: Walked / hiked the shoreline at Brown's Ravine tossing a junebug 5" senko. Picked up a 13" smallie and a 14" spot. Was actually surprised to catch something much less two. The smallie was on the outside open lake side of one of the points I walked to. The spot must have just been cruising the shoreline and the senko probably landed on top of its head. Made me stay there an extra half hour but nothing else. Just had fun throwing a lure into Folsom lake again since we couldn't get out to the delta.

Tips: Not qualified to give tips. But what I did.... fished slow. I was throwing out, letting it hit bottom, then walk a few steps and just drag the bottom, then stop for 2 mins., then walk again. Once I could see it was parallel to the shoreline, I'd reel up and cast at 45degrees ahead of the direction I was walking. Then do the same thing. got some good exercise too.
Sunday, May 24th, 2015
Water Temp: 66

Water Clarity: Clear (4+ foot visibility)

Report: I cast along the shoreline at dike8 (oh excuse me, "folsom point") while I let my dog hang out, swim, and mark everything he can piss on.... managed a stray smallie around 13" and a spot about a lb throwin' a 5" morning dawn stik-o from bass pro. I connected about 2 weeks ago practicing a swim jig at brown's ravine but a security guy told me I couldn't cast from the launch dock. it was a weekday and aboluly NO ONE AROUND and I told him I would be happy to get off the dock if someone wanted to launch. he referred to some u.s. boater regulation about not fishing 50 ft from the dock. then started saying "if I let you, then I have to let everyone else" at which point I just told him he didn't have to explain and I would just get off the dock. however I did point out to him that there were no signs stating "no fishin from the dock" but there was a sign saying "no parking on the boat ramp" ... go figure. I later asked a state park officer and he said the security guys get a little "over-zealous". oh well, they're doing their job. I just wonder how u.s. boater regulation applies to a shore fisherman. anyways, I'm a folsom resident and I'm not gonna let this guy stop me from fishing my resident lake. i'll just stay off the launch ramp like I always do IF THERE'S A BOAT LAUNCHING. maybe they should post a sign. delta is my preferred fishing area anyway...give folsom lake to the rude wake boarders and skiers.

Tips: stay off the launch dock even if it's not posted. like I said, I get off when I see someone coming to launch or trailer....it's pretty simple common sense. btw...bobby burgess, did you ever take your son out last april? was waiting for results.
Wednesday, April 1st, 2015
Water Temp: ? Don't know ye

Water Clarity: Muddy (0-2 foot visibility)

Report: I will be going out Friday with my son for his annual Folsom trip. I will report back on how our trip turns out.
Sunday, February 15th, 2015
Water Temp: 53-56

Water Clarity: Muddy (0-2 foot visibility)

Report: Fished south fork all day, with some wind. Worked the mud lines with river 2 sea lipless crank baits and caught 15 fish within 2 hours between 2 of us. Best 5 going for 13 pounds
City: sacramento

Tips: 9-12 am is the time slot to get all your fish
Saturday, May 31st, 2014
Water Temp: 74

Water Clarity: Stained (2-4 foot visibility)

Report: Took the family out for a few hours of late Saturday afternoon wake avoidance. We fished the North Fork and picked up 12 spots and a silver-sided thing (hmmm, a fish that isn't green? ;-) ) among the three of us, with my young son getting both the biggest (about 2 1/4 lbs) and the smallest (a real bruiser that went about 4 inches). Most were in the 1-1.5 lb. range. All fish came on shad color drop shots and dart-headed smoke w/silver flake single tail grubs in about 5-15 feet of water.
City: Foresthill
Saturday, March 1st, 2014
Water Temp: 53

Water Clarity: Stained (2-4 foot visibility)

Report: Started today around 10:00am. Fished the North Fork all day and tried to void te wind. Picked one up on a spinner bait off a wind blown bank. Only had that one bite on a spinner bait. Drop shot bite was decent. Landed one and missed a few other bites. Stuck 4 on a yamamoto hulla grub in the creek channels leading into the coves.
We landed 5 today biggest about 2.5lbs. Whe you find them they are hungry.
City: Granite Bay
Thursday, February 6th, 2014
Water Temp: 48-49

Water Clarity: Muddy (0-2 foot visibility)

Report: My brother and his buddy go out today and caught 3 fish with a few other bites all on green pumpkin jigs. No big fish, biggest 1.5lbs. They worked it extremely slow and did not feel some of the bites just weight.

Tips: Fish were caught in the main body next to river rock piles. Oh by the way to launch with a 2 wheel drive my brother said that a person go stuck try to get his boat out.

Unfortunately I had to work and could not fish. I get tired of work getting in the way of fishing.
Sunday, February 2nd, 2014
Water Temp: no idea

Water Clarity: Clear (4+ foot visibility)

Report: Walked the shoreline running my dog...threw small 1/4oz football jig in watermelon red with a pumpkin netbait paca chunk...picked up 1 spot and 1 smallie, both around a pound. Just having fun runnin' the dog and throwing a line in...wasn't expecting to catch.
mnuzum, thanx for posting reports...was gettin' tired of lookin' at my old one. lots of folks walkin' the old Mormon island settlement asking if there's fish in folsom lake.
City: folsom

Tips: none...other than the usual...work it slow. I hate workin' it slow when I'm on the boat but even more when I'm on the shore...so I throw it out and just start walking...when I see my line parallel with the shoreline about 10 feet out, I reel it back in and cast again, then walk. oh well, sometimes somethin' will be cruising the shoreline.
Tuesday, January 28th, 2014
Water Temp: 52 in the mid a

Water Clarity: Clear (4+ foot visibility)

Report: We fished from about 11 to 4pm and managed 9 fish. Most were clones around 2 lbs and my brother caught a very nice 3.5 small mouth on a jig. Threw a swim bait for 4 hours an no bites. All fish caught on jigs and spoons 15 to 30 ft on the main body.

Tips: Fish slow