Bullards Bar Lake and Reports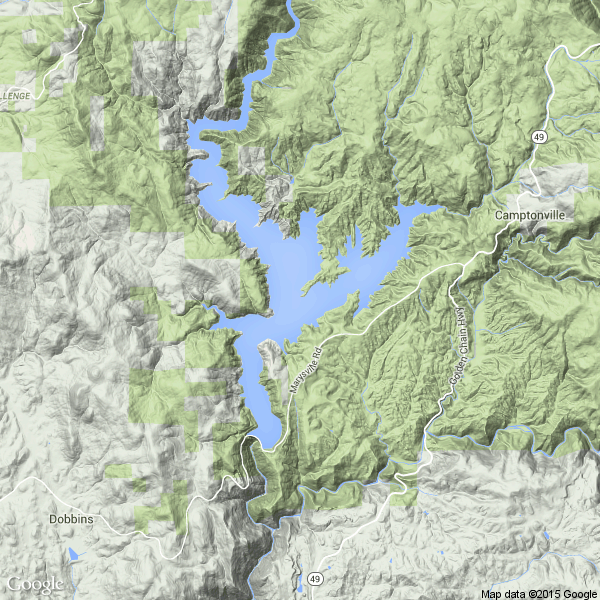 Click for Navionics/Google interactive map
Saturday, Sep 23


Wednesday, February 22nd, 2023
Report: by basstrophy » Wed Feb 22, 2023 10:22 am

David Borofka wins a double hitter by capturing both CaBass Nation and Wild West Bass Trail by finding the correct combination and unlocking Bullards Bar tough fishing conditions. The water temperature was between 46 to 48 degrees, air temperature ranged from 30 to 65 degrees. His 70.75 inches bested second place by 5.5 inches, plus, he also caught the big fish of the tournament a Bullards Bar beast that measured 20.25". Borofka made an hour run early to his first location. He focused on a single main lake point with white rocky structure in 20 to 35 feet of water. The main lake point was slow tapering that reached almost completely across the lake and was nestled between two other points. A Keitech ½ ounce jig in green pumpkin and a peanut butter and jelly attributed for all his fish. At 9:30 AM, his first and big fish ate the peanut butter and jelly Keitech jig. Borofka worked over that point most of the day and caught 4 of his 5 fish. At 2:30 PM across the lake was a mud point that was calling him. Borofka caught his fifth fish to fill his limit on the mud point. Borofak stated that the key to his success was using 10- pound P-line Tactical fishing line with a slow drag and dead sticking his Keitech jig. Borofka stated that with the support from his sponsors Keitech, Pline and Bioenno batteries that powered his NewPort motor made his win possible. Also, Headwater Adventures company in Redding for suppling him with a kayak and all the gear he uses on his boat. Borofka is looking forward to the next event at Lake Pardee on March 5th.

Abel Patino captured second place with 65.25". After an hour run up North, Abel fished main lake points with white rock in 35 to 60 feet deep. His larger fish came near the 60-foot range. Most of his fish came on a black jig but the Ned rig attributed to a few key fish. Patino found that the key bites came on the initial drop, so he focused on making multiple casts onto the rock piles. He caught 10 to 12 fish with this technique throughout the day. Patino thanked his key sponsors Headwater Adventures in Redding big Bryan and Matt for his kayak and gear uses on his rig. Bioenno batteries and NewPort motor for making his long run up North attainable. Patino also thanked CaBass Nation and Wild West Bass for the awesome event.

Shane Jones placed third with 65.00" by fishing main lake points with rock on a C-rig in the 50-to-65-foot range. Jones made an adjustment during the day by changing to a shad-colored football jig with a 2.8 Keitech swim bait that helped him tremendously, also a few fish came on the 1st-GenJaw-Dropper with a Berkeley Maxscent Flat Worm. Bait fish nearby was the key in his locations that helped him catch more fish. Jones was using P-line Tactical 6-pound test on his 3/8-ounce jig with a slow presentation. Jones shows his appreciation to Hooked Store in Ione, Spear Point Hooks, Bass Union, Dry Creek Tubes, Ray's Carpet One, Wicked Weights, and most of all his Wife and Kids for all their support.
Wednesday, October 12th, 2022
Water Temp: 68.3 - 71.2

Water Clarity: Clear (4+ foot visibility)

Report: Started wen afternoon, drop shot, ball head, deep cranks, shallow cranks, s waver. In the shade, full sun, combo of both. On the bottom, mid depth, surface. Yea lots of dinks. Fished for 4 + hrs.

Thursday same thing DINKS. Fished Isolated wood, rock, mudd banks, exposed trunks, sunken stumps. Zero to fifty five feet deep, DINKS Fished for 10 + hrs.

Tips: keep coming back
Sunday, January 23rd, 2022
Water Temp: 47-50

Water Clarity: Clear (4+ foot visibility)

Report: First time fishing Bullards Bar for myself and my son. We arrived at the lake after our 3hr drive, about an hour after daylight. We were giddy with excitement of fishing a new lake to us that of course holds world record spotted bass.
We launched at the dam and made our way out into the main body. We fished primary long points and deep cuts with running water after studying videos, contour maps and other reports for weeks prior to our trip.
Started out throwing neko rigged senkos in 35-50' of water and tried to catch some big suspended bass that were at 45' in 80' of water. Also alternated between other neko rig and 3/4oz football jigs on brown and green pumpkin, as well as, dragging keitechs rigged on 1/2oz football heads. Had several good bites on both the jig and keitechs but couldn't connect.
We made a move to running water and continued our offerings. Working out way into approx. 15-20' of water I switch to a #39 mother's finest 6" worm on a drop shot and stuck a 13" spot. My son caught several more that size and then I hooked and boated a 3.25# spot on the drop shot. We continue to catch fish the rest of the day on running water but no more collie fish besides the 3.25#. All in all we considered the day of success as it was our first time fishing the lake and we were there in January, which is usually an inevitable slower bite, but we managed to catch 9 fish. Can't wait to go back, because the lake is beautiful and the fish are there, we marked a lot of them using mega down imaging, we just couldn't get them to bite. I wish we could have fished for two or three consecutive days to see if there was a difference from one day to the next.

Tips: Do your homework before going if you've never been to Bullards Bar.
Wednesday, October 21st, 2020
Report: by Larry Hemphill » Wed Oct 21, 2020 11:32 pm

The fall will be a good time for you to check out the structure all over the lake. You might take some photos because a lot of the lake looks the same - very FISHY!! Keep your eye on your meter because there are lots of shallow flats in places you might not expect them. Most of the quality spotted bass suspend in the fall and are vey hard to catch. I would look for points that are long and move slowly out to deep water. If they have a ledge or dropoff at the end or side of them - Bingo!!! You usually can only find the trophy spots in shallow water during the spring spawn. There should be a lot of shadows with the sun dropping lower each day. I would key on those areas. if you are there on the right day, topwater can be fun in October!!!
Monday, March 16th, 2020
Report: by Larry Hemphill » Sun Mar 15, 2020 10:33 pm

I have made this caution before about Bullards Bar and very cold weather.

If you are going Monday or Tuesday early morning, take both ramp approaches slowly, especially Dark Day. if you lose traction with your bass boat behind you on possible slick ice, it's a long way down. Take it slow. Remember it is at 2000 feet and does ice up on occasion early in the morning.

Should have done this earlier!
Friday, October 18th, 2019
Water Temp: 64.5-65.5

Water Clarity: Clear (4+ foot visibility)

Report: Conditions: Started out cloudy with a light drizzle, air temp around 60. The day cleared up, with sunny skies and highs in the low 70s.
Hit Bullards on Thursday with a friend of mine. Numbers were great, size was not. We caught over 30 spots, all in the 10-14 inch range. Obviously not the caliber fish we were looking for, but a fun day all the same. The day started way up the river on channel swings. We called up a couple on a Lucky Craft Sammy 115 in Ghost Minnow, then caught several from a school off a small secondary point. These fish were suspended 40-45 feet deep in 50 feet of water, and we vertically fished a 4 in Morning Dawn Spot Sticker drop shot worm and a 7/8 oz War Eagle jigging spoon in Blue Herring to catch 4-5. As the day went on, we worked our way down the lake, alternating some longer points with channel swings and pockets. We picked up several on a Jackal Rerange 115 in HL Silver Shad and continued to catch fish on the dropshot as we marked them on the electronics. Fish seem to be a little scattered in small wolf packs of 3-5, but all more than willing to eat. Of course Bullards doesn't have any of the usual bait fish, so we marked no bait as we idled over areas of interest. We alternated the Spot Sticker in Morning Dawn with a 4.5 and 6 in Roboworm in Aaron's Magic and a Strike King Dream Shot in Morning Dawn throughout the day. We seemed to catch em everywhere, but the best numbers came on channel swings in the mid-lake area, particularly near running water and any timber. Still no bigs, but we'll find em.
Wednesday, September 25th, 2019
Report: by chadmitch » Wed Sep 25, 2019 8:04 pm

Want to put the heads up for fisherman heading to bullards bar and specifically dark day launch ramp. Just spent a couple of days on a friends houseboat. Fishing was great , no big ones but lots of fish and fun.Got back to truck and trailer to pick up ranger and found that the twekers had cut my main gas line and also took a grinder and cut open my job box in bed of truck. Just want people to be aware. sounds like they have stepped up security at marina parking lot.I guess they have had over 30 of the same crimes in the last 3 monthes. The manager at the marina said that there have also been stories of them drilling out the gas tanks to steal gas.
Sunday, May 19th, 2019
Water Temp: 61

Water Clarity: Clear (4+ foot visibility)

Report: Fished Bullards yesterday, and caught a fair number of fish but no big ones.

Biggest went just shy of 2 lbs. Nearly all of them came right up against the bank.

The lake is the fullest I've ever seen it. Launched at the dam and the water is probably 10 feet below the top of the dam.

Tips: Ned rigs and keitechs were working for us right against the bank.
Wednesday, April 17th, 2019
Water Temp: 58-61

Water Clarity: Stained (2-4 foot visibility)

Report: I took Clara Ricabal yesterday (Tues) to Bullards Bar. She had never been there before and was anxious to see the famous lake. Well, I guess she had a great guide - or something!! Clara doesn't mess around. She mastered the lake in just 3 hours - hooking and landing a 7 lb 2 oz spotted bass. Yea, Clara, this lake is EASY!!! What a pig - NO, not Clara!! A giant pre-spawn, gorgeous bass!!! One doesn't often get to see a fish like that! Clara also caught a 4 lb spot later in the afternoon. I chimed in with a 5 lb 1 oz spot later in the afternoon also. Three for 16+ pounds. We were 3 for 4 as I lost another big spot. Couldn't stop her and she came off in about 10 seconds. Bummer!!


I always like the afternoons in the spring, especially higher elevation lakes like Bullards, Clear Lake, Scotts Flat, Englebright, etc.

Bullards seems to be about 7 or 8 feet from full with a few creeks still flowing. Warmest temp I found was 60-61.

Tips: Try to find areas that have a lot of afternoon sun and protected from the wind.
Wednesday, January 23rd, 2019
Water Temp: 49-51

Water Clarity: Stained (2-4 foot visibility)

Report: I really enjoyed my 2 days at the Sacramento ISE show, working with long time fishing buddy and owner of Blade Runner Tackle, Rick Tietz - and others in the booth. You look at his big booth and realize he has created ALL those baits and colors you will see nowhere else. Meeting and talking to new and old friends at the show is always much fun. Fishing stories can get a little out of hand as they grow better each time you tell them - LOL!!! I was able to meet my first record holder - that is - WORLD RECORD holder (Spotted Bass), Nick Dulleck. He caught the giant spotted bass at Bullards Bar a year or so ago, at 11 lbs 4 oz. Talk about a trophy fish! We chatted for awhile and soon were planning a trip to BB. We went yesterday, in spite of the sudden cold front. Talk about having the lake to yourself - saw only 2 or 3 other bass boats. The bite was awful - he caught a few small ones and I missed a few bites. But that's January at BB. We did cover a lot of the lake, checking out different spots. He showed me the spot where the spot was caught. Info can be purchased. BAD JOKE!! NOT A CHANCE !!! THE SPOT is safe in my small brain!!

Tips: We had a great time sharing experiences and ideas. It is exciting to see the younger generation so dialed in and excited about our sport that just keeps growing. We talked about lots of bass subjects, old and new, tournaments, etc. We did a lot of running around, covering much of the lake, showing each other many good structure patterns. It sure is a different lake than when I started fishing it - floating logs everywhere, very few big fish, no spotted bass, and so on. My first-ever guide trip was at Bullards Bar - a special lake for me!

The bite should pick up in about 2 weeks, depending on weather. Not only is the lake at 2000 feet (colder nights), but it has a lot of extensive shadows with the surrounding mountains. Some areas only get a few hours of winter sun.
Friday, December 14th, 2018
Water Temp: 52-55

Water Clarity: Clear (4+ foot visibility)

Report: It is no big secret that New Bullards Bar holds some of the biggest spotted bass in the world, but it can be one of the most difficult places to catch a bass at times. The tendencies of these bass to hold on deep stumps or rock piles make them hard to locate even with the all mighty Lowrance HDS 12. Subsequently, these incredibly intelligent and lock jawed giants will at times suspend at depths of 30-80 feet over 150 feet! When targeting them this is the best time of year to break that personal best or seek a world record.

Why is this? Well yesterday, I finally discovered why! The Salmon... We all talk about bait and how it dictates the bass and their behavior, but at Bullards there is no shad. So, this can throw a newcomer for a spin and I am here to attempt to assist you in at least catching one of them. At this time of year, the Land locked salmon have been spawning which means they find a nice area at the backs of creeks or bluffs to lay their eggs. As I discovered yesterday the bass follow and eat their eggs and the dark red and black dying post spawners. To my surprise, I slung out a bright pink ned rig and roboworm around all the streaks of Salmon in the shallows of the "creeks" and left and right I opened pandoras box. Cast after cast my co angler and I boated spotted bass in the range of 1-3 Pounds. I guess the bigger ones would be eating the salmon but were already full. In conclusion my live well is full of salmon eggs and I have the need to inform all of you on my success in hopes to aid the community.

Sincerely,
Nathan Gardner

Tips: Also if it is not to much to ask if you would follow me on Instagram at nate_g_fishing, I would love it!
https://www.instagram.com/nate_g_fishing/?hl=sr
Thursday, December 13th, 2018
Water Temp: 53-55

Water Clarity: Clear (4+ foot visibility)

Report: I did a 6 hr day trip with buddy Mike to check out conditions at Bullards Bar. Conditions were not so good. Dark Day ramp is out of the water - no launch possible. The ramp at the dam is at the curve - it is ok, but awkward. Good to have a buddy help with the launch. The bite was very slow - did not hook any quality spots, 7 or 8 with only 2 keepers. Only saw two other boats on the lake. Very cold mornings - temps around freezing or below. Water is clear.

Tips: I tried several different styles of winter fishing. Drop-shotting and small types of beaver baits worked the best. Did seem some bait on the meter, but not much. No creeks running. Weekend rain may help some if storms hold together.
Saturday, October 6th, 2018
Water Temp: 67-69

Water Clarity: Clear (4+ foot visibility)

Report: Hit Ballard's Bar for my first time this weekend. Talk about a gorgeous lake!! Caught a ton of small spots on ned rigs, drop shots, shakey heads, and a few on jerk baits and topwater. Wasn't able to hook up on anything larger than 1.25lbs but had a blast. Fished creek inlets, secondary, and main lake points and found the small guys everywhere. Marked a lot of schools in the 20-35ft range.

Tips: Find the schools in the 20-40ft range and change up presentations to catch numbers. Main colors were white/shad like patterns.
Thursday, September 13th, 2018
Water Temp: 74-76

Water Clarity: Stained (2-4 foot visibility)

Report: I took two gentlemen from Arkansas - here with their families, visiting Lake Tahoe and later Yosemite. They know about Bullards and wanted to fish it. We had a very nice trip, warm beautiful day! One of the guys started off with two nice summer spots, around 1 1/2 and the other near 2 lbs. I think they caught 4 or 5 keeper spots, and then lots of dinks. Typical summer daytime bite. Waiting for water to cool down!

Tips: We just drop-shotted most of the time with 6" Robo worms - morning dawn and MM111. Water wasn't real clear, probably because of weekend boat traffic. We fished points and shaded walls with stumps. The sun is lower on the horizon now, so more shadows available mid-day.
Monday, September 10th, 2018
Report: by Csuhchris » Mon Sep 10, 2018 6:58 pm

Took the family to Bullards Sat AM. Fished the points from 7-9:30 in 50-90 feet of water. Lost many shakeyheads so decided to Drop Shot Robo Worms. Ended up hooking one that decided to pull drag. Ended up landing a 7.89 LBR after a brief scare from the wifey's netting skills! Hahaha
Another large fish was landed the weekend before! This lake is absolutely beautiful and will surely pump out a World Record Bass of 12 LBS this winter! Why not get started now learning this amazing fishery? Hope to see ya guys up there, as Clear Lake's topwater has ended!
Saturday, May 5th, 2018
Water Temp: 64-67

Water Clarity: Clear (4+ foot visibility)

Report: Not to many days where the breeze never picks up, but this was one of them. Overcast most of day. Excellent bite till about 1:30. Then it slowed down considerably. Most fish came out of around 15 feet. 4 pounder off a big boulder in about 5 feet. 44 fish in the 12-15 inch range. At least that many smaller than 12. Wife put around 20 in the boat. A nice 3 pounder was her reward for sight fishing a huge hollowed out stump that had a bed in it.
Saturday, April 28th, 2018
Water Temp: 57-62

Water Clarity: Stained (2-4 foot visibility)

Report: I had a nice guide trip yesterday (Fri) with a very good lady bass angler who I have guide before. She is a talented bass fisherwoman!! She comes self-contained and ready for bear - er, bass!! Fishing had really changed in the last week with a move to the shallows. We caught them as shallow as 2 feet!! Average depth was around 10 to 15 feet in the morning and down to 25 feet in the afternoon. I can't seem to time Bullards well this year. Lots of cold wind yesterday - again! When I left Yuba City in the morning, howling wind. When we left the ramp at Bullards, sunny and calm - until about 11 am. The wind found us - imagine that! This time is was a Clear Lake pattern - wind switching directions all the time. Didn't seem to slow the bite however, except may for the bigger bass. We did catch lots of keepers up to near 2 lbs, but didn't get any toad bites. Still a lot of shadows in spite of the higher sun now. We did find some of the bigger bass in the shadows. She came prepared with some of her favorite baits and they worked well. That will be her secret! Drop-shotting MM111 Robos worked well for me. Maybe because of the winds, big bass seemed hard to find.

Tips: Hard to give any tips because the smaller bass bite was wide open. Flats with a drop-off produced well yesterday. The bigger bass were always a little deeper, 20-25 feet. Senko bite in the trees was pretty good.
Wednesday, March 21st, 2018
Water Temp: 50-51.2

Water Clarity: Clear (4+ foot visibility)

Report: Mike Sperbeck and I made a short trip to Bullards to check on the bite. What bite? No more snow, ramps are good. I wasn't feeling real great, so I let Mike catch 'em all - all 3 of them. At least there was a minor bite. Weather and water are very cold!! I guess the word is out - only saw one other bass boat. We really need some sun, badly! Bullards is not an open water lake like Berryessa and Clear Lake and it really needs some sunny days to start warming the water. Not happened yet. Mikes biggest was about 2 1/2 lbs

Tips: His fish were at least 40 feet deep and caught on walls.
Wednesday, February 28th, 2018
Report: Postby Larry Hemphill » Wed Feb 28, 2018 7:22 pm

This is just some late weather info - Wed, 7 pm. Big storm coming as most of you know. This is a cold one and there is 6 to 18 inches of snow forecast for the 2000 ft elevation. Will this happen? Who knows. Not sure I would take the chance. Ramps at Bullards are steep as are the approaching roads. Just thought I would let you know. Everything these past 2 weeks has come almost directly from Alaska. Skiers are rejoicing - maybe 4 to 6 feet of snow at higher elevations - finally!
Friday, February 2nd, 2018
Water Temp: 50-53.8

Water Clarity: Clear (4+ foot visibility)

Report: I have fished and guided on Bullards Bar for many, many years. Yesterday (Thurs) was a first! When I launched at the dam about 1 pm, there were 3 or 4 truck/trailers parked and there was barely room for me. I found enough room and was off to fish. As I was approaching the main body. 3 boats were coming back to the dock. I think only one might have been a bass boat as there was only one bass trailer. The others were small boats. I wound up fishing my private lake (Bullards) until near dark. There might have been a boat out of Dark Day ramp. but I never heard or saw another boat the whole afternoon. it was my private lake for the afternoon - me and the floating spider webs. They were everywhere! Thank goodness this wasn't really a fishing trip for me since what fishing I did was not very productive. I caught one 14-15 in spot and missed 3 more bites. I went up the river arm for the first time all the way to the 5 mph sign. I always fish the main body, but it was fun to explore on a beautiful day! All my bites came on 6" Robo worms which I bit down to 5" worms.

Tips: As for the lake, the water temp was roughly 50 to 53 1/2 degree. The lake level is steady, rising just slightly. Lake water is clear everywhere with very little debris. More up the river arm, but not bad. Lake level is 79% capacity