Cachuma Lake and Reports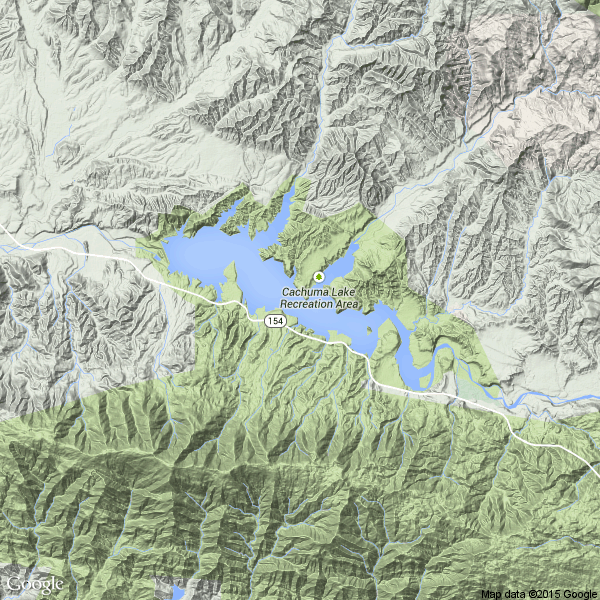 Click for Navionics/Google interactive map
Wednesday, Apr 8

Tuesday, June 26th, 2018
Water Clarity: Stained (2-4 foot visibility)

Report: Shore fishing at cachuma lake near Borona Butte across from space 315 at around 530pm caught 3 small bass using yellow and red crank bait threw them back.

Tips: They seemed to hit only when cranked fast, I tried green, orange and pink plastic work no bites
Sunday, April 1st, 2018
Water Temp: ???

Water Clarity: Stained (2-4 foot visibility)

Report: Had an awesome day fishing cachuma last week! The fish were up pretty shallow in there pre-spawn areas. Flipping creature baits in the brush and slow rolling smaller swimbaits were the ticket. In 6 hours I managed around 25-30 fish! Nothing over 3 pounds but some solids chunks. Not sure how long this bite will last but I'll be heading back as soon as possible!!

Tips: Fish shallow early for best results.
Saturday, November 18th, 2017
Water Temp: 62

Water Clarity: Stained (2-4 foot visibility)

Report: Have not been to this lake in over 7 years...Went out with buddy and caught a spoon fish on the first drop. We stayed with it and sexy shad cranks and rattletraps all day. We caught smallmouth,largemouth crappie,trout,catfish. They must have put in some big trout recently as we had three rainbows between 3-4 pounds on rattle traps. The crappie came on spoons and were more than a pound each. One smallmouth was close to 3 pounds. All and all a fun day on the water. Bring a plug knocker as the fish were in 27-30 feet and there is a lot of brush to get through and we got hung up more than we would have liked but only lost one spoon. 3/4 oz. Chrome hopkins shorty or it's equal will work.

Tips: Shear stone walls worked best for us. the fish wanted a big rip and drop but that is tough to do with all the wood on the bottom. Slow rolled the rattle traps at the mouths of small cuts or coves and the trout just slammed the baits. Best trout trap was a strike king 1/2 oz. sexy shad color.
Wednesday, January 25th, 2017
Report: MikeR » Thu Jan 26, 2017 7:12 am

Gibraltar Reservoir, upstream of Cachuma, is now at 100% capacity. Earlier in the week it had been 4.6' below full pool. The watershed is still producing run-off. This is great news as once Gibraltar fills, it becomes a "pass through" and we should see Cachuma rise at a more rapid rate with any remaining storms this season. There's a long way to go however.

Cachuma bottomed at 7% according to the State Water website but honestly it had to have been near 6% before inflow numbers increased and the lake storage numbers began to grow before the storms began, indicating they had turned "the spigot" on or possibly bought some water. They are connected to the State Water project and are required to buy water on a yearly basis to support the construction of the project. They were cut off or had their allotment greatly reduced during the last few years due to the drought conditions.

The lake is up to 11.9%, a very low number, but there might be some hope if the current weather patterns hold up now that Gibraltar Reservoir is full.

The miracle on the Central Coast and Central Valley and North is still going strong.

Lake Isabella, 37%, 132% of historical averages and snow pack on Mt. Whitney, which feeds the Kern, that feeds Isabella, is very good right now. Inflow from the Kern is nearly 6 times what it was December 2016. It should fill this year at the rate it is going now as long as we can get a few more storms.

The water level in most creeks in North Santa Barbara County, San Luis Obispo, and Monterey County is good and they are still flowing today:

Salinas Reservoir, better known as Lake Margarita Reservoir is now just under 70%!
Lake Lopez, 33.9% a little weak, not sure why. (Maybe Feds involved here too).

San Antonio -24%
Nacimiento - 79 % and should be at 80% by the weekend.
However this notice was just posted on the County website regarding Naci and S.A.:
Releases are being made from Nacimiento Reservoir to enhance adult steelhead migration conditions in the Salinas River. Releases are part of an adaptive management approach being followed in collaboration with the National Marine Fisheries Service (THE FEDS) to conserve steelhead in the Salinas River watershed. Releases from Nacimiento Reservoir up to 460 cubic feet per second (cfs) were authorized by the Monterey County Water Resources Board of Directors on January 17, 2017. Releases from San Antonio Reservoir are expected to remain at 3 cfs.


Lakes further South:

Cachuma - 11.9%
Casitas - 36.7%*

*Ventura and a number of Ventura County water districts/agencies are now considering hooking up to the state water project as Santa Barbara had done with Cachuma years ago. This includes the Calleguas Municipal Water District, United Water Conservation District (Piru), and CASITAS Municipal Water District. Last year alone the city of Ventura paid $1.5 million to the state to help maintain the State Water project which holds open their option to "hook up" at some time if deemed feasible. They have been paying for that ability or right for 35 years but never acted until now. The study and it's cost $653,000+ shared between the 3 or 4 entities, was approved by Ventura's City Council in a 7-0 vote. For Casitas this could only mean good things as a small amount of pressure will be taken off the lake when another source is available. Of course, if the FEDS hadn't meddled with Casitas, and had established a more reasonable diversion policy, Casitas would be in much better shape today.

Mike
Saturday, April 21st, 2012
Water Temp: 66-70

Water Clarity: Clear (4+ foot visibility)

Report: Algae bloom starting to show with the warm weather.
The bass are in 10' or less.
The bite is great.
Nothing very large today, but good #'s on both smallies and LMB.
City: Ventura

Tips: Fished split-shot robo
4.5" curly hologram shad all day.
Pulled 17 fish out in the 1.5 to 3.5 lb range.
Friday, March 18th, 2011
Water Clarity: Muddy (0-2 foot visibility)

Report: I was just wondering if the inspections up there are still hard to pass.
City: taft
Sunday, February 20th, 2011
Water Temp: 51-55

Water Clarity: Stained (2-4 foot visibility)

Report: Lake fished like I thought it would following the rains. Slooow.
3 people on the boat fishing. Only scrounged up 3 1.5- 2 # smallies. Fished from 8:00 til 3:30
City: Ventura

Tips: All 3 fish came on split shot robo hologram shad curlytail 2-12 ft of water.
Monday, November 15th, 2010
Water Temp: 65-67

Water Clarity: Stained (2-4 foot visibility)

Report: I have been fishing Cachuma for the last month. I have done nothing but spoon. My last trip was the best with a 5 lb. 9 oz. largemouth and a 12-13 pound limit. The jig bite is coming on now and we'll have to watch the weather and tie on accordingly.
City: Ojai

Tips: 3/4 oz. chrome spoon with a red hook from 20 to 45 feet...some jig fish on 1/2oz brown/ purple with yamamoto twin tail to match
Wednesday, May 12th, 2010
Water Temp: 62

Water Clarity: Stained (2-4 foot visibility)

Report: Got the itch to fish Cachumas again so I hitched up the rig and headed south. Got to the front gate at 7am. Ddidn't get on the water til around 8. Had a real run around with the rangers there. I guess they didn't like the looks of the Scalper. I never washed her off after a couple seasons out crabbing off Pismo, and the hull looks like 20 grit sandpaper. We hassled about it for a while and then they just gave up and blasted the heck out of it with the jet gun.

Forgot to put the plug in after the inspection, and my buddy had to scramble back up to the lot to get the rig while I ran around in circles. Damn quaggers.

Went over to my favorite point and finally started fishing. Started chunking a jig n pig. Made a couple casts and wound up hanging it up just out of reach on a tree. Reached down to get her off and snapped my tip. So much for my favorite rod - the old CherryStick. Crap. I've had that since '83. Oh well.

Regrouped and decided to freshen it up with some new stuff. Cruised down to the damn area where we usually like to toss spinners and crank plugs. Right off the bat - bam, scored a fat 14 incher. Yeah baby. Threw back at the same spot in a hurry and came up with a major backlash. Popped the dome on the spincast and saw a twisted ball of 6 pound coated with grease jibs. Damn. That rig's down.

Down to one last set up I decided to go for broke. All I had was my crappy fluger. Ran into Harvey's and anchored up on the old dropoff. Talked to some shore danglers there who said there was a good cat bite the day before. We worked the area with jigs and worms and wound up with a couple of 12 inch smallies and a nice bull gil that went 7 inches.

Finished the day off drifting the flats in the wind. We covered the whole of jackrabbit in about 20 minutes it was blowin so hard. Tough to tell how deep it was since my flasher crapped out on me 2 years ago. On my last cast I got the break I was looking for. I'm cranking a super deep yellow plug in open water and wham - the rod loads up. Thought I snagged into the bottom at first, but then my line just started rising up. Out of the whitecaps comes a toad shaking her head back and forth with the plug lodged in the corner of her mouth. I fumbled around for the net as my rod bent over the side of the boat. Finally sweeped her up. She went 6 1/2 on the spring scale.
City: Grover

Tips: Be prepared for a full inspection. Crabbers and other salty rigs aren't welcome. Clean and dry.

Toss cranks around mud banks and off drops.
Friday, April 23rd, 2010
Water Clarity: Clear (4+ foot visibility)

Report: Went down to visit a friend and spent a day at Cachuma for the first time. Love this lake! Ended up with 3 smallies and 4 largemouth fishing on Luck-E-Strike bass magic, Z-Man ZinkerZ and Strike King Zeros. Fished the shore from Martini Cove to Jack Rabbit Flats. No real monsters but all fish averaged 2 lbs. I gotta come back and hit this place from a boat!
City: San Jose

Tips: Water was clear, but still fished dark baits like I'm used to in dirty water. Junebug worked like an charm!
Sunday, March 21st, 2010
Water Temp: 60

Water Clarity: Stained (2-4 foot visibility)

Report: Well the bite was a little soft this past weekend. We did manage a few fish on drop-shots, Jigs, white spinner baits, and we caught a few flip fish later in the afternoon. Biggest bass was about 3 pounds. Some fish on beds smallies and largemouths, just a bit skittish. Smallmouths are pulling hard when caught. Good luck to all.
tight lines,
mark chief torrez
City: Camarillo

Tips: Try white worms so you can see it if you are looking for spawners. No swimbait fish.
Saturday, March 20th, 2010
Water Temp: 57-60

Water Clarity: Muddy (0-2 foot visibility)

Report: lake looks like pea soup,seems it turned over,drop shot 6in robo ox blood,2-10 ft,mostly smallmouth,the largemouth are very healthy,some bed fish but hard to see and find,storkflats area seems to be the best area,also rocky slopes
City: la canada

Tips: nothing but 6in ox blood,drop shot,shake slow and watch line for movement.maybe two three fish days.
Thursday, March 18th, 2010
Water Clarity: Muddy (0-2 foot visibility)

Report: caught on 8 in hudd
City: santa barbara

Tips: slowww
Wednesday, March 17th, 2010
Water Temp: 57.3 - 62.1

Water Clarity: Stained (2-4 foot visibility)

Report: Water temps finally hitting the 60's in spots. Carp are going nuts spawning on the banks in weeds, sometimes jumping clear out of the water!
Bass- - - ? 1 small mouth between us in Big Cachuma. Water has cleared considerably but more heat is needed to get them motivated.
City: SM

Tips: Work edges. Think spawning is in deeper water. Bass just are not moving up yet.
Saturday, March 13th, 2010
Water Clarity: Stained (2-4 foot visibility)

Report: caught a 8 pounder on big swimbait had another same size miss bait
City: santa barbara

Tips: fish by dam

Water Temp: 55

Water Clarity: Stained (2-4 foot visibility)

Report: Still slow from wind earlier in the week.
Wind was blowing hard again by noon. Caught 2 close to 4 lbs. 20' water.
City: Ventura

Tips: Copper flake hula grubs on a football jig. If youget bored flyline nightcrawlers for trout for easy limit.
Thursday, March 11th, 2010
Water Temp: 54.3 - - 55.7

Water Clarity: Stained (2-4 foot visibility)

Report: 1st trip to Cachuma in almost 1-1/2 years. See a lot of changes but my boat passed thank god! Store is closed, snack bar is closed, gas pumps are closed. Pretty sad.. Boat wash was well, pretty intense. Guy was nice and washed the boat, trailer, wheels, rear half of my truck, trolling motor, etc etc. Makes me wonder why I went back there?? If it wasn't for the meet this month, I wouldn't had.

HitJohnson bay first and was surprised to see some very clear water. Like down 8-10 feet in spots! Looking for some beds but nothing located. Hit Santa Cruz with NADA on everything I tossed. Hit the tule weeds across from Arrowhead with nothing, worked the walls on Arrowhead with nothing. Gee -- starting to sound framilar?? Saw two guys with 1 fish and that was it! Good thing LITTLE IF NO WIND! Maybe 5-10 in spots but a really nice day comparied to the 45-55 winds the day before.
Lake is almost full - -
City: SM

Tips: Give it a few days then head back.
Sunday, November 8th, 2009
Water Temp: 62.5-64.2

Water Clarity: Stained (2-4 foot visibility)

Report: Caught several on jigs off the main lake points, grn pumkin, lost several and my new Powell 735 (story in another post) caught one off the river side of Arrow head Island, nice 3.5 pounder
City: Lompoc

Tips: slowly crawl the jig, one reaction on a crank bait
Sunday, November 1st, 2009
Water Temp: 65-68

Water Clarity: Clear (4+ foot visibility)

Report: Hit the lake after the preliminary washing and inspection since Lopez. Caught between 9-10 fish. Most on a jig (grn pumpkin), one on swim bait (blue trout), 1 on drop shot (oxblood red flake)and a healthy 6 pound catfish on a jig??? 2-3 on a silver spoon. Only one fish not a keeper, biggest was about 3 lbs, fun day no large bag, but fun. Didn't meter very many shad balls so I could spoon more, but it worked a couple of times

Tips: Don't throw your jig next to a stump in the water...probably a catfish there waiting to eat it. LOL
Wednesday, October 28th, 2009
Water Temp: 62

Water Clarity: Stained (2-4 foot visibility)

Report: Brought the 'Scalper out of mothballs, hooked 'er up to the El Camino and ran over the hill to the Queen for some bassin'. Filled up on propane at U-Haul, scored a cinnamon roll et Eller's and it was off to the lake. The checkpoint at the gate is pretty tough. Be prepared to get a full inspection. I scoured the hull for an hour or so with SoftScrub beofre getting up there and they still hassled me. Eventually got through and put her in the water. Oops, forgot the plug. Ran the bilge on full boar and hussled up the hill to retrieve the rig. Got it squared away without sinking in the harbor. Finally got out on to the water about 11. So much for my fog bite.

Ran the narrows for an hour or so with only a couyple of hits on the spinner. Decided to switch it up a bit and ran up to Clarks. Cranked some chunk rock for a couple dinks. Wound up losing 3 cranks on about 5 casts including my prized Norman faded shad.

Spent the rest of the day working spoons and jigs in deeper water. Picked up a jumbo cat I'd rate at 14-15 pounds along with a few small bass. Best deal was the Duh spoon in gold.

Ended the day on my favorite deep water spot of Jackrabbit. Snagged a couple jigs, pounded a couple of Dews and ran back to the marina after the Ranger blew me out with the bullhorn...again.
City: IV

Tips: Bring some food and drink - the snack shack is DOWN. No more killer burgies and fries I guess. What the heck?

Try fishing really slow. Tiny bear jigs (purple) in deep water. 6 pound test. I got most of my bites on the dead stick.

Oh yeah - bring a hound dog lure retriever.