Cachuma Lake and Reports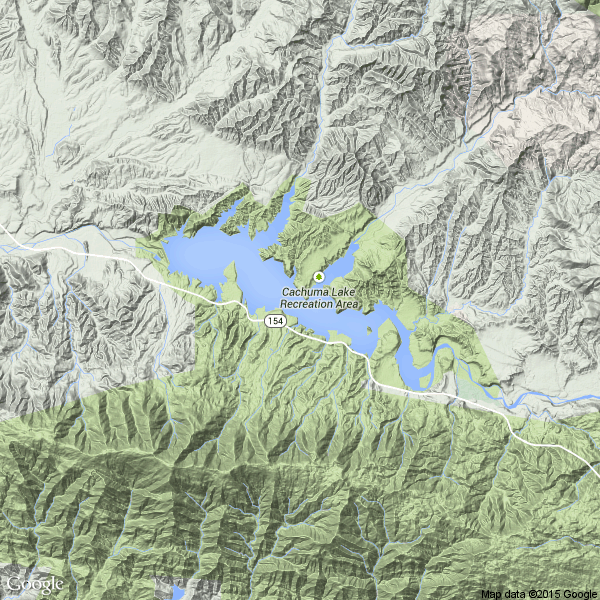 Click for Navionics/Google interactive map
Friday, Jan 15

Sunday, November 1st, 2009
Water Temp: 65-68

Water Clarity: Clear (4+ foot visibility)

Report: Hit the lake after the preliminary washing and inspection since Lopez. Caught between 9-10 fish. Most on a jig (grn pumpkin), one on swim bait (blue trout), 1 on drop shot (oxblood red flake)and a healthy 6 pound catfish on a jig??? 2-3 on a silver spoon. Only one fish not a keeper, biggest was about 3 lbs, fun day no large bag, but fun. Didn't meter very many shad balls so I could spoon more, but it worked a couple of times

Tips: Don't throw your jig next to a stump in the water...probably a catfish there waiting to eat it. LOL
Wednesday, October 28th, 2009
Water Temp: 62

Water Clarity: Stained (2-4 foot visibility)

Report: Brought the 'Scalper out of mothballs, hooked 'er up to the El Camino and ran over the hill to the Queen for some bassin'. Filled up on propane at U-Haul, scored a cinnamon roll et Eller's and it was off to the lake. The checkpoint at the gate is pretty tough. Be prepared to get a full inspection. I scoured the hull for an hour or so with SoftScrub beofre getting up there and they still hassled me. Eventually got through and put her in the water. Oops, forgot the plug. Ran the bilge on full boar and hussled up the hill to retrieve the rig. Got it squared away without sinking in the harbor. Finally got out on to the water about 11. So much for my fog bite.

Ran the narrows for an hour or so with only a couyple of hits on the spinner. Decided to switch it up a bit and ran up to Clarks. Cranked some chunk rock for a couple dinks. Wound up losing 3 cranks on about 5 casts including my prized Norman faded shad.

Spent the rest of the day working spoons and jigs in deeper water. Picked up a jumbo cat I'd rate at 14-15 pounds along with a few small bass. Best deal was the Duh spoon in gold.

Ended the day on my favorite deep water spot of Jackrabbit. Snagged a couple jigs, pounded a couple of Dews and ran back to the marina after the Ranger blew me out with the bullhorn...again.
City: IV

Tips: Bring some food and drink - the snack shack is DOWN. No more killer burgies and fries I guess. What the heck?

Try fishing really slow. Tiny bear jigs (purple) in deep water. 6 pound test. I got most of my bites on the dead stick.

Oh yeah - bring a hound dog lure retriever.
Saturday, September 26th, 2009
Water Temp: 73+-

Water Clarity: Stained (2-4 foot visibility)

Report: Fish busting shad as the sun came up. Too much bait to have interest in artificials.
Once sun was on the water for a few hours the bite picked up. Lots of small fish.
18 fish total between 2 people. Nothing over 2 pounds (most under 1 pound). Need the weather/water to cool down. Fall should be great!
City: Ventura

Tips: Shad imitations- Robo hologram shad on drop shot and splitshot
Saturday, August 15th, 2009
Water Clarity: Muddy (0-2 foot visibility)

Report: Don't go to the lake it's closed unitl further notice. I tried today but was turned away from the kiosk
City: Lompoc
Sunday, July 19th, 2009
Water Temp: 77

Water Clarity: Stained (2-4 foot visibility)

Report: crank am,tight to shore,narrow dirty starts to clear past stork flats,johnson,clark and cachuma bay rocky areas with walls
City: la canada

Tips: chartreuse cranks stained area,drop shot peoples worms 4.5,sinko tight to shore ,most fish are 1.5 to 2lbs,smallie 1-1.5.
Sunday, May 17th, 2009
Water Temp: 70-74 +

Water Clarity: Stained (2-4 foot visibility)

Report: Fished Fri,Sat,& Sun. most were caught on a drop shot,mix of LMB and SMB 1 to 4 1/2 lbs. also one trout that we had to keep (umm good). 75+ between four of us all released.Did get a few on Crawdad colored crank baits after seeing alot of red in the live well.
City: Long Beach

Tips: The wind is your friend use it !!! wolf packs running along any muddy off colored water we could find.
Saturday, April 4th, 2009
Water Temp: 64

Water Clarity: Stained (2-4 foot visibility)

Report: Lots of smaller keepers up shallow on reaction baits - blades and traps. Also found a few fish and the senkos. We couldn't get any bigger fish. The water's pretty stained from about Cruz upto the narrows. Key on the bite was to slow the bait down some and get some bottom contact with the rocks.
City: SB

Tips: Can't go worng with the 1/2 oz crawdad rattletrap
Sunday, March 15th, 2009
Water Temp: 53.6 - 55

Water Clarity: Clear (4+ foot visibility)

Report: Fish are definitely on their beds, not all but spooked some toads. Came back later to a clamshell lipped LMB. Managed to put 4 in the boat for approx 7 pounds. 3 smallies and one LMB. LMB on a drop shot in 3 feet, smallies on a DLN in sexy shad
City: Lompoc

Tips: even the cranks were slowly cranked. If you didn't hit structure you didn't get bit. Watermelon green seemed to be the best on the stained water
Wednesday, January 7th, 2009
Water Temp: 51

Water Clarity: Stained (2-4 foot visibility)

Report: Went out with high hopes of a killer bite but Cachuma screwed me again.
City: Orcutt

Tips: Lopez baby!
Tuesday, September 30th, 2008
Water Clarity: Clear (4+ foot visibility)

Report: Kept my mouth shut for a month because I promised the person I fished with I wouldn't say anything. The two of us ran into multiple limit style fishing with Hopkins spoons in 25 to 50 feet on mainlake points and drop offs. Smallmouth and largemouth. Did not get any love adjacent to the flats but the shear wall structure and the points were the ticket. This will likely only get better as the days get shorter and the shadows grow longer. Decent fish and from what I hear better than average. Keep at it as you go though areas with zip and then you'll pick off half a dozen in minutes. Chrome 3/4 oz. but then you knew that.
City: Ojai

Tips: In the morning I pitch the spoon at shear walls and step it back after 3 hours or so I move out and try to catch fish on points and the like while they are in transition along the edges of drop offs. Wind is your friend. If it gets bad than go back to your morning spots and start pitching like you did in the morning as better fish will move up to capitalize on the wave and bait action and it is easier to get them to react and for you to feel them. Good luck this winter.
Sunday, July 6th, 2008
Water Temp: 72-74

Water Clarity: Stained (2-4 foot visibility)

Report: Tough!!! Three trips in the last week. Only a couple of dinks drop shotting. Don't know what the secret is. I have tried about everything in the boat. Reports of good trout trolling 5-6 colors though.
City: Santa Barbara
Saturday, May 24th, 2008
Water Clarity: Muddy (0-2 foot visibility)

Report: UPDATE -- Correction to last entry --

There were two teams that got 5 fish and big bass was 3.57 not 4.57 as noted -- Sorry for the incorrect info
City: SM

Water Temp: 62-67

Water Clarity: Stained (2-4 foot visibility)

Report: Gold Coast Meet today -- 10 boats on hand -- winners in with 6 and change, big fish 4.56

Lady Cachuma roared her head today as we were greeted with rain and cold and wind. A really poor day to fish with at least 4 boats coming in with zero's. Lots of fish caught === 11, 10,12,12-1/2, 12-3/4 but seldom a 13 keeper to show. I think only one boat had 5 the rest were one and two's - Main lake was VERY rough with swells breaking over the bow and giving us both a shower. All I can say is -- Well, it's finally over! TOUGH OL DAY TODAY FOR SURE.
City: SM

Tips: Some drop was working, big fish in with a jig someplace in Santa Cruz, shad colered Flirt worm got some of ours as did senkos. Nothing on a crank today. San Antonio up next on June 14th.
Sunday, May 18th, 2008
Water Temp: 70

Water Clarity: Stained (2-4 foot visibility)

Report: First day on the lake in months. Fished until noon then left. Caught 4 smallies; 2 12's and 2 13's, first Bass of the morning came on a crank bite in about 8 feet a little over a pound and a half. Second, third, fifth, sixth all smallies on cranks. Fourth fish of the day came on a senko in 8 feet a good 3 and 1 half pounds according ot my scale, looked bigger but probably already spawned out. Tried all along the shore of big Cachuma Bay with no takers. Headed out to the main lake points and missed one. Hot and time to go. Sure didn't like getting on the lake so late in hte morning. Come top water time that's going to suck big time getting on the lake at 630 like the signs say

Tips: work main points, and shady areas

Water Temp: 70

Water Clarity: Stained (2-4 foot visibility)

Report: First time to Cachuma since the start of the inspections. Liked the new ramp a bunch better than the old one. The in and out direction is FAR better than before.

2 meets going on today and getting on the water took a wee bit of time. For those that havent made it this watershed, be prepared for a delay if your boat wasn't inspected. Lake opens at 6:30AM and boat washing don't start till 7AM so be advised for a wait if there is much traffic. Finaly on the water at 7:25 and on the main lake by 7:35. Lower parking lot was stuffed so had to park on top.

Hit Santa Cruz first, dabbling in the reeds looking for takers. Senko's and cranks to start - nothing. Changed to a jighead with a hula grub and got a small smallie. Worked it for a while but nothing more. Headed to the river to one of my good spots and tossed a senko. Slow Slow Slow and still no takers. Back to the hula grub then switching out to other soft baits. Got tagged on a plum and red flake curly tail grub. I hooked the fish, fish hooked me! Tagged a nicer smalle, maybe 2-1/2 or 3 and Like ouch! Ate it deep and as I was removing the jighead, she flipped up and it buried the 1/0 in my middle finger. I released her ok but the hook went in my finer tip and I had to jerk it out as the issue of pushing it clear thru to pich back the barb didn't please me at all. Headed home
City: SM

Tips: Very slow today but nice weather. Water temps up but I chatted with at least 12 boaters fishing meets and 10 didn't have any hitters by 10AM. ??? Didn't get this day figured out at all as it seems others didn't either.
Friday, May 16th, 2008
Water Temp: unknown

Water Clarity: Clear (4+ foot visibility)

Report: On water 6:30 clear and warm allday long.Temp reached low 90's and light breeze. Bite was very slow, 2 shorts, 1 senko and one dropshot. Threw spook for about 3 hours nothing. Three tournaments over weekend so lots of prefishing going on. Bite seemed to be tough for everyone.
City: santa maria
Thursday, May 8th, 2008
Water Temp: 72-75

Water Clarity: Stained (2-4 foot visibility)

Report: Same experience as previous post!! Very slow bite. Windy and cloudy.
Electroshock sampling occurring in Santa Cruz bay - not sure who is conducting it.
City: Santa Barbara
Tuesday, May 6th, 2008
Water Temp: unknown

Water Clarity: Stained (2-4 foot visibility)

Report: Out on water 9:30 and had no luck, 2 short smallies on dropshot. Threw senko, dropshot, small swimbait and jerkbait. Few strike but couldn't set that hook. Weather nice gut wind picked up around noon, off water at 2.
City: Santa Maria
Sunday, May 4th, 2008
Water Temp: 63-64

Water Clarity: Stained (2-4 foot visibility)

Report: Water stained to clear, improving gradually over last 2 weeks or so. Went out 8:30 w wacky rig senkos along shore. Good bite with 3 4 lbs fish and a few small ones also. Fished about 3 hrs with best bite about 10am.
City: Santa Barbara
Tuesday, April 29th, 2008
Water Temp: 53-56

Water Clarity: Stained (2-4 foot visibility)

Report: got on the lake at 7:00 the water has cleared a little and is warming, the fish were very active assassins were killin them all day! fish shallow to mid depth with them early and drop shot or shakey head later before the sun warms up too good. 3.5 lbs and 4lb were the biggest
City: lompoc

Tips: try next to the patches of green reeds that you can find, dead stick weightless zoom super flukes, baby bass color