Clear Lake and Reports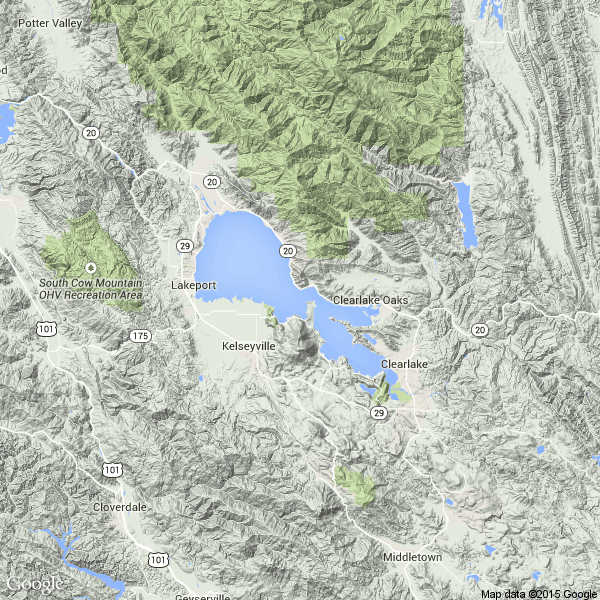 Click for Navionics/Google interactive map
Tuesday, Jan 21

Mostly Cloudy
Precip: 14%
Tuesday, January 7th, 2020
Report: by Dave Brabec » Tue Jan 07, 2020 6:54 am

I was out yesterday, More bait equals more birds.The Redbud arm is filled with Grebes . Some winters more than others. The lake has so many big shad right now even the coots are coming up with them.Fish are really fat . Catching fish that look like 3 pounders that weigh 5. Water was 49 degrees at noon . Only caught fish on the Arig.
Tuesday, December 31st, 2019
Report: by On The Water Guide Service » Tue Dec 31, 2019 5:20 pm


Winter is in full effect up here at Clear Lake. The days are shorter and the water is getting colder. The lake itself is in pretty decent shape though. The rain storms we have received so far have had little breaks in between so the lake level is slowly rising but the lake isn't blown out and muddy yet. The Rumsey gauge is at 3.81 and on an upward trend. All feeder creeks are running at about half capacity.

I was only able to get out on the lake a handful of times this past month with the kids out of school and the holiday stuff going on, the warden had me on lockdown. :D The few times I was able to fish, I fished primarily the North end around Lakeport. The water temperature was at 44 degrees at 10am when I launched and only came up to 47 degrees by early afternoon. The water clarity was perfect with a slight stained look with about one foot visibility. I was unable to get down to the south end of the lake but I heard the water is pretty clear down there and the fish are holding in deep water with a slow bottom presentation working well. I did the best up north on the A-rig and I switched over to one with little chrome willow blades on the teaser wires. I was also using the Keitech swimbaits in the Sexy Shad color. The bass seemed to see that color a little better in the slightly stained water. I had to eliminate a lot of unproductive water before I started figuring them out. The fish were holding tight to the bottom and were in 8' and deeper out in front of the docks. I fished the A-rig super slow along the bottom parallel to the shoreline and it seemed like i was getting more bites by making the lure pulse occasionally on the retrieve by stopping and then starting the reel handle. Most of the time i was just covering a lot of water and catching very few fish but I did have one day where I located a small school of two pounders and caught several in a row. I did also catch a few on the LV500 with a painstakingly slow retrieve on the bottom in the same areas. I heard there is a bite going on a vertical jigging spoon down south and mid lake and I also heard of some recreational fisherman doing good on live jumbo minnows down there as well. There has been zero fishing pressure out on the lake. The past few times out, my truck and trailer where the only ones in the whole parking lot at the launch ramp. Winter fishing at Clear Lake can definitely be tough but it makes you a more well rounded fisherman to get out there and grind it out. Dress warm and fish slow.

Happy New Years to everyone out there. May we all slay them in 2020
See you on the water.
Troy
Thursday, November 14th, 2019
Water Temp: 60.1

Water Clarity: Stained (2-4 foot visibility)

Report: Had to go check the house after the latest power outage & had a chance to hit the lake Tuesday night. After throwing everything but the kitchen sink ( thought about throwing that too! Lol), I figured out that they were hitting crankbaits! I threw the 6th Sense C15 & C20 in a shad pattern & when they hit it, they crushed it! They would not touch any of the other usual suspects, but this was a small sample size! Wish I had more info, but that's all folks! Nothing really big, best 5 went around 18 lbs. I fished south in Konocti.

Tips: They were deeper in the 15-23 ft range. I was cranking rocky structure and humps. I would reel down fast to get to he structure, then slow down to bump it along. Usually half way to the boat, wham! If you get bit in an area, fan cast around, there were multiple bites in an area. Have fun & be safe!
Thursday, October 31st, 2019
Report: by On The Water Guide Service » Thu Oct 31, 2019 10:32 am

Had a special celebrity guest client out this past week and let me tell you this guy could fish. The go to lure for me has still been the LV500 in any of the bait fish colors. I have primarily been using the Pearl shad and Ghost minnow colors. The key to being successful with this lure is to experiment with the retrieve until you find out how they want it that particular day. For example when I am fishing the shallow water in Lakeport, I have been doing well just burning it in over the tops of the submerged weed beds. Fishing the lure in deeper water I have been doing well with a yo-yo style retrieve sweeping the rod to the side and taking up the slack as the lure falls back down. Another productive lure right now is the Pointer100 suspending jerkbait in a baitfish color. I also recommend experimenting with your retrieve with this lure until you get the right cadence they want that day. A good rule of thumb is the colder the water gets, the longer the pause in between jerks. Headwalls and boat ramps are good places to target this time of year because the bass will school up and coral the baitfish against them and feed often. I have seen a mixed bag of baitfish in different areas of the lake. Some areas have big schools of threadfin shad while other areas have silverside minnows and some areas have lot's of juvenile crappie. The bass are really getting their teeth as they often do this time of year.

There is still an awesome jig bite mid lake and South right now. Brown/orange, brown/purple, or just plain old brown have been working really well in 5 to 25 feet. I have been doing well dragging a 1/2oz jig on a rocky bottom with a Beaver trailer and a touch of Smelly Jelly XXX crawfish. Another hot bait right now is the Zman Fatty Z Ned rig in the green pumpkin color as well as dropshoting a 6" worm with a short leader close to the bottom. Over all I would rate the fishing as good right now with water temps ranging from the high 50's in the morning hours and low 60's by the afternoon.

The water level is currently holding at 2.96 on the Rumsey Gauge which is actually pretty decent for this time of year and no measurable rain yet. Both ends of the lake are fishing well but I do believe the deep water bite is more consistent. The water clarity is similar all around the lake with about a foot and a half visibility.

It sure is nice having the power turned back on after 4 days of darkness. Thoughts and prayers going out for anyone affected by the Wildfires here in California. Everyone have a safe and fun Halloween this year and we will see you all out on the water.
Good fishing, Troy Bellah
Tuesday, October 15th, 2019
Report: by StanL » Tue Oct 15, 2019 8:33 pm
Fishing Clear Lake This Week Oct 15

So.. i'm going to start this fishing report off a little different than what I usually do.

First of all its different because its from Clear Lake and I usually write Camanche reports but then I took that day trip to Clear Lake a couple weeks ago and well I guess I caught the Clear Lake bug, so here is another from there.

Next I have to share that Wednesday the 16th is me and my wife's 37th wedding anniversary. We decided to go to Clear Lake last weekend to celebrate. I married the right one.

When we hit the water Saturday morning the surface temperature was 65 degrees. We started fishing in the lower part of the lake with dropshots and Carolina rig's but eventually switched to jigs.  We concentrated on points and breaks.

I have to say this weekend was probably one of my best weekends on Clear Lake ever and my wife caught her personal best a 5.8 lb largemouth and I got two fish in the 8 pound class.

I hope this helps good luck fishing

Water Temp: 64.4-67.6

Water Clarity: Stained (2-4 foot visibility)

Report: Don't have a long report as we got on the water Monday night & Tuesday afternoon. The night bite was scattered as we managed to boat 12 fish in the 2 - 3.5 range. They were hitting Texas rig beavers & power worms, just picking up the baits & running with them. The moon was full and as it got later, we ran into a decent crankbait bite over rocky humps. We fished until 6 AM & had definite lulls in between. The action was just enough to keep us interested, but not hot by any means.

On Tuesday afternoon, the bite was much more active! Ted was drop shooting Roboworms in Morning Dawn & getting bit on just about every cast. I tried the Frenzy Nail with Don Iovino's 6" spadetail in Green Weenie & was getting bit often too. The fish were small in the 1-2.5 range with one 4 lber. We fished Buckingham south covering a lot of spots & got action everywhere. Boated 40+ fish but once again a lot were small. I wanted to fish more but came down with a viscous cold Tuesday night so I spent the rest of the trip on my couch. I really wanted to hit it Weds day but just couldn't answer the bell. I was hoping to concentrate more on locating bigger fish but didn't get the chance!

Tips: It seems the day bite is better right now. Unfortunately they are now developing the old Konocti Resort putting in new docks on top of prime fishing spots so there goes one of my best go-to spots! Oh well. They seemed to be keying on green/brown colors and were really active on the dropshot & shakeyhead. It was a small sample size, but I'll be back in a few weeks to see if the bite gets really active. In the meantime, stay safe and have fun!
Friday, October 4th, 2019
Water Temp: 66-68

Water Clarity: Stained (2-4 foot visibility)

Report: I finally made it back to Clear Lake yesterday! A break from Berryessa where I have lived for most of the year. Went with buddy Mike Sperbeck and soon realize why I missed it so much! Awesome bite for about 6 hours with lots of quality bass from 3 to 4.5 lbs. Only caught a few in the one to two pound range. The dinks were feeding too and Mike caught one 4 or 5 inches!! Lost one or two big ones - but that is normal!! Don't want to say too much since Mike is fishing an upcoming tournament in a few weeks. We just stayed in the south end, covering lots of water. Lots of pre-fishing going on. One point had 3 boats on it! Lake had small white caps all day but was fishable in his 20 ft Ranger! Weird this time of year to have semi rough water in the morning. The lake should flatten out with the warm weather coming this weekend!

Tips: I have some but don't go into details if a friend or client is preparing for a tournament. All I can say is that the good reports from Clear Lake are probably true. Imagine that!!
Wednesday, October 2nd, 2019
Report: By StanL

Day Trip Fishing Clear Lake

As you know my fishing reports usually come from Camanche, but the opportunity came up for me to take a day trip to Clear Lake and I jumped at the chance.

It's been quite a few years since I've been there.

My buddy Ryan and I left early and made our first stop at Limit Out Bait and Tackle and got our Quadra muscle sticker. It was the first time I've been in the store since Bob left. I hope to be back soon.

We got on the water about 8:00 am and the surface temperature was 69°. The water visibility was about 2 feet.

We decided to start fishing around Anderson Island and we both started out throwing reaction baits, mostly crankbaits, swimbaits but after a bit with no luck, we both picked up bottom baits. Ryan started throwing a River2Sea Papa Mur jig and I started throwing a Frenzy Nail with a Berkeey Green Pumpkin "The General "worm. With those we got a few small fish until we backed out Into a little deeper water. Then Ryan picked up the Frenzy Nail and BOOM, he caught one about 41/2 pounds. So I tied on a Carolina rig Baby Brushhog and we concentrated on deeper points and breaks in the midsection and lower parts of the Lake.

We had to be off the water by around 3:00 pm. So all in all we had a great day and we ended up catching-eight fish. Our best five went around 17 or 18 lbs. I'll take that any day in October.

I hope this helps good luck fishing!!

Stan
Sunday, September 29th, 2019
Report: Postby On The Water Guide Service » Sun Sep 29, 2019 2:19 pm

With the summer coming to an end, fall patterns are begging to emerge up here at Clear Lake and the lake is changing daily. Cooler overnight air temperatures have brought water temps down a bit this week with readings in the high 60's in the morning and low 70's by the afternoon. Another noticeable change is that the weeds are dying back slowly and are becoming less numerous around the lake. There is still however a great deal of matted thick weeds all around the docks in Lakeport from the Skylark Resort up to about Rocky Point. The docks and shoreline are very fishable all along the Nice, Lucerne and highway 20 side of the lake as well as the rock piles in the narrows. The tule edges from Konocti Vista Casino all the way down to the State Park have been producing some nice fish for fisherman flipping the pockets and edges. Another good bite in the north end is to fish any isolated offshore weed clumps you might find in 6' to 10' of water. These weed clumps can often be way off shore by the 5mph buoys or way out in the middle of a bay. Drop shot, Senko, chatterbait, and spinnerbait have been working well in these areas. There is a lot of silverside minnows up in the shallows in the North end and the fish are keyed in on them right now. I did have a couple fun days catching them on a Lucky Craft Pointer 65 jerkbait, but you do have to go through a bunch of little fish before you get a good keeper it seems like. The LV500 or lipless crankbait bite is starting to come on strong up north and the yo-yo technique ripping it out of the weeds has accounted for some of the bigger fish being caught on that end of the lake. Topwater has been pretty much non existent for me ever since the cooling trend began but i still have my topwater box in the boat just in case we get a few warm days in a row.

It still seems like most of the people are fishing the narrows and south two arms right now and with good reason. There is a good jig bite down there and a Carolina rigged brush hog is working well also. I was able to find some schools of big threadfin shad (3" to 4") suspended offshore in like 25' and those areas were definitely holding the bigger fish right now. I had a couple good days throwing a Speed Trap squarebill crank bait in a shad pattern down by Rattlesnake Island and over by Monitor Island but you do have to weed through some dinks to get a good one. I'm looking forward to a good S-Waver and glide bait bite to be starting up soon. Water temps need to get just a bit cooler.
Sometimes the bite can be a bit tough this time of year especially with all the tournament pressure and the abundance of baitfish everywhere. If you find yourself struggling at all. I would recommend drop shotting a 6" purple plastic worm real slow on the bottom and you will catch them.

Good luck out there and we will see you on the water,

Troy
Tuesday, September 24th, 2019
Water Temp: 72 to 79

Water Clarity: Stained (2-4 foot visibility)

Report: Fished from 830a to 8pm. Started north end of lake in the weeds. For only small fish then moved to the docks more small fish. Final move out to 15 feet of bbn water out in front off weeds and rocks. Finding the bait. Caught better fish but was a challenge to stay on the fish. Ended the day with a fish an hour best 14lb

Tips: Go early. Best bite of the day is from sunrise to 9 I found last week.
Monday, September 9th, 2019
Report: by Bjrano » Mon Sep 09, 2019 2:03 pm

This was Labor Day weekend. No one was fishing but I was surprised at the location for my catch. It was right next to the walking foot path not 40 feet from our tent. I will give credit. It seemed as though there were multiple casting lanes along that trail. I I only fished about 50 yards of the path but got multiple strikes in my frog. Near campsite number 41 I dont recall the name of the slough.My son in law caught this one from the boat on a Ned rig.y Bjrano » Mon Sep 09, 2019 2:03 pm

This was Labor Day weekend. No one was fishing but I was surprised at the location for my catch. It was right next to the walking foot path not 40 feet from our tent. I will give credit. It seemed as though there were multiple casting lanes along that trail. I I only fished about 50 yards of the path but got multiple strikes in my frog. Near campsite number 41 I dont recall the name of the slough.My son in law caught this one from the boat on a Ned rig.
Tuesday, September 3rd, 2019
Report: by coyote268 » Tue Sep 03, 2019 6:30 am

Daughter Sandi came up as I live in Lakeport. We fished Saturday and Sunday and it was a zoo. Saturday we had a good day with around 15 in boat drop shotting north end with the best a 6.4 on a puff ball jig. Trying to get out of the water at 5th street was impossible so finally lucked out at third street. Sunday launched at state park and ran south and did good with smaller fish around Rattlesnake. Again mostly drop shotting. Sandi was on fire and had 3 over three but not quite four. Pulling out was easier at the park. A lot of nut cases out there and very rude boaters. Had to have a Danhatten Sunday night to calm down.
Thursday, August 22nd, 2019
Water Temp: 79.8

Water Clarity: Stained (2-4 foot visibility)

Report: Came up on Sunday & fished Sun, Mon & Tues evenings. The bite was decent & we ran into a decent crankbait bite. We didn't catch anything big like last time with Rufino nailing the largest coming in at 4 lb 9 oz. on a crankbait. The Texas rig bite was all over the place, good in some areas & non existent in others. The most popular was the Yamamoto lg flapping hog in a weird color that was copper red on top & orange on the bottom. Double wide beavers & 10" power worms worked also. The jig bite was also sporadic but we caught some on it. Black red jigs were working the best with trailers with red in them. One thing, we had a lot of strikes on Texas rig & jigs that were dropped by the fish. I think they were from smaller fish! We averaged 15 fish per night and the limits were around 17-18 lbs. I think the day bite might be better but my boat's fuel pump took a dive on Tues night so we couldn't give it a try. We decided to catfish off our dock Weds night, what else could we do right? Not being much of a cat fisherman, the ones I catch are incidental bass fishing, but Rufino knew the ins & outs. So there we were, two frustrated bass fisherman stuck on a dock at midnight! Man it was crazy! Ended up with a five fish limit of 68lbs! I didn't know a 20+ lb cat could fight that hard! Thank goodness I was using 65lb braid. I might have to rethink my position on catfishing. Lol

Tips: We fished south again & used dark colors when the moon was up. They preferred a slower presentation both in reaction & plastics. A lot of the strikes were the fish just picking up the bait & swimming with it so be on your guard. Some were stacked so stick around a spot if you get bit. Well, that's all folks, stay safe & have fun out there! Also, if your boat breaks, go catfishing!
Saturday, August 17th, 2019
Water Temp: 80

Water Clarity: Stained (2-4 foot visibility)

Report: Got off of work at 1:30 and got up to the lake by 5. I took my girlfriend with me this trip so I spent a majority of the evening driving around and showing her all of the cool spots on the lake. Fished for a couple of hours here and there and missed 4 and only got one in the boat. (How do you only get one fish in the boat at Clearlake? lol) Planned on fishing all day Sunday but because of family stuff that came up I had to drive home early in the morning. Anyway.... the lake didn't look to bad in any of the spots. There are definitely a lot of bigger mats showing up in the Northern end of the lake. The wind was blowing so the algae was not built up thick anywhere except for the bottom by Redbud. The water clarity from Lakeport to Nice was pretty bad, from Lakeside Park down to the south end of the lake looked pretty good. I missed all of the fish on topwater and one on a senko. I got one at the very end of the night on a square bill right before heading back to the ramp. Throw buzz baits, whopper poppers, and frogs when the sun is barely coming up or setting. Im talking like I caught a lot of fish this trip but I didn't because I was showing my girlfriend the whole lake. But, based on the conditions of the water and the weather, top water should be dead on right now and the reaction bite seemed to be picking up for crank baits compared to how its been the rest of the year (again, 1 fish) Even though I only got the one fish in the boat I still got it on camera. Checkout my youtube video to see my trip from this last weekend. Good Luck! https://www.youtube.com/watch?v=8q3YtC1Cujg&t=15s
Saturday, July 27th, 2019
Water Temp: 75-79

Water Clarity: Stained (2-4 foot visibility)

Report: Worked from 3am- 11:30am at the post office and then headed up to the lake. Got there around 2 and fished until 10 at night. The BBT fished Saturday morning and man did they sweep the lake. Had a couple blow ups on frogs mid day but only got one to the boat. Fished senkos and flipping jigs around the weedy docks in the North part of the lake. The sun went down and the bite was on. Whopper ploppers and squarebills at the mouths of a couple creeks where the weeds hadn't matted yet. Caught one 5 pounder on the plopper and the rest were 1-3lbs. Got out at 5am Sunday morning and there were other bass boats everywhere. We caught a few at the mouth of Kelsey creek and then when the sun went down we headed into a couple marinas and had come luck of the senkos and jigs again, punching mats and flipping under docks. The algae has started to bloom due to the 100 degree temperatures, the algae is only bad down on a couple of the southern arms of the lake. It was still a good trip for the short amount of time I had. I work 6 days a week, 60 hours plus, and I can still manage to make time for the lake so try to not make any excuses. I will be posting another video on my channel soon with a lot better camera angles, but Until i post it check out the one I have from june. Thanks, Goodluck. Nate . https://www.youtube.com/watch?v=9KCdaFeNw0A

Tips: Wake up early in the morning and fish shallow. As the day progresses and the sun comes up fish weed mats, docks, offshore structure, or any other shade or cover you can find. All of the natural colors have still been working for me, I haven't been throwing anything chartreuse yet.
Thursday, July 25th, 2019
Water Temp: 79.8

Water Clarity: Stained (2-4 foot visibility)

Report: Sort of hit the wall last night. Water temp was up 2 degrees, went out later to miss the Weds night shootout & only had 5 strikes. Thank goodness my hookset percentage was 100! Caught one on a crank, 2 on Texas rig, & 2 on the jig. Threw blades, chatter bait, senko, dropshot with no hits. Fished the same areas as I'm solo this trip & didn't want to get too far from my ramp that I couldn't get back on my trolling motor. There was a lot of other places I'd have liked to try! I was still happy with the 5, beats getting skunked, the largest went 4 lb 2 oz & smallest 3 lb 1 oz for a limit just under 19 lbs. still a good outing in my book!

Tips: I tried shallow & deep. All the strikes last night were in the 20 ft range. I ran the baits slowly, fast pace & shallow didn't garner any hits. They seem to be off rocks, couldn't fish docks on account of all the weeds. It was dead calm last night , maybe a little wind (not too much though!) would help. I'll be back in a few weeks, stay safe out there and of course, have fun!
Wednesday, July 24th, 2019
Water Temp: 77.8

Water Clarity: Stained (2-4 foot visibility)

Report: Got on the water around 10pm & the bite was considerably slower. Worked through a few hours of small fish until the moon came up & then it picked up nicely. Still fishing the same pattern, I ran into a 7 lb 5 oz'er & a 5 lb 2 oz'er! Both came on the jig but had some Texas rigged fish as well. Caught a few on the crank but they were in the 2 lb range. Did manage one small blade fish that was puking shad so the pattern may be in transition. Best 5 was a little under 22 lbs. Gonna try again later tonite & see what happens.

Tips: Big fish were deep again but there was some action up shallow where weeds weren't a problem. If you get bit, stay for a while as they still seem to be stacked up.
Tuesday, July 23rd, 2019
Water Temp: 79.6

Water Clarity: Stained (2-4 foot visibility)

Report: Went night fishing Sunday & Monday nights and the fishing has been great! Fished south in Konocti again (like always!) and found them right off the bat. They're pretty deep in the 15-20ft range and still seem to be on a crawdad pattern.

Sunday the smallest fish was 3 lbs. Fished off rocky structure and points casting to deep water and ran into them. They seem to be stacked up as I caught multiple fish in each location. I fished the jig slowly with pauses and they smashed it off of the pause. I was rewarded with a nice 9 lb 2 oz with a five fish limit of a little over 25 lbs. I caught a lot of 3 1/2 lber's for a fun evening. Caught one 5 lb on a crank plus there was good action on Texas rig too.

Monday night was very similar to Sunday. Same pattern but my biggest was 6 lb 5 oz with a limit a little over 21 lbs. The crankbait bite was more active, I even caught a 2 lb Crappie on it! Not as many fish as Sunday but still nice at 17 fish. Sunday I lost track after 25. No blade bite at all on both nights. Going out tonight so I'll post a report. Hope the bite is still on!

Tips: I haven't run across a jig bite like this in a while! I'm throwing 1/2 oz brown jigs with red in the trailer. Texas rig still best with double wide beavers and the crankbait is lavender shad run slowly over structure. No senko or blade strikes but I didn't throw them much as I couldn't put the jig pole down! Lol!
Sunday, July 14th, 2019
Water Temp: 75

Water Clarity: Clear (4+ foot visibility)

Report: Fished Clearlake the last week from July 7th- 12th. The algae is still not nearly as bad as it usually is for this time a year, there is a little bit of a bloom starting in the south end. The weeds are still not matted either like they usually are this time of year. Fished mainly the north end of the lake. Top water (frogs and whopper ploppers) worked great early in the morning and late In the evening. I was throwing whopper ploppers over submerged grass and along the edge of the tules. Caught a couple squarebill fish but nothing too crazy. Once the sun came up I flipped senkos and jigs under all of the cover ( docks, tules, and brush). Deeper water was also working midday using drop shots and jigs on offshore rock piles. Overall it was a good trip. Get out before the sun comes up and when the sun starts to go down to catch the best fish. I will be posting more reports because I go up to Clearlake almost every weekend. Thanks, Nate. If you get the chance check out my YouTube video, I will be posting more as my camera skills improve. Thank you guys and good luck! https://m.youtube.com/watch?v=9KCdaFeNw0A

Tips: Fish early, don't be afraid to throw the frog deep in the tules/weeds.
Sunday, June 30th, 2019
Water Temp: 70-80

Water Clarity: Stained (2-4 foot visibility)

Report: I finally fished Clearlake this Saturday. I'm moving out of California and I needed to make this trip and fish it once. Some friendly members here gave me some advice. I thought it might be interesting to post what I did and how I went at it as a newcomer. I had only one day to learn and fish the lake, thus I had to split my valuable time graphing and fishing.

First impressions....wow what a lake, compared to what we get near San Jose. The defining feature of the lake to me is how abundantly diverse the cover is. There's tules, submerged vegetation, rocks, docks, mats, laydowns, dropoffs, rock walls, seawalls. I don't know if I just came at a certain time, but if there's a type of fishing you like, you can do it. Most lakes have a handful of techniques that work at a particular time of the year. My impression at Clearlake was you could do whatever you wanted and still have some success. You wanna spend all day flipping tules? Go ahead. Drop shot rocks and docks? Sure why not. Crank all day? The world's your oyster. I could go on but I digress.....

I wanted to fish Friday night but it was too windy and dangerous. Saturday 6:30am I launched out of Clear Lake State Park. I immediately started flipping tules. It's the first obvious thing you see and very tempting. However, you can waste a lot of time and get trapped doing so. Plus everyone and their grandmother flips tules. It's the basic bitch pumpkin spice latte technique of fishing. I saw at least 8 boats at Quercus Point. There is submerged vegetation now and the fish are dispersed. I saw some people pick off fish here and there flipping shallow but I quickly changed strategies. Remembering the advice about rocks, I looked at my navionics and tried to find some. This is where having a good map card really helps. This particular one had good contour lines and lots of labels of potential spots. Shag Rock really stood out to me. I made the run there from Quercus point and quickly graphed rocks. I tied a dropshot with a googan baits drag n drop, and quickly caught a few 2-3 lbers. I then tied on a Keitech football jig with a Keitech crazy flapper and caught a few more. All healthy 2-3 lbers. The drop shot and finesse jig would be my primary weapons.

Having caught all the fish I could around Shag Rock, I consulted the map again. There are just so many viable spots, it was hard to choose. I decided to keep my radius short and made my way to Soda Bay, which seemed to have docks near deep water. Again, having a map card really really helps. I picked off more fish at the docks. Saw a guide and his 3 clients on a boat. All 3 clients were fishing dropshots. Saw them catch some. Caught a few more at the docks then I then graphed around a little more to try and eliminate water. Ate lunch, then went back out, alternating between Shag Rock, Soda Bay, and near launch. Biggest was a nice 3, pushing 4 on the dropshot. Lost one of similar size. Came back out in the evening, the water was white capping and it was dangerous to venture out, so I stayed near the tules near launch. I got a new flipping stick and I was determined to catch some flipping. Managed to hook 3, land 2. Thus ended my trip. I didn't catch an enormous amount, or anything huge, but I learned a lot and made the most of my time. I saw people power fishing, dropshotting, jigging, flipping, all with varying degrees of success.

Tips: I don't have any other meaningful tips. Just fish the way you want, you'll probably catch something lol. The only thing that I didn't do much of was fish reaction. If you're at a new lake, use maps, online or a map card. Get good at reading contour lines, have the patience to spend time graphing, have some faith, and just go for it. It's easy to do what you're comfortable with, but what you're comfortable with won't work all the time. Another thing I noticed at at each spot there were a ton of boats. Usually that's a bad sign, but this lake is so loaded with fish, I would catch them side by side with other anglers. I can only imagine what I can do with a small crowd and more familiarity with the lake.