Clear Lake and Reports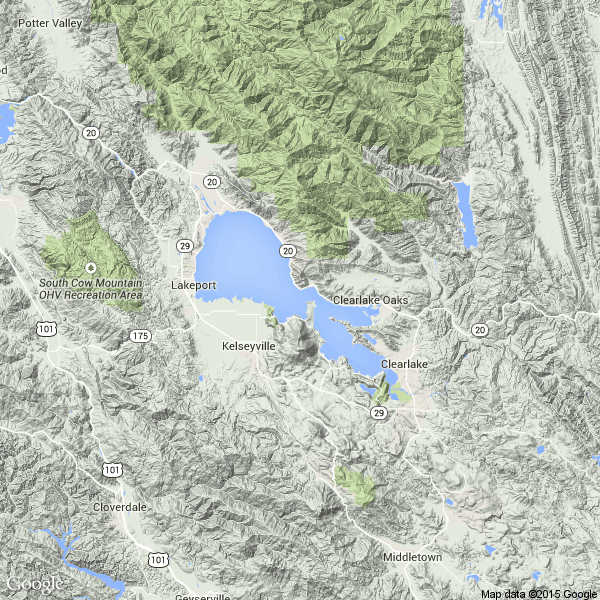 Click for Navionics/Google interactive map
Thursday, Jan 17
Chance Rain Showers
Precip: 98%
Chance Rain Showers
Precip: 33%
Sunday, December 9th, 2018
Report: by Larry Hemphill » Sun Dec 09, 2018 12:02 am

Winter fishing at Clear Lake is not like other lakes that have spots and smallies which are more active in the winter. And Clear Lake water is very warm in the summer and can be VERY COLD in the winter. The cold air sinks into the "bowl" where the lake is - and can even have some snow in the winter. The feeding window is very short - maybe an hour or two, day or night, maybe every 2 or 3 days for each bass. I have been told, and have read, that a bass can digest a crawdad in about 18 hours during the summer, but it takes around 3 days in the winter. Answer - they don't need to feed much. I remember a sudden trip I made to Clear Lake a few years ago on January 4th. Very cold weather as you would expect, but dead flat water as much of the winter is there, except for storms. No bites before dark and nothing for the next 5 hours. About 11 pm I heard a carp roll, then another, and another until they were making merry on a winter night. I was fishing jigs with a big Yamamoto grub tail. Suddenly a good bite and a 4 pounder in the boat! For the next hour I had 5 bites - aggressive bites!! In about an hour and a half I had 5 bites and 5 bass in the boat for 20 + pounds, including a 7 pounder. And these were feeding bites - how could they hit this hard in 44 degree water? The window may be short, but it could be the favorite window of your career. Obviously, they are not bothered by fishing pressure in January, especially at night. Winter fishing is about location and timing. Other than the spawning period, winter is the time to catch the bass of a lifetime - day or night!! Where was I that night? Near Rattlesnake Island - really!!!!
Wednesday, November 21st, 2018
Report: by clearlakeoutdoors » Wed Nov 21, 2018 3:21 pm

The bite has been good if fishing shallow up north 2'-6' of water. Lucky craft LV 500, Jerkbaits, small shad colored Keitechs have been best around the schools of shad. Heard of people struggling down south and deep water bite wasn't has good as a few weeks ago. There was a 25lb and 30lb bag brought in Saturday for the American Bass tournament. I've been told fish from 2.5lbs to 8.5lb have been caught in the last couple of Days. Start fishing early take a long lunch break and get back out for the afternoon bite.
Monday, October 22nd, 2018
Water Temp: 62-65

Water Clarity: Stained (2-4 foot visibility)

Report: Fished 10/19 through 10/21. Beautiful weather, cool mornings, very comfortable afternoons. Unfortunately the fall bite did not seem to materialize. We came loaded with swimbaits, underspins, squarebills, crankbaits etc. We fished north and south. A rarity at CL, almost no wind!! Slack water. Fished shallow, deep and rock piles. Only producer was Ned rigs, Drop shot, and did get a few fish on blades and the Damiki Axe Blade tail spinner which was a perfect match to the Shad in the water. Bait was everywhere. More luck when we found areas that had less bait. Only ended up with a few fish per day, 3.1lb being big fish. Fish were super healthy looking and fought well above their weight class.
Wednesday, October 10th, 2018
Water Temp: 68.2

Water Clarity: Stained (2-4 foot visibility)

Report: Fished 10/7 & 10/8 trying to see if the blade bite I ran into last trip had held up. It didn't. Murphy's Law hit me this trip. Had battery & trolling motor issues so I didn't get a good trip in. The times I did get on the water, the bite was slower. Best was a 5.2 taken on a Texas rigged double wide beaver. Caught others on senkos, Texas rigged kreature bait and double willow red 3/4 oz blade. The conditions were light wind and very comfortable weather. I just wish I could have fished more & harder! Majority of the fish were in the 2-2.8 lbs range. Very scrappy right now & fun to catch. Just didn't run into any bigs.

Tips: They seemed to like a slow presentation and red was a common denominator in all of the baits that worked for me. The strikes were in the 3-6 ft column, close to rocky structure. There were quite a few senko fish around the shag rock area. I couldn't buy a crankbait strike and only caught a few jig fish. I'm gonna get all of the boat issues taken care of and try it again in a few weeks. It feels like the bite is just around the corner.
Tuesday, September 25th, 2018
Water Temp: 70.2

Water Clarity: Stained (2-4 foot visibility)

Report: Fished Weds - Sat in the south section around Konocti. I fished early evening to around 3AM all evenings and the bite was marginal at best until around midnight on Sat night. Threw a lot of techniques and the only two that produced were Texas rig and blades. Weds night I managed 4 fish, two on Texas, two on blades. They ranged from 2 lbs to 3.5 lbs. Thursday night was even slower as I managed two fish in the two lb range. Took Friday off to work on the house, got out Sat evening around 10pm and it was slow again! Up until midnight I had a 2 lber and one nice 4.9 lber and that was it! Decided to head in instead of beating my head against the wall but decided to try one more spot before hanging it up. The fishing went off into a crazy blade bite. Threw to any riprap rocks I could find and nailed them, but only with blades! They were stacked up and I got multiple strikes and fish from staying on spots! So I end up boating over 20 fish in two hours. Biggest went 7.2 lbs, best five a little over 27. It was a mind blower to say the least. At one time I made 4 casts and boated 4 fish, one was the 7 and the other 3 were around 3 lbs. I tried an experiment at one spot that I had several strikes, threw crank, Jig, Texas, senko & nothing. Picked up the blade rod and got nailed by another healthy 4+ lber! I'm glad I ran into them briefly and really wished I could fish Sunday evening but I had to head back to Visalia!

Tips: I retrieved the spinnerbait slowly where you could just feel the thump. I was throwing a single Colorado blade with red and black. Look for rocky structure. One thing I noticed was the weather pattern changed a bit. Most of the time I fished the wind was dead slack. Sat evening has a brisk breeze which seemed to help open up the fishing. I think it was heading into a bite and wished I could have stayed a few more days!
Thursday, July 12th, 2018
Water Temp: 84 day, 79 night

Water Clarity: Stained (2-4 foot visibility)

Report: Started the trip on Sunday night fishing south, mostly in Konocti Bay. Took a bit to figure out what they were on, and it turned out to be blades. We fished for only a few hours as we got a late start, but we targeted rocky structure and rolled it slowly to where you can just feel the thump of the blades. They clobbered it within 10' of the shoreline. We got 9 fish ranging from 2 - 4 lbs. The plastics & jig bite was slow. On Monday, we got bites on Texas rigged beavers as we started at 10pm. Man, the wind was ferocious! Stayed with it for a couple of hours, then packed it in. Caught 5 on Texas using heavier weights with no size. It was like fishing in a washing machine! Lol. Tues, we tried it during the afternoon, the wind was brisk but doable. Once again Texas rig produced the most bite with the fish averaging around 2.5 lbs. Went back out in the later in the evening and the wind completely died! Started around 11 pm and started getting fish on the jig. As weird as it may seem, when the wind died, the bite took off and the size was better. We caught 8 jig fish ranging from 3 lbs to our largest which was 5.2. Started fishing docks with the Texas rig and put 12 more in the boat. Next thing we know it's cracking dawn so we decide to see if there's a top water bite since the night was so good. The lake was dead slack, eerily quiet and other than a few slaps at the Whopper Plopper, totally devoid of any semblance of a bite. We did, however, catch a darned good breakfast at Live Oak! Our best 5 went just shy of 21 lbs. Went out Weds at 6pm with the intention of tossing frogs. Instead we got into a vicious crank bait bite that lasted until dark. They were hitting the Luckycraft D20 and LV 500 and literally smashing it. They were anywhere 1.5 - 3.5 lbs and we had a ball! Best 5 was just south of 16lbs but we caught a plethora of them! We also managed one frog fish out of one blowup that went 3llbs. No top water at all! Since the night before was great, we thought the evening bite would be stellar, but we were wrong. Again, it was dead slack and we managed 8 but we had to work for them. We were off by 3am and that's our story and we're stickin' To it!

Tips: The jig really worked on Tuesday night and when they wanted it they hit it hard. We used beavers, kinky beavers, and double wides on the Texas rig, everything else produced minimal strikes. We pitched the cranks in clear areas behind docks.We rolled everything slow, go fast and we wouldn't get bit. Everything that worked for us had red in it, the fish are very healthy and fought like crazy. They were fairly shallow, within the 10' water column. We didn't venture north so the frog bite may be better up there. Was surprised that the weeds weren't all that bad and we caught many of our fish just outside the weed line. Ted and I were hoping for better sizes, but since Tues nite and Weds afternoon were so good, we figured it could have been a lot worse! I must say that it was unusual to see the wind pattern change so dramatically! The last two days were much better fishing than the first two. Anyway, sorry for the wordy post, have a great time and stay safe out there!
Wednesday, July 11th, 2018
Water Temp: 76-80

Water Clarity: Stained (2-4 foot visibility)

Report: I guided a father and 2 sons (14 and 16) yesterday out of Red Bud. They were visiting from Tennessee, and of course, had to fish the famous Clear Lake. All three were good bass fishermen. Must have been wind warnings or something as there was no one out there. Only saw 2 bass boats all day. Rough seas, after 9 am - was like an ocean. We were able to fish some areas I like down south and found the bite to be great for about an hour. They caught many bass from 2 to 3 3/4 lbs - one after the other!! Major bite! The oldest bass, between 4 and 4 1/4 lbs, was caught by the youngest angler - the 14 yr old! This is how you do it - men!!! All their bigger bass were caught during the early morning as the lake became an ocean after 10 am. The wind blew in a strange direction which I haven't seen often, making areas to fish very limited. We continued to catch bass into the afternoon, but only up to 2 1/2 lbs. Docks, rocks, and weedlines were the key. Their best 5, caught within an hour, between 15-16 lbs.

Tips: With 4 in the boat, we just fished Robo worms and Senkos. MM111 was the best worm color by far. The new "moondust" Senko color is working well. These baits. worked very well, even when the wind took over. It was hard for them to feel a bite, but drop-shotting was the way to go in the afternoon. Several of their bass were very tight to the tulles after the wind came up. Bass do try to avoid strong wind currents if they can. Lots of bass still quite shallow in spite of the warm water. The upcoming heat spells will probably send the bass deeper now.
Tuesday, July 10th, 2018
Report: by Jim Wilson » Tue Jul 10, 2018 8:33 pm

I was there 6th, 7th,and 8th and from 5-8:30 am Friday, the frog bite was excellent in the tullies up North. The rest of the weekend, couldn't get bit on frogs. Evening bite was non existent also. I'm guessing the weather had an affect on the bite. It was cloudy, windy and a bit cooler Friday and Windy mid lake south Sat and Sun. Topwater bite all but shut down for me the rest of the weekend. Jigs and dropshot picked up the slack fished mid lake around deepwater docks and out off the bank in the grass in 8-10ft. Water was the clearest mid lake. Good luck
Wednesday, May 23rd, 2018
Water Temp: 69.8

Water Clarity: Stained (2-4 foot visibility)

Report: Started a 3 day trip Sunday night. We were fishing Konocti Bay and The session was highlighted by a 7lb 4oz unspawned female & a 5 lb 11oz spawned female. We also caught quite a few 1.5-4lb fish as well. We caught a few on senkos, blades, & jigs; but the most & larger fish were caught on Texas rigged creature baits and double wide beavers. Monday day was more of the same smaller fish with Ted breaking off a toad on a senko! Got a good look at her & she was stout! Monday night was slower with the same smaller fish on the same Texas pattern. Tuesday night started with a light northern breeze and a first cast hookup of a 6lb 8 oz spawned female that fought so hard I thought she was in the 8-9lb range, but the battle was well worth it! We also caught a couple of 3's in quick order & I thought we were going to kill it! Well, the breeze died down for 30 minutes, then came roaring from the south! When the northern breeze left, it took the bite with it! I wish we could have fished Thursday as I think the bite would have improved, but had to get back to work. All of the fish were fightin' mad & healthy! We were primarily fishing the edges of weedlines slowly bringing the baits through the submerged weeds. Can't wait to come back in a few weeks!

Tips: We threw baits that had red in them as some of the fish were spitting up red crawfish parts. We were working the baits slowly over the submerged weeds & the fish were picking up the baits & swimming with them. All of the smaller fish were males & fought like crazy! When you set the hook on any given strike on this lake, hold on, it could be a big one! Reaction bite was slow but I think it's going to pick up soon. Good luck & stay safe out there!
Monday, May 14th, 2018
Water Temp: 64-67

Water Clarity: Stained (2-4 foot visibility)

Report: Just spent five days on Clear Lake. Started out on Wednesday with a great bite on reaction bites when we found the baitfish schools being harassed by bass and Grebes. That bite held through Thursday, the first day of the big FLW tournament with about 200 boats. By Friday our average size on the reaction baits went from about over 3 pounds each to about 2 pounds. Saturday we did not get a reaction fish over 2 pounds. We saw many fish on beds both north and south but they were small bucks, and we were practicing for a high school tournament, so we left them alone. We don't know what the locals know about the secret places all the big fish go to spawn but we did find a couple of beds with fish over 4 pounds on them. We left them alone for game day. We did pick up a few better fish on deeper tules in practice but with the big tournament it was hard to fish anywhere that did not have boats all over it. On Gameday Sunday we ran south to the clearer water and got a quick limit of 1.5 pounders on the reaction bite then went back to Lakeport to find our bed fish. Incredibly, they were still there. I would like to say we hauled those big girls in and really culled up but that did not happen. My anglers could not get them to go and when they did get one big girl, on a whacky senko, she ran off pulling drag and got off before we could turn the boat around and get after her. We culled up a couple fish and almost made 10 pounds. From Wednesday to Sunday we went from 16 pound limits to 10.

Tips: There are still a lot of beds out there but if you can find the baitfish being pounded, the reaction bite can be really fun.
Friday, May 11th, 2018
Water Temp: 62+

Water Clarity: Stained (2-4 foot visibility)

Report: This is not a real report, but just a reminder how the bite can change at Clear Lake. I did a guide trip last Thurs with 2 good anglers and found the lake to be calm and nearly empty as it was off-limits for the upcoming big tournament. The bite was terrible, though they did catch a few 3 pounders. I guided another angler during the tournaments (yes, more than one tournament!) on Saturday - what a zoo! Over 200 boats! However the bite was much better!! I caught a 5 pounder on the side of a tulle patch that had just been fished by 2 boats. Only had one tourney angler nearly run me over. Our best five was about 13-14 lbs, caught mostly on weightless Senkos.

Tips: No tips since this is a late report.
Sunday, April 29th, 2018
Water Temp: 59-64

Water Clarity: Stained (2-4 foot visibility)

Report: Went out with bed fishing and monster bass in mind but the weather had other plans for me! The crappie spawn is done and gone and there are millions of fry in the shallow flats on the south side of the lake! The wind ruined any chance to find beds for me. Also, it was blowing about 15 the entire time (Friday and Saturday) Well I managed to get a really good bite out of a Vision 110 in black shad and bladed A rigs! Totaled out at 25 bass through the 2 days and that felt like a tough bite because of the front! This fishery is unreal and there are so many talented and kind anglers on it! Biggest bass came on a white on silver double willow Dobyns spinner bait with a single tail grub trailer on the edge of the toolies, but that was my only bite on it and i wasted hours throwing a hammer chatter bait with a zeko in a grayish white color! Have fun fish on I hope this helps!

Tips: Find the large flats isolated from the wind, then find the bait that are in the toolies and throw an a rig, underspin, jerkbait or a spinner bait for the big ones.
Thursday, April 5th, 2018
Water Temp: 59 to 63

Water Clarity: Stained (2-4 foot visibility)

Report: On the lake early and fish some new water for average size fish. Moved over to our honey hole and found good number of fish as did half the lake. As we where passing Rocky point to go to to our area count close to 20 boats. Most fish are of average size with a big fish going 3.5 in this area. Left the heard and found another area less fish better quality. Ended the day with with over 30 fish for the boat and top 5 over 16.5

Tips: Leave the herd and find new water.
Wednesday, March 21st, 2018
Water Temp: 52

Water Clarity: Muddy (0-2 foot visibility)

Report: With all the rain everything had a little color to the water. Very slow day and had to through the drop shot and slow roll the A Rig. Ended the day with only 4 fish. I jumped in a harbor and caught some crappies, even that was slow 10 fish or so and on the small size.
Monday, March 19th, 2018
Water Temp: 49-52

Water Clarity: Stained (2-4 foot visibility)

Report: They say the month of March comes "in like a lion, out like a lamb", but to date it has seemingly been 19 days of lion-ness. That being said, they are still biting. When the lake chooses to calm down, late winter tactics are still ripping lips. Those I talked to said they hadn't seen any pre-spawn activity, so the spawn *might* be later than usual. We had a tough time finding them, but they are there. We took a few on a ned rig and we caught one on a spinner bait when the wind and chop was at full throttle.

Tips: Late-winter tactics; either endure the rain and fish through, or wait for a sunny day and guess at what they're biting on.
Wednesday, March 7th, 2018
Water Temp: 52 to 53

Water Clarity: Muddy (0-2 foot visibility)

Report: The lake had a 2 foot chop on it. This made for a tough time to stay on your spot. The fish still eating when I could stay in contact with the bottom. I was running moving small moving baits. Ended the day with 10 bass. We moved in side a marina and caught about 20 to 30 crappie each.
Saturday, February 17th, 2018
Water Temp: 49-55

Water Clarity: Stained (2-4 foot visibility)

Report: Started the morning around 7am throwing 3/8oz underspins with 3.8" kietech trailer and Jackall TN70, off the bat we were catch fish just not the right size, made a round around the lake to look for the bigger ones, found a good area loaded with fish couldn't get anything big out from it, noon came and we started fishing docks targeting the shaded sides, couldn't get anything to go, I started backing away from The dock and fishing the deeper end and immediately started hammering fish, they were in the bottom in about 7-10ft of water, again nothing big. we then decide to try out for some crappies and found a point where the we're stacked up, we caught and lost count bite was just insane, after a few hrs crappie fish we decided it was time to pick up the swimbaits and swing for the fence, headed back to our first spot and right away my partner got bit, he and I was using one of my prototype 6" Bluegill glide bait, he swung and missed, a few cast later I got bit and same thing happened, we figured it must be the small ones hitting, we then came to a sandy bank and I position the boat in 7ft of water and made a long parallel cast, let my Gill bait sink down to the bottom and started my retrieve with a rod swipe, I like to do that when the bait hits the bottom, it causes the bait to have a irractic side to side action and let's the bait come up off the bottom to not get hung up, also if there is any fish near by or looking at it it can also trigger a reaction strike, soon as my bait came off the bottom I did a medium reel and pause retrieve, on my third reel turn I felt a tug then my rod loaded up and I set the hook, fish on! I Fought her to the boat and my partner grabs the net and we got her into the boat, it was a nice healthy 6lbs 10oz fish, we took some pictures and released her, made a few more cast then it got dark and we called it a night.

Tips: I'm no expert at clear lake but if u want to catch fish throw underspins and reaction baits, fish shallow in the morning and move out deeper in the day, don't forget to throw the big baits for a chance to catch the big ones good luck!
Thursday, February 8th, 2018
Water Temp: 48 to 56

Water Clarity: Stained (2-4 foot visibility)

Report: On the water at 7am to 5 pm. The fish where co-operating from the start of the day. Small jigs started the day and work all the way through. Every thing was working, A-Rig, underspin, worm, Drop shot and even the crankbaits. I caught 25 and my buddy caught 35. The fish where every where no one place. Right know just go fish how you like to fish. But Caught more fish on a slow jigs but watched some one catch a 8 on a crankbait.

Tips: If your looking for the bigger girls stay off the docks in deeper water. 20 to 30 feet in front of the docks. There is always that area where the bottom breaks slightly quicker. 1 or 2 feet faster.
Friday, December 29th, 2017
Water Temp: 40s

Water Clarity: Stained (2-4 foot visibility)

Report: Winter fishing is here. Slow down and scale back your presentation around weed lines and docks and target water 8+ feet deep and you'll find them. I fished from the 27th through the 29th of December and pulled a few consistent fish with a small Ned rig and TRD setup on tight line. The drop shot was working too around cover with a 6 inch or less leader. The slower the presentation the better. Kind of a numbers game right now rather than a size game.

Tips: Slow down, target structure, use natural colors.
Monday, December 25th, 2017
Water Temp: Cold

Water Clarity: Stained (2-4 foot visibility)

Report: All I want for Christmas is a killer big fish springtime bite!

Tips: Wishin' & a hopin' for the best!