California Delta and Reports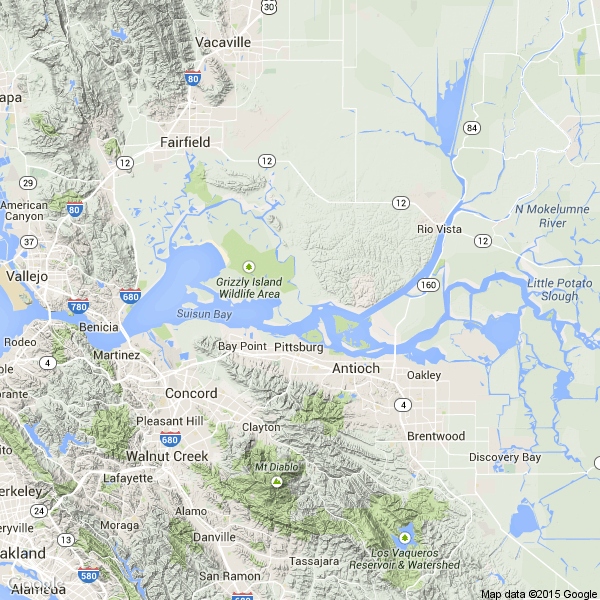 Click for Navionics/Google interactive map
Saturday, April 16th, 2022
Water Temp: 59-62

Water Clarity: Stained (2-4 foot visibility)

Report: Launched the kayak at Russo's at 8am. Intermittent rain at the start with a little breeze (picked up later). Stayed in Frank's Tract all day. Started off amazing with a 23.5" fish at 8:30 on a drop shot (6" Roboworm). Best guess around 8lbs. Slow pick rest of the day on 1-2lb fish. All on a drop shot or Senko. One chatter bait fish. Lots of very small (1/4-1/2") bait. Not sure what they were. Did not see anything chasing. Tried frog and punching for zero love. Ended the day with around 30 fish with all but one in the 1-2lb class.

Tips: Lots of smaller males up shallow in the tules. Soft plastics (Senko or worm) should get you plenty of fish. Reaction bite was not happening for me. Should get better when the weather stabilizes.
Thursday, April 7th, 2022
Water Temp: 63-64

Water Clarity: Clear (4+ foot visibility)

Report: Started early as usual from Paradise. Worked White Slough initially trying topwater (ploppers, buzz frog) with just a couple blow ups but no hookup. Tried crankin' and chatterbait but nada, zip, zero... nothing chasing but had a couple followers with no commit. Went to plastics and started catching on ned and t-rig stick baits with 1/8oz weight. Brother seemed to hook up more on wacky rig. Water seemed very still and very little movement. Went to 'Tater Slough to find some moving water. Tried crankin' again with lipless and brother got one...myself and other buddy zip. Went back to plastics and hooked up maybe 4-5 barely keepers. 2 heaviest for the day were 2.5lbs and 3lber. Decent day but sure wish the crank bite would come on. Maybe it's just us and where/how we're trying. Anyone doing better on cranks/reaction?

Tips: Not good enough or qualified to give tips. Here's what worked for us: ned in both standard and big TRDs, junebug and green pumpkin/orange. 5" Berkley Maxscent General in junebug and watermelon copper/orange. I'm dyin' to get bit on crankin'! Anyone willing to give a clue on reaction? Not asking for location… I get it.
Tuesday, March 22nd, 2022
Water Temp: 58

Water Clarity: Stained (2-4 foot visibility)

Report: Launched early at Paradise with high hopes; decided to try some new area and when daybreak came, started throwing a bone whopper plopper. About 10 casts in, nice solid blowup and when it jumped, it looked to be at least a heavy 2lber. About 10 ft from the boat, rod went straight and I had nothing but line. Had to be a bad knot I tied. About a minute later, I see my lure floating in the shallows ... at least I got my lure back! Thought the blowup might be a good sign but nope, tough morning from that point on. We were hoping the reaction bite was turning on but got nothing on reaction. We tried rockwalls, ledges, flats ... nothing on reaction (cranks, jerks, chatter, spinner). Moved to some familiar water and after still nothing on reaction, went to jigs, plastics/finesse. Finally managed a few keepers on neds, nothing else got bit. Quit at noon with a couple 2lbers and few 1 lbers.

Tips: Not qualified to give tips and only thing that worked for us was ned rig. I'm sure there's others who have it dialed in, we don't, but we're gonna keep comin' out and trying til we get a good bite window.
Tuesday, March 8th, 2022
Water Temp: 52-55

Water Clarity: Stained (2-4 foot visibility)

Report: Launched early at 5:30am; pretty cold morning. Went to all of our usual haunts and when it got light, noticed all the vegetation was BROWN, like Roundup dead vegetation brown. Still worked the favorite areas ... fat goose egg. Looked for greener areas but only found sparse sections. Big fat goose egg. Partner got one shaker striper on a ned rig. That was it... and believe me, between 3 of us, we tried EVERYTHING that has ever worked for us including new stuff... reaction as in topwater, lipless and flat side cranks, chatterbaits, jerkbaits on a long pause/short pause, keitechs on underspins and swimbait heads, punchin whenever we found green mats, senkos, weightless and weighted, neko, ned... list goes on..... Big fat goose egg! Not one bite, not one tick, not one anything except that shaker striper.
I only submitted this report in hopes someone will report something better and then we'll know it was just us (but we did chat with a couple guys and they experienced the same thing so we didn't feel so bad). Also submitted this so everyone doesn't have to keep seeing my long standing previous report.
Anyways, gonna let a couple weeks go by and maybe try a weekend when we can stay into the afternoon. Weekdays we usually try to leave early around noon to beat the commute traffic. I can only surmise that the bite turns on later in the afternoon after we leave.

Tips: Never qualified to offer a tip and especially after today, as you can tell from the report. Gonna prolly let a week or two go by and try again. Maybe Al Fong or Greg Blanchard will have some better recommendations based on current conditions, prolly so! They have insights I would trust. Also, we did see a press release notification "Division of Boating and Waterways Begins Control Efforts in the Delta for Aquatic Invasive Plants" so maybe that accounts for fish moving to better water? Or maybe it's just the cold snap we're experiencing. I wish I knew!
Anyways, bent rods to everyone!
Thursday, February 10th, 2022
Water Temp: 48-51

Water Clarity: Clear (4+ foot visibility)

Report: Launched Paradise; waited til 7:30 to get my annual pass; headed to San Joaquin to familiar areas. Initially, water was 48 - almost 50. Tried swimbaits (Keitech 3.3 and 3.8), jerkbaits with long pause (up to 30 secs), dropshot, senko, punched weed mats with beavers and chigger & rage craws, basically junk fishin' ... all stuff we normally get bit on.... but just couldn't get one bite! Chatted with a couple other guys and they were tied with us... goose egg. One other guy said water temp really gotta be 60+, and I get that! We've caught before in 50 degree water but I get what he's sayin'. That's ok, we went out without any high expectations and just practiced and even experimented with various baits, plastics, finesse, reaction.
Hopin' as the water and weather warms, the bite will get warmer too. Still good to be out on the water!

Tips: Not qualified to give tips, especially in present conditions. I'm believing anything we throw, go slow.... dead stick, long pauses, etc. And maybe more finesse than reaction right now. Just my thoughts but I'm open for suggestion(s). I'm sure there are those who may have it dialed in. Also thinkin' early mornin' to noon isn't the greatest bite window, but that's our schedule. Maybe we'll just try the weekend and come later in the morning instead of zero dark thirty during the work week, but if during the week, gotta beat the commute traffic and just come in early. That may change.
Sunday, January 2nd, 2022
Water Temp: 45-46

Water Clarity: Muddy (0-2 foot visibility)

Report: Went out on the northern delta. Foggy early morning and 30* outside temp. We fished till about 1:30pm without a bite. Started with jigs, texas rigs, bladed baits, lipless cranks and spinnerbaits then to wacky rigs, drop shot, even ned towards the end of day. Visibility was 1 foot at best. Tough winter conditions but did explore some new parts of the delta which is productive. Also on a side note we didn't see any signs of striper anywhere.

Tips: We beat the bank all day. Wood, rip rap, tules and weeds. Maybe the fish are deeper somewhere.
Thursday, October 28th, 2021
Water Temp: 59-62

Water Clarity: Stained (2-4 foot visibility)

Report: Launched Paradise at 5:45. Left the dock with lights on at 6:15 from Paradise. Just took my time due to the thick tule fog and my bow flood only reflected the fog and blinded us; also A LOT of floating hyacinth matts ... so we just went along at slow troll speed...fog was pretty thick and this did me in. I misjudged where I was and thought I was at the big left turn bend on Disappointment slough by King's but apparently veered further right off Disappointment toward King's. As I realized it, my map showed I just needed to go immediate left but being bottom low tide, I ran aground into thick weed mats. Luckily I keep a push pole onboard and was able to push my way back to deep enough water to backtrack my stupid butt back to Disappointment.
Since we came out with not so high expectations anyway because of the recent storm weather (I kinda expected the skunk to be wandering around in the boat), we just went to our fav inlet. Nothing on punch or spinnerbait. Started catching 11-12 inchers on ned, neko, dropshot, and jerkbait on the long pause. Had lots of fun since we were using lightweight gear (BFS, thanx aaron_p, the Dobyns UF rod is crazy light but strong). Moved on to some flats between Tinsley and Columbia and caught a bunch more 10-12 inchers on jerkbaits/long pause and spinnerbaits/underspins. Also caught a few on dropshot with 4" swim senko on 3/16oz jighead as a sinker, which some were caught on plus the dropshot hook as well. Ran back up to Disappointment and fished along the rockwall; after a few shaker stripers, finally managed a few 1's and a 2-2 lber. Ended the day at 11:30am.

Tips: Exercise caution when fog is thick in the early morning darkness hours... I'm sure majority of the experienced boating anglers are already aware. But while aground, we saw a set of lights moving at a fast pace; plus we saw one fairly fast tiller driven boat with NO LIGHTS just as dawn was coming on.....hmmmmm. I guess the "experts" are pretty sure of themselves. I'd rather be safe.
As for fishing tips, as always, not really qualified to give tips but here's what worked for us: Ned rigs with 3" roboworm ned in desert craw; neko with 4.5" desert craw. Berkley Stunna jerkbait (has a nice slowwwww suspend/sink rate); my brother and buddy used standard dropshot; my dropshot uses 3/16 or 1/4 oz ball or shroom jighead as a sinker/(offset hook) and this time I used a 4" swim senko on bottom sinker jighead, which got 50% of the hookups on dropshot presentation. The other 50% was a 6" roboworm in MMIII on the upper dropshot hook.
Friday, October 22nd, 2021
Report: Sent in from Alan Fong at Fisherman's Warehouse Sacramento
Went to the Delta yesterday with Denise and Warren to shoot some video on crappie and look what we caught!
I caught this carp on my crappie rod with 4# test. It ran out over fifty feet line and under a log. As the carp rested, I had Warren snag the line on the other side log and then I cut it and pulled the line back out and tied a uni-knot and continued to fight the fish. After half an hour I got it to the boat and released it back!
Denise flipped her PB bass yesterday too!
Only caught 6 crappie so video was a no go!
Bass - 1 oz Tungsten with a Brush Hog on a 5/0 Gama round bend hook.
Carp - 1/16 oz jighead with a 3.3 Kietech. LOL
If you have more questions or want to talk fishing, come on in to Fisherman's Warehouse.
Alan Fong
Fisherman's Warehouse Sacramento
(916) 362-1200
Sunday, October 10th, 2021
Report: by Fishermans Warehouse Megastore
The fall weather is here and the flipping bite is on.
I am fishing in one to three feet of water. Try flipping in this depth where you find good current.
TIP: Use a 1 ounce, pegged Tungsten weight and a 5/0 Gmakatsu Wide Gap Hook.
If you have questions about setting up a flippin' rig, I ma at the Sacramento Fisherman's Warehouse store Friday to Monday.
Thursday, September 23rd, 2021
Report: While I was bass fishing yesterday with Charles and Bob I caught a couple nice stripers.

The stripers are chasing fish in the shallows like in 2 to 4 feet water.

Stripers are starting to move into the Delta system for the next few months feeding heavily getting ready for the spring spawn.

If you're going out this week, try topwater River2Sea S-Waver and Megabass Megadog.
Any more questions, come on in to Fisherman's Warehouse and we will get you taken care of.

Alan Fong
Fisherman's Warehouse Sacramento
(916) 362-1200
Thursday, September 16th, 2021
Water Temp: 72-73

Water Clarity: Stained (2-4 foot visibility)

Report: Launched at low tide from Paradise with no high expectations whatsoever due to the low tide. Ran down to Little Connection and threw Choppo's and flukes; managed only one keeper size but plenty of juveniles to 11". Still fun on BFS light and med-light tackle; we don't tourney fish so we don't worry about giants or big ones (yup, I said it, big ones, not big'ns...jk), though of course, it's always a bonus to get a 4, 5, or 6+ lber largie, esp on the light tackle. Ran up to Mildred and Little Mandeville as tide started coming in but still low. Threw inito 1-3 ft water and picked up a few 1-2 lbers on white/chart shallow to mid diving cranks, one squarebill, one roundbill. Also threw 1/8 oz ned heads with 3" roboworm ned worms (MMIII and Aaron's Magic). My dropshot has a 1/4 oz ned head as a sinker and I got bit on that more than the dropshot hook. Also picked up some almost keepers on white chatterbait w/white zako trailer. Around 1030am, ran back up to Disappointment just outside of Paradise and decided to fish rock wall before we trailered up. Picked up bonus 21" and 23" stripers (kept and cooked :) ) on the white jackhammer.

Tips: As always, I'm not really qualified to give tips, but what worked for us is listed above.
Wednesday, September 15th, 2021
Report: Couple of the bass I caught yesterday fishing with Warren and Sterling.

It was a very good day fishing for stripers in the morning until 8am then we started catching lots bass on chatterbaits, Senkos and a few punching.

Sterling was in the back boat behind Warren and I and was using an underspin with a Keitech and was catching some big bass! Water is pretty clear and the underspin was catching fish behind us!

Alan Fong
Tuesday, September 14th, 2021
Report: rom Alan Fong at Fisherman's Warehouse Sacramento

Yesterday I took out Sterling striper and bass fishing.

He works for Fisherman's Warehouse repairing reels.

Tomorrow is his last day at work because he is moving back East with his mom.

I took him to one of my good areas in the Delta and he caught his PB bass and striper. What a happy guy when we were done! As the weather cools the stripers are moving into the Delta for the winter. It will bust wide open here real shortly!

We caught limits of stripers and over thirty bass releasing lots of bass in the 3-4.5# Warren was also with us but didn't catch any photo class fish lol

Alan Fong
Thursday, September 9th, 2021
Report: by monte300 » Thu Sep 09, 2021 6:15 am

Hey guys and gals, my brother and I fished the Delta yesterday and I managed to catch this fish cranking. It's not my PB, but it is the biggest fish I've ever caught on a squarebill. Overall the bite was tough. Murphy's law my scales failed to work and I couldn't find anyone with good scales. One guy had a deliar that showed 6 1/2 pounds, but that fish was at least a pound bigger than that. I checked the length and girth online and it says at 22.5" long and 18" in girth the fish should weight about 7.8 pounds, which sounds about right.

Tips: https://www.westernbass.com/forum/post657244.html#p657241
Tuesday, August 24th, 2021
Water Temp: 70-72

Water Clarity: Clear (4+ foot visibility)

Report: Usual early launch; high tide so decided to head to Frank's. On the way, Little Mandeville looked inviting so we stopped and threw lipless cranks on the grass flats in 3-5 ft water as well as small ledges that dropped to 6-7 ft max. We were getting 1 to 3 lbers, mostly 1's and 2's and each of us got one 3lber. I was using Red Eye shad in sexy shad color. Brother was using Rat-L-Trap in shad pattern as well as a white chatterbait; and buddy was using Live Target Pumpkinseed (Matte). I changed to a Keitech Fat on 1/8 oz swimbait head which got bit every couple casts. Bite lasted two 500 meter stretch passes and then slowed down, but they were bitin' pretty good. Continued heading to Frank's but once we got there, the wind and white caps changed our minds about Frank's so we headed back to Mildred; wind was still howlin', so we tried Columbia Cut / Tinsley and Ward Island. We also threw jerkbaits and hooked up a few more barely keepers and 1lbers but nothing larger. Ran up Disappointment and fished the rock wall tules and weedline with the lipless and Keitechs...the swimbait got most of the hits inside the weedline. All three of us were getting hookups so we all had a pretty decent and fun morning,

Tips: As always, I'm not that good to give tips but here's what worked for us: lipless cranks in sexy shad, pumpkinseed; Keitech 3.8" electric shad and pro blue. Chatterbaits in white with white trailer, tail tipped with chartreuse or just all white trailer. Trailers: Keitech and Fat Albert single tail grub.
Thursday, August 12th, 2021
Water Temp: 73-76

Water Clarity: Clear (4+ foot visibility)

Report: Launched early from Paradise incoming tide so ran down to Little Connection; threw a dark colored PH Plopper first thing and caught a 1lber; simultaneously my buddy hooked up a 2lber on sexy shad LV500. Thought it was the start.... NOT... managed only a bunch of 12" and under on swimbaits, jerkbaits, and plastics. Moved to St Francis/Tinsley entrance and caught a few more 1lbers on lipless cranks in sexy shad color.. LV500 for my buds and Bagley for me. Also managed a few on spinnerbaits and 4" keitechs, pearl and white ice or whatever they call it. Moved to cut between Tinsley and Columbia and caught a few more 1lbers til my brother looked away for a split second while about to pull the crankbait out of his fish...fish wiggled and bam, hooked down to the J. The loop line method was difficult and it too 2 painful tries to get the barb close to extraction. 3rd time was painless but those first 2...Ouuuuch!!! Soaked a bandage with anticeptic and drove on. Ran back up to Disappointment closer to Paradise and caught just a few more almost keepers to some 1lbers, nothing bigger than that. Overcast pretty much the whole morning and wind was gettin' on our nerves. Called it at that point....decent day for hookups but nothing over 2lbs.

Tips: As always, I'm not qualified to give tips but I'll share what worked for us. Lipless cranks in sexy shad patterns... I tried with my fav red craw patterns and zip... threw to same areas with sexy shad and got bit. I guess I'm a believer that in some situations/conditions, color matters.

Oh almost forgot, this was our first outting in a month due to my trailer wheel hub just separating itself from the trailer 2 miles from the eight mile road exit. Luckily I was already in the right lane and immediately got on the shoulder while my brother says, "there goes your wheel down the center divide (of the freeway). Luckily it didn't hit anyone else or cause an accident. I was able to retrieve my wheel as it was still early enough with deadspace in the traffic.
My point is, after close inspection, my wheel bearing was toast and though I've always thought I've kept up with grease maintenance with my Bearing Buddy method, the guy who rebuilt my axle and another shop as well, emphasized don't rely on Bearing Buddies. They recommend to pull the hubs and grease/pack your bearings by hand or with a bearing packer, then pack some in the Bearing Buddy and re-assemble. Per Bass Pro, my axle is no longer available. So after I pulled my axle at home, the trailer repair shop rebuilt it with a new spindle and 2 new wheel hubs and I re-installed with no other issues (had to get new u-bolts and lock nuts though).
This is not to tell all you guys that are confident in your Bearing Buddies and have been for decades that Bearing Buddies don't work. I'm just sayin' it happened to me and these guys fix em all the time. They said the reason THEY recommend not relying on Bearing Buddies is because applying through the zerk fitting doesn't always fill and pack uniformly and often will eventually cause damage to seals and not truly pack the bearings, hence my situation, bearing blew and the whole hub eventually worked its way over and off the spindle. But they both said Bearing Buddies are good in that they maintain a good seal on the hub.
So just thought I'd share my experience and I guess I'll go back to packing my bearings bi-annually/annually using the old fashioned way ... big glob in the palm of my hand or I may invest in a bearing packer tool.
Tight lines and bent rods everyone!
Monday, June 21st, 2021
Report: by HappyDogBassFishing » Mon Jun 21, 2021 2:23 pm

Here is my latest delta fishing report and video. When the conditions call for a more subtle approach, work the topwater baits with a little more finesse. Also try a swim jig instead of a bladed jig. Here are the highlights and patterns that worked for me last week. Hopefully I will have my new motor by the end of the month.
Sunday, June 13th, 2021
Report: Postby HappyDogBassFishing » Sun Jun 13, 2021 1:22 pm

Had a good bite last week on the bladed jig. Lots of 3 to 4 pound bass, plus one that almost went 8 pounds. I was fishing ledges where the shallow 2-3 foot flat drops off into 8 to 12 feet of water. Top-water action was decent for smaller keeper fish under 3 pounds. Tons of stripers (15 to 19 inch range) and smaller bass were up on the flats. Next week will be a cooker out there...stay hydrated and good luck.
Sunday, June 6th, 2021
Water Temp: 69-72

Water Clarity: Stained (2-4 foot visibility)

Report: Early opening light launch at Paradise with an outgoing tide so ran down to Little Venice/Little Connection. Started with topwater... zip, no blow-ups. Then tried squarebills and underspins keeping them just above the weed tops. Picked up some 1 - 2 lbers. Also got bit on T-rigged stick worms (5" General - junebug and swim senkos in junebug and green pumpkin) working the trough between rip-rap and weedline. Bite slowed there by 7:30 so ran across to Ward Island. Nothing at the docks but bait-stealers so ran across to the shallow area along the rock wall. Picked up a few more including a 3+lb on underspin and keitech 3.8". Moved around into the cut leading to Columbia Cut and continued working some shallow wakebaits and underspins for a few more 1 - 2 lbers but at least 3 came unbuttoned at the boat. Nice bent rods though. Went back to Little Connection thinkin' a bite window might open up from the morning run but only managed a couple more on t-rigged General. Ended the day early at 11:30. btw, found a pair of Booms split ring pliers near my truck parked along the roadside dirt parking just above the houseboats. I plan on fishing this Thur 6/10 so I'll leave them taped on a cardboard at the paybox.

Tips: I never feel qualified to give tips but I always offer up what worked for us since we're just fishin' for fun, not weight. I'm happy as heck with gettin' hooked up whether it's under or barely 12", or over a pound or a few pounds... of course then again, nothin but dinks can sometimes be a little discouraging but that wasn't the case this time out.
Squarebills and shallow cranks worked slow so they wouldn't head straight into weeds. Worked inside and outside weedline edges as well as random clumps on flats. Same slow roll speed for the underspins with 3.5 - 3.8" paddletail swimbaits (shad colors) and 4" swim senkos in green pumpkin and junebug. I worked a dropshot but instead of just a dropshot sinker, I rig a 3/16 - 1/4 oz owner ultra finesse ballhead with a texposed 5" stick worm or swim senko as the dropshot weight. This gives me a chance at bottom bites as well as dropshot. This time around, I never got bit on the dropshot hook, only the bottom plastic got bit. ... well, it works for me :) .
So anyways, that's what worked ... tight lines, bent rods, later!
Friday, May 14th, 2021
Report: by WB Staff » Fri May 14, 2021 4:20 am

IMG_0510.jpg

Donny in Oakley

Report: Hit the water in the afternoon for some after work action. The wind was howling out of the west and there was a high incoming tide. Started off with reaction baits in the front of the boat and shaking worms in the back. Noticed the water color was getting dirtier as the water came up and the wind continued to blow. Needed to make a move to where there was less water flow and a more protected area, so went into the Central Delta.

Stuck to reactions baits, but no go. Picked up a flippin' stick and went to work.Water color wasn't any better and what I thought was protected was blown out.

Moved again to a south facing bank, again hoping for some wind protection. It was a little better. Flipped D-Bombs and threw a dropshot to get a few around the hydrilla. Nothing too big. They came out of 3ft.

No matter how many years or decades you've spent on the Delta, if you're not in tune, it can be a new lesson every time... or maybe it's just me.