Ilsanjo Lake and Reports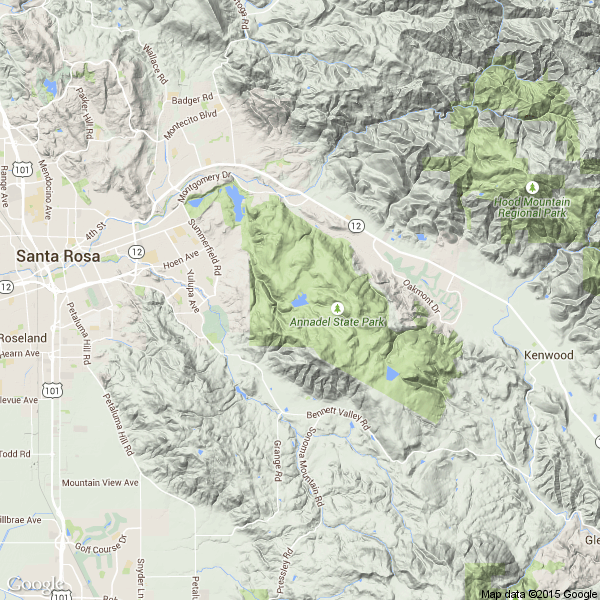 Click for Navionics/Google interactive map
Tuesday, June 30th, 2020
Water Temp: unknown

Report: Caught 10 bass
1 on whopper plopper
1 on frog
1 on senko drop shot
7 on Bill Dance crawdad crankbait

Tips: Got on the water in my belly boat at 6:00 am. Nice day. Calm.

Fish the frog really tight against bank. Use it to spot fish that spook.

Crankbait deep in the middle
Tuesday, January 4th, 2011
Water Clarity: Muddy (0-2 foot visibility)

Report: Caught zero fish. No bites. Fished from the bank. The water was really muddy after all the rain. Tried white/chartuse spinnerbait and purple robo worm drop shot.
City: Santa Rosa
Friday, May 21st, 2010
Water Clarity: Clear (4+ foot visibility)

Report: Got 6 between me and my friend. There hittin later around 6:00. Haven't checked out the morning bite yet
City: Santa rosa
Saturday, May 1st, 2010
Water Clarity: Clear (4+ foot visibility)

Report: I went up on May 1st to check out the lake that started the Sonoma County Belly Boat Bass Club. The last two years they had drained her down to a small pond, but fish still remained in her. It was like a breath of fresh air to crest the hill side and see she is now filled to the brim. I looks as if they even let her flow over the road and test there new spillway. I walked the banks and checked out the shallows and sure enough, there were smakk bass and bluegill swimming around. Best of all I saw fry swimming too. I saw small fish in a lot of the shallow flooded areas and this leads me to think that the pull down of the lake might have been a good thing after all.

I'm going to put on a turkey shoot there Saturday May the 8th 2010. Check in on the dam at 6AM and fish till 2:20, with a 12" minit, $21.00 buy in with 1 dollor going to the first keeper caught and then winner take all. 1st place will get a White with blue flake CatchemCaro swim bait and big fish will get a Delta Craw CatchemCaro swim bait. I'm sure fishing will be tough and all the fish will probably be small, but it will still be a walk down memory lane as this is how it all started in 1983.
Rich
City: Santa Rosa, Ca

Tips: I think flipping will be the ticket.
Wednesday, December 2nd, 2009
Water Temp: cold

Water Clarity: Stained (2-4 foot visibility)

Report: no luck. fished for about 4 hours from the shore. no luck with crankbaits, senkos, roboworms, spinnerbaits, and my friend even threw a couple flies with no luck. tried shad colored crankbaits, crawdad colored, tried purple senkos, red senkos, baby bass roboworms on a drop shot, all without even a single bite
City: rohnert park
Friday, November 6th, 2009
Water Temp: no idea

Water Clarity: Muddy (0-2 foot visibility)

Report: fished Ilsanjo for about thirty minutes last week. caught 5 fish on my first 8 casts. started off with small dinks, but eventually they got a bit bigger with the largest being about 1.5#. total of about 12 fish landed, two or three lost. all on a red/orange timber tiger.
City: Petaluma
Wednesday, September 9th, 2009
Water Clarity: Stained (2-4 foot visibility)

Report: Hiked to Ilsanjo again today. Caught around 12 fish. Nothing big like last week. Only about 3 keepers total. Senko's, Roboworms, & crankbaits all worked. Biggest was probably 1 1/2 pounds. The water is up alot from last year, but it's still far from full.
City: Santa Rosa
Wednesday, September 2nd, 2009
Water Clarity: Stained (2-4 foot visibility)

Report: Decided to go for a hike and brought along a couple of rods. Did'nt expect to much since I got a late start, and it was about 80 degrees at 10:30 am. Third cast landed a 2.3 pounder on a senko. Ended up with 6 fish total including a 1.7 on a crankbait and another 2.6 the senko. Not bad for an hour and a half of fishing.
City: Santa Rosa
Sunday, March 15th, 2009
Water Temp: unknown

Water Clarity: Muddy (0-2 foot visibility)

Report: tough day at ilsanjo...
hiked in and fished at/near the dam for about an hour and a half.
tried senkos, and two jointed rapalas with no luck.
decided to try shore drop shotting (not sure if it's still considered "drop shotting" if one is shore fishing) and caught one nice bass, about 1-2 lbs. threw a black and smoke 4" worm with no luck, then threw on a purple and white minnow pattern that was maybe 3" long. left it dead in the water and would just shake the slack in the line. the one i did catch was a VERY soft bite. let him have it for at least 20 seconds before setting the hook and just barely had him in the lower lip.
nice fight on an UL rod and 4# test.
a beautiful, misty day out there. no mountain lions though.. bummer.
City: petaluma

Tips: the lake is way up!
lots of debris in the water and as a result lost three rigs drop shotting.
Sunday, June 8th, 2008
Water Temp: unknown

Water Clarity: Stained (2-4 foot visibility)

Report: late post... zero strikes. fished at about 12:30 for about an hour and a half... unlike my other times, i brought in heavier gear to throw frogs and heavier topwater baits trying to entice one of the big ones there. nothing. i suspect the heavier line had some effect, that and the new weed growth that was evident on every cast. i still threw the same wacky senkos (fished them slow as before, same locations) after not getting a strike with the frogs... nothing. me thinks line diameter was the culprit. i usually have 4# -6#, and this time i was throwing 12# trilene big game. ...or maybe it was just a slow day... or the fact that i was planning on throwing every fish i caught onto the shore to thin out the numbers- fish gods were listening...
oh, the water is still very low, rains a couple weeks ago haven't helped much if any.
City: petaluma

Tips: well... i think as light of line as you can get away with. probably 6# at the most...
Saturday, June 7th, 2008
Water Temp: warm?

Water Clarity: Stained (2-4 foot visibility)

Report: sorry for the late post. I went with a friend for an hour or so, and managed to get one. At first we tried senkoes weightless and that didnt work. we moved to a large point that goes towards the middle of the lake. By then i switched to the trusty darterhead with GULP and got one. After that another friend happened by and we went to his house. The lake is lower (no surprise) and the fish can sense the lowering level of water. They have moved towards the middle of the lake as well. I'm not sure about this but if you watch the small birds, they help indincate where the small baitfish are. I think the bass are underneath the fish and push them upwards, while the birds take them from above.
City: Santa Rosa

Tips: Get a float tube and get to the middle of the lake. I use 6lb test flouro, and 8lb works too. The fish seem fairly active, try a spinnerbait or crankbait. For topwater, use a popper it will get you #'s but not as much size. I feel that frogs work better on mats or weeds on the water. Try a YUM buzzfrog to get down more and target the bigger ones.
Sunday, May 25th, 2008
Water Temp: 60's?

Water Clarity: Muddy (0-2 foot visibility)

Report: When i got to my spot with my dad it was really muddy. guess its not my spot anymore! haha. anyway after a little trouble at spring lake my dad and i came here and caught 3 in a half hour. all fish were on YUM Dingers and my dad caught a nice 2+ lb fish. i got 2 smaller 1 pounders.

In response to the previous post, taking some fish out would be good for the lake. even if the water was at a normal level, harvesting some of the smaller fish would help produce some more size at this lake. I'm not a biologist either but i know a little bit about this subject. All of our fish were released.
City: Santa Rosa

Tips: senko type baits produce well here, these fish are not as conditioned like the ones at spring lake.
Saturday, May 17th, 2008
Water Temp: unknown

Water Clarity: Stained (2-4 foot visibility)

Report: wow. there is very little water left in this lake. big ups to the idiot who decided to let all that water out in january and february. this place will be close to bone dry by august. the entire shoreline with the reeds is exposed and down about 2-3' by my estimation...
anyway, hiked in with my UL ugly stik and 6 lb. test. threw wacky senkos and landed three, the biggest being about 2#. two others were about 1.5#. a great fight with the UL gear. hooked and lost two others, one of which felt a bit bigger, but i never glimpsed the elusive fish. i also threw a fluke and missed one on my first cast and both yellow and white 'blades with no luck. pretty decent for about 90 minutes fishing. i didn't see anyone else out there, and very few on the trail, probably due to the heat... those i did see weren't carrying water. d-uh!
City: petaluma

Tips: fish these baits slow... when they do take them it's pretty quick. good fighting.
of note: lots of fry in the water. i've heard people talk about culling some of the fish out of here due to the limited pressure. anyone else think it's a good idea? especially with the decreased habitat due to the water drop, there's going to be way to many fish in here... that's my guess, though i'm the first to say i'm not a natural resources biologist or anything.
Sunday, April 27th, 2008
Water Temp: warm

Water Clarity: Stained (2-4 foot visibility)

Report: 5 on gulp minnows. 1 on a darter head. 5 on a popper. The faster baits worked better. Finally the topwater bite has hit. Insects have hatched, small fish were jumping and being chased by the bass.
City: Santa Rosa

Tips: Look for the small fish jumping or a bass bust out on top. Cast there and the bass will most likely bite when it hits the water, or after a few pops. If you dont see anything, just cast out and retrieve like normal and wait for a strike, or look around for one.
Saturday, April 19th, 2008
Water Temp: ?

Water Clarity: Stained (2-4 foot visibility)

Report: Went with another friend, caught 16 total. He got 6 and i got 10. Fun day. We fished from 10am-2:30pm. Fish are not super aggressive, but not sluggish. Could it be post-spawn?
City: Santa Rosa

Tips: What fish does not like gulp? Fish slow with plastics, but not too slow, the fish dont mind something that moves a little faster.
Friday, April 11th, 2008
Water Temp: warm

Water Clarity: Stained (2-4 foot visibility)

Report: 6 fish for me. Went with the same friend but he was really low on line so he got skunked. Fish were deeper. Maybe due to the spawn being over? along with wamer temps? i am not sure. Was still fun though. Only plastics seemed to work. We did get a little tan though! haha Good Luck.
City: Santa Rosa

Tips: Plastics all the way. Senkos were working well.
Monday, March 31st, 2008
Water Temp: around 60?

Water Clarity: Stained (2-4 foot visibility)

Report: Went up there again with a buddy. Tried the same point as last time, nothing. Moved over 20-30 yards along the bank and tried there. My buddy got the first fish on a purple mister twister. Then i hooked up with one with a smoke w/ purple and black senko. lots of plastics worked today. Ended with 16 fish, 8 for each of us. tried for a topwater bite, since the fish were really shallow, within flipping distance. The count was 2 on the smoke senko, 2 on mister twister, 2 on a 1/4oz red and black jig, 2 on darter head, 6 on motor oil senko (we ran out of smoke senkos!), and 2 on green YUM dinger. Biggest two fish were 2lb. Fish were in 1-2lb range. All fish seemed to be well fed and the lake didnt seem too much lower than the last time we saw it. Lets hope this lake does not get dried up this summer, pray for some rain! Would hate to see this lake go... Anyone have advice for float tubing this lake?
City: Santa Rosa

Tips: The fish might be spawning because they were really shallow. Plastics worked on the bottom worked well as did plastics worked mid-deep. If you get snagged on structure, and get it free, a fish will likely strike right after you get the bait free. Set the hook quickly, these fish have no problem trying to swallow your baits. Many baits will work, experiment and have fun.
Saturday, March 8th, 2008
Water Temp: upper 50's

Water Clarity: Stained (2-4 foot visibility)

Report: hiked up there with a couple of friends. On the way there, one of the two rods we had got the tip broken off because of a rock. But we fished with it anyway, along with the one i brought. We started off with a worm and spinnerbait. I lost my spinnerbait when i got it snagged so i figured thats it for using those. After losing it, and not catching anything, we moved to another spot across from us that had some deeper water closer to shore. One of my friends used a crankbait and i used a darter head with a Gulp minnow worm. On my second cast i had a hit and set the hook. When i landed it it was a pound or so. I had a light setup so it was a good fight! After that i gave my rod to a friend who wasnt fishing and he got one a little bigger within 10 minutes. After that we had to leave and head back even though it wasnt too late. This was my first time here and i enjoy the hike but i might bike up here next time so i can fish a little longer. I would like to use a float tube in this lake...that would be fun.
City: Santa Rosa

Tips: The fish are in prespawn and around weeds, the water was low, i think they drained out some water to pull out tules. We passed some rangers who were doing that. Use a suspending jerkbait or a darter head, maybe a crankbait. The fish are becoming more active. Good Luck!
Thursday, June 28th, 2007
Water Temp: 70's

Water Clarity: Stained (2-4 foot visibility)

Report: Once again my buddy Dave and I made the trek up to my favorite float tubing lake. The water wasn't as low as we thought it was going to be. So I started off with the speed trap and it didn't take long before a little ilsanjo fish was on the line. Dave stayed in the open water using his small white blade and I flipped the tullies. At the end of the day I had only 23 fish and Dave had 44. All our fish ranged in the 1-1/2 pound range. My Bucksbag round tube worked great again and Dave had a back packing model of kick boat. This lake is one of the most beautiful places to hike into with a float tube.
It sure would be nice if the small fish could be thinned out and maybe have some Florida strain bass stocked. For more information on float tubing go to www.scbbbc.com

Rich
City: Santa Rosa
Saturday, March 24th, 2007
Water Temp: 60's?

Water Clarity: Stained (2-4 foot visibility)

Report: been to ilsanjo twice in the past two weeks, once at sundown, the other this past saturday. nothing. threw a smalls 'blades, shallow-jointed rapala crankbaits, senkos. not a bump.
not sure what's going on. still a good hike up there, though.
City: petaluma