Camanche Lake and Reports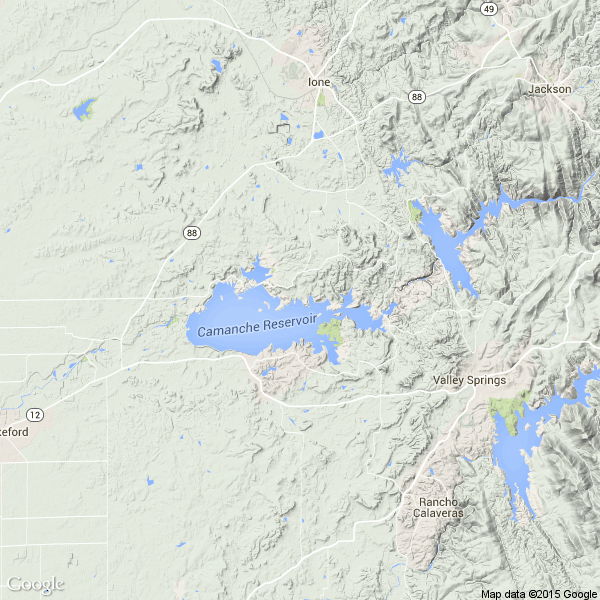 Click for Navionics/Google interactive map
Friday, Feb 3


Saturday, April 16th, 2022
Water Clarity: Clear (4+ foot visibility)

Report: The day was dark, strewn with black clouds with silver linings. I laid my worries to rest as I approached the shoreline and found a big rock, it spoke to me as if to say "come, sit on me and do nothing for awhile", so I did.
Spinner bait, booya my favorite.. attached to the almighty Skeet Reese jig/worm rod. Paired with a Lews bb1. 5:1-1. A few fan casts and I knew it wasn't the right bait.
Quickly, as if a tip from the gods entered my great anglers brain, I thought. It's time for a drop shot. And it was..
These godlike instincts aren't for everyone. I tied my 1/0 EWG offset up the line and left a we little tag of about 8".
Then goofily, I tied on a half ounce bullet weight on the end like a pimple faced teenager with his tongue hanging out.. (I had no DS weights with me) and attached my O-Soo salty pro worm, purple death.
They're soft, like butta.. and when my line moved after an expertly placed cast to nowhere, that's when I knew I had a bite. Reeled it in and sure enough, my pro worm was half gone. How? It was professional for Pete's sake. Doubt washed over me, I fell into the depths of despair but to no end! .. I pressed on.
I reached down into my bag-o-worms like a wizard, searching for another spell and placed another salty purple worm upon my pointy hooky thingy.
Same cast, patience at the ready.. line moved, and kept moving.. as if it had come alive all on its own.. and knew there was a fish.. I just had to catch up with it on my 5:1. Reel reel reel reel reel.. It was at that moment, knowing that at any second I'll be piercing a pig of unknown size, possibly a record.. that I did just that.
The fight was on! And my anticipation wasn't let down when I reeled in a 3.5# spotted bass.
That's it, made my day. Climbing barometer, wind break point and a good memory in the books.

Tips: Be a wizard
Thursday, August 26th, 2021
Report: I finally got a chance to get out on Lake Camanche with my buddies Derik Dalton and Casey Cabral from team Jackson Rancheria. I haven't been out for a while, but the last time I was out a few weeks ago I caught a 12.12. It was my biggest fish at Camanche so far. There is a picture of that below. That fish came on an island top in 20 feet of water with a dropshot.

Today we started throwing reaction baits first thing in the morning. Derik caught the first fish, A SMALLMOUTH, on a Bass Union double buzzbait! First smallmouth I've seen in a few years!

I caught a few spots on a popper, and Casey started getting a few on a Ned Bait Big TRD on A Frenzy Baits Nail.

After the first few hours fishing became very challenging, but we did end up with a trifecta; a smallmouth,a spot, and a largemouth!

It seems like fishing is better the first few hours in the morning, after that we got one here and there, but no good pattern.

The surface water temperature was 76°.

The water clarity was about 8 feet in most areas.

The South Shore ramp is a little rough, but not as long as a walk as the North Shore ramp.

Remember the lake is very low and there's still a few obstructions that are not marked. Be careful!

And a big shout out to my good buddy Earl Dalton for making the APEX!!

I Hope this helps!
Good luck fishing!
stanL
Sunday, May 30th, 2021
Report: by StanL » Sun May 30, 2021 4:05 am

My buddy Casey and I had a chance to get on Camanche for a few hours before all the chaos started.

We arrived at South Shore about 6:30am and noticed how far down the water level was. This is the first time I've had to use the low water ramp in a long time.

When we put in the water we saw the surface temperature was 74 degrees and the water had a slight stain to it so we started throwing some reaction baits. On my first cast with a topwater popper I got a spot about 2 12 lbs and I told Casey it's on!!!

Well after about a hour or so and a few different topwater baits, we never got a another topwater bite .. how does that happen!? So we started throwing some down baits and I settled in on a Bass Union darthead with watermelon candy Trick Worm. Casey caught all his fish on a Ned rig with a green pumpkin big TRD. Both of us were throwing them on 8# Gamma fluorocarbon line.

We fished on any kind of break that had 15' of water on top and deep water next to it. We fished until about 1:00 pm and caught 12 fish.

if you go to camanche right now be extremely careful! There are a lot of underwater Islands that are not marked and remember to support your local tackle store.

Hope this helps!
Good luck fishing.
StanL
Saturday, March 20th, 2021
Report: My buddy Ed Austin and I made the trip to camanche last week and put the smackdown on them!!

When we got to the lake we noticed the surface temperature was 54° and water clarity was about 8'. the lake had dropped which usually means tough fishing but I think the bass' instinct to come shallow is overwhelming this time of year so we started on flats adjacent to deep water.

Ed started with his homemade underspin that we call the Super Hornet and I started with a Bass Union A-rig.

Ed caught 3 and I caught 2 but after the sun came out and the wind died down the reaction bite really slowed down.

That's when I started throwing a Green Pumpkin Yamamoto Senko and Ed threw a Ned rig with the big TRD. We were fishing in less than 15' of water and we ended up catching 12 fish in the 3 to 5 lb class.

I know the high school fishing teams have a tournament tomorrow and my best advice is to fish the day, if it's cloudy and or windy try some reaction baits. If it is calm and sunny stick with your bottom baits.

I hope this helps.
Good luck fishing
stanl
Saturday, February 13th, 2021
Report: by StanL » Sat Feb 13, 2021 4:36 am

Fishing Camanche Feb 12

Today I got a chance to get out with my buddy Ed Austin.

Before we left I checked out the Daily WaterResource on the WesternBass forums and seen that there was 225cfs going out and 161 CFS coming in and whenever Camanche is falling it always makes for some challenging fishing. But when we got to the lake, the water temperature was 53° and I noticed the water had a little bit of stain to it and hat usually means there should be some shallow fish.

After a couple hours of fishing less than 20 feet with no bites, I ran into a friend Tre Dodd and he said he had gotten bit earlier on a Jig in deeper water, so we decided to move out and check some Island tops in 40'. We got some action right away using the same old 3/4 oz bass Union jig I've been using all year.

At the end of the day we had caught 12 fish all on jigs, just running points and island tops. Not sure how many Tre caught, but it was a supper nice day. I hope this helps good luck fishing.

P. S I have to give a shout out to Russell Marine, one of the WesternBass sponsors. On Monday before the Wild West Shasta Pro-Am, I ordered a new graph and needed it before the weekend. I received it on Wednesday with no tax and with no shipping.

Thanks!

StanL
Wednesday, January 27th, 2021
Report: by StanL » Wed Jan 27, 2021 4:57 am


I just got home from 5 days of fishing the Wild West Pro Am at Lake Shasta. and decided to just go have some fun so I headed over to Lake Camanche.

When I put the boat in the water, I wanted to work on some other techniques besides dragging a Jig or a dropshot so I went for a float and fly, a kick I've been on lately, \Last week Joe sent me some of the new Bass Unions fly's that he had been working on and told me to give them a try so that was my plan. I hit the water about 9:0 0am and ran into Earl and Casey from the Jackson Rancheria. When I pulled up to talk to them, coincidentally they where already throwing a float and fly, so I told them that's what I planned on doing also and after about15 minutes of shooting the breeze, we decided to meet up later and share notes.

I headed to a steep bluff bank to give it a try. I wasn't there five minutes when Earl called and said he had boat issues and they were going to go home. I told him to put his boat on the trailer and I would pick him and Casey up, so after it's all said and done here we are all three of us looking at bobbers. I have to say it always surprises me how in the wintertime you can catch them with a jig in 50 feet of water, but also you can catch them with a float and fly in 20 feet of water. So with that being said, the water temp was 53 with about 7 to 10 feet of visibility. We caught 7 fish on the fly. All the fish came on bluff banks. The Bass Union fly's did the job.

By the way, I wish I could've had a couple of those fish at Shasta ...
I hope this helps good luck fishing
StanL
Friday, January 15th, 2021
Water Temp: 48-51

Water Clarity: Clear (4+ foot visibility)

Report: Comanche was a tougher bite today. Water dropped over 6 feet from last week scattering fish. Fished ledges and tapering points, moved around quite a bit to find the fish that wanted to bite. Early morning the fish we caught came on RockCrawlers on 10-14 ledges near deep water then the bite died, got a few takers yo-yoing traps, then died again. Drop shotting swimbaits and small finesse worms dipped in dye got them biting after 10 AM in deeper water. Nothing of real size, enough keepers to make it fun. Might be a grind for the guys fishing the derby Saturday. Big fish of the day was a 4lb trout caught on an LV-500 in 45ft of water.

Tips: Move around to find the aggressive fish, lots of birds chasing bait today. Be sure to check the deeper water after 10-11AM. We caught them in 50-60ft on several colors.
Monday, December 21st, 2020
Report: by StanL » Mon Dec 21, 2020 3:45 pm

All the bait seem to be 50'to 60' deep, but all the fish I've been catching is in 30'to 40' dragging 3/4 oz Football brown BassUnion jig with a Cinnamon black flake Yamamoto Twin Tail Trailer and the bite is definitely better after 11 o'clock - hope this helps StanL

Report: by StanL » Mon Dec 21, 2020 4:56 am

Camanche report is it fishball season?

Below you will there are some pictures of some spots that have shown up this year at Camanche. I've been fishing here since around 1985 and I've seen it go from a good smallmouth and largemouth lake to a great spot and largemouth lake, but this is the first year they've started looking like BB spot's.

I'm not sure what has changed but I hope it continues!

The bite has been a little different each day, Eastbay Nud has kept the the water level consistent this week and the surface temp has held at 55°. So on cloudy and windy days, you can still catch some reaction fish cranking or ripping an A-rig, but when the sun is out you better be dragging something on the bottom from 20' to 50'.

For me that's usually a dropshot or a BassUnion jig in 1/2 or 3/4 oz. I keep it pretty simple. I like the brown jigs and I'll change colors on my trailers. This is where I like to experiment with either a twin tail or craw.

I would also like to congratulate Kyle and his 9 yr old son Jackson Porter on their win at a Turkey shoot with over 16 lbs on Camanche this past Saturday. This was Jackson's first tournament, but I'm going to say not his last!

Merry Christmas and good luck fishing.

Stan L
Saturday, December 5th, 2020
Report: by StanL » Sat Dec 05, 2020 8:41 pm

Fishing Report Camanche This Week Dec 5

This week I had a chance to get out on Camanche with a good friend of mine Earl Dalton. For those of you that don't know Earl, he is a regular on all the top Pro/Am's on the West Coast and part of the Jackson Rancheria and Casino. I have to give a big shout out to them for all they do for the Mother Lode community. They are always the first to step up when our community needs help.

So with that being said, We hit the water about 9:00 am. The surface temp was 55* with a slight stain to it. With 345 CFS coming in and 255 CFS going out it made for a good day. In fact that always makes for better fishing.
We started up river with a 4"worm on a dropshot and statutory grape Flirt Worm on a Frenzy Nail.

We caught a few fish bouncing around on points and breaks and then moved out to the main lake. We started fishing drop offs from 35 to 50 feet still using the Frenzy Nail setup and also with a 3/4oz brown Bass Union jig on 50# Gamma braid with 14# Gamma Edge fluorocarbon. We started wackin' them pretty good and we ended up catching 14 fish by the end of the day. All the fish where released after pictures.

I hope this helps.
StanL
Monday, November 23rd, 2020
Report: Fishing Report Camanche This Week Nov 23

So ..I've had a few days on the water this week. The surface temp is 60* and water clarity is between 8'to 10. The fishing has been different every day.

The first day was cloudy and breezy and my biggest fish came on a Bass Union A-rig in about 5' of water. We also had 4 fish on a dropshot and 3 fish on the Bass Union 1/2 oz jig. All the fish came in less than 25' of water on island tops.

The next day the sun was out so we tried fishing shallow in the morning. My grandson Zach caught a nice trout on the A-rig but we caught 6 bass total all between 35'to 50' on steep breaks dropshoting 4'' worms .

So what I'm trying to say is try and fish the moment, especially this time of year, because each day can be completely different. It is a lesson I need to remind my self once in a while.

Last week I fished the Wild West Pro/Am championship on Clear Lake and had a great prefish but the first day of the tournament conditions changed. The wind blew and there was off and on rain but I did not fish the moment. Needless to say I did terrible!! Remember to keep an open mind and fish the conditions!I
Hope this helps.
Good luck fishing.
StanL
Saturday, November 7th, 2020
Report: Fishing Camanche This Week Nov 7

I was able to get out for a 1/2 day this week on Camanche. My good friend Jeff Richards came out from Colorado this week. Jeff and I have been fishing together since the early 80's so it's always cool to spend time in the boat with him. During this visit he only had a 1/2 day to fish so we hit the water at day break.

After seeing the water temperature was 65* and we had about 6' visibility we started on a main lake point. I could see bait and fish activity immediately on my new Garmin LiveScope in 30 to 40 feet. Jeff grabbed my rod with a 1/2 oz brown Bass Union jig and I grabbed a 1/2 oz spoon and it didn't take long before we where both hooked up. We started point hopping and by 10:00 am we had 11 fish.

This was a great improvement over my last few trips. the best bait's for us was the brown Bass Union jig with a Yamamoto Twin Tail, a spoon and a 4" green pumpkin dropshot worm.

Finally fall is here !!
I hope this helps good luck fishing
StanL
Monday, September 7th, 2020
Water Clarity: Clear (4+ foot visibility)

Report: Postby StanL » Mon Sep 07, 2020 3:46 am

Fishing Lake Camanche This Week Sept 6

My friend Bud and I hit the water about 6:30 in the morning. We started by running through a lot of moving baits over island tops and main lake points. We had no luck. Then we decided to head up river. We saw a lot of bait and a lot of fish suspended on vertical banks.

After trying several different techniques, the baits that worked the best for me was a Cool Baits underspin with a Keitech. Bud used a Bass Unon 3/4 oz jig with a Yamamoto Twin Tail on vertical walls.

All of our bites were just a slight tick. That's why it was crucial to use braid with a fluoroleader. I used Gamma for both. The fish where at about 15' over 30' of water. The surface temp was at 80 degrees and had about 6' of water visabilaty.

The daily reservoir water storage is 238 CFS coming in and 291 CFS going out. When there is more water going out then coming in, the fishing is always going to be challenging. We cought 7 fish for the day and Bud big fished me again!

Hope this helps. Good luck fishing.
Stan L
Saturday, August 22nd, 2020
Water Clarity: Clear (4+ foot visibility)

Report: postby StanL » Sat Aug 22, 2020 8:25 pm

Me and my buddy Jon finally had a chance to get out and do some fun fishing, so we went out to Camanche to see what was going on.

As you all know, the heat has been terrible so we decided to hit the water early and fish until about 11:00. You will see from the pictures the sky was smoke filled and the sun was a red dot through the smoke if you looked at the one with the motor. It made everything feel overcast.

With the clarity at about 6' and the surface temperature at 83 degrees, we decided to start on some rock piles in about 10' of water. After about 30 minutes with we hadn't gotten a bite. So we started running main lake points with a Berkeley Cane Walker top water bait and a Frenzy Nail with a Zoom green pumpkin Trick Worm for a bottom bait. We used Straight Gamma Gamma torque braid on the topwater becase we were making long casts and braid is better for that. We used Braid with Gamma fluorocarbon leader on the Nail. When I fish a Nail I like a leader so I can feel the bites better and also when I use a leader I can change line size more quickly if the bite gets more finicky.

It didn't take long before we started catching fish. We would catch 1 or 2 fish per spot. It seemed like the key was to stay on the move.

I hope this helps. Good luck fishing,

Stan Lafever
Thursday, June 4th, 2020
Report: by StanL » Thu Jun 04, 2020 9:59 pm

Camanche Fishing Report 6-4-20

Today I got the chance to fish with my old buddy Ed Austin. Ed is the most knowledgeable person I know when it comes to Lake Camanche. He grew up at the town of Camanche before they flooded it and turn it in to a reservoir.

After 20 years of fishing with Ed on this lake, he still points out things to me that I am amazed by.

Okay let's get to the fishing report. We fished from about 7:00 am-1:00 pm because it was HOT! Even though it was a shorter day, we still ended up catching 16 fish. Nothing big but a lot of fun!

The surface temperature was 75° and the clarity was around 7 feet.

When we got there, I caught two fish on a Spook and all the rest came on a 1/4 oz Frenzy Nail with a watermelon purple flake Trick Worm and a NED head with a big TRD in mud bug color. Thanks again to Jay at Hook'd in Ione for recommending that color to me. It has been a fish catcher for sure!

We caught mostly largemouth in the morning and spots later in the afternoon. They were all in 10' to 20'feet of water on points and island tops.

I think if you get there early you can probably get on a good topwater bite. One more thing I need to mention is that I'm using 20# braid with a 8# Gamma Edge Fluoro leader. Not only is it the strongest fluorocarbon, I have ever used but I think it is essential to get more bites. Please try to support your local tackle shops. They need support more than ever right now. I hope this helps. Good luck fishing!!
Thursday, May 21st, 2020
Report: by kporter » Thu May 21, 2020 8:55 am

Fishing is pretty awesome right now. I was up this past weekend with my wife and kids. The kids had a blast catching a few! Ned rigs and 6" worms on a shaky head will get lots of bites. Our bites came in 5-15' on rocky flats. Hope this helps
Wednesday, May 13th, 2020
Report: by StanL » Wed May 13, 2020 9:12 pm

Okay, here we go.

I know some people are going to be a little uneasy about me doing a report about fishing Camanche because only Amador and Calaveras County residents are allowed to BUT I don't make the rules, I just happen to live there. So after five days of fishing the lake, I am going to share what it was like after the shutdown.

WOW! Like I said, I was on the water five days and in that time we caught over 300 fish. The largest one was about 8 pounds. Most of the fish were in the 6' to 12 ' depth range, on points, and slow tapering banks. The best baits have been a Frenzy Nail with a Zoom Trick Worm or a NED bait in watermelon or green pumpkin  color.

The surface temperature is around 72 and the visibility is about 7'. I have to thank Jay at Hook'd tackle store in Ione for telling me about the Ned bite. Shout out to the mom and pop stores that need our business right now. You can check them out online at hookd4life.com.

Here are a couple of pictures of a couple of the fish me and my family caught this week.

I hope this helps, if you are able to go.

Good luck fishing!
StanL
Saturday, March 21st, 2020
Report: by StanL » Sat Mar 21, 2020 4:06 am

My good friend Bud Porter and I decided to do some "Social distancing" on Camanche. So we headed over to the lake. When we got there we noticed that the water had been dropping and that usually means it's going to be challenging fishing.

We had overcast sky and the water temperature was in the high 50's and there was 6 to 10 ' visibility. With the conditions we knew the fish should be shallow so we started off by throwing some moving baits.

On my second cast with a shad colored crankbait I got one about 3lb. Another 30 minutes past with no more bites for me. Bud got one on a Ned style bait with a Frenzy Nail.

We decided to slowdown and fish down baits, We threw the same baits we had used at hogan .... a Senko type bait on a Frenzy Wack a Sack and Ned on a nail. We started fishing all the flats in les than 20' of water and we ended up catching over 20 fish for the day.

By the way I've recently discovered a tackle store in Ione ca. Called "HOOK'D " I was pleasantly surprised how much bass tackle they had. I hope this helps.

Good luck fishing
StanL
Monday, February 10th, 2020
Report: Fishing Lake Camanche This Week Feb 10

Today I had the privilege of jumping in the boat with George and Jessie West at Camanche.We had about four hours to fish and it turned out to be a challenging fishing day.

We had blue bird sky with no wind and 6' to 10' visibility. The he surface temperature was at 53 degrees and the lake outflow was at 330 CFS and the inflow was at 240CFS. It was pretty tuff fishing for us but we managed to catch 7 fish. All of the fish we did catch were related to vertical breaks.

What that means is if you'refishing an island top and the top of the island is in 20' and one side drops straight off to 40,'thats the kind of stuff the fish will suspend next to.The best approach is to throw your baits on top and let itdrop as close to the break as possible.

The best baits for us was a drop shot with a shad colored worm or a Frenzy Nail with a Berkley the General worm.I hope this helps and good luck fishing.
Stan Lafever
Friday, January 3rd, 2020
Report: y StanL » Fri Jan 03, 2020 9:47 pm

Fishing Camanche Report 1-1-2020

I want to start off by saying how challenging the fishing has been at Camanche lately. I attibute that to 297 CFS of inflow and 327 CFS of outflow. Other factors that are effecting the bite is that the surface temperature has been hanging around 55°, the lake not turning over and the water being extremely clear.

The most consistent bite has been in the 30' to 50' range on points and steep breaks.

The best baits have been jigs, dropshots and dartheads.

My partner Jerry and I fished the New Year's Day tournament. We landed 12 keepers with most of them being
caught In the first 2 hours of the morning.

There were 27 teams total.

The winners were Jerry and Dan with a winning weight of 12.46 lbs. My partner Jerry and I finished second with 11.76 and Shawn and Chris took third with 11.20

I know I don't speak for myself when I say how much we appreciate Steve Dollard for taking time to put this New Year's Day event on. It's always a great tournament with a great bunch of guys.

With that being said I would like to share a picture of my partner Jerry and I taking second place at Camanche almost exactly 30 Years ago in January of 1990. The second picture is of Jerry and I last year fishing the same event, but unfortunately, I didn't get a photo from this year.

Thanks to my partner Jerry for all the good times.

As always I hope this helps and good luck fishing!!

Stan L.