Amador Lake and Reports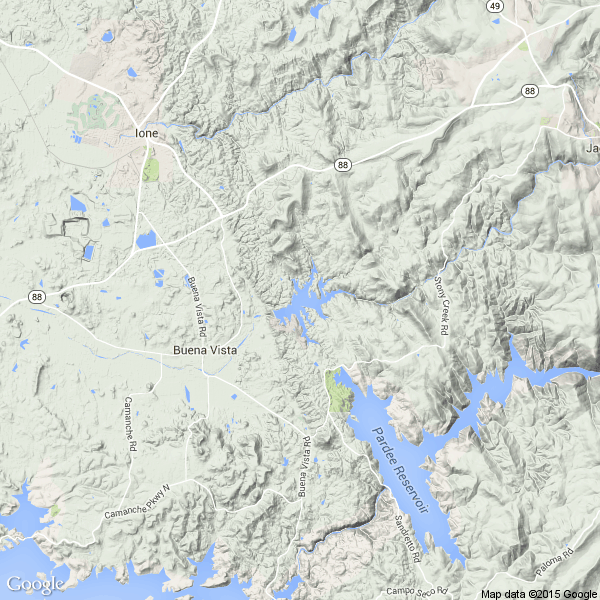 Click for Navionics/Google interactive map
Monday, Sep 25


Monday, December 27th, 2021
Report: From Lake Amador Resort
Amazing what a few storms can do to our lake level! Currently we're at 20' from full and coming up fast. We've seen 10' of rise just in the last 3 days looks like the blue dock will be connected to the pathway and we should have 2 launch docks in the water very soon if the rain keeps up Expect to see a large trout stock happen on the next clear day this week
Monday, October 14th, 2019
Water Temp: 69.5 - 70.5

Water Clarity: Stained (2-4 foot visibility)

Report: Fished from around 4 pm to 12:30 am one day after the full moon. I got one keeper around 5:30 on a jig and a 3.7 that really nailed a spinnerbait at 8:30 pm, that's it. It was nice for a change to see and hear feeding and bait activity, sometimes it can be dead quiet at Amador. The wind was a bit annoying, but I was able to find a few somewhat sheltered areas. The lake is down about 27' from full but the ramp is very usable. The water is clean - no moss or algae, just a bit stained which is a good thing. So overall a slow trip.

Tips: When the wind makes it difficult to fish a worm or jig, try a reaction bait. With the water at about 70 degrees, I saw no reason not to throw a spinnerbait.
Friday, March 1st, 2019
Report: Amador...
Postby Freefall » Fri Mar 01, 2019 4:58 pm

I grew up fishing it and had good success there years ago. I hadn't been there in 10 years so I gave it a shot today... what a disappointment... maybe it was the lack of visibility but I threw the kitchen sink at them and blanked... its been a long time since that's happened.

Talking to a few guys at the ramp and store it sounds like the bass fishing has really taken a dive there over the years yet nobody knows why. It's unfortunate.

Water temp. is 52 degrees and 1-2' viz. Not ideal but definitely tough fishing.
Fear does not prevent death, it prevents life.

You've never lived until you've almost died and for those who have fought for it, life has a whole new flavor that the protected will never know....
Sunday, December 9th, 2018
Water Temp: 56

Water Clarity: Stained (2-4 foot visibility)

Report: Got on the water around 9am after another awesome breakfast at the cafe at the marina. Best part of the day. We trolled for trout using copper colored fly's for a while, Had no luck so changed to Shad colored crank baits, got nothing. We stopped for a while and tried Bass fishing. I used a jig with a white trailer, my son used a crank bait. Again got nothing. We decided to go back to trout and drove all over the lake dragging fly's using lead line. Focusing on between 15 and 30 foot deep. Had one bite but lost it on the way to the boat. After talking to a friend last night, he said the best option on Amador is Night Crawlers with a Flasher.
Weather was in the high 40's with grey skies. Just one of those days.
Monday, July 31st, 2017
Report: From Glory Hole Sports
Amador
You can can call the lake full with both docks available in the water. The die hard anglers are still putting trout on the stringer. In order to find them you are going to fish around 20-28 feet deep in the main lake. It looks like the trout plants are over until it starts to cool down in October. The bait of choice is Power Bait and mini night crawlers. Some people are trolling minnow imitation lures, spoons, or worms. The bass are in post spawn habits, most bass fishermen are using a variety of plastics, Senkos and drop-shot being at the top of the list. Crappie and Bluegill are good for shore fishing, find some brush or wood structure or put some time in at the docks and sink a minnow or crappie jig. Don't forget to give the Catfish a try.
Friday, March 17th, 2017
Water Temp: 65-67

Water Clarity: Muddy (0-2 foot visibility)

Report: When I get my boat checked out with Jeremy at C&C Marine, Sacramento, I often add Lake Amador to my trip. I thought I would night fish a little, but just fished the afternoon. Found some bass already on beds, though they were very hard to see. I caught 3 males, all about 2 1/2 lbs, and lost a bigger female. Just before dark, I made a blind cast next to a rock and got hammered! Fought that bass for a long time and finally netted a 4 lb male largemouth! He was not a female, just a big male bass!! All my action was in various coves.

Tips: I was pitching brown jigs with a chartreuse tail - weird bait but works when sight fishing. Water is still dingy, but fishable! One can see the results of the winter storms - lots of trees blown over - split in two, etc!! There is lots of NEW cover in the water. Lake has only dropped about a foot from high water mark.
Saturday, November 19th, 2016
Water Temp: 62-64

Water Clarity: Stained (2-4 foot visibility)

Report: Mike Sperbeck and I started our trip with a great meal prepared by Sandy and Laurie - wow - great food!! We then headed out about 4 pm and only caught 3 before dark, but they were approx. 2 1/2, 3 1/2, and 4 1/4 lbs - good start. The hour after dark was something special, hooking bass after bass - mostly in the 3 to 4 lb range. Bass were in the top 15 feet of water, but that bite faded in about an hour. The bite slowed and the bass we did catch were getting smaller - only up to 1 1/2 lbs. No more dinks this time of year. Our best 5 went about 18 1/2 to 19 lbs. Could not get the "big" bite.

Tips: I tried topwater and crankbaits - but no takers. Bait was 30 to 50 feet deep as were the afternoon bass we caught - using jigs. I did some spooning but no takers. After dark they were hitting compact baits like brush hogs and Yamamoto Kreature baits. I was going to do some night cranking but never got around to it.
Thursday, July 21st, 2016
Water Temp: 82-86

Water Clarity: Stained (2-4 foot visibility)

Report: If I bring my boat to C&C Marine in Sacto, I usually try to visit Amador for the afternoon/night bite, since I am already halfway there. I did that yesterday, fishing from 5:30 to midnight. The lake looks like the 'ol days - only 4-5 feet from full. I caught a few small 14" bass in the evening and missed a good one - she nailed my Power worm - I set - nothing there!! After dark the moon came up and the magical night scene happened - quiet and peaceful. As I was enjoying the moonrise, a few quality bass wanted to get up close and personal with my D&M Piranha swimjig. I had not fished those before at Amador. The quality bass liked them - in this order - 2-2, 3-11, and 4 1/4 lbs. The last 2 I thought I could lift in the boat. Wow! I needed the net! I caught then all on the same point, in about 25 feet of water. After 10:30 the bite died and I left at midnight.

Tips: Besides the Piranha swimjig, I threw 7 and 10" black Power worms. I used the Yamamoto Heart Tails as a trailer, and again, they have worked very well attached to the swimjig. Good combo!! Water was too warm for any topwater bite. They wouldn't even take a buzzbait!
Monday, April 4th, 2016
Water Temp: 67-70

Water Clarity: Stained (2-4 foot visibility)

Report: After a brief stop at C&C Marine for a lower unit oil change, I made my way to Lake Amador, ready to enjoy the beautiful spring conditions! I love the thousands of acres of "green lawn" in the foothills this time of year - before it turns into "golden California!" Fishing was good for medium size bass and I was able to "sight-fish" my first of the year. I think I was between spawns as I only saw small to medium bass - and no big ones. I put a few in one of the tanks for visitors to enjoy at the lodge. I fished for an hour after dark and caught 2 more bass that hammered a jig. I caught 14-15 in the afternoon - lots of fun. Most were very shallow and active. I covered most of the lake and my best 5 was about 13-14 lbs.

Tips: Actually, one only need to throw Senkos this time of year - expecially the wacky rigged ones. They can't resist!!
Saturday, December 27th, 2014
Water Temp: 53-55

Water Clarity: Muddy (0-2 foot visibility)

Report: Bite was extremely tough, jigs produces some bites but it seems that a casting spoon is key at this time of the year
City: sacramento

Tips: Jig a casting spoon in 30+ feet of water
Monday, October 6th, 2014
Water Temp: 77-82

Water Clarity: Stained (2-4 foot visibility)

Report: I fished Amador again Fri late afternoon 'til midnight, and Sat morning early. The night bite was dead, maybe because the bass are starting to feed on the surface evenings and mornings. Topwater bite was fun as I would chase the schools of feeding bass which would appear here and there!! I hooked several nice fish but couldn't get them to hold on. I boated two 14 inchers. Sat morning found the bass not quite as active, but they stayed on the hook! I landed 5 for about 12 or 13 lbs - biggest at 3 lbs. no big ones.

Tips: Bass seemed to be most active in the main body areas - over deep water. Sometimes I forget how really deep Amador is for a small lake. I still found water at 113 feet deep!! I mostly fished poppers like Chug Bugs. I threw a buzzbait quite a bit at dusk with no takes. The bass seemed to shutoff at dusk - sort of a surprise.
Thursday, September 4th, 2014
Water Temp: 78-83

Water Clarity: Stained (2-4 foot visibility)

Report: Congrats to the staff for making the launch conditions better. It is one lane, but clean and straight - for now! My buddy Mike Sperbeck and I fished the lake yesterday from 4 pm 'til 10:30 pm, and found the water to be of good color and clean. I was testing my new surgically repaired prop - the surgeon being Gary Peeler. Looks new again! We fished all over the lake and found some willing topwater fish. My problem from Berryessa was transferred to Amador - can't land a topwater fish!! Lost 3 more - fair sized too. Bite was dead and Mike had only one hit on our trip - BUT she went 8 1/4 lbs - on a swimbait - about 9:30 pm. I fished worms, jigs, and D&M swim jigs without a hit. So - was one fish in the boat worth the trip - you bet!!

Tips: Follow the bait isn't a good tip for Aamdor - bait is everywhere! I did spoon a little and lost one at the surface. As you probably know - the submerged trees are showing everywhere - be careful. The bite should improve week by week, especially before the trout crowd arrives. Bait is everywhere from surface to 50 feet and a few bass are starting to chase bait to the surface.
Friday, June 20th, 2014
Water Temp: 76

Water Clarity: Stained (2-4 foot visibility)

Report: We flat killed them from 5:30am until 1pm. Top Water bite with spooks & buzzbaits and crank baits in the morning and football jigs in the later part. Caught over 50 quality fish with biggest around 5lbs. the rest of the fish were all decent quality from 2-4lbs. Awesome and fun day at the lake.

Tips: Fish were all over.
Saturday, June 14th, 2014
Water Clarity: Muddy (0-2 foot visibility)

Report: Well I haven't posted a report in a couple of years, figured I'd give it a shot. Fished amador today from 5:30-3:00with a couple of buddies, caught around 30 fish to 3.5 lbs. Tried some top water early for one 2 pounder. Decided to slow down, so started throwing a nail weighted senko and started ripping into them. A lot if the fish were really yellow with red mouths so i figured they have been feeding heavily on craw dads. Decided to switch it up so put on a 12 inch ribbon tail and started roping em, caught a few 3+ punders. Ended the day with some jig fish and some crank fish. Hadn't bee out there in a bit, Great Lake.
Saturday, June 7th, 2014
Water Temp: 78-82

Water Clarity: Stained (2-4 foot visibility)

Report: No 22 1/2 lb limit yesterday - but a good limit for a good client and myself. We caught about 13-14 bass total with a 14+ lb limit. This was his first visit to Amador, telling me he was hoping to at least catch a 5 pounder. He basically answered his wish with a nice bass a hair under 5 lbs! Such good guiding - LOL! He caught most of the bass - several in the 2 1/2 to 3 lb range. I had a few great opportunities too. Broke off the first BIG bass I hooked and missed another big one right after dark. The action slowed after midnight and we quit about 1:30 am. No shad showing on the surface and zero topwater bite at dusk.

Tips: He bought some baits there after we had some good sandwiches! One of them was a black spinnerbait which served him well. Most of his quality bass including the big one were caught on that bait. He fished it very well! The 10" Power worm bite has started - if I could just land them! He did well with them also - black/blue was a good color for us. I even caught one on a jig - just for fun! Most bass were in the 10 to 25 foot range. Only one rude boater this time - cut right in front of us - on plane - as we were heading towards the bank. Oh well.
Saturday, March 8th, 2014
Water Temp: 58-61

Water Clarity: Muddy (0-2 foot visibility)

Report: After one of Laurie Lockhart's famous meals, I starting fishing about 4pm (Fri) and had Immediate action - and I mean quick! The second cast with my brown/orange jig produced a great hit and soon a 4 3/4 lb bass. Way to start!! I missed another on the next cast. Within the next hour I landed 2 more between 4 1/2 and 5 lbs! I only caught two more before dark - around 2 1/2 lb each. After dark I was fishing a wall that I have never caught a really big bass, but I continue to fish it. It finally paid off with an earth-shaking hit which let to a tedious net job. She finally jumped into the net and went 6 lbs 1 oz. A few casts later, another good hit and a 3+ pounder found the net. I fished until 11 pm, hoping for the big bite. I did get it, but lost her after a few seconds. So - a 22 1/2 lb limit made the long drive home very easy!

Tips: The lake is up some 20 feet from the low of 60 feet. There is a little debris floating, but not much. There are still a few submerged tree branches sticking up, so be careful. I threw a crankbait some, along with a swim jig. Even at night I threw a few different baits, but the jig is what seemed to please them. The bass I hooked were right on the bank, from 10 to 20 feet.
Sunday, February 23rd, 2014
Water Temp: 58

Water Clarity: Muddy (0-2 foot visibility)

Report: Nice water temp but struggled with the bite. Managed 4 fish today with the biggest about 2.5 lbs. Suprised reaction did not do good today. lake is very low. Jigs got them for us today.

Tips: Find the bait and you should pick up a few right now. Points were best for us.
Friday, June 28th, 2013
Water Temp: 77-78

Water Clarity: Muddy (0-2 foot visibility)

Report: went out monday hoping to fish in the rain, but the sun came out. as the sun went away, we did very well on tw. two of the biggest were on frogs (4lbs). shad were everywhere.
City: elk grove

Tips: go early morning or late evening
Saturday, June 15th, 2013
Water Temp: 76-82

Water Clarity: Stained (2-4 foot visibility)

Report: I fished alone Thurs late/afternoon 'til about midnight. The overall bite was pretty good before dark and slow after - though it might have gotten better after midnight. I caught about 15 bass up to near 3 lbs - most of them around 2 - 2 1/2 lbs. I caught a few on snag/proof green frogs, #301 Senkos, and 10" Power Worms. Also had a fair topwater bite but the north wind kind of killed that bite! I caught bass everywhere except Rock Creek - that arm was dead. I caught a few hrs sleep and started about 6 am Sat morning. Topwater was on! My first on a Storm Chug Bug was a 5 lb 6 oz beauty and the next was about 4 3/4 lbs. I caught a few more on topwater - then Senkos. About 8:30 am - off to the lodge for one of Laurie's great breakfasts!! My best 5 for the 2 sessions was about 17 lbs. Not like the 'ol days - but decent!

Tips: I thought the previous report was accurate. I found the fish about where he had described. The topwater fish were on steeper walls with a little weed under the surface. I could not get a crankbait hit to save my life! Senko bite was on steep banks. I missed a big fish on topwater late in the evening AND again in the morning - once on a topwater and then on a Senko. That would have been fun!!
Friday, May 31st, 2013
Water Temp: unknown

Water Clarity: Stained (2-4 foot visibility)

Report: Took my kayak out on Lake Amador for the first time. Launched at 6am. Winds were calm, skies were fairly high. First pattern was to cast to the bank on sunlit main lake points on the north-west side of the lake. Second cast of the day with a Zara Spook One Knocker produced a healthy 6 lb LM. Had a few smaller LMs bite as well before the chop killed the topwater bite for me. Slowed down with a jig and shakeyhead further off the same main lake points and got quite a few more in the 1# to 3# range. Also tried the shakeyhead, a swin jig, and spinnerbait along the submerged weedlines in the backs of coves. Found that if I dragged the shakeyhead over the top of the weed line--creating a disturbance--from the inside out, and let it fall on the outside edge, the bass would inhale it as it fell. Lots of fish in there, following the spawning baitfish I would assume. As the day warmed uncomfortably and winds picked up, the bite died completely for me. Best 5 went for about 13 to 14 lbs.
City: Los Gatos

Tips: Get out early and hit sun-drenched points with topwater walkers, buzzbaits, and poppers. All of my topwater bites came almost as soon as the lure hit the water, so be ready and let them take it before swinging. As the sun rises, and the winds pick up, back off of productive points into deeper water and slow down. The outside edges of coves held fish as they seemed to be waiting for the baitfish to move out into the main lake before ambushing them. A lot of baitfish inside the coves, pockets, and feeder creeks.