Don Pedro Lake and Reports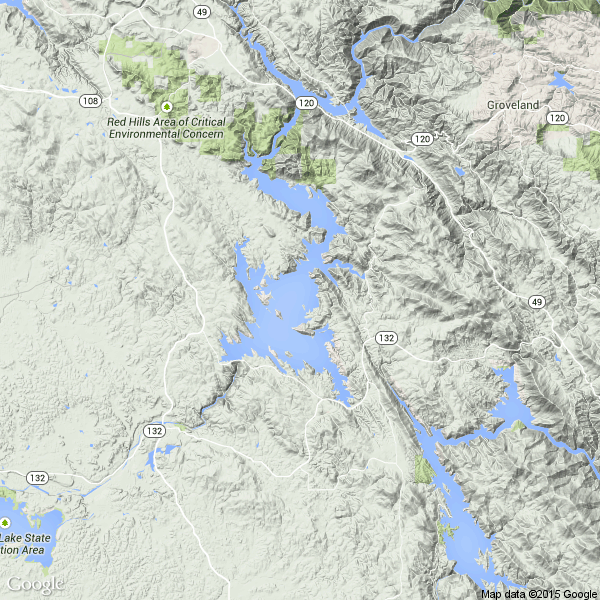 Click for Navionics/Google interactive map
Tuesday, Dec 5
Tuesday, August 29th, 2023
Report: Post by Xperience Fishing » Tue Aug 29, 2023 9:38 am

With the recent sweltering heat, you would think that it was time to take a break from the lakes? Well, that's not the case. We are still out there catching fish, and some big ones too. Summertime swimbaits, ripping reaction and flipping finesse.

DON PEDRO

Water temperature: 78-82
Water clarity: good, some stain from boat traffic

This body of water has been one of the most consistent throughout the year given the major influx of water in all of our Mother Lode reservoirs. And, is where we have been catching our best quality fish. Some topwater, good finesse for size and numbers and an occasional giant bite for the swimbait tossing.

Getting an early start is very important during the warmer months. Each morning we offer topwater, walking baits and ploppers. As the sun comes up switching to finesse has been a good choice. Wacky rigged stick baits, tubes and Texas rigs are a good selection. Once the wind starts to blow a crankbait or spinnerbait can do the trick.

And, for those looking for a big swimbait bite, that is all to toss for the trip. We are looking for one big bite. If you stick with it you have a chance for a big one!

Berah McSwain landed a 9-pound GIANT while tossing a trout patterned swimbait on an evening half day.

I'm currently offering half day mornings and evenings when we are seeing triple-digits. For those who want to learn the gill-glidebaits, over-sized topwater swimbaits, and others? Now is as good of time as any.

For those interested in just catching fish, we can offer a full breakdown on bass theory, bait selections and more.

Seasonal tips:
Look for stained water (mudlines) created by boating traffic. Bass will use the low visibility to hunt. Baits that rattle, vibrate or flash work best.

Best time to go fishing is anytime you can!

Thanks

Xperience Fishing Guide Service
John Liechty
Dan Liechty
(209) 743-9932
xperiencefishing@yahoo.com

https://xperiencefishing.net/
Sunday, April 2nd, 2023
Water Temp: 51

Water Clarity: Clear (4+ foot visibility)

Report: Very hard bass fishing this weekend, fished points on main lake, coves behind islang. Drug carolina brush hogs,jigs, drop shot, A-rib, and drop shot. Spent most of the time draggin and keeping jigs onbottom, casted up to bank and worked baits from boat, 20' from shore. Fishsed water, 20' or less. Used the drift when possible to present slowly. Ended up with one bite, was absolutely defeated as this lake and most of the motherlode lakes are on fire and bass are up to banks taking every variety of bait Someone tell me the did better than I! LOL
Monday, August 30th, 2021
Report: Good news, Lake Don Pedro boaters! All of our launch ramps are anticipated to remain open over Labor Day Weekend! Closures are projected later in September based on new lake elevation projections, but current lake levels will allow us to keep all launch ramps open over the holiday weekend.
Saturday, May 16th, 2020
Report: Many of the Motherlode lakes that I regularly fish and guide on, are opening back up. Don Pedro was one of the first to do so, giving me an opportunity to dust the cobwebs off the rods and reels and uncover the boat.

We launched out of Moccasin Point in the mid-morning and it felt amazing to be back on the water. We chose to start close by in the river arm and focused our efforts on grassy cuts and shade lines. Instantly we were hooking up wtih many smaller fish, and with a few nice ones thrown in the mix. After exhausting that bite and with our curiosity of other areas, we decided to leave them biting.

For years now, I have capitalized on a May jerkbait/crankbait bite and wanted to see if they were willing to chase. Our move proved to be a good one and the action improved with some better than average spotted bass and largemouth bass coming to the boat.

I know the bite was exceptionally good due to the recent lack of fishing pressure, however during the midst of a normal year, I've seen this same pattern fish even better. The key is to find areas with water movement. Wind-blown banks that have a combination of dirt and chunk rock are perfect.

We dabbled with topwater in the same locations with some success, but found that going subsurface was far more productive. Many lakes are open now and we are all itching to get out and enjoy them. Be respectful to others, the fish and our beautiful Mother Nature to ensure a pleasurable Xperience fishing.

John Liechty
Sunday, March 17th, 2019
Report: by Andrew5414 » Sun Mar 17, 2019 8:09 pm

Went out with the wife and kids today, got a late start got on water about 12:30 fished till about 530. Kids and wife caught them on 6in senkos with no issues plenty of action I fished a jig and got some quality fish my big went 5.80 today, I also found some fish chasing shad got on A great little top water bite for about 20 minutes on the fish busting shad around 5pm.

The smaller fish have moved up shallow. The quality bites for me have still been about 25 to 30 feet deep. Water was 59 on moccasin area.
Tuesday, February 26th, 2019
Report: by Xperience Fishing » Tue Feb 26, 2019 7:10 pm

Conditions:
With the recent rainfall we have seen the lake level rise close to 20' over the last month. The inlets are flowing, some with clear water others with muddy water. We have been fishing in wind, rain and sleet with an occasional break between each storm. The water temperature has been 51 to 53 degrees on most areas of the lake. Some areas we have found warmer water later in the day in protected arms and coves. Most days the bite has been good for numbers and we did recently land a giant fish. Other days have been a little bit of a grind to stay on a consistent pattern. Most trips I have been launching out of Flemming Meadows and focusing on the main lake and nearby creek arms. With fluctuating water, inclement weather, seasonal patterns and fishing pressure the fish seem to be spread out from 5' to 65'.
Techniques:
First and foremost, we spend most of our time fishing for trophy bass. Using large swimbaits and glidebaits mainly in trout patterns we focus on likely areas where big bass will ambush their prey. We have been getting a number of bites and followers with a few making it to the boat. To take a break from the lobbing of giant baits we will pick up an A-rig, jig or underspin to put fish in the boat. When it really seems to be tough and we are marking fish that won't bite, switching to a compact shakeyhead or a small dropshot seems to get those finicky fish to respond.
Highlights:
On February 15th, 2019 I guided Jeb Bunker to his new personal best, double digit bass. He hooked and landed a massive 10-pound, 7-ounce largemouth. The monster knocked slack into his line while he was retrieving an 8" swimbait. He swung and the fight was on! Great fish! After weighing the fish and taking a photograph we released it back to the area in which it was caught.

Tips:
Spring is around the corner and the bite is only going to get better. With warming water temperatures, we should start to see a reaction bite develop. Stained water fish with bright colors, clear water stick with more natural colors.

Xperience Fishing Guide Service
xperiencefishing.net
xperiencefishing@yahoo.com
John Liechty (209)743-9932
Sunday, February 24th, 2019
Report: by TravisH » Sun Feb 24, 2019 8:11 pm

Quick run Pedro run down..Stayed in the main Lake jumping between Hatch, Big Creek and Rogers Creek..The bites were far an few in between for us throwing Jigs and swimbaits and ended up catching our limit slowing down with the jig an majority came on a dropshot and shaky head in 40-60' Deep of water..
Saturday, February 2nd, 2019
Water Temp: 52-54

Water Clarity: Stained (2-4 foot visibility)

Report: A friend of mine asked if I would like to join him for a trip to Don Pedro! YES I WOULD!!!! Haven't been there in about 35 years - since moving from San Jose. I love that lake and even guided there when still in San Jose, and did 2 guide trips after moving to Yuba City. Those two trips spelled the end of Don Pedro for me - 6 to 7 hr round trip from Yuba City!! We missed the early bite as we missed a few turns on the way there. I did get to see New Melones for the first time!! Oops - wrong lake!! I wasn't driving!

We covered a good bit of the lake, with memories flooding into my head about this spot and that spot! I lost a fairly big bass just after we started, and the rest of the trip we caught about 16 to 18 bass, all from 1 1/4 to near 2 1/2 lbs - mostly largemouth and a few spots. No more big bites. We fished a bunch of different soft plastic baits and Senkos. Most bites were from 10 to 35 feet. it was a beautiful day - sunny and almost warm!!

Tips: I really don't feel qualified to give tips as the bite was ok, but not great. Not anything in the backs of coves, but you have to try on a warmer day. Sun needs to get a bit higher on the horizon to warm the water.

I used to trout fish the main Tuolumne (try spelling that!) river feeding the "old Don Pedro" before the lake was raised to its present size. Looking up at those workers building the 200-300 fi pillars for the new highway was a sight I would never forget! Glad I was a teacher - sort of a safe job!!
Thursday, January 24th, 2019
Water Temp: 54

Water Clarity: Clear (4+ foot visibility)

Report: What a beautiful day to fish, clear blue skies with some sunshine. It was (2) days after a storm and within (1) week of another storm prior to that one. No fish! Worked some baits pretty thoroughly and used my sonar to locate fish. I found about 4 arches all day along a 2 mile stretch. I believe this post front has pushed these bass into the mud @ 70-80' and they were unwilling to bite. The arches I did find, I fished and they just wouldn't activate. Very skittish and spooked very easily. Can't beat a great day on the water though, even without fish in the boat.

Tips: Only tip I can share is if you can, plan a trip 3 days after a storm..
Monday, January 21st, 2019
Water Temp: Water temp- 53°

Water Clarity: Clear (4+ foot visibility)

Report: by RCook » Mon Jan 21, 2019 11:30 pm

1-16-18
On the water- 6:55 am
Off the water- 2:30 pm
Air temp- High of 50°
Water temp- 53°
Water clarity- Clear.

Michael Bryant and Ryan Orozco came up to Don Pedro to fish in a NASTY storm with me, and they were not disappointed! We started off on the main lake fishing a few steep bluff walls with glide baits and spinner baits, with a few fish right off the bat, biggest going just under 6 lbs. The reaction bite seemed to die quickly, so it was time to change up and slow down.
We started fishing jigs and underspins very slowly, but we continued to stay fairly shallow (10-25') and kept catching quality fish all day. The bite wasn't fast and furious, but the storm had the big fish up shallow feeding, and we seemed to get a big bite about every hour with several smaller sized fish mixed in.

Days like these are so much fun, when the nasty weather rolls in, typically these big fish become easier to catch and tend to move up a little shallower also. We ended up catching a bunch of fish, including some absolute fatties! The lake is starting to rise quickly with all of the recent rain and it should continue to be great fishing all through this winter! If you guys are interested in a trip give me a call at 559-691-7008, or check out my website, ryancookfishing.com. $200 for a full day guys!
Thursday, January 10th, 2019
Water Clarity: Clear (4+ foot visibility)

Report: by RCook » Thu Jan 10, 2019 8:48 am

Lake Don Pedro fishing report.

On the water- 11:00 am
Off the water- 3:00pm
Air temp- 50°
Water clarity- 8-15'

Zach and Mikaela came out for a quick half day Don Pedro Session, and the fish were chewin'! We started out deeper, from 30-60' throwing jigs, swimbaits, and drop shots. We caught several fish on our starting spot, and honestly didnt move the boat much until it was time to leave, (gotta love those days!)

We found that the main key this day was to fish extremely SLOW, and seeing the fish on the graph and dropping down straight on top of them was the easiest way to get bit. The fish are still schooling up, but a little more scattered than they have been recently. We wised the day with around 25-30 fish (not bad for 4 hrs) and Mikaela absolutely kicked both of our butts!
I have trips available guys! The month of Janruary is almost booked up, I have a few days left, but February is still pretty open! Now is a great time to catch a bunch of fish, and also have a shot at a BIG ONE! $200 gets you and a buddy a FULL day trip, you won't find a better price! Ryancookfishing.com 559-691-7008.
Monday, December 31st, 2018
Report: by RCook » Mon Dec 31, 2018 1:42 pm

Fishing Report for Lake Don Pedro. Saturday 12-29-18

On the water - 6:45 am
Off the water- 2:30 PM
Air temp- 32-50°
Water temp- 52-55°
Water clarity- very clear
Steve cardoza and I headed up to Don Pedro on the coldest morning of the year so far, and we had some FUN! We started off the day shallow throwing jigs and shakey heads, catching 3 really nice fish up to 4.5 lbs, with several other quality fish mixed in.
Mid morning we decided to head out deeper and run main lake points and steep ledges, targeting schooling fish with finesse plastics. We caught quite a few fish, with a few in the 3lb range. Mid lake was best, but we caught them just about everywhere we stopped.
They main key of the day, (and lately as a whole) are to fish SLOW!!! We had a 20+ pound, 5 fish limit, with nothing over 5 lbs... pretty solid day! I have guide trips available for the month of January guys, $200 for a full day trip, includes up to 2 people! Book your trip today!

Ryancookfishing.com. 559-691-7008.
Sunday, May 27th, 2018
Water Temp: Low 70s

Water Clarity: Clear (4+ foot visibility)

Report: Spent the day on Pedro with a few good friends. We spent the entire day in the Big Creek arm. The weather was perfect with highs in low 90s with manageable winds. The water was warm and clear. The fishing was tougher than expected. We were unable to find any topwater bites like we had hoped. The majority of our fish were found in 5 to 25 feet either suspended or on the bottom. Primary points and islands adjacent to spawning areas produced the most bites. The tube bait on a 1/4 oz Fatty's Worms Darthead produced the most consistent bite. We didn't find any big fish but we did find plenty of action. Great day on the water with a couple great friends!

Tips: Slow way down when the fishing is tougher than expected.

Submitted by Motherlode Kayak Angler Kayak Bass Guide Service (209) 230-3159
Saturday, May 19th, 2018
Water Temp: 68-73 F

Water Clarity: Clear (4+ foot visibility)

Report: Lake Don Pedro Fishing Report for 5/19/18 submitted by Ryan Cook:
Air temp:
Low 51
High 83
Water temp: 68 -73 F
Visibility: 4-10'

We fished the Best Bass Tournaments Don Pedro event today and had a great time. We fished steep grassy cuts and pockets all day throwing top-water and Underspins, We covered a ton of water. We tried to focus on the areas that had wind blowing toward the banks we were fishing. We caught 40-50 fish, but only had 4 quality bites all day. The top-water (Super Spook) caught 3 of the 5 fish we weighed in. The other 2 came on the Underspin This setup in the hands of my cousin Tim Cook put the big fish on the scale weighing in at 5.86 pounds. We weighed in 18.29 pounds for 5 fish, which on a tough Don Pedro day (size wise) was good enough for the win. Thank you for all the support from our great sponsors, family, and friends.

Tips: Full results and video where we break down the day:
http://www.westernbass.com/forum/win-don-pedro-top-videos-t115326.html
Monday, April 23rd, 2018
Water Temp: 68 to 70 F

Water Clarity: Clear (4+ foot visibility)

Report: My buddy Mickey Brunelli was out on Lake Don Pedro today reporting a solid bite. He and his partner Rob caught over 20 fish with the big fish going 5 pounds 11 ounces. Mickey reports the water was super clear and 68 to 70 degrees. The weather was perfect with highs in the 80s and light winds. They found fish in 10 feet of water on a variety of baits including topwater, jigs, senkos, spinnerbaits, and underspins.

Tips: Now is the time to hit the Motherlode lakes!

Report submitted by Motherlode Kayak Angler Kayak Bass Guide Service (209) 230-3159
Sunday, April 15th, 2018
Water Temp: 60 to 64 F

Water Clarity: Clear (4+ foot visibility)

Report: 2018 MKA Motherlode Series event was held on Sunday, 4/15/18 at Lake Don Pedro. The weather conditions were great, the lake is nearly full, and the water is crystal clear in most places. The water temp was in the low 60s. The air temp peaked in the mid 70s. Few clouds with light to moderate winds did make it a little challenging. The bite was a little off from what most predicted. The fish were primarily holding in 20 to 30 feet of water and were focused on bottom baits that were either stationary or slow-moving. Most anglers reported catching fish on dropshot, carolina rig, ned rig, and stick baits. Ultimately, Kong Thao from Fresno, CA. figured them out and brought in a solid 3 fish, 56" limit for the win. The Trapper Tackle Big Fish of the Tournament (20.5" largemouth caught by Kong Thao) came on a Huddleston Deluxe swimbait in the same depth range. Kong reports that he focused his efforts on a cove that led into a spawning area. He described that were was a point in the middle splitting the cove into two arms. Additionally, there were fallen trees and rock piles which only made it more appealing. He quickly caught a 18.75" spotted bass on a Neko Rig which gave him the confidence to stay in the area. A little while later, he caught another solid fish on the Neko Rig, this time it was a 16.75" largemouth. He then saw trout busting the surface of the water and thought that they might be getting chased by bass. He picked up the Huddleston 68 Special Swimbait and chucked it between a rock pile and brush pile. The fish bit it on the way down and the fight was on. "I was afraid I was going to lose the fish. I set the hook and I hauled it in as fast as I could", said Thao. When he put the fish on the board it measured out at 20.5" and he reported he was "pumped". He was not expecting to win the tournament as he was on 15" fish in pre-fish. He took some advice from a good friend on where to fish and then followed his instincts to ultimately be crowned the 2018 MKA Motherlode Series Lake Don Pedro Champion.

Tips: The fish were out deeper than expected. It's important to adjust and let the fish tell you what's happening. Anglers that were able to adjust did well in this tournament.

Report submitted by Motherlode Kayak Angler (209) 230-3159.
Friday, March 23rd, 2018
Report: ATTENTION BOATERS! Due to the current forecast for wet weather, the Tuolumne River Arm debris barrier boom located 5 miles upstream from the Moccasin Pt. Recreation Area has been closed. Additional downstream debris barrier booms are still open. This boom will be re-opened as soon as conditions permit. These Debris Barrier booms will be periodically opened and closed throughout the rainy season based upon weather and Tuolumne River inflow forecasts.
Thursday, March 22nd, 2018
Report: Officials have downgraded the severity of the Moccasin Reservoir Dam from "imminent" failure to "potential" failure, the Tuolumne County Sheriff's Office said.

Waterflow from the dam's emergency spillway triggered a flash flood warning Thursday for south central Tuolumne County, the National Weather Service said. The warning is in effect until 2:15 p.m. Friday.

The flood waters will be contained by the Don Pedro Reservoir, which is about one mile downstream.

The waterflow from Moccasin Reservoir Dam will have little impact on Don Pedro Reservoir. Moccasin Reservoir Dam can hold 554 acre-feet of water. Don Pedro Reservoir can hold 2.05 million acre-feet of water. Currently, Don Pedro is at 84 percent capacity, which means it still has room for 300,000 acre-feet of water.
Monday, June 12th, 2017
Water Temp: 70-74

Water Clarity: Clear (4+ foot visibility)

Report: This last Saturday I fished a small club tournament on Don Pedro. It had been months since the last time I was on the lake. I started of at the boat launch in Mocassin throwing topwater and had a few giant blowups without hooking up. Large walk-the-dog style baits will draw the attention of the larger bass at this time of the year. I pitched a small worm and caught a couple nice ones.

Once the sun was up I struggled to get anymore bites fishing slow. So, I decided to cover water with crankbaits and ripbaits. The bite was off the hook. I caught over 50-fish and never had to pick up the worm again. Many of them were small fish and I did not have a big weight. But, it was a great day to just get bites. I did loose a handful of better than average fish that would have given me a much better bag.

Tips: Cover water and fish with reaction baits. TAKE A KID FISHING! Put on a small shad patterned ripbait or crankbait and beat the bank.

Xperience Fishing Guide Service
www.xperiencefishing.net
xperiencefishing@yahoo.com
John Liechty (209)743-9932
Tuesday, January 10th, 2017
Report: ATTENTION BOATERS! Due to the recent very wet weather, high flows on the Tuolumne River have carried large amounts of floating woody debris into the upper Tuolumne River Arm of Don Pedro Lake. In order to keep this floating debris out of the rest of Don Pedro Lake, four debris barrier booms have been installed. These booms are currently blocking vessel access to this portion of the lake. They will be re-opened as soon as conditions permit.