Don Pedro Lake and Reports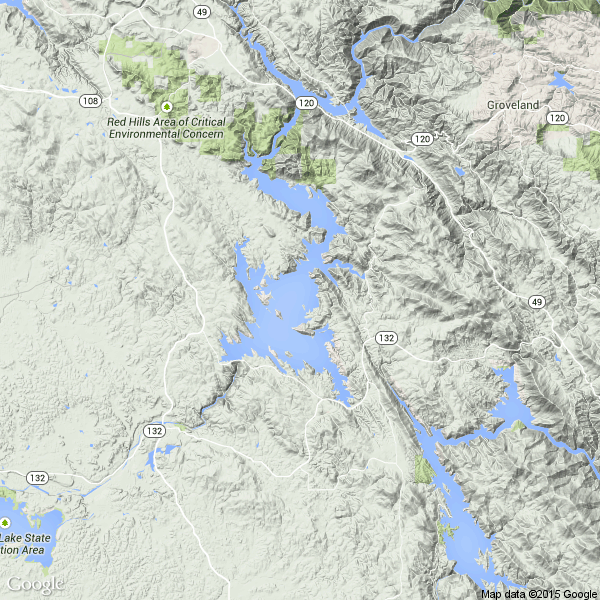 Click for Navionics/Google interactive map
Friday, Sep 20
Tuesday, August 30th, 2016
Report: Don Pedro Lake Camping, Boating and Fishing

Please do not swim within 50 yards of marinas or vessels connected to AC Shore Power due to the risk of Electric Shock Drowning (ESD). ESD results from the passage of typically low level AC - Alternating Current in freshwater through the body at a sufficient level to cause skeletal muscular paralysis. The victim is rendered unable to help themselves and they drown. If the electric current is high enough, electrocution can also occur. ESD is caused by electric current leaking into freshwater around boats & docks that are connected to AC shore power. Such electrical current leakage comes from faulty electrical equipment & wiring, & improper grounding in moored vessels & floating marina facilities. For more information visit www.electricshockdrowning.org.
Tuesday, April 19th, 2016
Water Temp: 66 - 72

Report: Great top water bite on the IMA Little Stick, that lasted until 10:00am...just had to let it pause and then they would smash it. Most fish staged on shoulders of points. After top water subsided, a breeze allowed for a spinnerbait bite but those fish were committing toward the back of cuts. Threw a jig and stick bait but fish were smaller than the reaction fish.
Monday, March 28th, 2016
Water Temp: 60-63

Water Clarity: Clear (4+ foot visibility)

Report: Hello all.
I was lucky enough to spend the Easter holiday weekend at Don Pedro. The good news is that the lake is coming up in a big way. Blue Oaks boat launch is in the water.
On Saturday afternoon I fished the Blue Oaks area with very good results. My 3 biggest fish were in the 4 lb. range with many smaller fish. I was using Senkos wacky rigged on 10 lb. line, spinner baits and Carolina rigged Brush hogs.
My son and I went back out on Sunday, my b-day. we fished Big Creek but we did not have as good a result. We still caught a good number of fish but not much in regards to size. We had a good time fishing and talking. The houseboats are still tied up between Blue Oaks and Fleming Meadows and the speed limit is "No Wake" which is a drag as it will take forever to get out on plane. Good luck and be safe. Remember to practice Catch and Release!
Sunday, May 3rd, 2015
Water Temp: 71-73

Water Clarity: Stained (2-4 foot visibility)

Report: Spent 3 days at Pedro and it is real low...we need rain! Got there around 9am Thursday and went to Rodgers area. Saw fish breaking water chasing shad and started throwing a superspook and it was on til about 11am and stopped. Went to dropshot and shakey head and caught a few more. It was warm this pass weekend around 90 on Friday. Got out early the next two days and just had a blast fishing topwater,10 fish to 3lbs. by 8am. Fish was spitting out shad as big as 4 inches. after 11am got tuff. They're not spawned out yet. Fun, fun, fun, for topwater.
City: Fremont

Tips: Get on the water early till 11am,have a nice lunch, nap and hit the evening bite. Goodluck
Sunday, November 9th, 2014
Water Temp: 68

Water Clarity: Clear (4+ foot visibility)

Report: fished tourney Sat 11-8. Pretty good action all day. Weather was perfect. Every single fish caught of graph at depths from 25 to 50 ft.

Tips: Don't pound the banks. the fish are deeper.
Saturday, April 19th, 2014
Water Temp: 68

Water Clarity: Clear (4+ foot visibility)

Report: The Ranger said that they've started releasing water for the farmers,lake has drop at least 3 feet looking at the bank. Fish have pulled back their beds, but are in the expected areas. With the wind its pretty hard to make out beds, but the better fish are holding in 30ft. Senko's, brushhogs dead sticking, seemed the ticket for us.Bites were just pickup and weight.What shallow beds we did see had small scared bucks.

Tips: Work slow and fish a little deeper while water is dropping. Water level is only going to get worst.
Saturday, February 8th, 2014
Water Temp: 52

Water Clarity: Clear (4+ foot visibility)

Report: Sonora Bass Team Tourney out of Moccasin. 20 boats. First Place 14 and change. Winners big fish 6.11. Rainy and wet all day but the wind did not show too bad.

Tips: Fish are from 50 to 20 feet in pre spawn. Smallies, Spots and large mouth. spider jigs and senkos seemed to be the primary baits with a couple reaction bites finally.
Wednesday, March 13th, 2013
Water Temp: 61.0

Water Clarity: Stained (2-4 foot visibility)

Report: They dropped the water level by about a 12-18 inches and these fish don't like it. Fished the afternoon and front seat caught a limit of small "keeper fish" and I caught two. Tough for this time of year. Don Pedro has a tradition of getting tough when the water falls, especially when the fish want to look at the bank.
City: Hughson

Tips: Everything on finese 4 inch worms and split shot or drop shot, no reaction bite, no jig bite and no swim bait bite. Almost no wind and clear almost hot for this time of year.Lot of fish graphed suspended ,, only a matter of time,going to the Delta for the weekend..
Tuesday, March 12th, 2013
Water Temp: 56-63

Water Clarity: Clear (4+ foot visibility)

Report: Majority of the fish are still staging and haven't moved up yet. There are some fish that have moved up shallow, mostly bucks just cruising. We spent most of the day fishing the creeks with ripbaits, jigs, hula grubs and crankbaits. We caught about 20 fish total today, prob half largemouth and half smallies. We did get some quality fish today though. We got two largemouth over 6lbs and two smallies over 4lbs. Majority of the fish came in 8-12ft, but caught fish as shallow as 2ft and as deep as 25ft. The fishing is just going to keep getting better everyday.
City: Turlock

Tips: There was a decent reaction bite early in the morning up to about 9am then had to go to jigs and hula grubs to get bites.
Thursday, March 7th, 2013
Water Temp: 58.7

Water Clarity: Clear (4+ foot visibility)

Report: Berry is alot like Pedro, just do not get caught up in the outside weather egualing the inside. The fish are moving up. My per. best is from berry. and it will happen , give it time, the water that is, to catch up with the ambient temp.
City: hughson

Tips: North on berry, after lunch and drag a c rig with a lizard slow or a jerk type bait , pointer or stasybe in between bites.
Sunday, February 10th, 2013
Water Temp: 55.6

Water Clarity: Clear (4+ foot visibility)

Report: Fished the afternoon with my new Setter Pup, which means when she gets wet I go home.3 Smallmouth bass one large mouth all small crank bait on the bank. No jig bite for me and I threw it most of the afternoon. Limit of trout on the crank bait, wiggle wart. Sunfish color. Wait awile..
City: Hughson
Monday, February 4th, 2013
Water Temp: 50

Water Clarity: Clear (4+ foot visibility)

Report: Have fished lake 3 times so far this year. Mostly Big creek arm and Rogers Creek arm. Have only boated about 4 fish only 1 going 4+. Mostly fished swimbaits no bites. fish on jigs and soft plastics 30-40 ft. Hopefully patients pays off with a 10+ swimbait fish.
City: Waterford

Tips: Would like to hear report from people fishn upper bay and the river up and around moccasin
Monday, January 28th, 2013
Water Temp: 54

Water Clarity: Stained (2-4 foot visibility)

Report: Slow bite, but decent fish if you are patient. Hit the water about 8am and stayed until 2pm. Caught 6 fish between 2 and 3.5 lbs. Try primary points near creek channels. Cast out your jig, let out enough line to get keep it on the bottom while you "drift" in a gentle breeze. "Shake" the jig gently over obstacles. Wait for the "tap tap", esepcially just as it goes over a log or rock. Give her a second to get the jig in her mouth, then nail her!!
City: Fremont

Tips: Best luck today on brown and purple jigs, with a brown crawdad trailer. Caught my 3 biggest on this setup. You have to use a very slow presentation. I sometimes use the drifting approach when fish are sluggish, and have had decent success in recent years.
Monday, December 3rd, 2012
Water Temp: 58--61

Water Clarity: Muddy (0-2 foot visibility)

Report: FISHED from first light, till dark, caught some, none very big...
DOESE ANTBODY CATCH FISH HERE, THIS TIME OF YEAR????? PLEASE ,IF YOU KNOW A GREAT LAKE, share...
City: MODESTO
Saturday, October 27th, 2012
Water Temp: 67-69

Water Clarity: Stained (2-4 foot visibility)

Report: Fished from 7:30 till 3:30 and thought I was going to blank until I finally got a bite at 2:45. Did all the fish pack up and move to a different lake!!! I fished from moccasin to the back of woods creek, unsuccesfully I might add! Huge balls of shad everywhere with fish hanging around but I could not catch em'? Any tips?

Tips: dont go to this lake to fun fish this time of year!
Sunday, October 14th, 2012
Water Temp: 68to73

Water Clarity: Stained (2-4 foot visibility)

Report: Got on the water around 7am and fished the Moccasin area. The lake is really low so goodtime to mark some waypoints. The topwater and spinnerbait worked for us around stick ups. Lots of bait action in the 20 to 30 ft. range. Threw some swimbaits and got some bumps but no takers.No luck on dropshot but did get some senko fish. We left early to try and catch the 49er game...Sorry I did, should have stayed and fish more.
City: Fremont

Tips: Fall bite is coming on, time to get out...Oh! and bring a radio and fish longer.Table
Saturday, October 6th, 2012
Water Temp: 72

Water Clarity: Clear (4+ foot visibility)

Report: Water temp 72 in the AM later in the day 76 in places. A lot of followers with swim baits s-wavers,small swim baits etc,found jig fish near larger rocks in 35ft,dropshot fish using your favorite colors working. Shad balls 50ft begining to bunch up on the outside of coves,largies not far from them just waiting for the right time. Lake is down, good time to take pictures of your hot spots to remember for the up coming year.Mostly 2 lbs with a few larger ones chasing but not commiting just yet. For me between 11 to 12 lbs best 5. Good Luck and have FUN. Remember wear the live vest lake level is down.
City: Merced

Tips: Find the birds,finds the shad,catches the largies. Enjoy the day,cooler days and nights will be turning them on more. Keep a eye on the surfuce their chasing.
Saturday, May 19th, 2012
Water Temp: 71

Water Clarity: Clear (4+ foot visibility)

Report: Fished BBT tourney. Fish were on main lake points and shallow. We caught most on shad plastics. Other teams caught on a variety of techniques.
Saturday, May 5th, 2012
Water Temp: 66 to 69

Water Clarity: Clear (4+ foot visibility)

Report: Lots of tournament action this weekend ABA had one out of Fleming. I don't know how many boats... around 30 maybe. We fished on the other end just to stay out of the way and found a lot of action of our own. We caught a lot of fish on dropshot 2lb average and topwater which got me my biggest of the day, 5lber. Saw a few cruising but nothing big or locked on beds.Goodtime to be on the water. Goodluck!
City: Bay Area

Tips: Fish your basic colors, greens, purples and shad pattern topwater. 5 to 25 feet worked for us.composition
Sunday, March 4th, 2012
Water Clarity: Clear (4+ foot visibility)

Report: ok, come on guys. I know that I am not the only one fishing. See too many oy Yoy All out there.Bass starting to move up whacked em on a C rig this past weekend, no no Alabama rig, wanted it slow and in their face . Bait ( decline). If you still want a limit of trout to off set the gas prices try the back of the creeks with a meps.
City: Hughson