Don Pedro Lake and Reports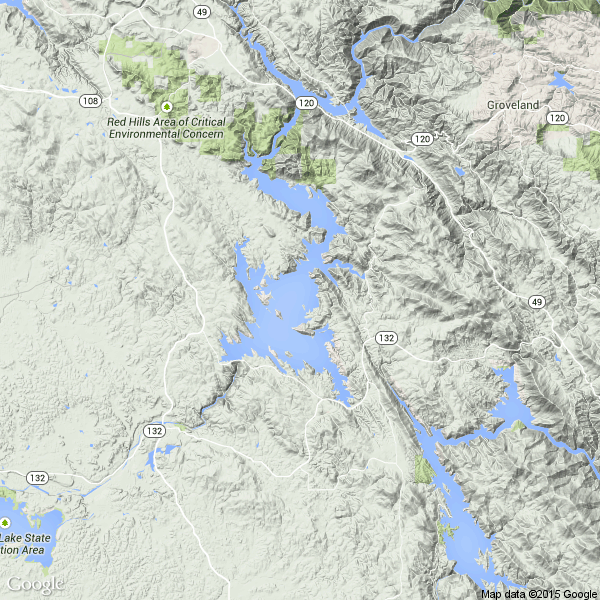 Click for Navionics/Google interactive map
Monday, Jul 13
Date Unknown
Water Temp: ?

Water Clarity: Clear (4+ foot visibility)

Report: Camped and ished out o Blue Oaks Campground on South side o Lake. Saturday, managed a couple with largest being 3lbs. Sunday, in Mexican Gulch, my wie caught her largest bass to date - a 7lb 12oz bass! She caught the ish on her "lucky lure", a purple over white at ree shad. I managed one more ish that day and that was it. Caught ish on plastics and on at ree shads.
City: San Jose

Tips: This lake is about to go wide open. There are ish on beds and some good ish were caught this weekend.

Water Temp: am51.5pm54.4

Water Clarity: Clear (4+ foot visibility)

Report: On the water just beore daylight started o in the middle bay area. Picked up 2 ish about 2.5#'s each. Next stop near the power lines one more about 3.5#'s. Headed to six bit caught 2 more about a 1# each. Back to the power lines and another one about 2.5#'s. Ran back to Flemming ramp area one more anout 2#'s. Last stop was the dam near the blue oaks ramp about 2pm water was 54.4 deg's. Landed 3 more between 2 to 2.5#'s. Founds ish between 5 to 40t. Some wind and lots o blue sky's. GOOD LUCK FISHING.
City: Oakdale

Tips: 1 ish spinner bait, 1 ish on jig, all others on sot plastic. sot or lite bite in am. more agressive bite in the atenoon.

Water Temp: 53

Water Clarity: Clear (4+ foot visibility)

Report: FISHED FROM SAFE LIGHT AT PEDRO ON THE 3RD. COULDNT FIND OUT WHAT THE HECK WERE DOING. THERE WAS A COLD FRONT BEFORE THE RAIN THAT HAD THE FISH REALLY CONFUSED...OR WAS IT US THAT WAS CONFUSED? FINALLY IT ALL CAME TOGETHER LATE IN THE DAY. TO BAD IT WAS AFTER 3PM WHEN IT SHOULD BE. FOUND FISH UP RIVER AT ABOUT 45-55 FEET OF WATER. KEYED IN ON SOME WATERFALLS HEADING UP RIVER. I ONLY STUCK FOUR FISH IN ABOUT 50 FEET OF WATER. TRIED MY FAVORITE PURPLE/BLUE BUT HAD NO LUCK. THEN I SWITCHED TO A FOUR INCH SHAD PATTERN WORM ON A 1/8 OZ. JIG HEAD AND SHOOK IT ON THE BOTTOM. BAM!...........FOUND THE KEY. 3 FISH WENT ABOUT A POUND AND A HALF; ONE FISH WENT ABOUT THREE. THAT WONT WIN TOURNAMENTS BUT IT APPEASED ME FOR THE TIME BEING. HOPE IT GETS BETTER AT TOURNAMENT TIME!.........
City: Fresno

Tips: FISH SHAD PATTERN WORMS ON A 1/8 OZ. JIG HEAD. AND SHAKE!!

Water Temp: 53

Water Clarity: Clear (4+ foot visibility)

Report: First day o comp. in the WON BASS ishing as a AAA
City: Medord, OR

Tips: dress warm, expect wind, SLOW DOWN, these ish love Smelly Jelly, drop shop 16-18" above sinker, wide gap SHARP hooks, i you even suspect your line was bumped, SET THE HOOK, ish can be seen in warmer creek channels shallow, but many are still deep, invest in a big trout plug or lure as it is the bait o choice or 10lb+ bass in this lake

Water Temp: COOL

Water Clarity: Stained (2-4 foot visibility)

Report: 12 o us 5 boats ished a privet tournament.Only 3 ish caught 2 lbs. bigger bass.Fish are located 43 eet and deeper.Water is clear down to 3 eet.
City: San Jose,CA.

Tips: Stay in 50 t plus depth and cast out to ar shore.And WAIT WAIT WAIT let weight hit bottom and work it.

Water Clarity: Clear (4+ foot visibility)

Report: BOAT FOR SALE- 17' 1998 Champion 171 w/ 115 hp Mercury Motor. Very low hours. Forced to sell. $16,000.00, i interested contact Brian at 209-549-9819 or e mail BranchX2@aol.com.
City: Modesto

Water Temp: 80

Water Clarity: Clear (4+ foot visibility)

Report: Fished CVBC club tourney sat. night 7pm-7am. Several limits to 18+ pounds.Almost everyone caught ish in Woods Creek.Seemed like an armada was in there.Carolina rigged worms,craws and lizards seemed to produce best.My non-boat got a nice 4+ on a top water plug at 6am in the Moccasin point area, near a tree.
City: San Leandro

Tips: Slow, even at night!!!!

Water Temp: warm

Water Clarity: Clear (4+ foot visibility)

Report: my local club (the resno bass club) had a night tourney. it was my irst night tourney (7pm-7am). i used ull size black/red brush hogs. the bite was tough; it was the hard-hitting bites that everyone told me there would be. i carolina rigged that brush hog on a 1/2oz weight and pitched it to the bank......my big ish was only 3.78. Next time ill save my time and energy and go to the delta!
City: Fresno

Tips: use brush hogs in black/red lake.....dont go night ishing......save your energy!.....