Mendocino Lake and Reports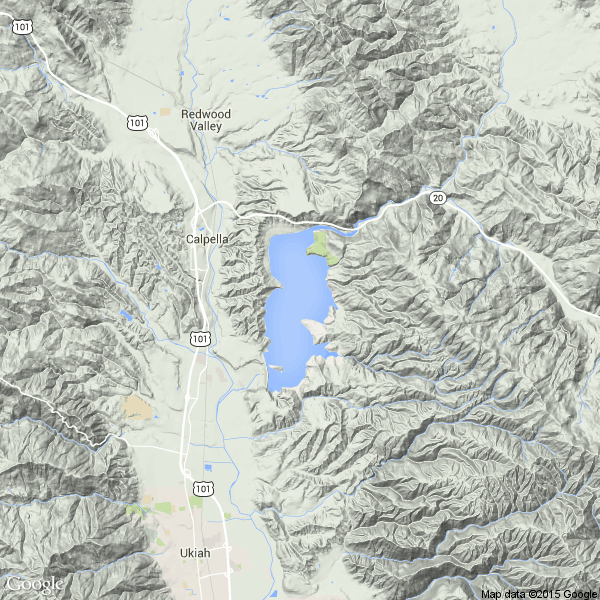 Click for Navionics/Google interactive map
Friday, Dec 8
Tuesday, May 23rd, 2017
Water Temp: 85.6

Water Clarity: Stained (2-4 foot visibility)

Report: Not like the last time we were here! Got on the lake at 3pm & the water was in the mid 80's! This is the only the second time I fished this lake & I thought the temp would be in the mid 70's. Anyway, to make a long story short, we caught one dink on three strikes. We threw lipless & med cranks, senkos, texas rig, & blades. I think with the temp, the bite is early morning or dusk! Will try again, but change the time we fish. Does anyone know if night fishing is allowed on Mendocino?

Tips: don't have any, we were happy not to blank!
Thursday, April 6th, 2017
Water Temp: 67

Water Clarity: Stained (2-4 foot visibility)

Report: Not having much luck at Clear Lake, decided to head over here for the first time on Tuesday 4/4. The lake is pretty much full & there was a very nice Smallmouth bite going on. They weren't very big as our largest went 2.5 lbs, but we sure had fun. The best bite was 5" Senkos in Green Pumpkin with a few lipless crank fish thrown in for good measure! Tried blades, but couldn't get them to go on them, but the Senko bite made up for it! We did the best on the west side of the lake in the fallen lumber & caught a little over 30 fish in four hours. We just kept running the banks!

Tips: We tried quite a few spots just to get familiar with the lake but had more success on the west side. We threw the Senkos in about 6 ft of water at the edge of fallen trees & they just picked them up & ran with them. I would like to come back when the reaction bite is going strong. This is a really nice lake!
Saturday, March 7th, 2015
Water Clarity: Stained (2-4 foot visibility)

Report: After nearly having the lake to myself the last 4 weekends it wasn't the case today. Was hard to find an open spot to fish with all the bass boats. The pressure laid off later in the day though. Smallmouth bite was good. I landed 15 and fished from noon til dark. All were between 1 and 3 lbs.
City: Willits

Tips: Bring sunblock and sunglasses
Saturday, January 31st, 2015
Water Clarity: Stained (2-4 foot visibility)

Report: After getting a late start, didn't get on the water until noon, still caught 3 largemouth today, 2 lbs, 3 lbs, and 5.4 lbs. Caught all 3 on a Carolina rig. Clear skies and very warm for the end of January. Must be global warming. Fish on!
City: Willits

Tips: Get on the water before noon
Sunday, January 4th, 2015
Water Temp: unknown

Water Clarity: Muddy (0-2 foot visibility)

Report: Lake has come up to near 70% from around 35%. Looking like a lake again instead of a puddle. Lots of woody debris in the water especially the east side so watch out. Both ramps should be open now, I launched from the south ramp and they said the north ramp would be open in a week. I trolled around 20-25 feet with spinners and spoons and did some casting and didn't get a bite, from mid afternoon til dark near the dam and the east shore and where the river comes in. Still a nice day on the lake. A pro bass fisherman caught 3 in the east side shallows fishing slowly with rubber worms and jigs. Hopefully it will get better this spring for stripers and the like. Fish on!
City: Willits

Tips: Fish slow and shallow or wait til spring
Friday, September 13th, 2013
Water Clarity: Muddy (0-2 foot visibility)

Report: Anyone fished this lake recently?
Wednesday, July 4th, 2012
Water Temp: 75

Water Clarity: Clear (4+ foot visibility)

Report: Lake Mendocino just keeps getting better and better !!! We have been catching more quality and quantity of bass.... The smallmouth bass have really, really exploded in population ... We have been hooking into about 5 smallmouth's to every largemouth. They have been getting larger too. Pretty much landing a 4 - 5 -6 pounder every outing.. 80% of the time we getting them drop-shottin' . There is a good topwater bite EARLY. 5:15 am to about 7:00 am. POPP'R's have been working best for us. for more information go to 4reelfishin.com
City: Ukiah

Tips: SSSssshhhhhh, don't tell anyone. :)
Wednesday, December 14th, 2011
Water Temp: 51 - 54

Water Clarity: Stained (2-4 foot visibility)

Report: Most of the bass are in deep water right. they will pretty much stay there all winter.. Although, the smallmouth bass will still be some-what active. Teresa and I fished our hometown lake today and for a 3 hour effort we did okay. 4 bass total. 2 smallies, 1 largemouth and one striper. There is NOBODY on the lake right now ! What a blessing to have the lake all to ourselves. The lake level is still looking pretty good, especially for this time on the year. If you need a break from Clear Lake, give it a try. You'll like it !
City: Ukiah, CA.

Tips: Drop-shottin' is your best bet. Purple 4 - 5" worm SLOW... ALSO take a few casts here and there with the "cALABAMA" rig. I have picked some bass running it by some cover in about 12 -20 ft. of water. Have fun and, remember to keep it reel ! Don 4reelfishin.com
Friday, August 26th, 2011
Water Temp: 80 -82

Water Clarity: Clear (4+ foot visibility)

Report: BY FAR the EARLY morning hours is the best time to fish... DUH? I have been fishing the evenings as of late and have been doing pretty good... BUT, I finally got a chance to get out the water @ 5:30am, and boy, oh boy, the bite was on !! Topwater 'til about 7:00 - 7:30, and then went to dropshot. Scented (green) worms was the ticket. Move the hook up to about 3 ft. and just slow dragged it along. It's all done and said by 10-10:30 am.
City: UKIAH

Tips: Fish ----> Crappie Cove - Barn Cove - points along the west side, the south end of the dam and the south side of the big island (Treasure island) keep it movin' 'til you find the fish. thanks Don
4reelfishin.com
Sunday, June 19th, 2011
Water Temp: 74 -76

Water Clarity: Clear (4+ foot visibility)

Report: Fathers Day Fishin' with my two sons.. Couldn't be better ! Lake Mendocino is ON right now. Caught 13 bass all on the west side of the lake.. We would have had more but we were out to just have a good time, goofing off. Man, small mouth fishin' is the best ! Those little guys really won't give it up ! sweet beavers - brushhogs - white spinnerbait & crankin' all worked for us.
City: Ukiah, CA.

Tips: Be ready, the fish are close to the shore. Some will hit the lure when it hits the water.
Wednesday, March 30th, 2011
Water Temp: am = 53 degrees

Water Clarity: Muddy (0-2 foot visibility)

Report: Fished Mendo. on Sunday March 27th. Pretty much the plan was to scout things out after rains and flooding. Yup, the lake is nice and full. Water color would be "MUD" !! Tons of fish stacked in pre-spawn @ the old river drop offs. THOUSANDS. Water temp was 48 - 50 degrees. ------ Got a tournament coming up so , Teresa and I went out again on wednesday March 30th to come up with a game plan.... In just a few days the Corps had dumped a good 2 feet of water. But, the lake is still in really good shape. Water color was muddy-green and you could see down 1 ft in the open water and 2 ft. in the coves. Cool, water temp had come to the mid to upper 50's. I thought that there would now be some males up in the flats snooping around looking for a snack and possibly a nest site. I tried to keep the boat right on top of the drop offs . Teresa fished the drop off with a plastic crawldad and a paddle-tailed swimbait. She did get a couple of nice hits on the crawl. no takers on the swimbait off the bottom. ??? I mostly thru a chartrouse - gold dbl. willow bladed spinnerbait. I too missed two fish. ??? even with a trailer hook? Just when I thought that I was not going to find a pattern, We did. Then we got into the fish... Feel better about our chances now on April 9th... Off the lake by 2:45 pm.
City: ukiah, CA.

Tips: Find the warmer water. The fish that bit for us were in 60 - 62 degrees & in 7 - 10 ft. of water. YOU WILL BE A SUPER STAR IF YOU CAN GET THE FISH STACKED ON THE RIVER CHANNEL TO BITE. good luck ! see ya on the water. Remember to keep it reel ! DON 4reel fishin.com
Wednesday, March 16th, 2011
Water Temp: 55

Water Clarity: Muddy (0-2 foot visibility)

Report: Walked the banks on the north end of the lake in the rain and wind throwing 6" worms and lipless cranks, caught 4 fish. 2 rats, 2.25 and 3.5. 3 LMB, 1 SMB
City: Sacramento

Tips: Once the weather stabilizes the bite will be wide open. All fish were caught in less than 10 feet of water.
Friday, November 5th, 2010
Water Temp: 64 - 65

Water Clarity: Clear (4+ foot visibility)

Report: Beautiful fall day on the lake with my wife Teresa. Haven't fished lake Mendo. for 3+ weeks. Got a late start (10:45 am) took some time to find the fish. Caught only four. Found hundreds of fish @ 40 ft. of water along with tons of bait fish. These fish were closed lipped.-------------
Got some ideas for next time out. ---- I think they are stripers.
City: Ukiah, CA.

Tips: The small mouth and large mouth bite is pretty good. Speed traps, rattle traps and blue / orange belly crank baits are working for me. Don't foget to throw the lizards and senkos slow dragg'in.
G O O D L U C K -----> keep it reel !
Sunday, August 22nd, 2010
Water Temp: 80

Water Clarity: Clear (4+ foot visibility)

Report: Put in at 0700. Trolled the channel for stripers. None. Swithced over to blacks. Spent the rest of the day in the channel. Tried all types of top water. Got a blow up on a frog. Caught a smallmouth on a dropshot. Throwin Maverick Ross's receipe. Caught a 2 lb largie on a blue and black rodstrainer jig with a sweet beaver trailer. Bass are on the rocks. Not the wood or flooded timber. Not in the shade. Got a few followers on a DD 22.
There are thousands of yearling bass in this lake everywhere both largies and smallies. Next year should be better.
City: Redwood Valley

Tips: Find rocks in 15 to 25 feet of water. For a few bites.
Tuesday, August 3rd, 2010
Water Temp: 79-81

Water Clarity: Muddy (0-2 foot visibility)

Report: launched @7:00pm. WOW! Another wonderful evening on Lake Mendo. The lake is still very full. The water quality is perfect. Fished the shadows on the East side to start. Caught a nice "catfish" on a swimbait? AGAIN, the top water bite started @ 8:15pm. got into a school of smallmouth's that were feeding on the surface. NO STRIPERS? The topwater bite lasted into the dark.. Off lake @ 9:20 pm. Hated to leave. Remember, KEEP IT REEL! Don
City: UKIAH

Tips: BILL DANCE COMES UP BIG AGAIN !! Tie on a spitt'in image for your top water lure.
Thursday, July 29th, 2010
Water Clarity: Clear (4+ foot visibility)

Report: Hey Don thanks for posting something on the lake. I havnt been able to get over there yet this summer but im looking to hook into some stripers.
City: K-ville

Tips: if you want to share any please do!
Wednesday, July 28th, 2010
Water Temp: 79-80

Water Clarity: Clear (4+ foot visibility)

Report: Went to Lake Mendo. after work, Launched the boat @ 6:30pm.THE LAKE IS BEAUTIFUL! Water quality excellent. There was a group circled around a school of stripers that were boiling on the West side. Had several small dinks interested in crank baits. The fun really did'nt start until 8:00pm when the top water action came on. TWO NICE ONES!
City: u

Tips: Remember we are blessed to have such a great lake in our own backyard ! HAVE FUN -
Try cranking, the fish are active. Cover alot of water. White spinnerbaits works too!
KEEP IT REEL! Don
Friday, July 16th, 2010
Water Clarity: Clear (4+ foot visibility)

Report: lAKE MENDO IS STILL VERY , VERY FULL. LOTS OF FLOODED TIMBER. WATER TEMP IS WARM 80 - 83 DEGREES. FISH ARE ACTIVE . BEST TIME IS MORNING, EARLY. THE BITE IS PRETTY MUCH DONE BY 10;30 AM. MY WIFE CAUGHT HER 1ST CRAPPIE. NICE FISH. 1 1/2 PONDER. SHE CAUGHT IT ON A CHAD COLORED CLACK'IN-RAP WHILE FISHING FOR BASS. GREAT MORNING ON THE LAKE!!!
City: UKIAH

Tips: TRY WATERMELON-CANDY BABY BRUSH HOGS. WHITE SPINNERBAITS. RATTLE TRAPS. SENKOS AND SO ON. HAVE A POLE SET-UP & READY FOR STRIPERS. THEY WILL COME UP BOILING @ ANY TIME RIGHT NEXT TO THE BOAT. AND MOST OF ALL KEEP IT REEL.
DON
Friday, March 27th, 2009
Water Temp: 55-64

Water Clarity: Stained (2-4 foot visibility)

Report: Bite was fair early, daylight to 10:30. Bite died until early afternoon. Changed colors of worms fished slow. No large bass but plenty of 1.5 - 2lb.
City: Hidden Valley Lake

Tips: Let "em go, they're full of eggs.
Wednesday, March 25th, 2009
Water Temp: Warming up

Water Clarity: Stained (2-4 foot visibility)

Report: Got out a little late and my money spots didn't pay off. I did hit my biggest bass this season though (5.2 lbs) on a solo branch sticking up out of the flats at the northern end near the boat dock. Again, my white spinnerbait comes to the rescue!
City: Ukiah